Looking for fun and patriotic recipes to celebrate all summer long? Look no further! We've gathered some of our favorite Red, White and Blue Patriotic Recipes that will have your guests saying "wow" at your next cookout or barbecue.
From red, white, and blue cake to fruit kabobs, we've got you covered with these 4th of July foods that are perfect the entire summer.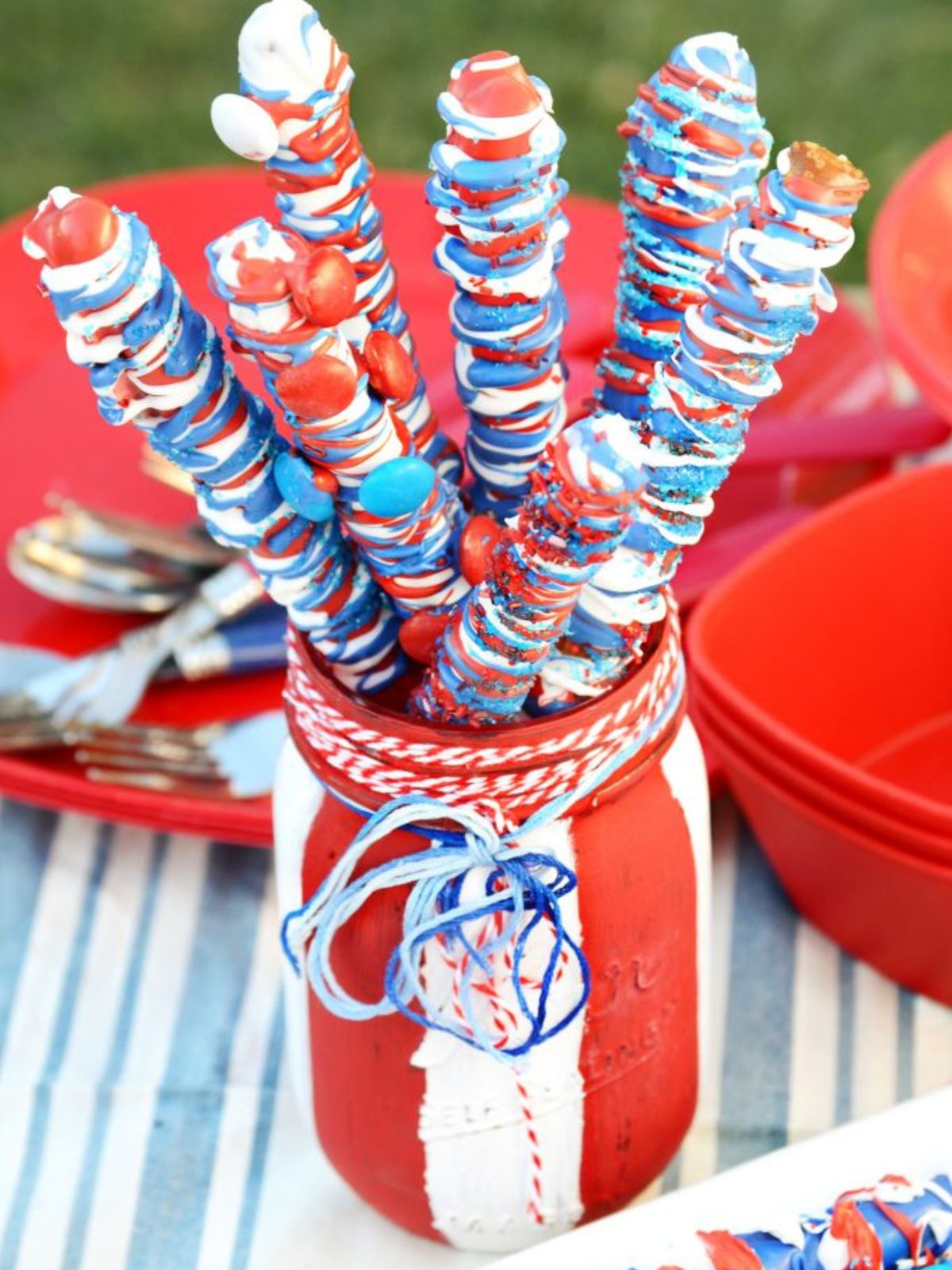 Just because the 4th of July is over, doesn't mean we still can't celebrate our country with these red, white and blue patriotic recipes. There are plenty of occasions during the summer when you're asked to bring a dessert or a plate of cookies.
I know you're going to be able to find the perfect dessert for any of your summer gatherings over the next few weeks. And don't forget Labor Day weekend!
Table of Contents
Looking for more Patriotic Recipes? Try my Red, White and Blue Patriotic Strawberries, Oreo Cookie Patriotic Treats and my Patriotic Cupcake Ideas.
Patriotic recipes can be red, white and blue cakes, cookies, cupcakes, or pies. They can sometimes be flag-shaped or decorated with patriotic symbols such as the American flag.
Most of the time when you're thinking of patriotic desserts, they're usually red, white, and blue because these are the colors of the American flag. If you don't want to bake or don't have the time, you can usually find many patriotic themed desserts in bakeries and grocery stores during the summer.
Patriotic Dishes
The patriotic colors of red, white, and blue make for some of the most festive and fun desserts. They're perfect to serve all summer long...not just for the 4th of July! Here are a few ideas:
Classic Red Velvet Cake - A classic red velvet cake is perfect for any patriotic occasion. Topped with rich cream cheese frosting, this Southern favorite is a delicious way to show your patriotic spirit. Try my take on this cake with my Red Velvet 4th of July Cake.
Patriotic Trifle - For a lighter dessert option, try a patriotic trifle. Layers of rich vanilla pudding, fresh berries, and fluffy angel food cake come together to create a patriotic treat that is sure to be a hit.Try my Patriotic Berry Trifle.
Cookies - you can never go wrong with cookies for any celebration! Try my red, white, and blue sugar cookie flag. These festive cookies are perfect for any celebration.
Whether you're looking for a show-stopping dessert or a simple treat to show your patriotic pride, these red, white, and blue desserts are sure to please.
Helpful Kitchen Tools
This post contains affiliate links. That means that if you make a purchase after clicking on a link I may earn a small commission at no extra cost to you. For more information, click here.
Picnic Mat,Picnic Blanket Waterproof Mat,More Information
Tall Pop-Up Mesh Food CoversMore Information
Picnic Plate Napkin and FlatwareMore Information
Wicker Picnic BasketMore Information
Tried any of my recipes? Let me know in the comments!
This recipe has been updated since it first appeared in 2018 with new photos, and information. I hope you enjoy the updates as much as I enjoyed working on them!