You're going to love this delicious steak marinade that will give you perfectly grilled steak every time! 
Easy Delicious Steak Marinade
How do you cook your grilled steak? This Steak Marinade Recipe is the perfect combination of sweet and savory.
A few weeks ago I asked my readers on my Walking on Sunshine Facebook Page if they could share a recipe for steak marinade. So many delicious recipes and ideas were shared, that I couldn't make up my mind on which one to choose.
The recipe I came up with is a combination from the ones that everyone shared and then I added a few other ingredients that I love.
How to Make the Steak Marinade
This recipe combines my love for sweetness and savory all in one.  It's best to let the steak marinade for at least 2 hours...longer is always better.  I like to marinade my steak overnight if possible, but a few hours is fine.
What I love about this steak marinade is that I reserve a cup of it before adding it to the steak. While the steak is cooking, I'll add the reserve marinade to a small saucepan and let it cook down until it's reduced and thickened.
Then you can just drizzle this over the cooked steak and it is a little taste of heaven on top of delicious steak!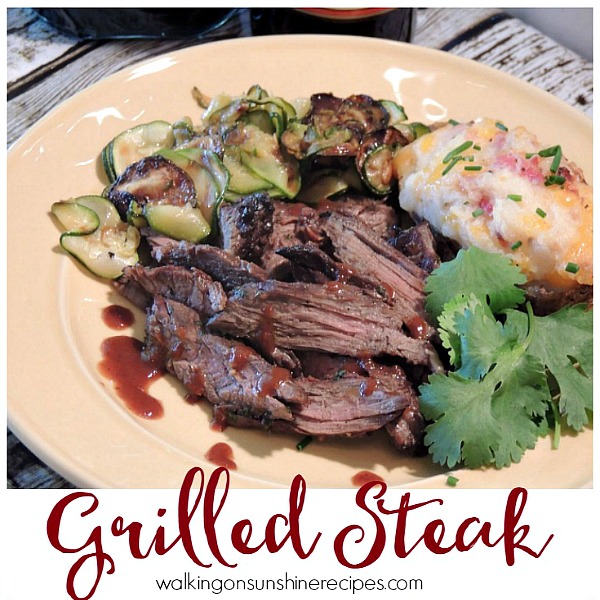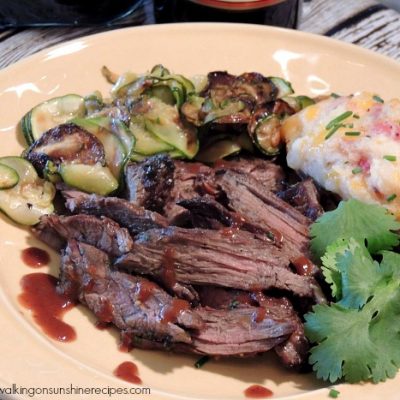 Steak Marinade
An easy and delicious marinade for your favorite cut of steak.
Ingredients
½

cup

balsamic vinegar

¼

cup

soy sauce

3

tbsp

minced garlic

2

tbsp

honey

2

tbsp

brown sugar

2

tbsp

olive oil

2

tsp

pepper

½

tsp

salt

1

tbsp

Worchestshire sauce

1

6 ounces

canned pineapple juice

¼

cup

packed cilantro leaves; chopped
Instructions
In a mixing bowl, combine all the ingredients together until smooth; you can use a food processor.

RESERVE ONE CUP OF MARINADE in a separate container and place in the refrigerator.

Pour the rest on of the marinade on top of your choice of steak that you have placed in a glass or plastic container or a plastic bag.

Cover and place the steak in the refrigerator to marinade for at least 2 hours or overnight.

Remove the steak from the marinade and grill over medium heat until cooked.

While the steak is grilling, add the reserved marinade to a small saucepan and cook over medium high heat until it has reduced and thickened.

Spoon the sauce over the cooked sliced steak.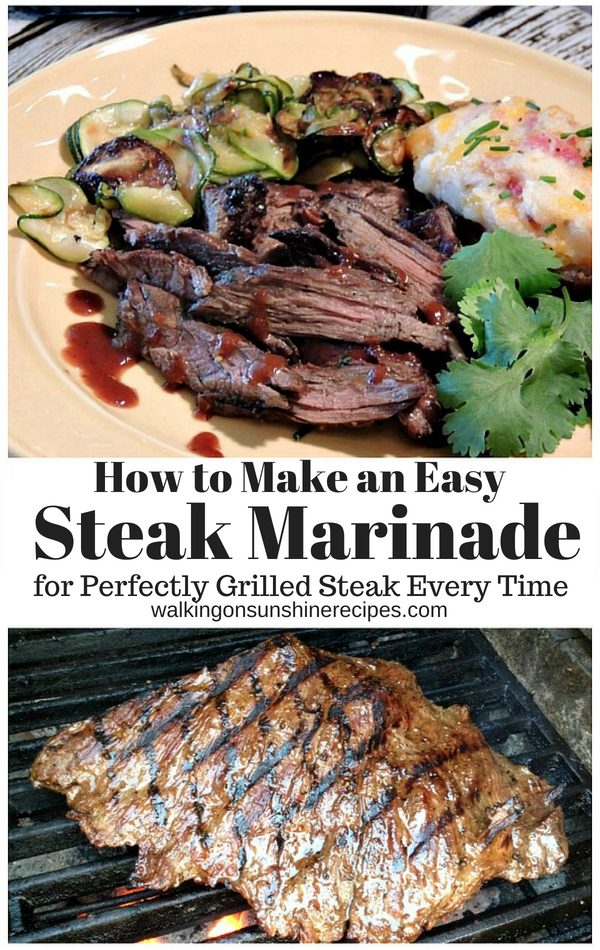 An oldie from the site that really needs to be updated with new photos, but this is my son's favorite side dish.  I always try to make twice baked potatoes with grilled steak when Michael is home for dinner.
You can even make these potatoes ahead of time and freeze before baking.  Then remove the desired number of potatoes you need for a meal from the freezer and bake!