Easy Mac and Cheese that's homemade, cheesy and delicious! Your family is going to love this recipe. Ditch the box and make this recipe for dinner tonight.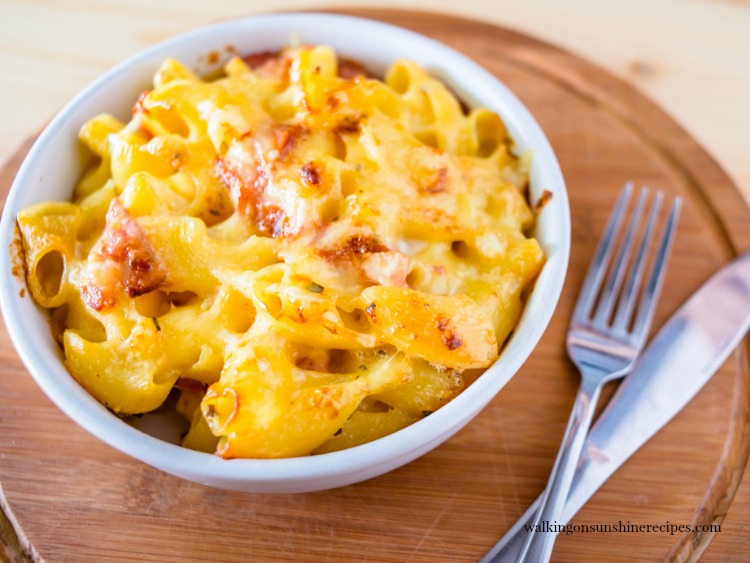 Homemade Easy Mac and Cheese
Seems easy enough yet there are so many different ways to prepare this family favorite side dish. For some people, it means opening a box and boiling some water. But after you read this post I hope you'll see that making homemade Easy Mac and Cheese can be really easy and it's so much better than a box…really!
For years I have been making one recipe that I named Olivia's Mac and Cheese because she loves it so much and I enjoy making my kids happy. But recently I've started making another recipe for Mac and Cheese.
This one bakes in the oven while my other recipe, named after my daughter, is a stove top recipe. Both are easy, creamy and delicious and the perfect side dish for grilled chicken or hamburgers. To me this recipe is also the perfect comfort food on a long crazy day.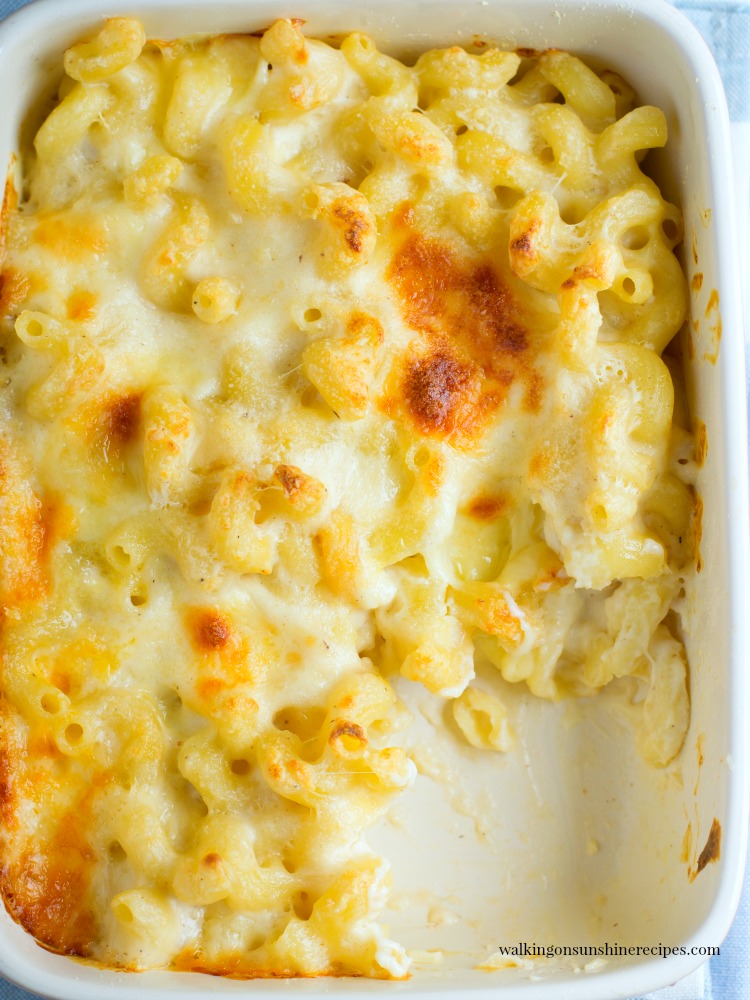 Types of Pasta to Use
You can use whichever favorite pasta you like. When my kids were little they loved shells, so that's what I usually used. Lately whatever I have on hand works.
Here's a photo of the Mac and Cheese ready for the oven using my kid's favorite shells.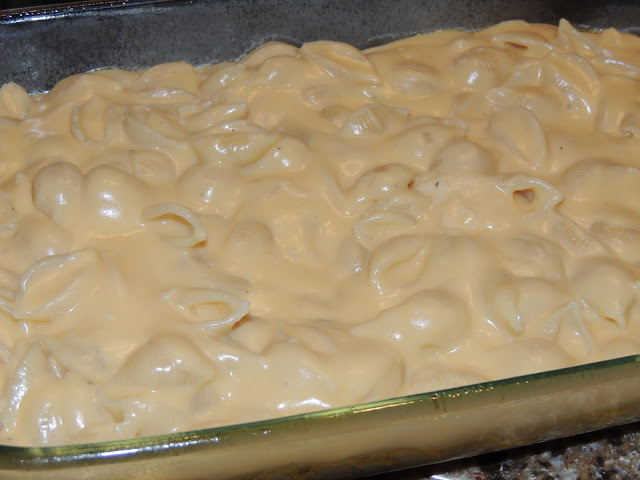 Ready to serve hot and bubbly from the oven.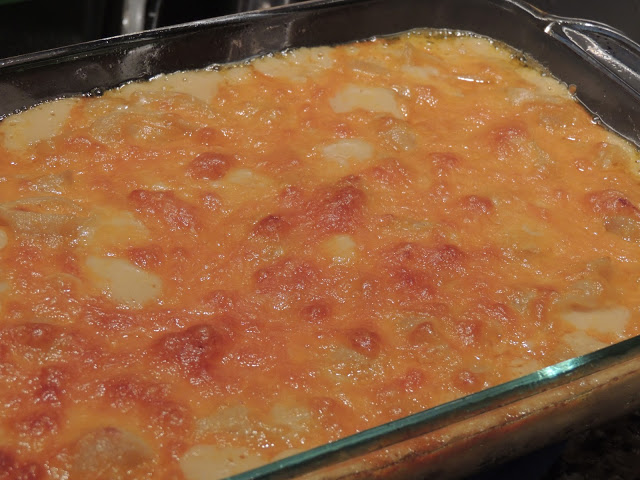 I recently redid the photos for this recipe. The two photos above and the photo below are from the original post that was published five years ago.
Sometimes it's hard to believe five years have passed since I posted this recipe and ten years since I started blogging. So much has changed with blogging and with my life.
I hope you try this recipe. I know you'll enjoy it as much as my family does. In fact, we had it just the other night with grilled steak. It was amazing.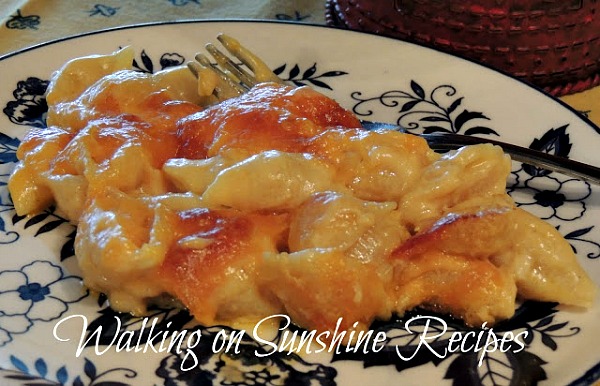 How to Freeze Mac and Cheese
If you want to freeze the mac and cheese, use a freezer-safe pan. I like to use aluminum pans.
After the mac and cheese has baked, allow it come to room temperature.
Don't try to freeze mac and cheese while it's still hot or ice crystals may start to form on top.
Cover tightly with aluminum foil.
Homemade Mac and Cheese can be frozen for up to two months.
How to Reheat Frozen Mac and Cheese
Remove from the casserole from the freezer the night before and allow it to defrost in the refrigerator.
Reheat in a preheated 350 degree oven until warm.
You can also reheat the casserole frozen. Keep it covered with the aluminum foil and bake in a preheated 350 degree oven for about an hour or until warmed all the way through.
You might also Enjoy these Side Dish Recipes: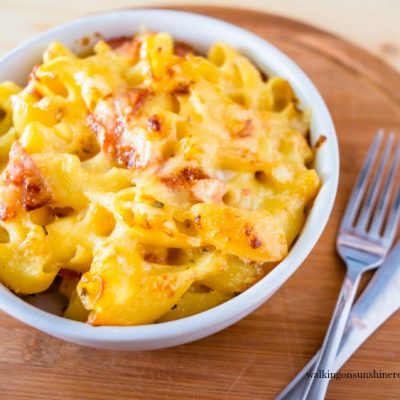 Easy Mac and Cheese
Homemade Mac and Cheese that's easy, cheesy and delicious! Your family is going to love this recipe. Ditch the box and make this recipe for dinner tonight.
Ingredients
1

package pasta

1/4

cup

butter

1/4

cup

all-purpose flour

1

tsp.

salt

1/4

tsp.

pepper

1/2

tsp.

dry mustard

2

cups

milk

3

cups

medium cheddar cheese, shredded and divided
Instructions
Preheat your oven to 375 degrees.

Cook pasta according to package directions and set aside.

Melt butter in a medium saucepan.  Remove from heat.

Stir in flour, salt, pepper, and mustard and stir until smooth.

Now add the milk and stir constantly until boiling.

Remove from heat and stir in TWO cups of cheese.

Reduce heat to low and continue to stir until everything is combined.

Stir in pasta and pour into a baking dish.

Sprinkle top with remaining cheese.

Bake 15-20 minutes or until the cheese on top is golden brown and the casserole is bubbly.