Now that summer is here, it's time to start thinking about fresh strawberry recipes!
Strawberries are not only tasty but also packed with nutrients. They are versatile and can be used in a variety of dishes that range from sweet to savory.
From smoothies to salads, there are countless ways to incorporate strawberries into your summer meals. In this collection, you'll find 12 mouth-watering recipes that will help you make the most of this seasonal fruit.
Check out all the other fruit-filled easy dessert recipes for even more delicious ideas!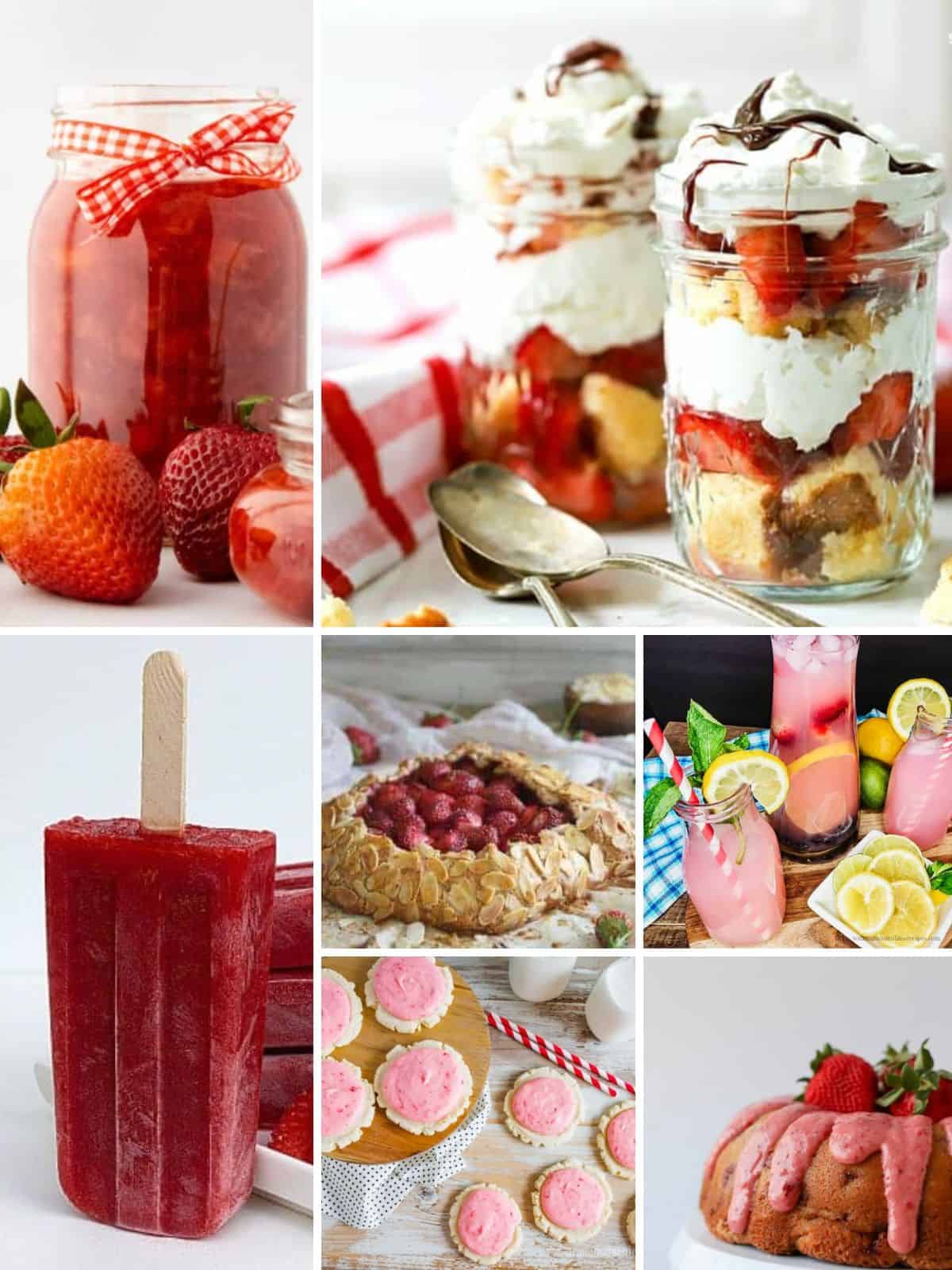 Strawberries are one of summer's juiciest fruits! Known for their vibrant red color, juicy texture, and sweet flavor.
They can be enjoyed in a variety of ways, from topping off pancakes and waffles to adding a burst of sweetness to salads and smoothies.
Whether you're enjoying them fresh or incorporating them into your favorite recipes, the versatility and deliciousness of strawberries make them a true summer treat that can be enjoyed all year round.
Looking for more fruit-inspired recipes? Try my Crescent Roll Fruit Tart, Puff Pastry with Cream Cheese and Fruit, or my Breakfast Parfait with Yogurt, Granola and Fruit.
Table of Contents
📌Quick Tip: Fresh strawberries can vary in sweetness, so it's important to taste them before adding sugar to your recipe. If the strawberries are already sweet enough, you may need to reduce the amount of sugar in your recipe.
👩‍🍳Recipe Notes
Here are some tips for baking with fresh strawberries that will help you get the best out of this delicious fruit:
When selecting strawberries to use in recipes, choose ones that are not too soft or mushy.
Look for bright red strawberries that have a sweet fragrance.
Wash and dry the strawberries before using them in a recipe. Make sure you remove the stems and leaves.
Dry them with a paper towel and remove any excess moisture before storing.
If the recipe you're preparing, calls for the strawberries to be sliced or chopped, try to keep the size the same so they cook evenly.
Strawberries release a lot of juice when baked, which can make your dish soggy. To avoid this, use a thickening agent like cornstarch, flour, or tapioca starch to thicken the strawberry filling.
Good Morning Sunshine Breakfast eBookClick HERE for More Information
🍶Storage Tips
After washing the strawberries, pat them dry with a paper towel before storing them.
Fresh strawberries should be stored in the refrigerator. Place them in in a container lined with paper towels to absorb any excess moisture. I like to store strawberries in mason jars lined with coffee filters!
❄️Freezing Tips
If you have extra strawberries that you can't use right away, freeze them for long-term storage.
Hull and slice the strawberries, and then place them on a baking tray that's been lined with parchment paper. Place the tray in the freezer to flash freeze the strawberries.
Once the strawberries are frozen, place them in an airtight container or freezer bag.
They can be stored in the freezer for up to 6 months.
Good Morning Sunshine Breakfast eBookClick HERE for More Information
💡Recipe FAQ
Simply click the plus sign to read more about the questions you see below.
If YOU have a question regarding this recipe, please let me know in the comment section!
Can I use frozen strawberries instead of fresh ones in recipes?
You can use frozen strawberries instead of fresh ones but first they need to be thawed before using them in recipes. Place the berries in a bowl and leaving them at room temperature for a few hours or overnight in the refrigerator. Drain off any excess liquid before using the strawberries in your recipe.
How can I tell if my strawberries are ripe and ready to use?
Ripe strawberries should be a bright, deep red color and have a sweet, fragrant aroma. They should be firm but not hard. When gently pressed, they should yield slightly but not be mushy or soft.
🛒Helpful Kitchen Tools
Strawberry Huller Stem Remover and Strawberry Slicer Set
Regular Mouth Mason Jars 32 oz
Farmhouse Ceramic Berry Basket Set of 4
Mechanical Kitchen Timer Kitchen Reminder Alarm Clock Countdown Clock -Red Strawberry Shaped
⭐Before You Begin! If you make any of these recipes, please leave a review and star rating. This helps my business thrive and continue providing FREE recipes.
📇Recipe Collection
21 Strawberry Recipes
This collection of strawberry recipes is a must-try for any strawberry lover looking to add some sweetness to their life. From classic strawberry shortcake to refreshing strawberry popsicles, these recipes showcase the versatility of this beloved fruit!
This recipe collection has been updated since it first appeared in 2017 with new photos and information. I hope you enjoy the updates as much as I enjoyed working on them!