Looking for easy, delicious Fall-flavored desserts that will please the whole family? Look no further than this collection of canned apple desserts!
Whether you're making an apple pie, cobbler, cake, or want to add sliced apples as a topping to ice cream, these apple pie filling recipes are sure to satisfy your sweet tooth.
Check out my full list of apple dessert recipes for even more ideas.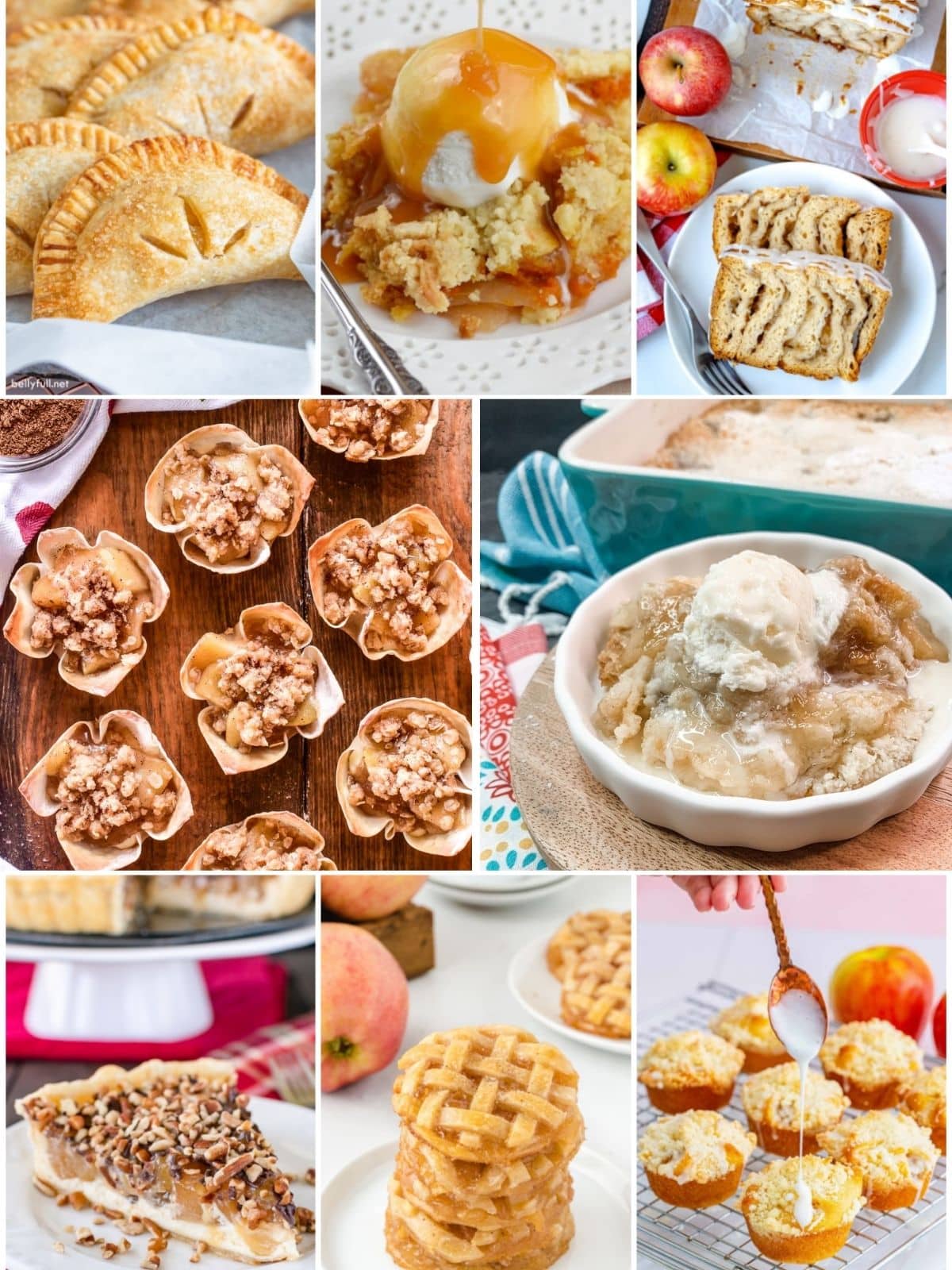 There are so many reasons to love canned apples. They're affordable, convenient, and a great way for making delicious desserts! In this post, I've put together some of my favorite recipes for sweet treats made with canned apple pie filling.
As the weather begins to cool and the leaves start to change color, it can only mean one thing: Fall is here! And with Fall comes apple recipes! However, these recipes today are all made using canned apples.
That's right, you don't need to go apple picking to bake any of these delicious desserts. Just reach into your pantry and pull out a can of apple pie filling and start baking!
Looking for more Easy Dessert Recipes? Try my Air Fryer Apple Recipes, Apple Dump Cake or my family favorite Apple Crisp Recipe.
Table of Contents
Canned Apple Pie Filling Desserts
While many people think of apple pie filling as a strictly dessert ingredient, the truth is that it can be used for a variety of sweet and savory dishes.
For example, apple pie filling can be used to create a quick and easy fruit crisp. Simply top a layer of the filling with some chopped nuts and oats, and bake in the oven until crisp.
Recipes using Canned Apple Pie Filling
Or, for a more decadent treat, try using apple pie filling to make french toast. Dip slices of bread in a mixture of eggs and milk, then top with the filling before cooking in a skillet. The sweetness of the apples pairs perfectly with the rich eggy bread, creating a delicious breakfast or brunch dish.
And these are just a few of the many ways to use canned apple pie filling. So next time you're at the store, pick up a can (or two) and get creative in the kitchen.
Can you add fresh apples to canned apple pie filling?
Canned apple pie filling is a convenient product that can be used in a variety of recipes. While the filling itself is already prepared, many people like to add fresh apples to the mix for a more robust flavor.
This is perfectly safe to do, and there are no special instructions to follow. Simply add the desired amount of fresh apples to the canned filling and mix everything together. Keep in mind that the fresh apples will release some juice as they cook, so you may need to adjust the amount of liquid in the recipe.
Helpful Kitchen Tools
This post contains affiliate links. That means that if you make a purchase after clicking on a link I may earn a small commission at no extra cost to you. For more information, click here.
Bakeware SetMore Information
Pyrex Basics 3 Quart GlassMore Information
Insulated Expandable Double Casserole CarrierMore Information
Cook with Color 8 PieceMore Information
Pastel Polka Dot Picnic/Dinner Plate,More Information
⭐Before You Begin! If you make this recipe, please leave a review and star rating. This helps my business thrive and continue providing FREE recipes.