This week's Something Yummy for My Colonel's Tummy is a dessert
I've been making for YEARS using my mini muffin pan.
Cheesecake Cupcakes.
I made around 100 for Olivia's graduation party last year and thought I was going to die.
Seriously.
The recipe calls for using a Vanilla Wafer cookie as the crust of each cheesecake cupcake.
BUT,
I could not for the life of me get the Vanilla Wafer cookie to
fit inside the paper cup and when I tried to
spoon the cheesecake filling in, it went all over the place.
But I kept filling the mini cupcakes as best I could and they were delicious and
looked beautiful with all the other cookies and desserts.
HOWEVER,
I told myself I would not make them ever again.
But I did, for Thanksgiving, and the same thing.
WHAT A MESS.
Last weekend I decided to try ONE more time, only
using my regular sized cupcake pan and not the mini ones.
Here's the result…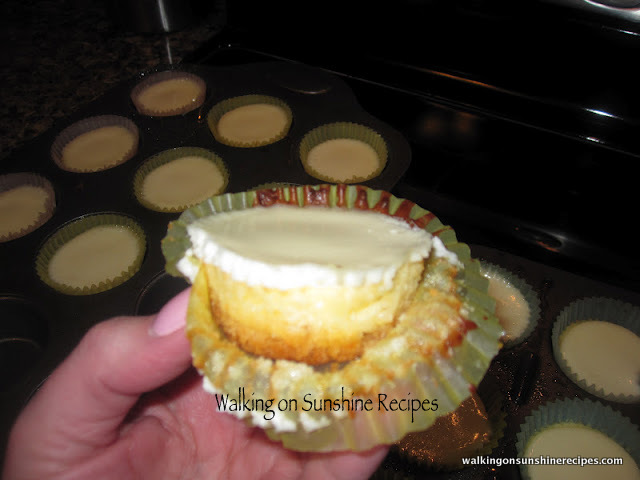 PERFECT and so EASY!
Ingredients for the crust:
16 Graham Crackers
1/4 lb. melted butter
1/4 cup sugar
Ingredients for the cheesecake filling:
16 ounces cream cheese (room temperature)
2 eggs
1/2 cup sugar
1/2 teaspoon vanilla
Ingredients for the sour cream topping:
1 pint sour cream
1/3 cup sugar
(This recipe makes 24 cheesecake cupcakes)
I didn't use graham crackers because I didn't have enough.
BUT, I had a whole box of Vanilla Wafer Cookies and decided to crush those
and use them for the crust.
Begin by crushing your graham crackers or Vanilla Wafer Cookies.
I placed the cookies in a plastic bag and used my rolling pin…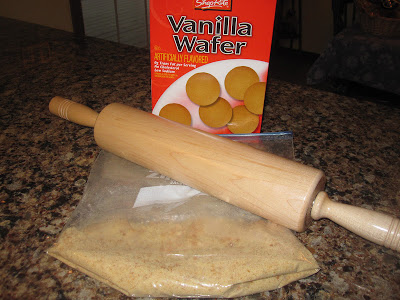 Add the melted butter and sugar to your crushed
graham crackers or crushed Vanilla Wafer cookies.
Line your cupcake pan with paper liners.
SPRAY each liner with a cooking non-stick spray.
Add one tablespoon of your crumb mixture to each cupcake holder.
Press down firmly.
I used a juice glass which fit PERFECTLY.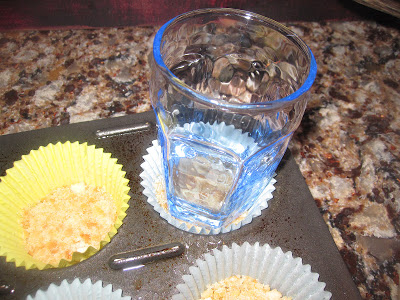 Makes the crumbs nice and even…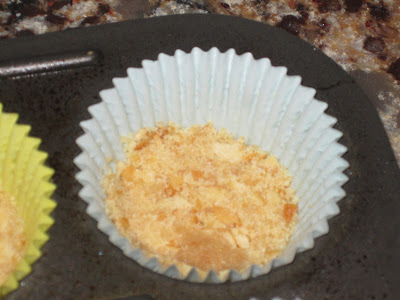 Combine cream cheese, eggs, 1/2 cup sugar, and vanilla in a medium sized bowl
and mix until smooth and creamy.
Pour the cheesecake mixture into each cupcake holder, filling them about 2/3 of the way.
I use an ice cream scoop…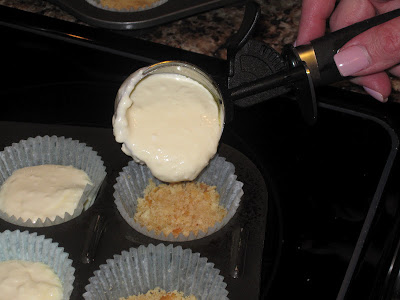 Bake your cheesecake cupcakes in a preheated 350 degree oven for 20 minutes.
In the meantime, prepare your sour cream topping.
Combine the sour cream and 1/3 cup sugar in a mixing bowl
and mix until smooth…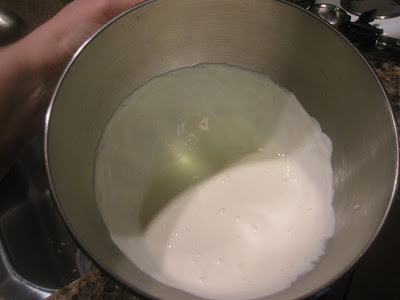 After your cupcakes have cooked for 20 minutes,
remove them from the oven and cover each baked cupcake
with some of the sour cream topping, filling each cupcake holder completely.
Return to the oven and continue to bake for another 8 minutes…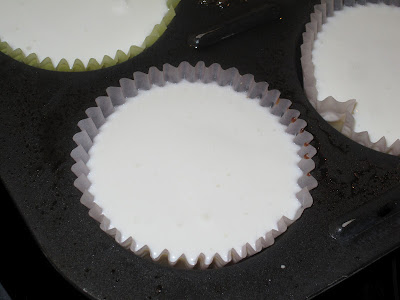 Let the cupcakes cool before removing them so they get firm enough
to stand on their own when you remove the paper liner…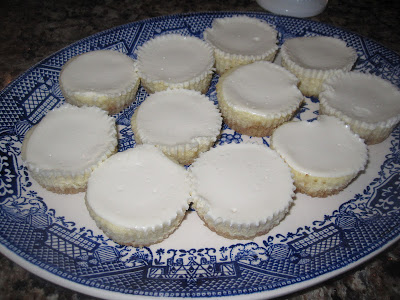 You can add fruit on top if you desire!
So DELICIOUS and so EASY…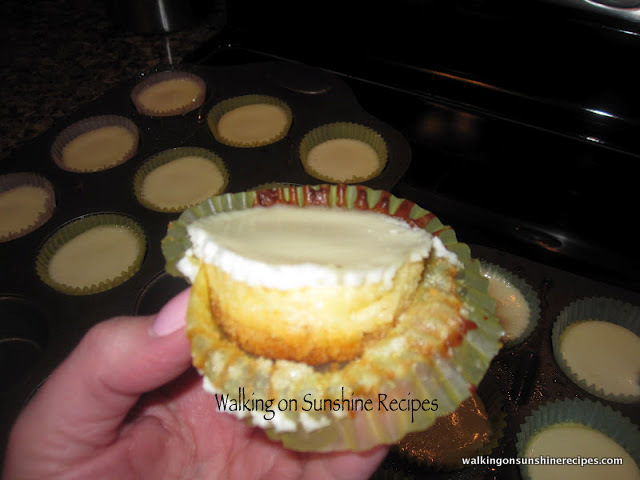 Enjoy your day!