If you're looking for a delicious chicken recipe that is sure to please, look no further than this collection of chicken cutlet recipes with sauce. These recipes feature tender, juicy chicken breasts that are cooked in flavorful sauces.
Serve them over rice or pasta for a complete meal. You can also add vegetables to most of the sauces for an even heartier dish. These recipes are perfect for a weeknight meal, and will leave your family feeling full and satisfied.
Check out all the other chicken cutlet recipes for more delicious ideas for dinner tonight!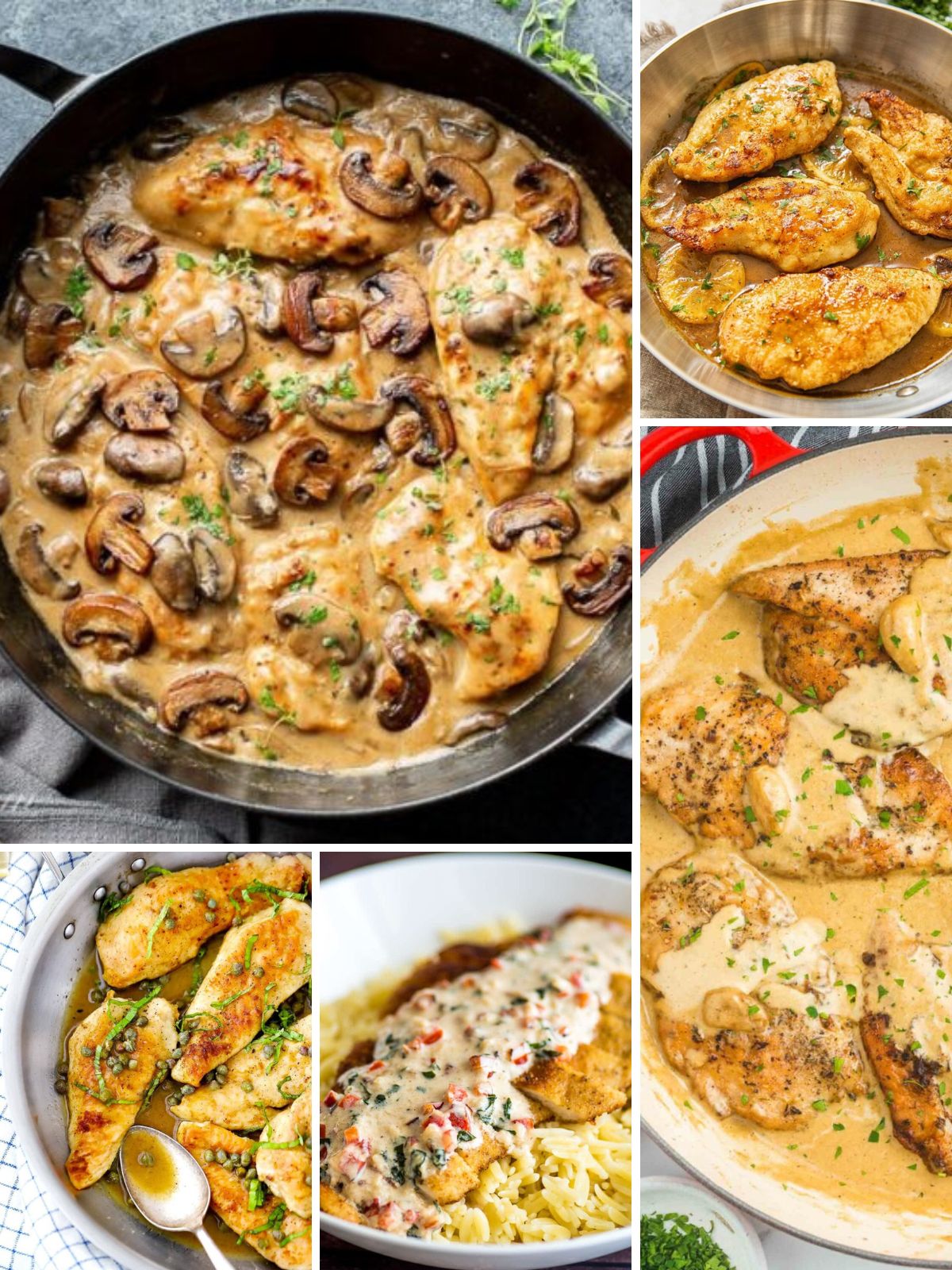 Chicken cutlets are a versatile and delicious option for a quick meal. They can be cooked in a variety of ways and paired with a variety of sauces.
They're a great option for both weeknight dinners and even special occasions. The next time you're looking for something new and exciting to make for dinner, I hope you'll remember this collection and try something new.
Thin chicken cutlets pair perfectly with either a creamy or broth sauce. They go nicely with rice, noodles or my favorite mashed potatoes. Plus, these recipes can be made earlier in the day, so when it comes time for dinner, you can spend less time in the kitchen and more time with your loved ones.
Looking for an easy one? Try my Chicken Cutlets Parmesan that is a creamy Parmesan sauce that's ready fast!
Table of Contents
Looking for family favorite chicken recipes to go along with these side dishes and add to your Weekly Meal Plan? Try my easy Baked Chicken Cutlet Recipes or my Chicken Cutlets with Gravy.
💭Chicken dipping sauce
There are endless possibilities when it comes to dipping sauces for chicken cutlets. If you're feeling really creative, you could even make your own pesto or salsa to accompany your chicken cutlets.
The important thing is to choose a sauce that complements the flavors of the chicken without overpowering them. Try my favorite Dipping Sauce for Chicken Cutlets Recipe.
Here are a few dipping options:
If you're looking for something a little lighter, try mixing together yogurt, lemon juice, and dill.
For a fiery dipping sauce, mix together Sriracha sauce, diced onions, and chopped cilantro.
Craving something sweet? Dip your chicken in a mixture of barbecue sauce and honey.
A simple honey mustard sauce is always a hit. Just mix together some honey, mustard, and mayonnaise to taste.
💭Best sauces for chicken
For a classic chicken cutlet, try breading the chicken in some flour, eggs, and bread crumbs before frying it in a bit of oil. Once it's golden brown and cooked through, top it with your favorite sauce. We love a classic marinara or Alfredo sauce, but you could also try a more creative sauce like asun-dried tomato pesto or even a mango salsa.
If you're looking for something a bit lighter, try grilling or broiling your chicken cutlets instead of frying them. You can still bread them beforehand if you like, or simply season them with salt, pepper, and your favorite herbs before cooking. Serve them with a simple dipping sauce on the side or top them with a flavorful salsa or chimichurri sauce.
One of our favorites is my homemade Sauce for Chicken Cutlets that is ready fast and is sooooo good!
💭Tips for making a sauce thick?
A good sauce can make or break a dish. Too thin and it will lack flavor, too thick and it will be difficult to stir or pour. So how can you achieve the perfect consistency?
The most important thing is to use the right ingredients. Starches like flour or cornstarch are typically used to thicken sauces, but they can also make them taste clumpy or pasty.
Instead, opt for arrowroot powder or tapioca flour, which will dissolve more easily and creating a smoother texture. Another thickening agent to consider is xanthan gum, which is a popular choice in gluten-free cooking.
When using any of these ingredients, be sure to add them slowly and whisk constantly to avoid lumps. Finally, remember that sauces will thicken as they cool, so it's always best to err on the side of thinness when first preparing them.
🍽Helpful Kitchen Tools
This post contains affiliate links. That means that if you make a purchase after clicking on a link I may earn a small commission at no extra cost to you. For more information, click here.
More Information
More Information
More Information
More Information
⭐Before You Begin! If you make this recipe, please leave a review and star rating. This helps my business thrive and continue providing FREE recipes.
📋Featured Recipe Collection
Unlock this recipe by creating an account with GROW! It's easy and allows you to SAVE the recipes you love from my site into your own personalized account. What is Grow? It's another way for you to save the recipes you want to try from all your favorite food bloggers.
Chicken Cutlet Recipes with Sauce
This collection of chicken cutlet recipes with sauce feature tender, juicy thin chicken breasts that are cooked in flavorful sauces.