Baked Chicken Cutlet Recipes - With the help of these simple baked chicken cutlet recipes, you'll have plenty of options to choose from when you're ready to get dinner started. Family dinner time just got easier when you decided to cook chicken tonight.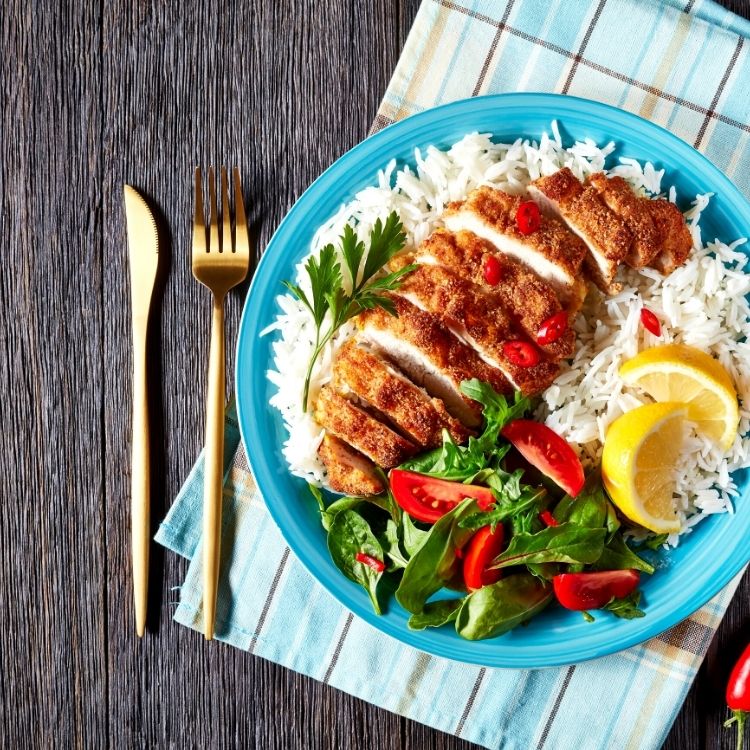 When you need to get dinner on the table fast, you should always reach for a package of chicken cutlets. There are so many ways to create Family Favorite Chicken Recipes the whole family is going to love.
My favorite way to prepare chicken cutlets is using the recipe I grew up on, Italian Style Chicken Cutlets. It's a recipe my children love too! Which is why they're usually included in my Weekly Meal Plan every week.
What goes Good with Chicken Cutlets?
When you're done checking out these chicken cutlet recipes, you're going to want to check out my list of Side Dishes for Chicken Cutlets.
And you might need this "side dish" is important if you have kids and they love to dip chicken, try my Homemade Dipping Sauces. We love the ranch one!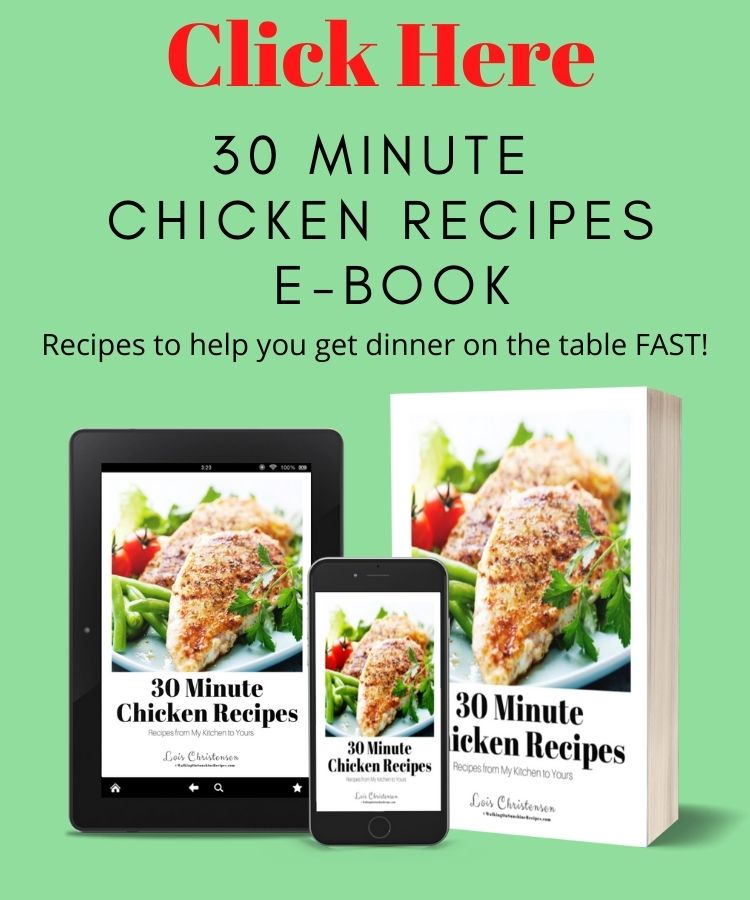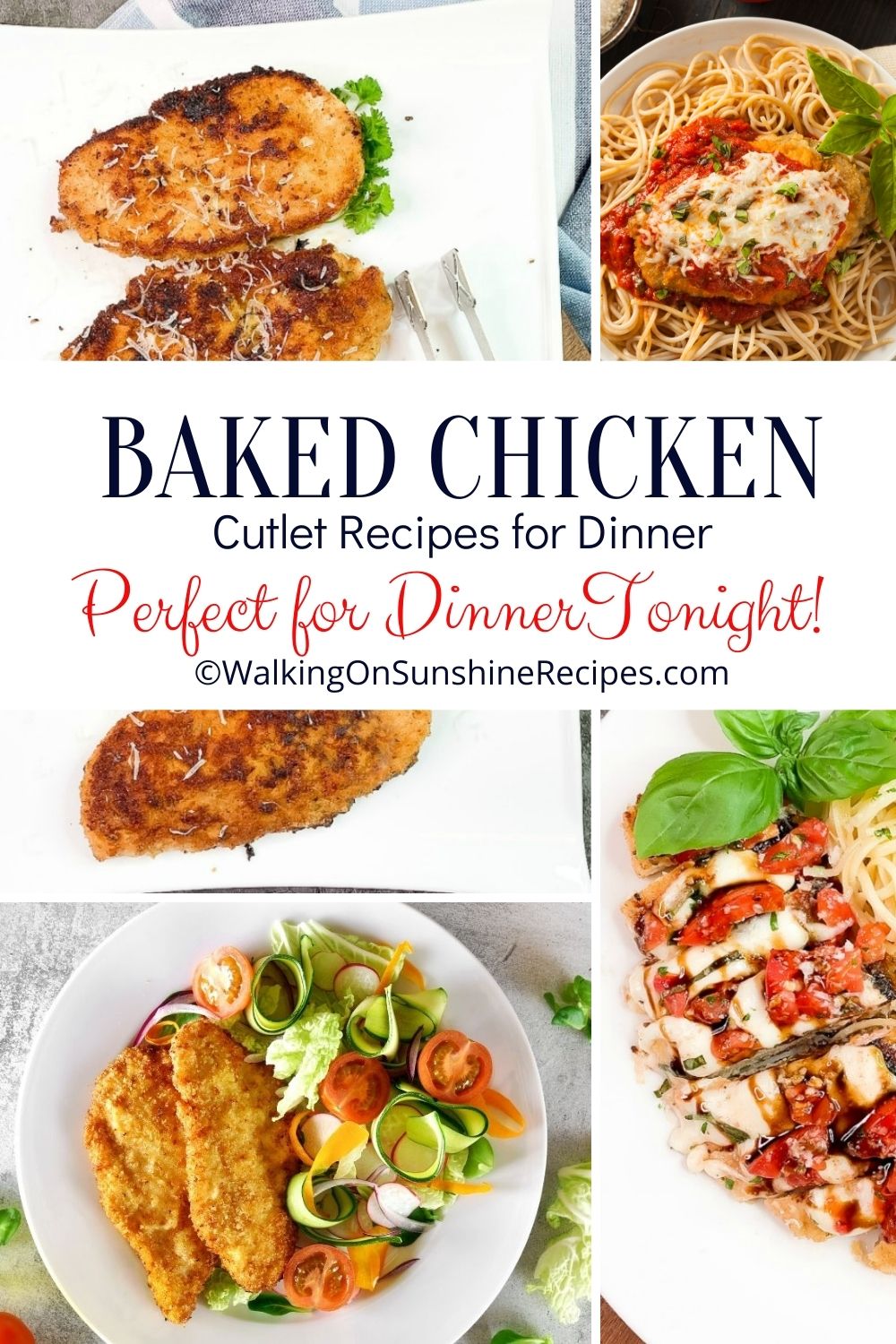 Helpful Kitchen Tools
Affiliate Disclosure: This post may contain affiliate links. As an Amazon Associate I earn from qualifying purchases. For more information, click here.
4 Pieces Breading Trays SetMore Information
Pre-Seasoned Cast Iron Skillet SetMore Information
Digital Instant Read Meat ThermometerMore Information
3-Piece Ceramic Baking Dish, ValueMore Information
Insulated Casserole Carrier for HotMore Information
Bake Chicken Cutlets
Using chicken cutlets for your dinner is a great way to cut down on your cooking time. The thinner piece of meat cooks much faster than a full breast, ensuring you can have dinner on the table in under 30 minutes!
Italian Chicken Recipes
30 Minute Caprese Chicken Recipe – This is a unstuffed caprese chicken recipe that's ready in 30 minutes. Fresh tomato salad and mozzarella cheese on top of breaded chicken cutlets.
Enjoy the flavors of your favorite Italian dish at home with the help of this quick and easy one-pot recipe for chicken parmesan from I Heart Recipes.
These simple Italian chicken cutlets from Inside the Rustic Kitchen are tossed in pesto and lemon juice to add to their flavor.
With all the flavors of the classic Italian dish, this chicken parmesan lasagna from Home and a Plate is a fun take on a popular dinner idea.
The combination of thin chicken cutlets, pesto sauce, and bruschetta make this delicious Italian dish the perfect way to use your chicken tonight. To make this pesto bruschetta chicken from Gypsy Plate, simply top your cutlets with pesto and bruschetta and bake to perfection.
Stuffed Chicken Cutlets – pounded thin boneless, skinless chicken breasts rolled up with a savory bread stuffing. Then cooked in a delicious gravy till tender.
International Chicken Recipes
Use your chicken cutlets to create some delicious stuffed chicken fajita rollups tonight with this simple recipe from The Forked Spoon.
Packed with Asian flavors, this simple recipe for peanut Asian chicken salad from Vintage Kitty combines crunchy chicken with fresh vegetables.
Combine Mexican spices with salsa to create a flavorful dish using your chicken cutlets with this quick and easy recipe for spice rubbed salsa chicken from Strength and Sunshine.
When you roll your chicken cutlets in parmesan cheese and stuff them with spinach and ricotta cheese, you have this chicken rollatini recipe from Divalicious -- a delicious dish that everyone in the family will love.
Crispy Chicken Cutlet Recipes
Your family will love the combination of spicy seasoning and sweet honey sauce on this baked panko chicken from Easy Family Recipes.
This simple recipe for baked parmesan crusted chicken from Spend with Pennies is a versatile way to use your chicken cutlets.
Using your chicken cutlets to make homemade chicken tenders is a great idea! These baked chicken tenders from My Therapist Cooks taste just like they're fried, but are a much healthier option than the ones you find in the restaurants.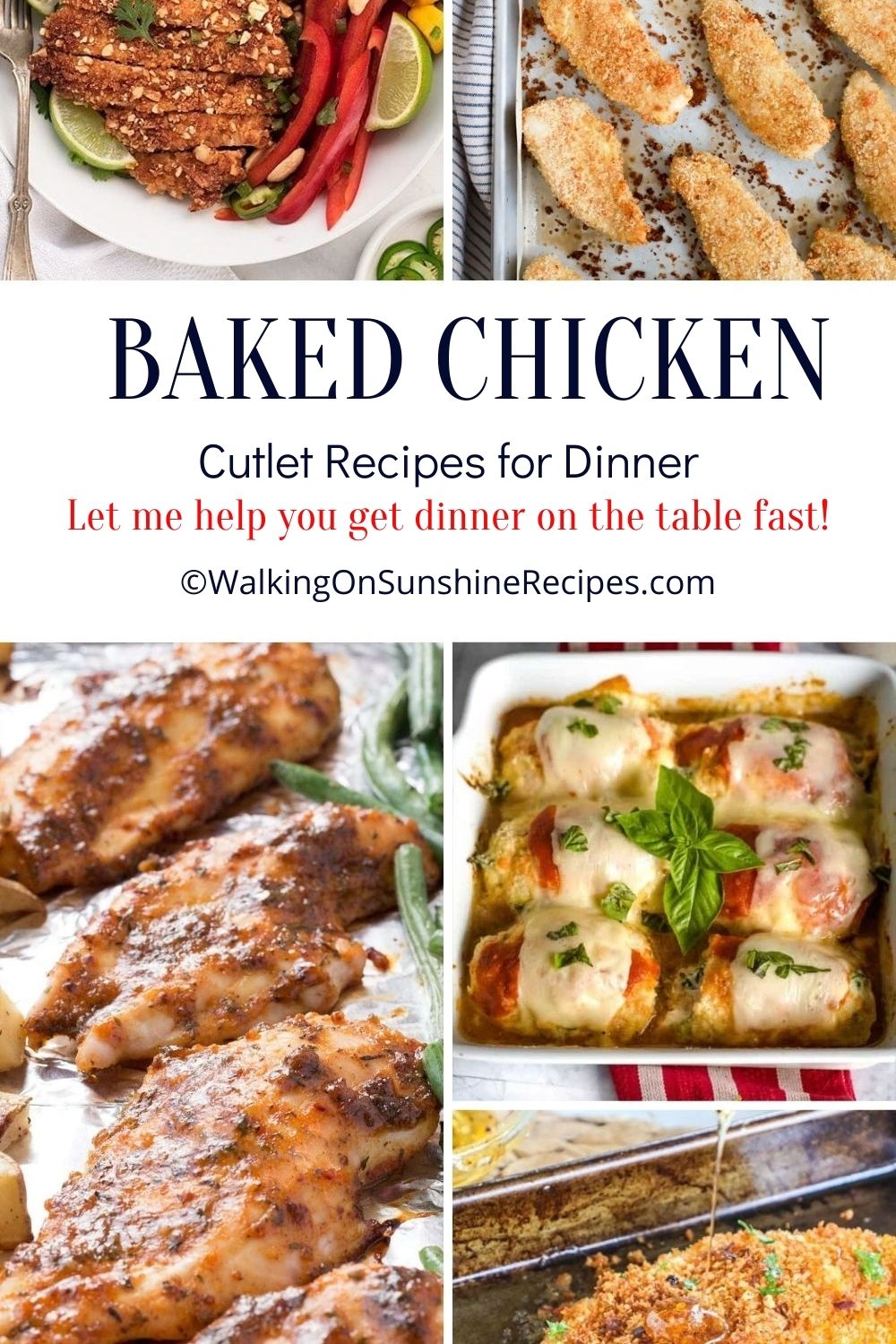 Classic Chicken Cutlet Recipes
Chicken Cutlet Mayonnaise Recipe – you only need 5 ingredients to make dinner tonight! We all love mayonnaise for sandwiches, but what about spread on top of thin sliced chicken cutlets?
With this easy dinner idea, you can bake up an entire meal on a sheet pan! This recipe for baked chicken cutlets with veggies combines Italian style chicken with healthy vegetables.
These simple parmesan chicken rolls are from Pickled and Plum. They're a fun combination of flavors with parmesan cheese and miso sauce.
There's no need to stress about what to make for dinner when you have a great sheet pan recipe! This honey mustard chicken dinner from Borrowed Bites includes everything you need for a delicious meal.
This low carb chicken cutlet recipe is packed with flavor. You'll love the combination of spices and macadamia nut butter in this macadamia nut chicken from The Castaway Kitchen.
Ready for more Chicken Cutlets Recipes?
Monterey Chicken Pasta Recipe – shredded chicken, smokey BBQ sauce, crispy bacon and Monterey Jack Cheese. This makes a delicious and simple one-pan meal that everyone will love. Ready in 30 minutes!
One Pan Chicken and Potatoes – with a side of roasted asparagus! Put all the ingredients on a sheet pan and bake until everything is roasted to perfection!
More Information
More Information
More Information
More Information
More Information
More Information
Frequently Asked Recipe Questions
Should I cover chicken breast when baking in the oven?
Boneless chicken breasts tend to dry out when cooking them in the oven so it's best to cover them loosely with aluminum foil to help keep the moisture in.
How do you keep chicken from drying out in the oven?
Depending on what the recipe calls for, you can rub the chicken with a little oil to add moisture.