Let's take a look at one of the most popular protein choices for dinner...chicken! Add one of these Top Family Favorite Chicken Recipes to your family's weekly meal plan. I'm sure dinner will be a huge success every night this week!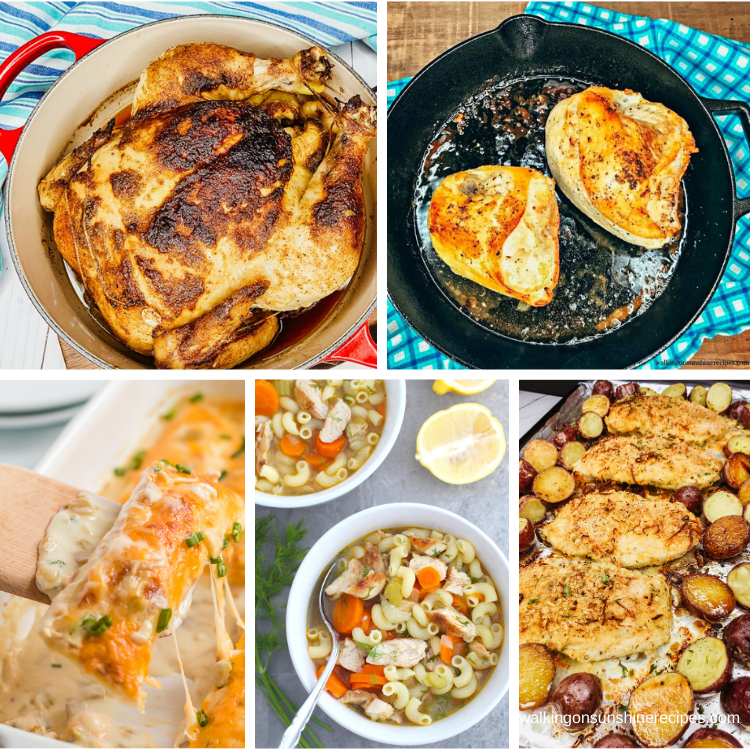 What to prepare for dinner tonight is one of the most asked questions when people come to visit my site. You're looking for a recipe that's easy to prepare that everyone in your family is going to love.
Make sure you check out my family's favorite Dipping Sauce for Chicken too!
Family Favorite Chicken Recipes
For most people, chicken is an easy choice to make for dinner. And rightfully so! Chicken is healthy, it's high in protein and lower in cholesterol than red meat.
Besides being healthy, most chicken dinners cook fast and are pretty inexpensive. You're going to find a recipe that will definitely please everyone in your family on this page!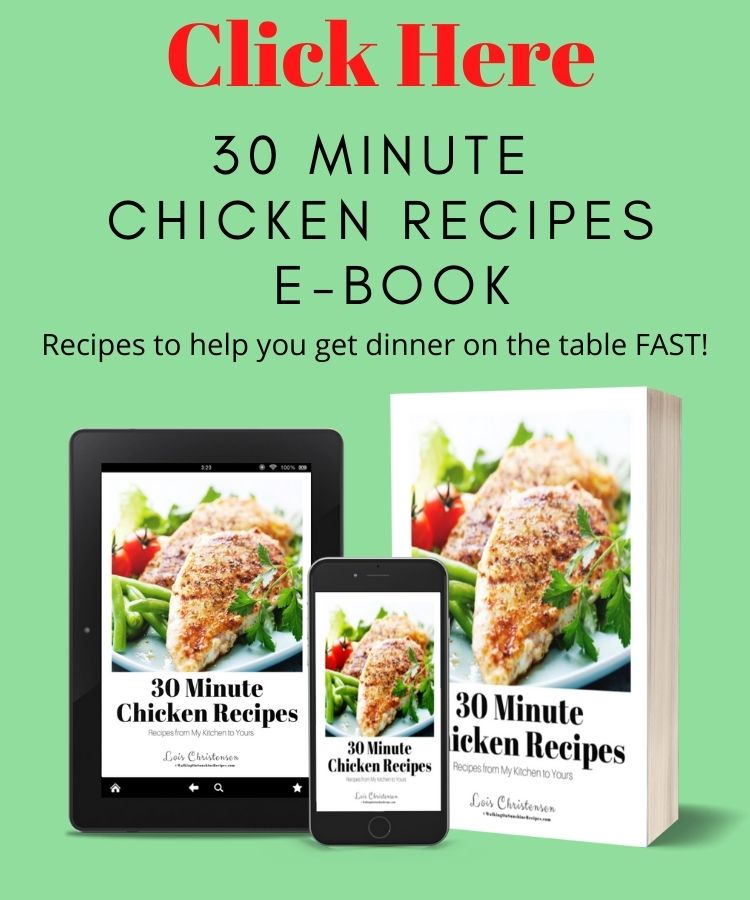 Helpful Kitchen Tools
This post contains affiliate links. That means that if you make a purchase after clicking on a link I may earn a small commission at no extra cost to you. For more information, click here.
Here are a few of my favorite kitchen tools to help me prepare these Family Favorite Chicken recipes:
4 Pieces Breading Trays SetMore Information
Stainless-Steel Breading TraysMore Information
The Pioneer Woman Baking DishMore Information
Digital Instant Read Meat Thermometer KitchenMore Information
Meat Tenderizer, Heavy Duty Hammer MalletMore Information
Chicken Cutlet Recipes
I think out of all the chicken recipes featured here, Chicken Cutlet Recipes are my favorite. They're delicious recipes that help me get dinner on the table fast. Which is why they're usually included in my Weekly Meal Plan every week.
Here are just a few of my family's favorites. The rest can be found on the Chicken Cutlet Recipe Index:
30 Minute Caprese Chicken Recipe - This is a unstuffed caprese chicken recipe that's ready in 30 minutes. Fresh tomato salad and mozzarella cheese on top of breaded chicken cutlets.
Chicken Cutlets with Gravy - perfectly seasoned, thin breaded chicken cutlets fried golden brown and served with mashed potatoes and homemade gravy.
Chicken Parmesan - Chicken Parmesan is one of those meals everyone in the whole family loves! Well, at least in my family. To begin with, you use my easy recipe for Breaded Chicken Cutlets Italian Style that are smothered in homemade marinara sauce topped with mozzarella cheese. Both recipes are family favorites we love for dinner.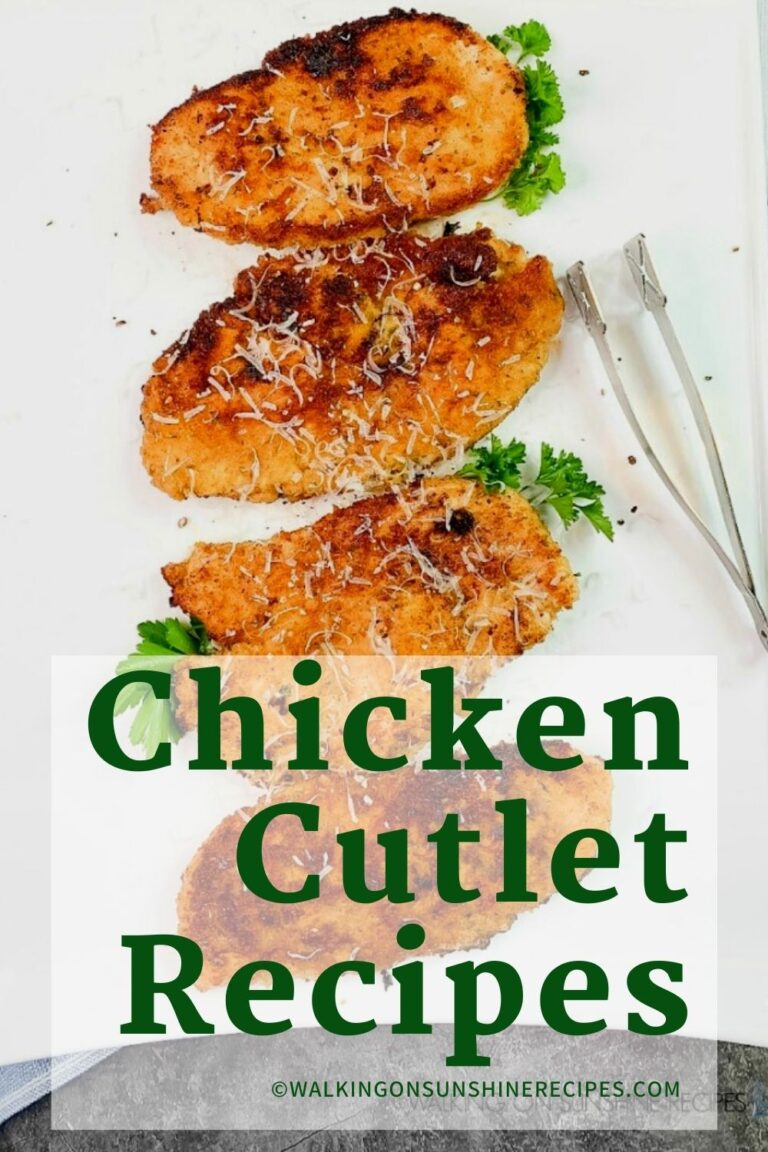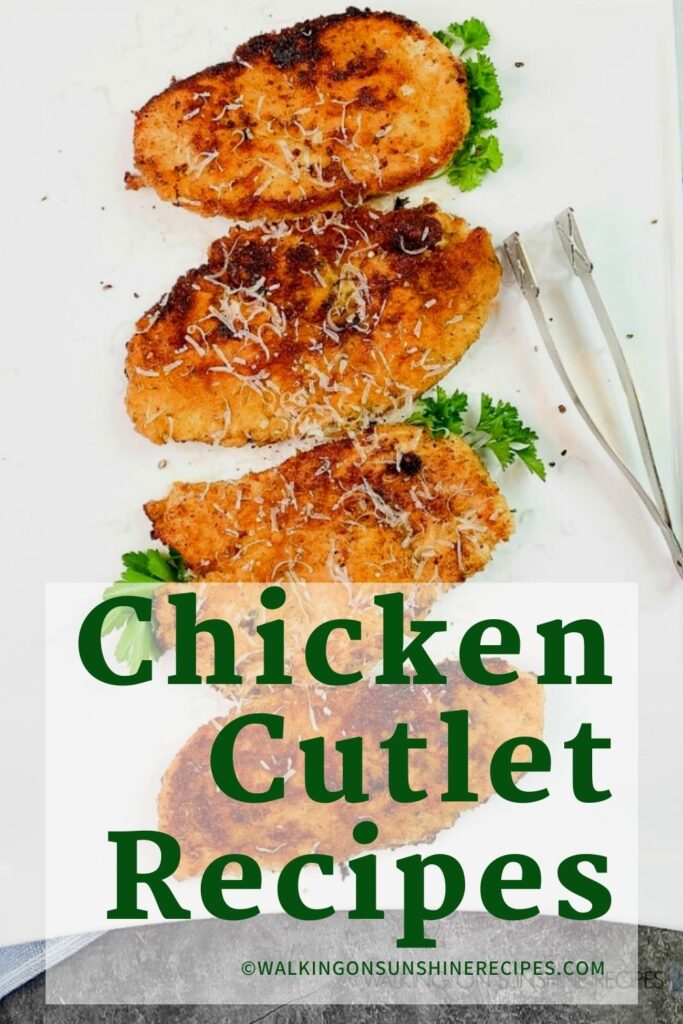 Cast Iron Skillet Chicken Recipes
I love cooking and creating Cast Iron Skillet Chicken Recipes. Here are a few of my favorite:
If you're looking for a boneless chicken recipe made in the skillet, try Cast Iron Skillet Chicken Breasts. This just might be my favorite way to cook chicken! Using a cast iron skillet helps retain the heat so everything cooks evenly and perfect every time.
Cast Iron Pan Roasted Chicken Breasts - another popular recipe on the blog and one that I almost didn't post! I just happened to take photos of everything while I was cooking dinner and thought my readers would like to see another EASY crispy chicken recipe.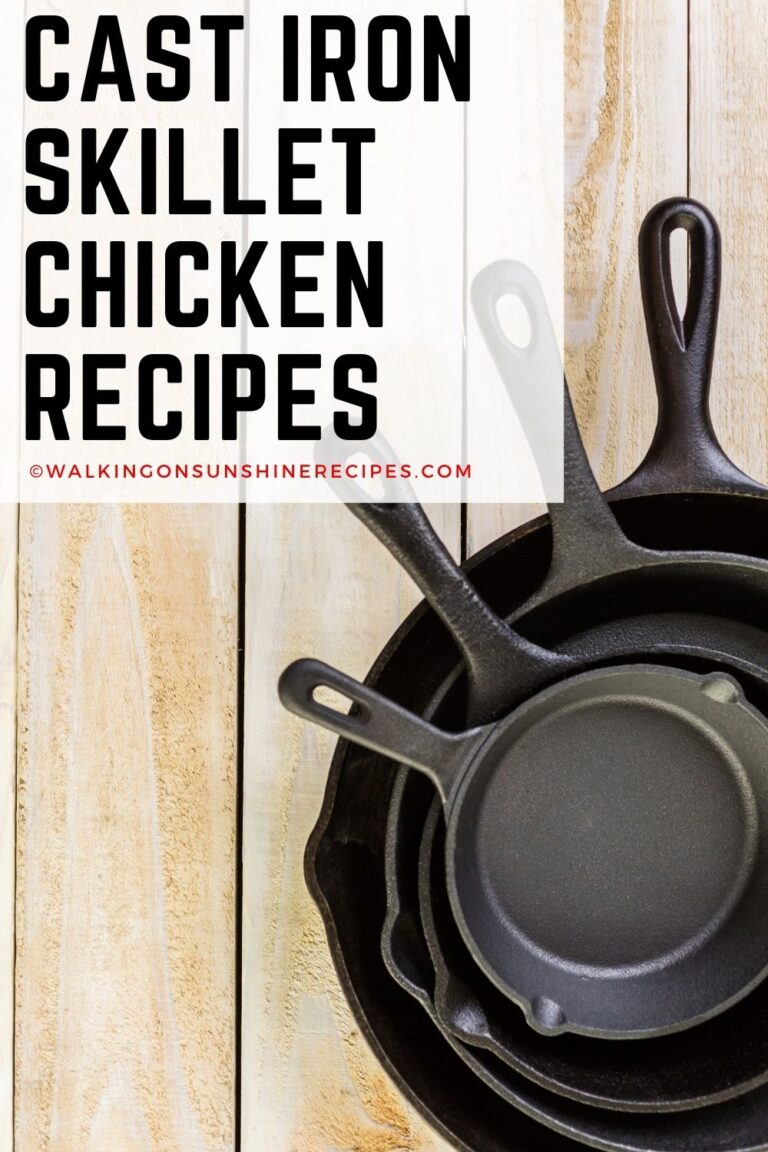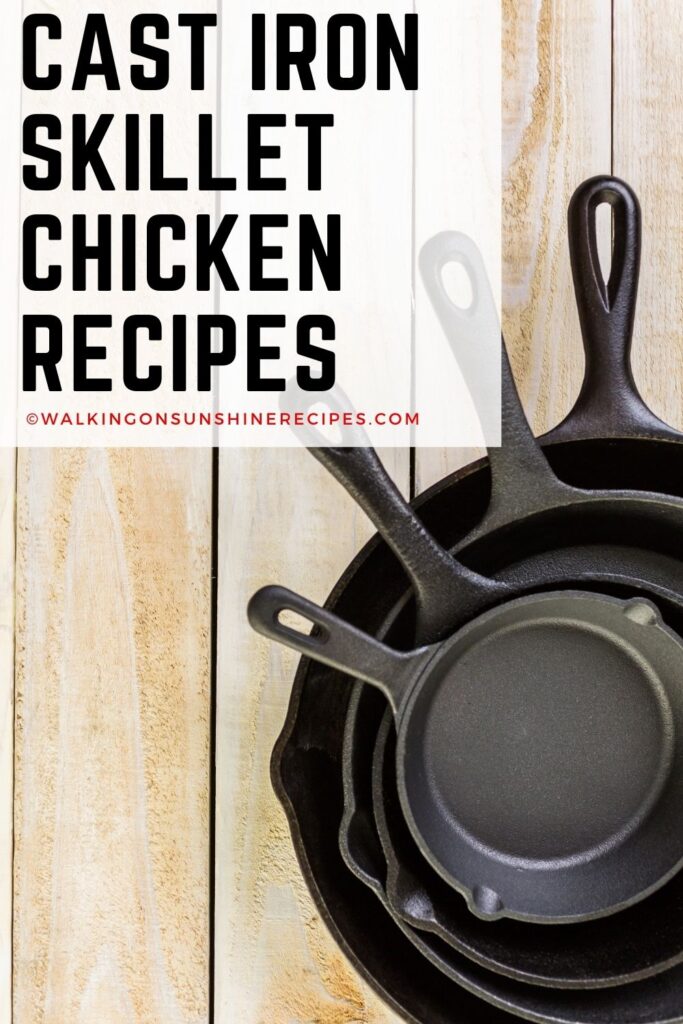 Fast Chicken Recipes
Air Fryer BBQ Chicken Wrapped in Bacon - it doesn't get faster than cooking chicken in an air fryer. AND the chicken comes out incredibly tender and juicy.
Instant Pot BBQ Chicken Sandwiches - Need to get dinner on the table fast? Try this recipe for Instant Pot BBQ Chicken Sandwiches. Sweet, spicy shredded chicken cooked to perfection piled high on soft rolls is ready fast when you start off using an instant pot.
Monterey Chicken Pasta Recipe - shredded chicken, smokey BBQ sauce, crispy bacon and Monterey Jack Cheese make a delicious and simple one-pan meal that everyone will love. Ready in 30 minutes!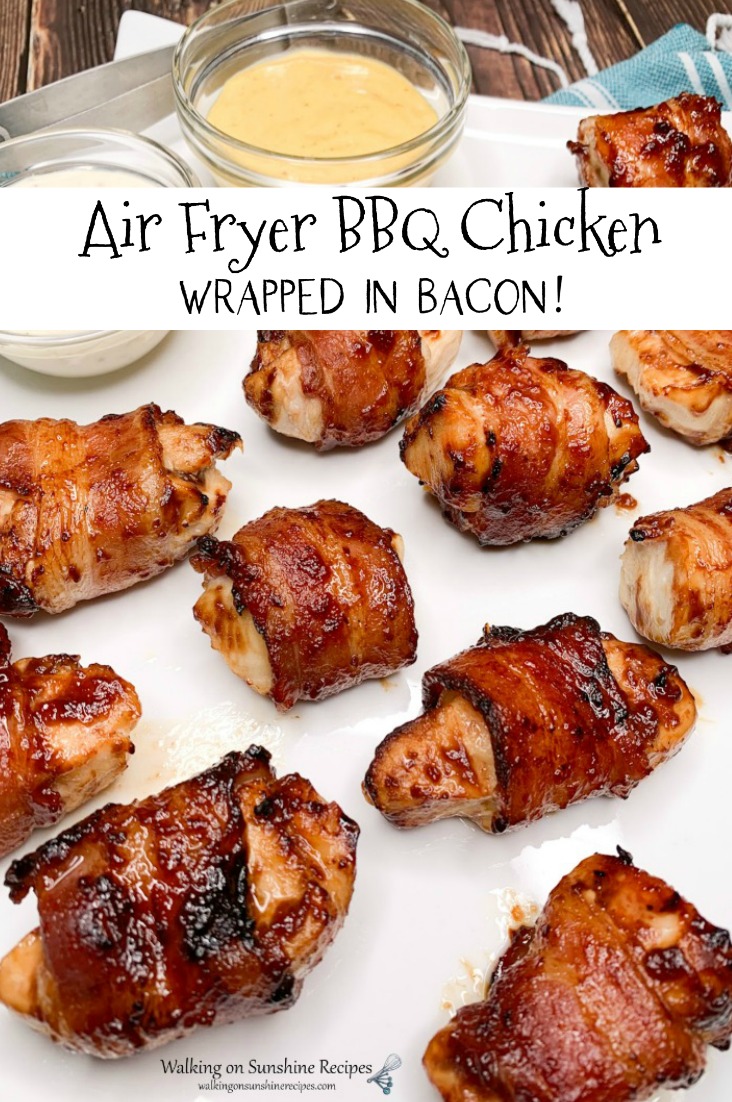 Classic Chicken Recipes
Hasselback Chicken - this recipe was first published in 2016 and it literally blew up my site. It's my most popular recipe on the blog and has been pinned and shared hundreds of thousands of times!
Easy Chicken Marsala - is one of those recipes you need in your recipe box. Easy enough for a weeknight meal but delicious enough to serve to company for a special occasion. I once made this recipe for 15 family members that were coming over for dinner after a long day of sightseeing in New York City.
Another family favorite recipe that's perfect for summer picnics or backyard parties is Grilled Barbecue Chicken Legs and Thighs. This recipe uses my Homemade Barbecue Sauce that only has three ingredients.
Dutch Oven Roast Chicken – perfectly seasoned with a combination of spices and brown sugar that give it a beautiful crispy skin with tender, juicy meat.
Bacon Wrapped BBQ Crock Pot Chicken - is sweet, smoky and delicious. Cooks in the crock pot so you can have dinner waiting for you at the end of a long day.
Grilled Chicken Sandwiches - served with the best sauce for chicken sandwich, Homemade Garlic Parmesan Mayonnaise. The perfect recipe to enjoy for a picnic either in your own backyard or nearby park.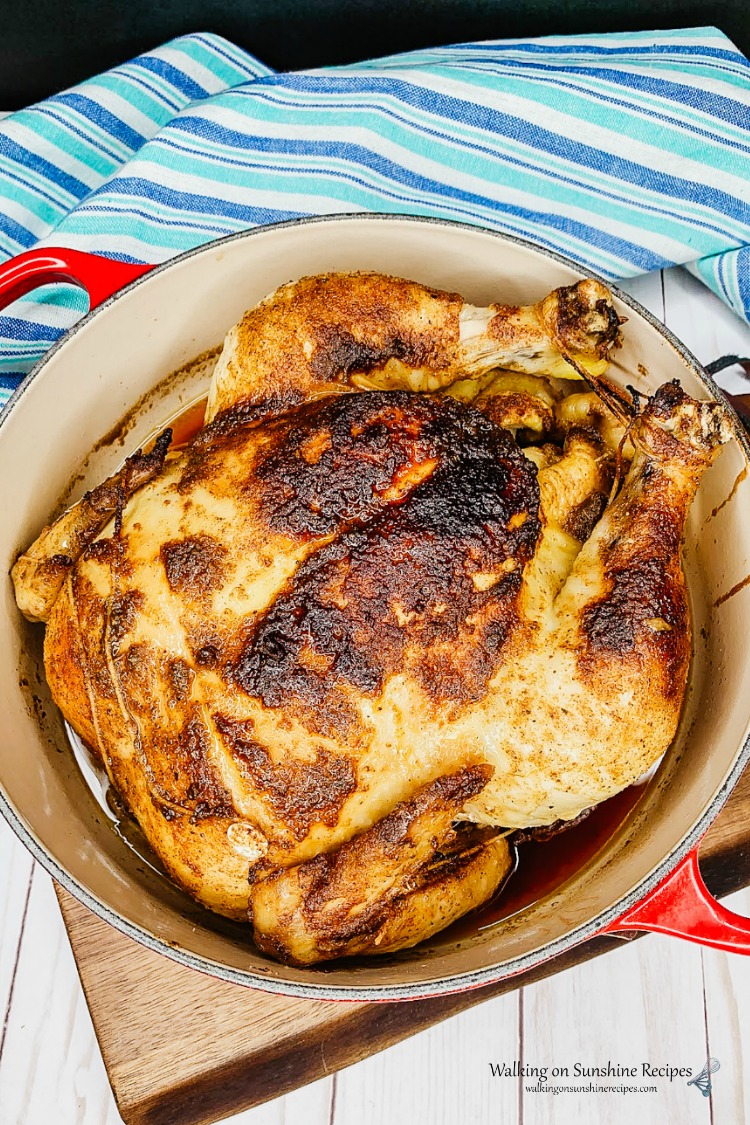 Chicken Casserole Recipes
One Pan Chicken and Potatoes - with a side of roasted asparagus! Put all the ingredients on a sheet pan and bake until everything is roasted to perfection!
Creamy Chicken Enchiladas - freezing tips included so you can prep ahead for nights when you think you might just be too busy to cook.
Chicken, Broccoli and Cheese Casserole - another casserole recipe that's made in a cast iron skillet.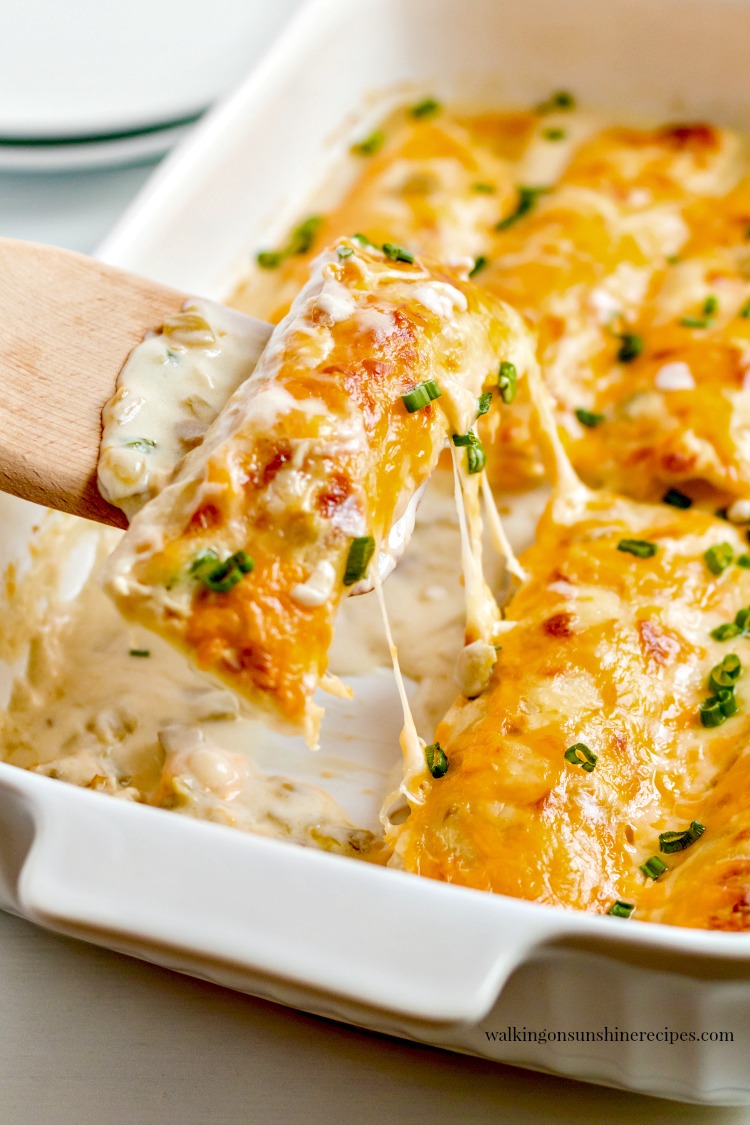 The Best Chicken Pot Pie - my daughter's favorite recipe when she was little. Creamy, delicious chicken with vegetables baked inside a flaky pastry pie shell.
Skillet Chicken Pot Pie with Refrigerator Biscuits - another take on chicken pot pie only made with easy refrigerator biscuits instead of a traditional pie crust.
The last family favorite chicken recipe that I want to share with you today is my easy recipe for Homemade Chicken Soup.  This recipe is perfect all year round, not just during the cold winter months. 
Finally, if you're looking for side dishes to serve alongside these chicken main dishes, check out Summer Salad Recipes and Side Dishes for Chicken Cutlets.