If you're looking for ideas on what to make for dinner tonight, look no further than these Family Favorite Chicken Recipes. Here you'll find a variety of tasty and easy-to-prepare dinner recipes, perfect for your Weekly Meal Plan.
Whether you're in the mood for something healthy or hearty, we've got you covered. So what are you waiting for? Get cooking!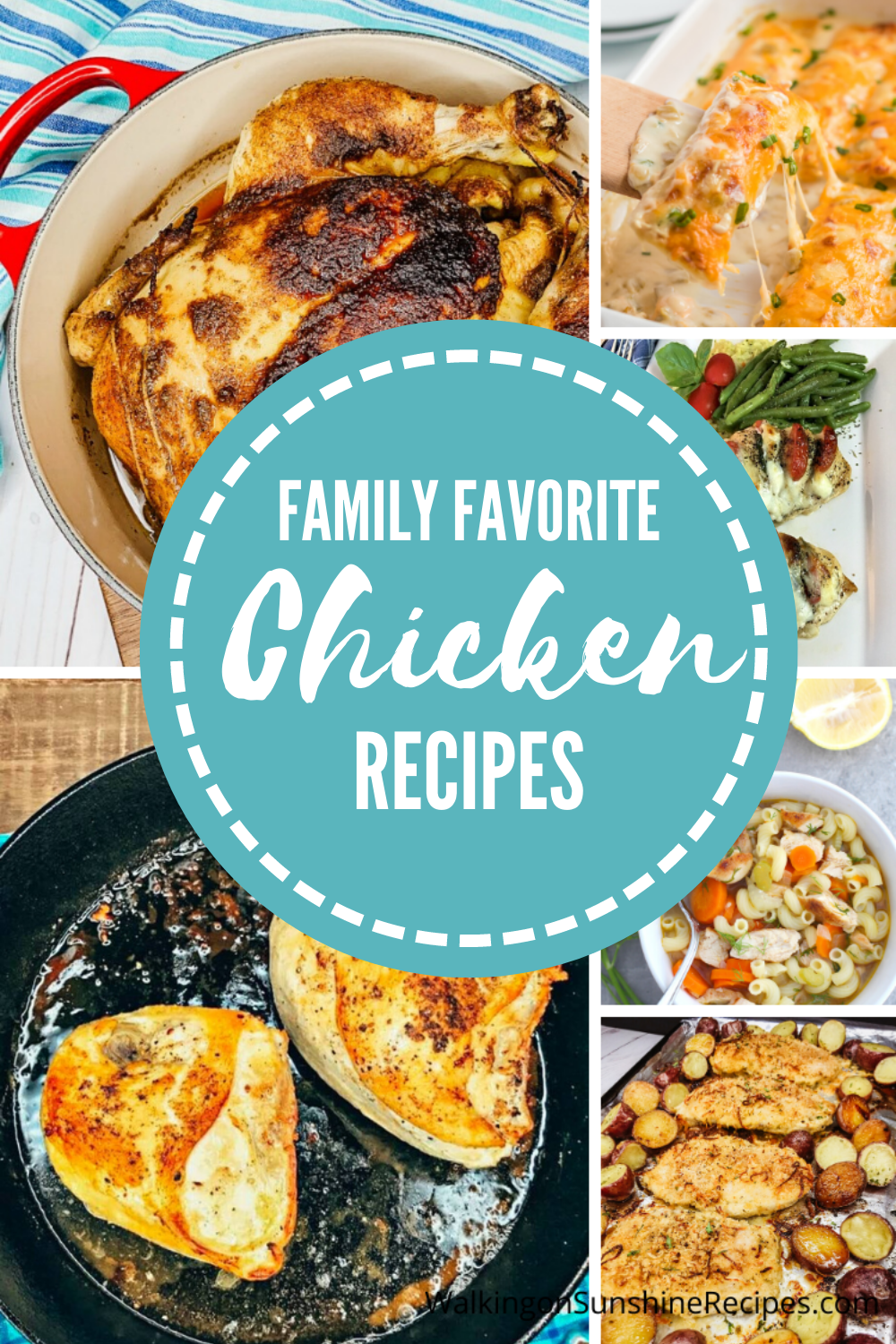 What to prepare for dinner tonight is one of the most asked questions when people come to visit my site. You're looking for a recipe that's easy to prepare that everyone in your family is going to love.
For most people, chicken is an easy choice to make for dinner. And rightfully so! Chicken is healthy, it's high in protein and lower in cholesterol than red meat.
Most chicken dinners cook fast and are pretty inexpensive. You're going to find a recipe that will definitely please everyone in your family on this page!
Table of Contents
Chicken Cutlet Recipes
Looking for a delicious and easy Chicken Cutlet Recipes for dinner tonight? These quick and simple recipes are perfect for a busy weeknight, and can be easily adapted to your family's favorite seasonings. Which is why they're usually included in my Weekly Meal Plan every week.
Make sure you check out my family's favorite Dipping Sauce for Chicken that is perfect for any thin, crispy chicken cutlet recipe.
Cast Iron Skillet Chicken Recipes
When it comes to home cooking, few things are more versatile or tasty than a good old-fashioned Cast Iron Skillet Chicken Recipe. And when you cook it in a cast iron skillet, you're guaranteed to get juicy, flavorful results every time. Check out a few of our favorites:
Fast Chicken Recipes
Classic Chicken Recipes
Chicken Casserole Recipes
Air Fryer Recipes
There are quite a few chicken air fryer recipes that would make great additions to your weekly meal plan.
Helpful Kitchen Tools
This post contains affiliate links. That means that if you make a purchase after clicking on a link I may earn a small commission at no extra cost to you. For more information, click here.
Here are a few of my favorite kitchen tools to help me prepare these Family Favorite Chicken recipes:
4 Pieces Breading Trays SetMore Information
Stainless-Steel Breading TraysMore Information
The Pioneer Woman Baking DishMore Information
Digital Instant Read Meat Thermometer KitchenMore Information
Meat Tenderizer, Heavy Duty Hammer MalletMore Information