Classic Ways to Cook Eggs - Here are different ways we can enjoy eggs for breakfast, brunch or even dinner. I'm also including some of my family's favorite recipes along with different cooking methods.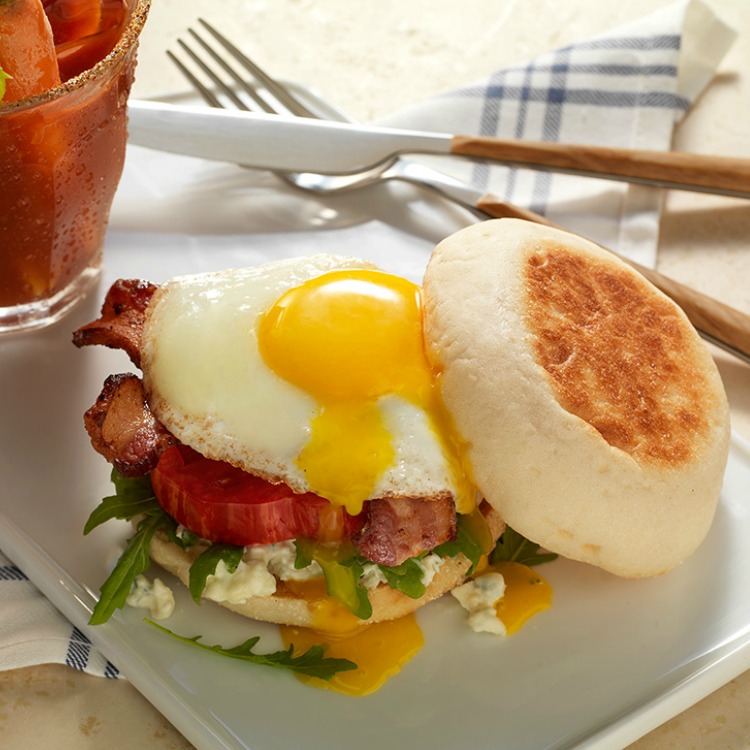 Hard Boiled
Whether you're on a diet, follow a keto-friendly lifestyle or just want to get ready for an Easter egg hunt, hard boiled eggs are probably the most popular of the classic ways to cook eggs! Here's the easy way I make hard boiled eggs:
Add the amount of eggs you want to cook to a large pot.
Fill the pot with water making sure you cover the eggs completely.
Bring water to a boil and allow the eggs to boil.
Leave heat on high and set timer for 2 minutes for fully white set whites and jammy yolks.
Remove eggs from the heat, and allow them to sit for an additional 10 minutes before placing them in an ice bath for 10 minutes.
Peel under running water.
Check out my post on a favorite way to enjoy hard boiled eggs with my recipe for Classic Deviled Eggs Recipe. You can also make delicious Egg Salad with hard boiled eggs too!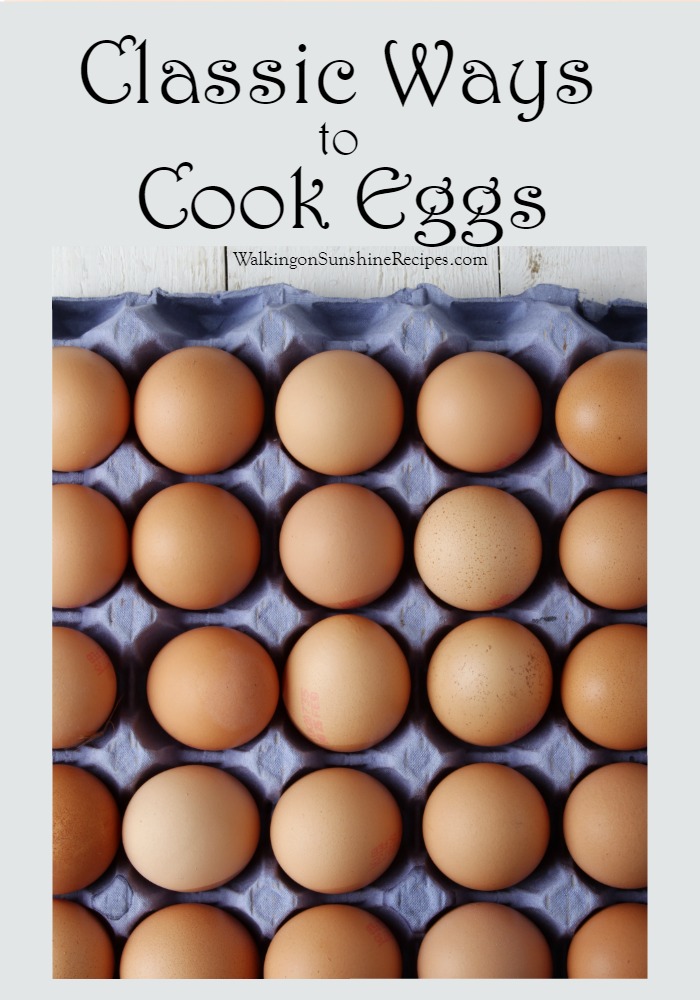 Poached
This is one way of cooking eggs that I don't really enjoy. However, I know there are plenty of readers out there that love poached eggs...my mother is one!
Add cold water and 1 tablespoon of white vinegar to a pot.
Crack eggs into individual small bowls.
When water is almost boiling swirl with a flat spatula making a whirlpool effect.
Pour eggs into the center.
off heat and cover pot.
Set a timer for 4 minutes and 45 seconds.
Remove eggs from the pan with a slotted spoon.
Eggs Benedict
Eggs Benedict consists of toasted English muffin halves that are topped with a slice of Canadian bacon, a poached egg and a spoonful of creamy Hollandaise sauce.
Use the poached egg method mentioned above. Make the Hollandaise sauce first and the poached eggs last.
Here's how to make the Hollandaise sauce:
Separate 3 eggs whites and yolks.
Whisk the 3 egg yolks, ¼ cup of water, and 2 tablespoons of fresh lemon juice in a small saucepan until blended.
Cook over very low heat, stirring constantly, until mixture bubbles at the edges.
Stir in 1 stick of butter that's been cut into 8 pieces, one piece at a time, until butter is melted and sauce is thickened.
Remove from the heat immediately.
Stir in ¼ teaspoon of salt and a dash of paprika and pepper.
Spoon over the poached egg and muffins and serve.
Sunny Side Up
This was my father's favorite way to eat eggs. I can still picture him dipping his toast into the runny part of the eggs.
Here's how to make the perfect Sunny Side Up Egg:
Heat 2 tablespoons of oil in a pan over medium high heat.
Crack the egg into the pan and reduce the heat to low.
Spoon excess oil over the whites of the egg to help them cook.
Repeat this for about two minutes for set whites and runny yolk.
Scrambled
For me, when I think of classic ways to cook eggs, I think of scrambled eggs! Here's how I make scrambled eggs for breakfast:
Heat a drizzle of oil in a pan on medium high heat.
Scramble eggs, with a splash of cream or half and half, thoroughly with a fork until small bubbles appear.
Turn heat to low and immediately pour eggs into the pan.
Allow the bottom layer to cook for 5 seconds.
Using a rubber spatula, push and fold some of the eggs into the center.
Wait a few seconds and repeat this process until all eggs are set; no more than 45 seconds.
Check out this classic scrambled eggs recipe. You'll love her presentation too!
Omelette
My husband's favorite way to enjoy eggs. I make amazing omelettes. Well, I should be after almost 33 years of marriage!
Here's my recipe for the perfect omelette:
Heat a cast iron skillet or a non-stick skillet over medium heat.
Crack 2 eggs in a bowl and scrambled with a tablespoon of water.
Add 2 tablespoons of butter to the heated skillet and immediately add the beaten eggs.
Allow the eggs to cook for a minute or until the bottom starts to set.
Using a rubber spatula, begin pushing one edge of the egg into the center of the pan while tilting the pan to allow the remaining liquid egg to flow in underneath.
Repeat doing this with all the edges of the egg until the liquid part of the egg is completely set.
Now add your favorite fixings such as cheese, peppers, mushrooms, etc. to done side only of the eggs.
Allow those to cook for another minute and then gently lift one edge of the egg and fold it across to the other side completely covering and folding in half the eggs.
Turn off the heat, cover and allow the cheese to completely melt before gently lifting out to a plate.
Serve immediately.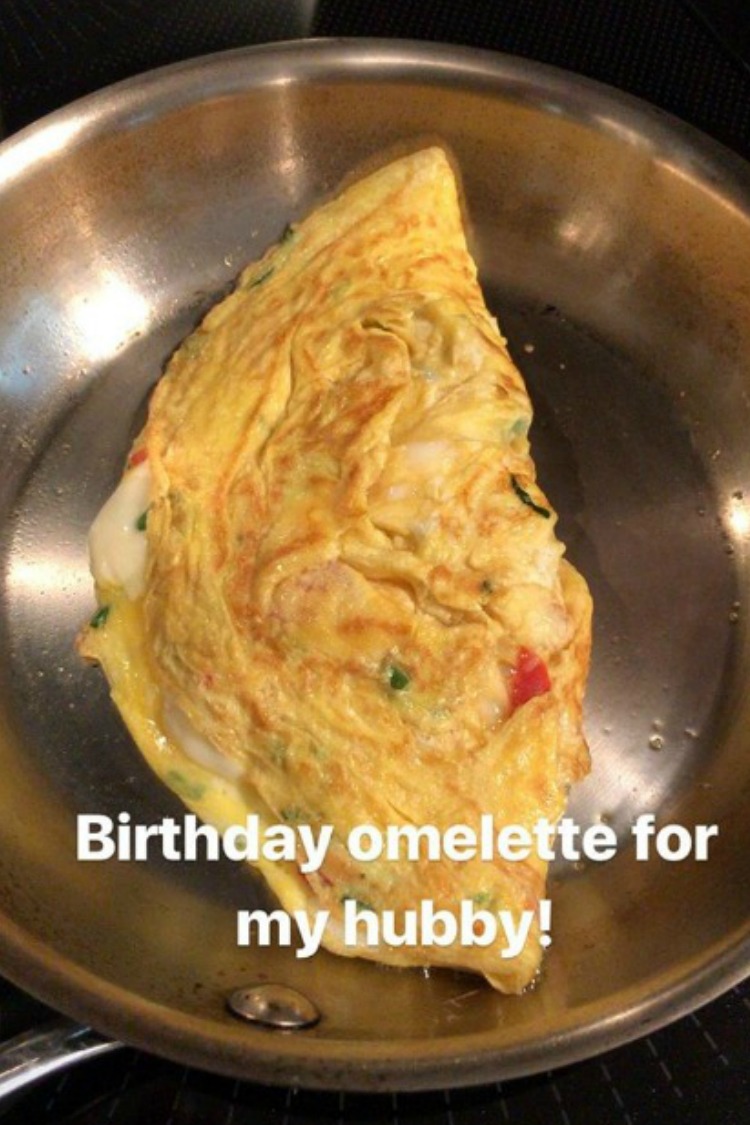 Classic Ways to Cook Eggs
Here are a few classic ways to cook eggs. A few of my family's favorites are included too!