This recipe for Easy Classic Deviled Eggs is sponsored by Great Day Farms.  All thoughts and opinions are my own.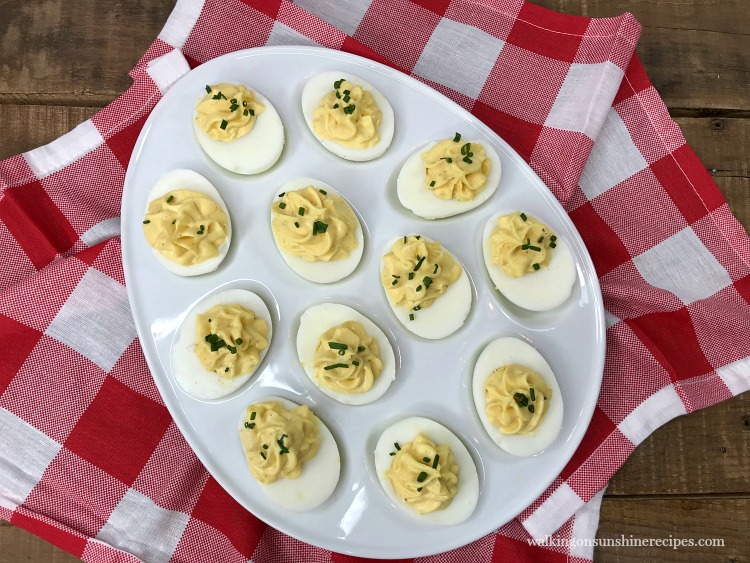 Easy Classic Deviled Eggs
Now that the summer picnic and barbecue season is upon us, a side dish or appetizer that is sure to be on most buffets is Deviled Eggs.  Today I'm sharing with you one of the most popular recipes for summer…Easy Classic Deviled Eggs.
I say "easy" because this recipe is probably one of the easiest recipes ever! I mean, all you do is take hard boiled eggs and add a few simple ingredients and in just a few minutes you have an amazing appetizer or side dish to serve for picnics, barbecues, baby showers…even Sunday Dinner!
Hard-Boiled Eggs
However, for some people the thought of boiling eggs and then peeling them can be a nightmare.  Oh, not if you're going to be serving the eggs just to your family.  And by family, I mean you husband and children.
NOT your Aunt Mary or Grandmother who, of course, are known for serving the most amazing and BEAUTIFUL deviled eggs that ever were created.
Does this sound familiar? You boil the eggs for exactly two minutes and then you let them cool in a bath of cold water. You might even throw in a few ice cubes to make sure the eggs cool down perfectly.
And then you go to peel the eggs.  What happens?  Well, for some people, nothing.  They get beautiful peeled hard-boiled eggs every time.
But for others, you get an egg that is so in love with its shell, it is refusing to leave.  Right?  Come on, let's be honest.  We've all been there!
Who wants to place a plate of delicious deviled eggs on the family picnic table with chunks of the egg whites missing.
Great Day Farms
When you're serving deviled eggs, you want them to be beautiful.   Which is why I'm happy I discovered Great Day Farms Peeled and Ready-To-Eat Hard Boiled Eggs available at Walmart.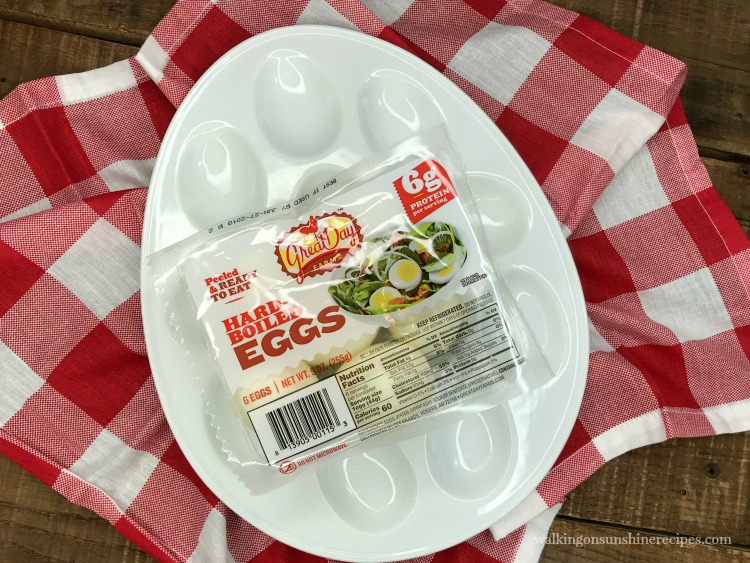 You can find these eggs in the deli section at Walmart. The best part?  They are ready-to-eat, hard-boiled, already peeled, eggs….emphasis on already peeled, okay?
You can use them in a bunch of different recipes, but they're amazing to use for this Easy Classic Deviled Egg Recipe. Because we all want our eggs to look pretty on the plate and taste amazing too.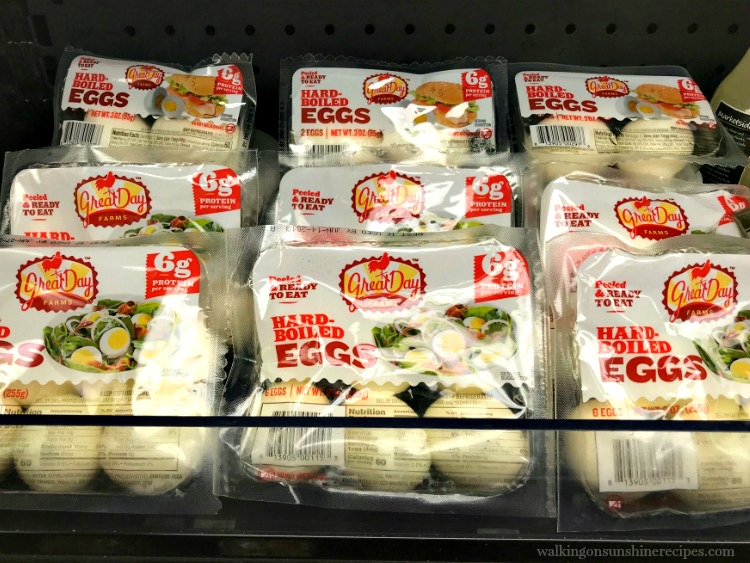 How to Make Easy Classic Deviled Eggs
Here's what you need to make this recipe:
6 Great Day Farms Eggs
1/2 cup mayonnaise
2 tsp. mustard – I used brown mustard.  You can definitely use Dijon!
salt and pepper to taste
chopped chives
That's it.  See?  I told you this was EASY!
Slice the eggs in half and scoop out the yolks into a separate bowl.  The easiest way to get the yolks out without breaking the egg whites is to use a melon baller.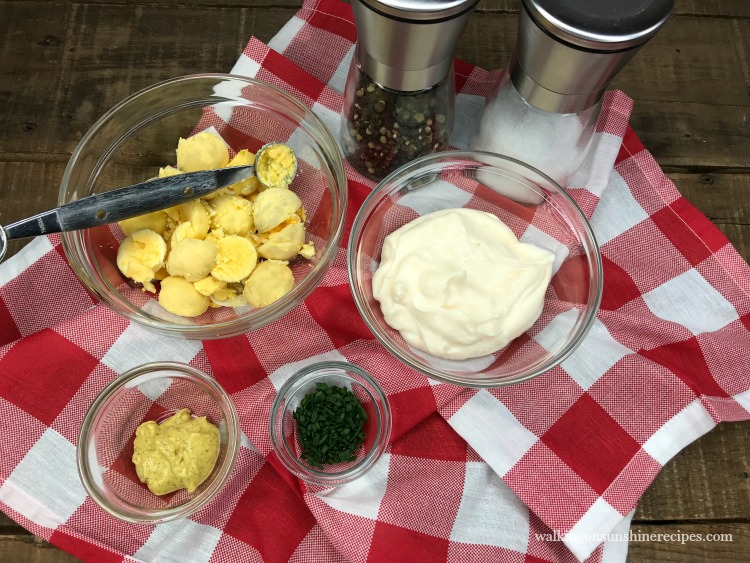 Make sure you mash the egg yolks really well.  There's nothing worse than a chunky deviled egg.
You can use two spoons or you can pipe the egg yolk mixture into the egg white halves.  The easy way to fill a pastry bag is use a drinking glass.
Fold the pastry bag down over the drinking glass and then spoon in the filling.  Then just pull the pastry bag up and everything is clean and ready to pipe.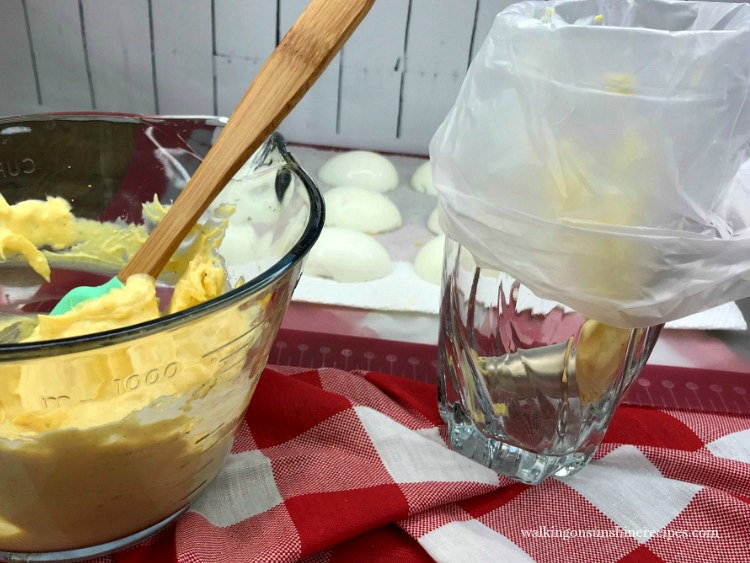 Arrange the eggs on the egg platter and sprinkle with the chopped chives.
Leftover deviled eggs can be stored in the refrigerator for several days, but may not look as pretty.  They'll still taste amazing, so if you have leftovers, enjoy them!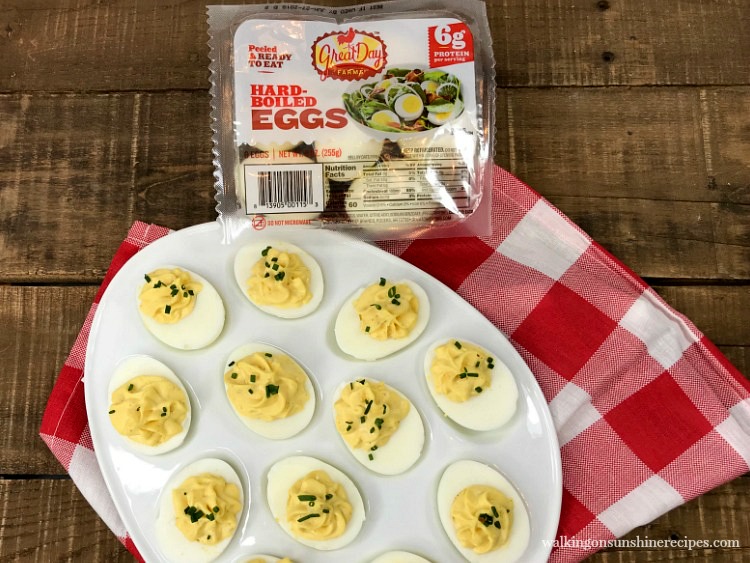 Helpful Kitchen Tools Used in this Recipe:
This post contains affiliate links.   For more information, click here.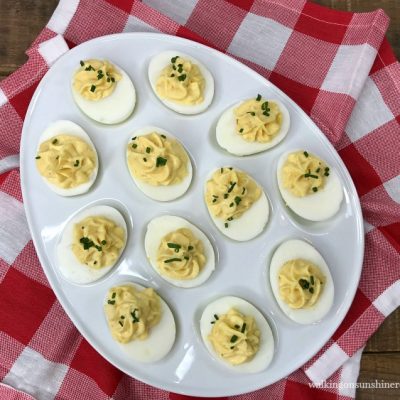 Easy Classic Deviled Eggs
Easy Classic Deviled Eggs are the perfect side dish or appetizer to serve for your next summer barbecue or picnic.
Ingredients
6

Great Day Farms Eggs

1/2

cup

mayonnaise

2

tsp

mustard

salt and pepper to taste

chopped chives
Instructions
Cut the eggs in half down their length, from tip to bottom.

Gently removed the egg yolks from the whites and place in a small bowl.

Arrange the empty egg whites on a platter, cut-side up.

Mash the yolks with a fork until they are completely crumbled.

Add the mayonnaise and mustard. Combine well.

Season with salt and pepper to taste.

Using either 2 spoons or a piping bag, fill the egg whites with the egg yolk mixture.

Sprinkle with chopped chives right before serving.
Recipe Notes
I used brown mustard, but Dijon mustard works great too. 
Leftover deviled eggs can be kept in the refrigerator for a few days, but they will not look as pretty.