Looking for an refreshing and exotic beverage to enjoy while entertaining? Look no further than this collection of coconut water drink recipes! Coconut water is packed with electrolytes and nutrients and is the perfect way to stay hydrated and healthy all year long.
Whether you're craving a fruit-infused smoothie or a tropical non-alcoholic cocktail, you'll find the perfect refreshing recipe below.
Check out all the other Infused Water Recipes for even more drink ideas on creating delicious recipes.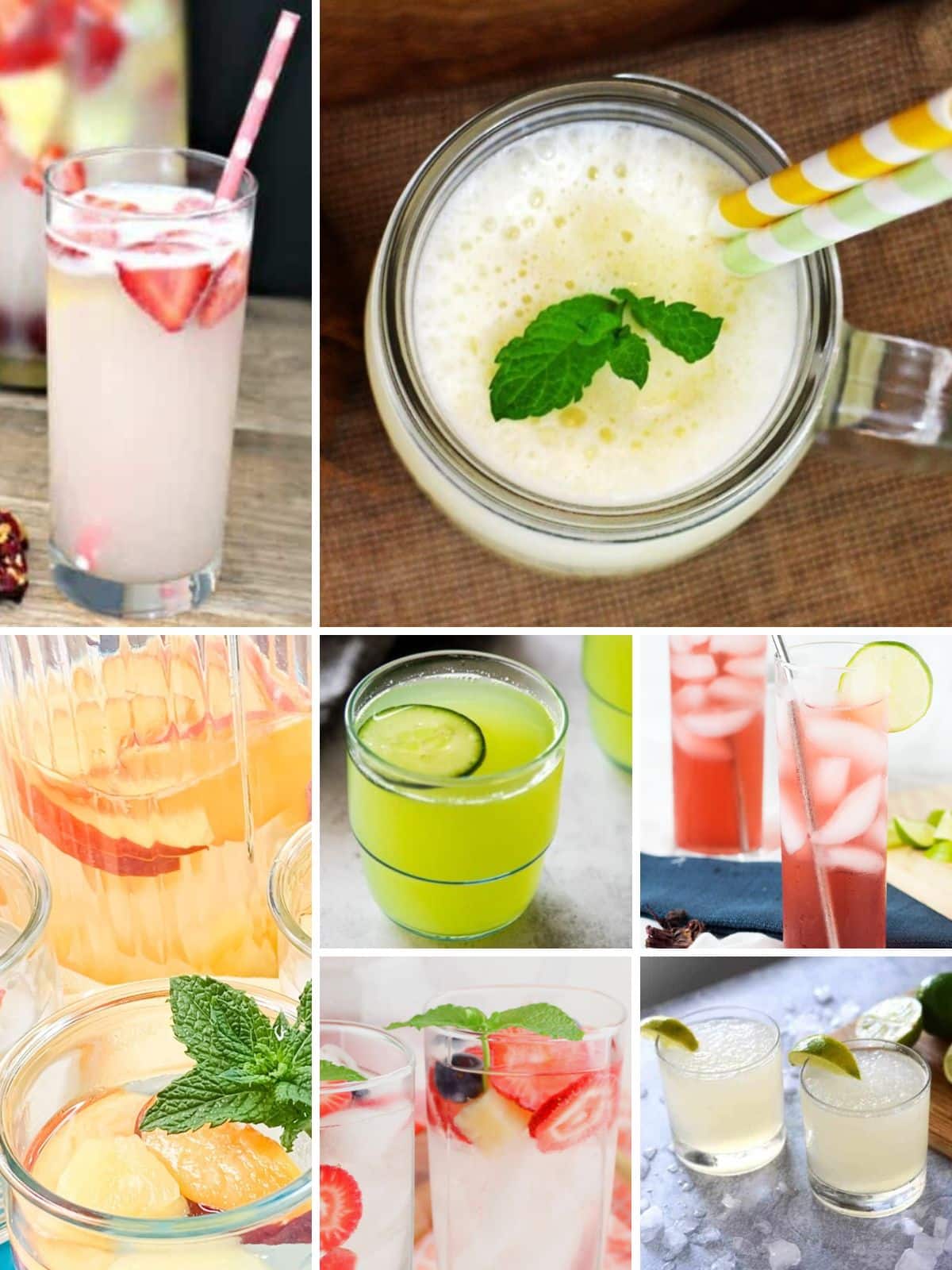 Looking for a delicious and healthy way to stay hydrated during the day? Look no further than coconut water. This refreshing beverage is the perfect choice for post-workout recovery or an afternoon pick-me-up.
This collection of recipes are quick and easy to make, and they're sure to tantalize your taste buds. From traditional limeade and Piña Coladas to more adventurous flavors like chili-lime and ginger-mango, we've got something for everyone.
Coconut water is nutritious and when combined with fruit makes for a very delicious non-alcoholic drink. One of my favorites is Coconut Infused Water sweetened with fresh peaches.
And best of all, each recipe uses just a few simple ingredients that you probably already have in your kitchen. Another favorite is Fruit Infused Coconut Water.
Table of Contents
Looking for more Fruit-Inspired Drink Recipes? Try my 12 Fruit Infused Sparkling Water Recipes, Lemon Flavored Water or this delicious Infused Strawberry Lemonade. 
💭Coconut Water
Coconut water is the clear liquid inside a young, green coconut. It is often called coco water or simply coconut water. It has a sweet, nutty taste and contains many nutrients, including vitamins C, B1, B3, B5, and B6 as well as calcium, iron, magnesium, phosphorus, and potassium.
Coconut water is a popular health drink because it is low in calories and fat but high in electrolytes, making it an excellent hydration choice for athletes. Some research also indicates that coconut water may help to lower blood pressure and improve cholesterol levels.
In addition to being consumed as a drink, coconut water can also be used in cooking or as a natural beauty treatment. When used externally, it can help to soothe sunburns or insect bites. Thanks to its impressive nutrient profile and wide range of potential health benefits, coconut water is a truly versatile product.
More Information
More Information
💭What to mix with coconut water
Coconut water is a refreshing and healthy beverage on its own, but it can also be used to make other drinks more interesting. Adding a splash of coconut water to your morning smoothie can add a bit of sweetness and tropical flavor.
For a refreshing summer drink, mix coconut water with fresh lemon juice, mint leaves, and sparkling water. If you're looking for a tropical twist on a classic cocktail, mix coconut water with rum and pineapple juice.
And for a healthy and hydrating smoothie, mix coconut water with banana, almond milk, and honey. There are endless possibilities for what to mix with coconut water, so get creative and enjoy!
🍽Helpful Kitchen Tools
This post contains affiliate links. That means that if you make a purchase after clicking on a link I may earn a small commission at no extra cost to you. For more information, click here.
More Information
More Information
More Information
More Information
Tried any of my recipes? Let me know in the comments!
📋Featured Recipe Collection
Coconut Water Drink Recipes
Whether you're craving a fruit-infused smoothie or a tropical non-alcoholic cocktail, you'll find the perfect refreshing recipe below