The perfect dessert on February 14th is one of these Cookies for Valentine's Day Recipes. They make a nice surprise to add to your kid's lunchbox. Give a decorated gift box to your neighbors or your maybe your girlfriends at the office for Galentine's Day.
There are printable gift tags and even cute Valentine's Day cards for you to use to make the cookies even more special. However you plan on celebrating, make it sweet with any of these Valentine's Day Recipes and cookies this year!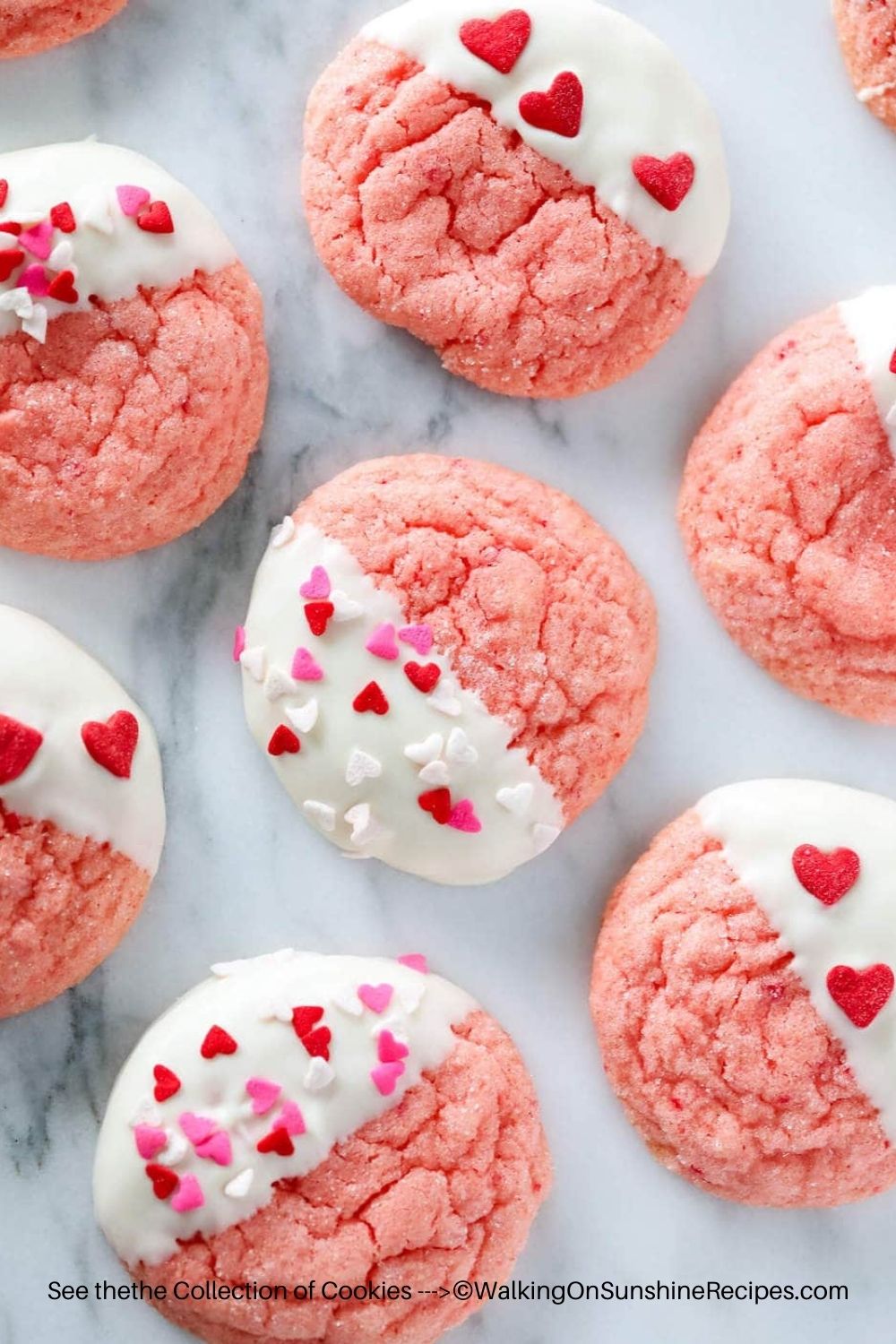 Some people associate Valentine's Day with candy, roses, perfume or maybe a night out to a fancy restaurant. I love staying at home and cooking something special for my family.
Valentine's Day Cookie Recipes
When our kids were little I always made heart-shaped treats like brownies or chocolate chip bars. One year I even made a heart-shaped cake.
Included in this collection of Cookies for Valentine's Day Recipes are heart-shaped treats, kiss cookies, cutouts and even fancy mandeline cookies.
Table of Contents
Favorite Cookie Recipes
Here's an easy cookie recipe for Heart Shaped Chocolate Chip Cookies that are perfect for Valentine's Day but you can also serve them for bridal showers, baby showers or even tea parties for cute little girls.
Helpful Kitchen Tools
This post contains affiliate links. That means that if you make a purchase after clicking on a link I may earn a small commission at no extra cost to you. For more information, click here.
More Information
More Information
More Information
More Information
More Information
Tips for Making Homemade Cookies
Use room temperature ingredients; especially the butter.
Don't use butter that is too warm or melted. The cookies will spread.
Make sure you cream the butter and sugar until both are light and fluffy. This could take up to three minutes. Don't rush this step.
Chill the dough before baking. Wrap the dough in plastic wrap and chill in the refrigerator for 30 minutes. Then after shaping the cookies or cutting them out, place on the baking trays and then place the baking trays in the refrigerator to chill for 15 minutes. This will help chill the butter so the cookies keep their shape while baking.
Allow cookies to cool completely before either decorating or storing.
Storage Tips
Wait for the Cookies for Valentine's Day Recipes to cool completely before layering the cookies between sheets of parchment paper and stored in an air-tight container.
Most cookies can be store at room temperature for up to 5 days. However, if if is warm in the kitchen, you should store them in the refrigerator.
Freezing Tips
Allow cookies to cool completely before layering them between sheets of parchment paper in a freezer-safe container.
You can also flash freeze most cookies first by laying them on a baking sheet ion a single layer. Place the baking sheet in the freezer and allow the cookies to harden for about 30 minutes. Then place the cookies in a freezer-safe container layered between parchment paper.
The cookies can be frozen for up to 3 months.
Recipe FAQ's
How do you keep homemade cookies fresh longer?
To keep homemade cookies fresh, allow the cookies to cool completely, store them in an airtight container in a cool, dry place. A pantry shelf works great.
Should you let cookies cool on pan?
Let cookies cool on the pan for a few minutes before removing them to a cooling rack. Allowing cookies to completely cool on a hot baking tray will cause the cookies to continue to bake.
⭐Before You Begin! If you make this recipe, please leave a review and star rating. This helps my business thrive and continue providing FREE recipes.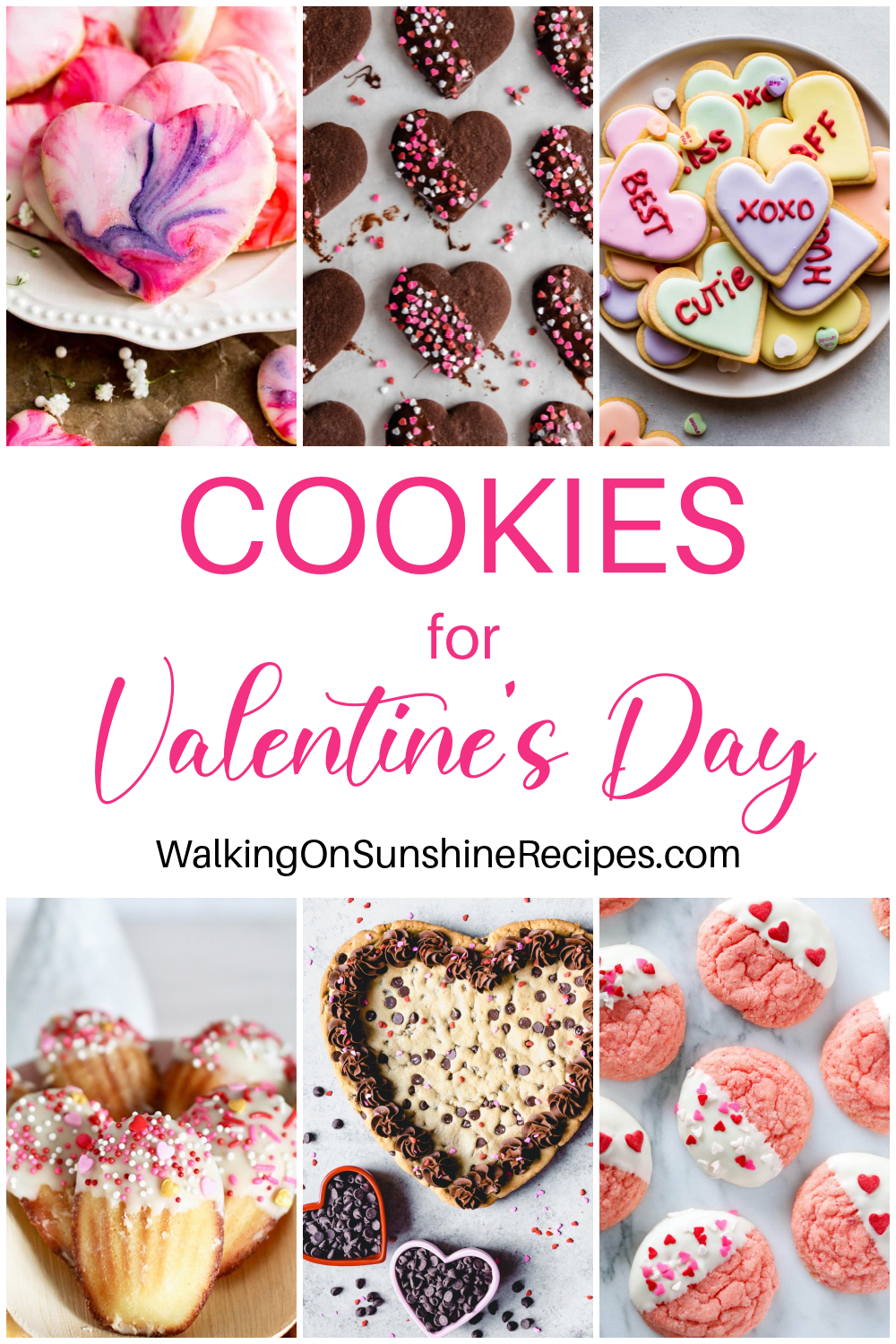 15 Cookies for Valentine's Day