Get ready for your kitchen to be filled with the delicious aroma of freshly baked Diabetic Christmas Cookies.
From gingerbread cookies to classic peanut butter cookies, there are plenty of tasty options that will have both diabetics and non-diabetics alike rejoicing.
If you love to bake for your family, don't forget your loved ones who can't enjoy a full sugar cookie this holiday season!
Check out all the other Christmas Cookies to bake for your family this holiday season.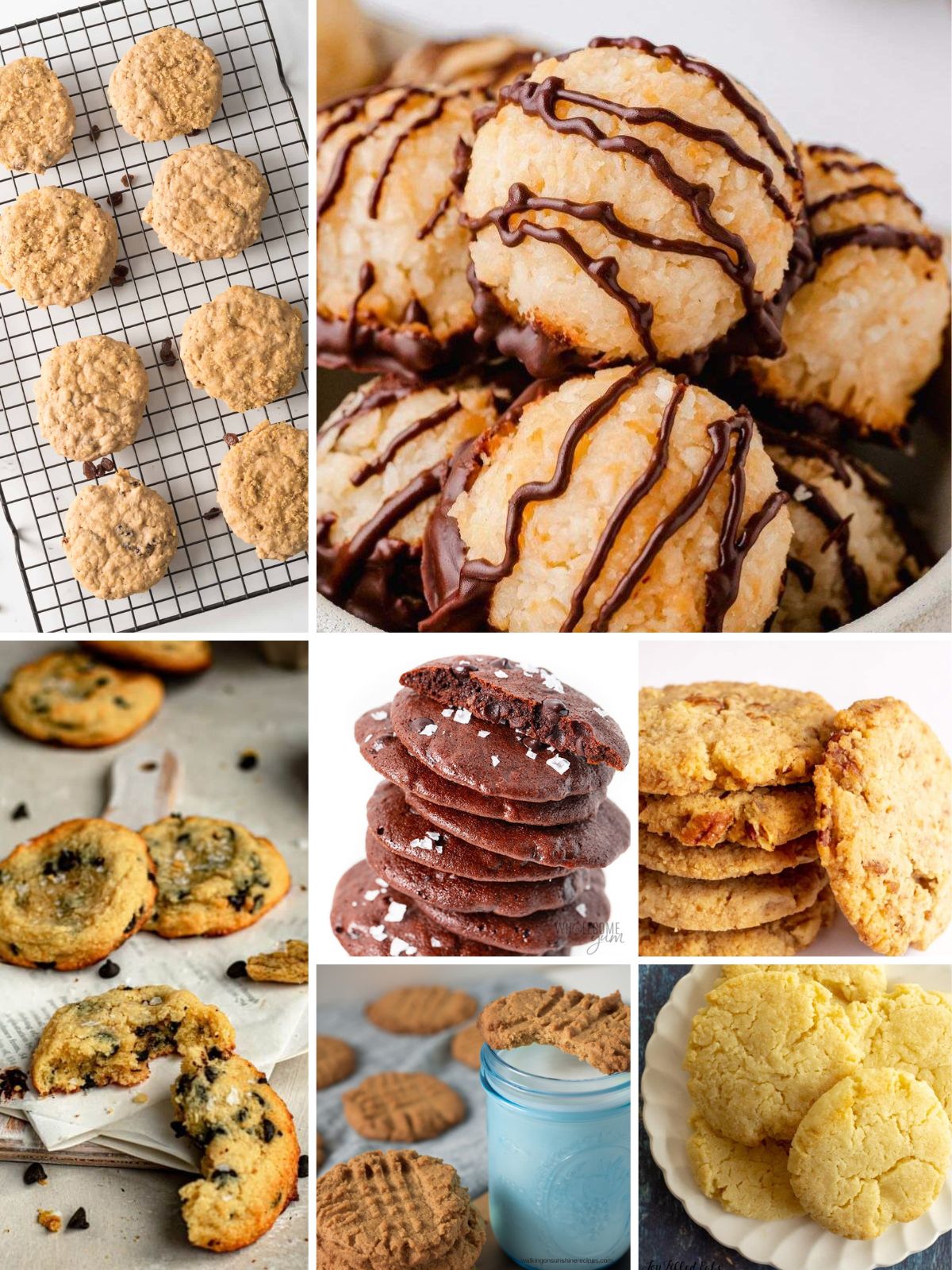 The holiday season is filled with sweet treats, including tons of delicious holiday cookies. However, if you're diabetic, easy cookie recipes are off limits throughout the Christmas season.
Unless you have a few great recipes for diabetic Christmas cookies on hand!
Take a few of these diabetic Christmas cookies to your next Cookie Exchange Party so your family and friends who can't enjoy regular "sugar" cookies can have something "sweet" during the holidays too!
Make sure you print out the FREE Recipe Cards to use when giving any of these recipes to your friends.
Table of Contents
Sugar Free Christmas Cookies for Diabetics
There are plenty of sugar-free Christmas cookie recipes that are perfect for diabetics. These cookies are made with alternative sweeteners like stevia or erythritol, which provide the sweetness without the negative impact on blood sugar levels.
Sugar Free Peanut Butter Cookies are made with no flour and Splenda are the perfect Keto-Friendly, low-carb dessert. With only a few ingredients, these are definitely another easy dessert we all need to add to our recipe box!
Diabetic Chocolate Peanut Clusters are technically not a cookie, but chocolate is always popular around the holidays and this easy treat would make a great gift too!
Simple Oatmeal Cookies for Diabetics are not only made with wholesome ingredients, but also feature a sugar substitute. They are a perfect choice for diabetics, and if you specifically enjoy oatmeal cookies, you're in for a real treat! Give your taste buds a delightful experience while being mindful of your health.
Diabetic Christmas Recipes
Other desserts and recipes you can prepare when hosting a holiday party to make sure everyone's dietary needs are met:
Fruit-Based Treats: Fruits like apples, strawberries, raspberries, blueberries and oranges make excellent alternatives to traditional sugary desserts.
Angel Food Cake: Angel food cake is a delicious yet light dessert option as it's made from egg whites rather than butter or oil meaning that it contains less saturated fat than other cakes. You can top it off with sweeteners such as honey or your favorite fruits for extra flavor.
Pudding & Custard: Pudding and custard provide diabetics with a yummy yet sugar free dessert option - simply replace the sugar in recipes with artificial sweeteners or substitute them altogether for sugar free versions of pudding and custard mixes available at most grocery stores.
💡Recipe FAQ
Simply click the plus sign to read more about the questions you see below. If YOU have a question regarding this recipe, please let me know in the comment section.
What's the best way to store and serve diabetic Christmas cookies so that they stay fresh and delicious throughout the holiday season?
After the cookies have cooled completely, place them in an airtight container. This will help prevent moisture and air from getting in and potentially making the cookies stale.
What ingredients should be substituted or left out when making diabetic cookies for Christmas?
Replace granulated sugar with a sugar substitute like stevia, erythritol, or monk fruit sweetener. These alternatives provide sweetness without spiking blood sugar levels.

Replace all-purpose flour with almond flour, coconut flour, or a blend of whole wheat flour and oat flour. These options have a lower glycemic index and are higher in fiber.
📌Expert Tip: Check out Stevia/Sugar Substitutes article for expert advice on selecting the ideal sugar substitute. Remember to consult your doctor for more tailored information.
Mason Jar Gifts for the HolidaysClick HERE for More Information
📇Featured Recipe Collection
⭐Before You Begin! If you make any of these recipes, please leave a review and star rating. This helps my business thrive and continue providing FREE recipes.
Diabetic Christmas Cookies.
If you have people in your life that can't eat sugar due to allergy or health reasons, then it might seem like a challenge to come up with Diabetic Christmas cookies during the holiday season that taste good.