The change from summer to fall is always a time for family, friends, and good food. While many holiday celebrations revolve around alcohol, there are plenty of delicious fall drinks non-alcoholic and options available for those who don't drink or who are driving.
Whatever you choose to serve, non-alcoholic Fall drinks are a great way to keep everyone safe and hydrated during the holidays.
Check out all the other fresh non-alcoholic drink recipes available on the site for you!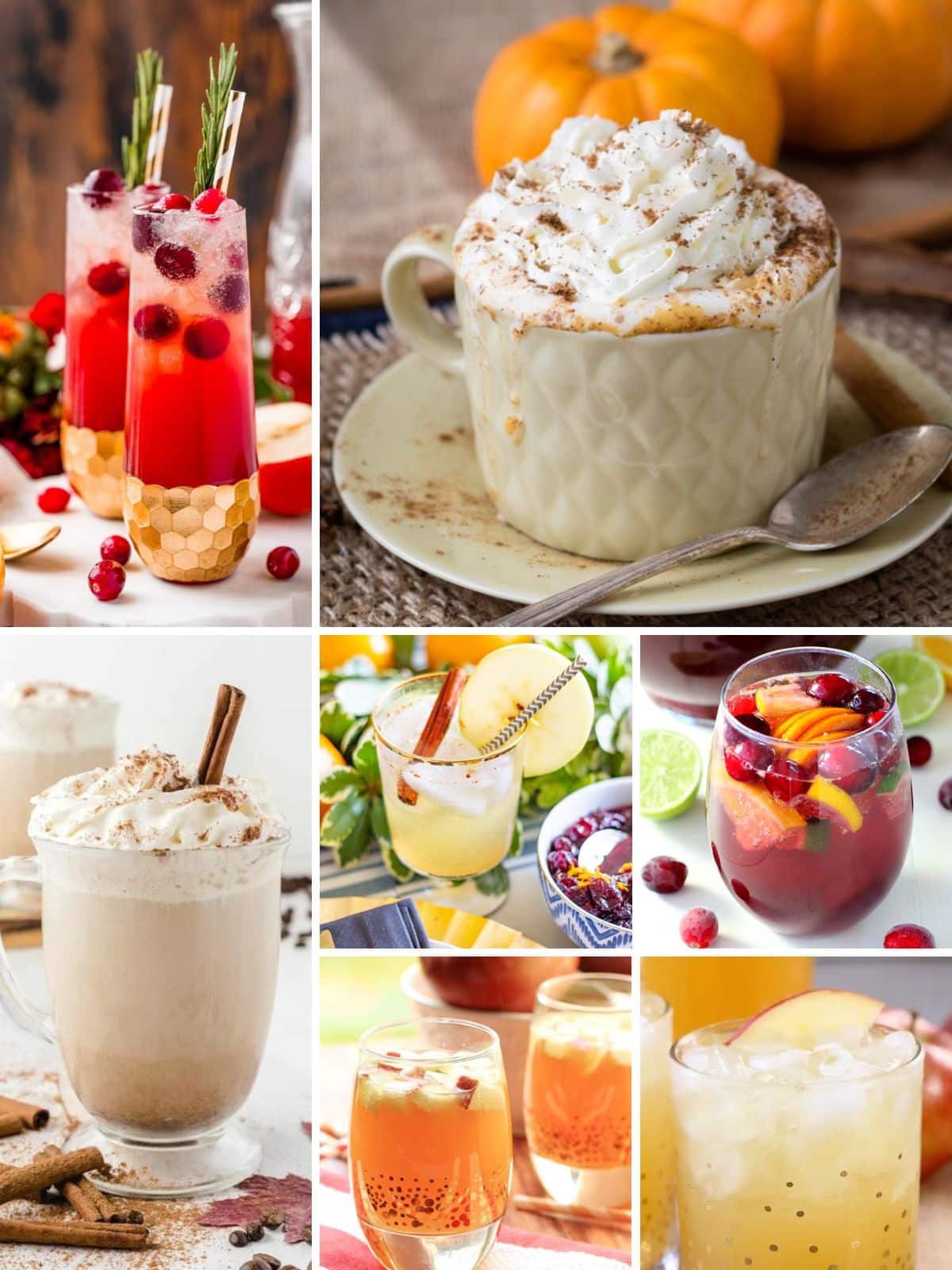 The holidays are a time for family, friends, and of course, delicious food! But what about the non-drinkers in your life? Keep them happy and hydrated with one of these tasty non-alcoholic holiday recipes!
From Hot Pumpkin Spice Drink to Cranberry Apple Cider Punch, there's something for everyone to enjoy. If you're looking for something special to serve at your next holiday gathering, try one of these festive drinks!
So go ahead and raise a glass (or mug, or cup) to a festive and fun holiday season!
Looking for more Infused Water Recipes? Try my 12 Fruit Infused Sparkling Water Recipes, Lemon Flavored Water or this delicious Infused Strawberry Lemonade.
Table of Contents
Non-alcoholic drinks to serve with Dessert
One popular choice is punch. Punch can be made with fruit juice, sparkling water, and a variety of other ingredients.
Pomegranate Punch is a holiday classic. This delicious drink is made with pomegranate juice, cranberry juice, orange juice, and sparkling water. It's perfect for sipping on while spending time with loved ones.
For something a little different, try Cranberry Cider. This unique drink is made with cranberry juice, apple cider, cinnamon sticks, and cloves. It's perfect for warming up on a cold winter day.
Another festive option is eggnog. Eggnog is usually made with milk, cream, sugar, and eggs, but there are also vegan versions available.
For something a little different, try a hot chocolate bar. Set out a selection of toppings like marshmallows, whipped cream, crushed candy canes, and chocolate chips so that everyone can customize their drink.
Easy Family Meal PlannerClick HERE for More Information
What to mix with coconut water non-alcoholic
While many people associate coconut water with cocktails and beach vacations, this refreshing drink can actually be enjoyed without any alcohol added.
And since coconut water is naturally sweet and full of electrolytes, it makes it the perfect choice to add sweetness to any mocktail all year long! Not just during the summer.
To mix things up, try adding a splash of cranberry juice or pomegranate juice to your coconut water. Try freezing some of the coconut water with various fruit juices into ice cubes and add them to your glass.
You can also experiment with different kinds of soda, like ginger ale or lemon-lime soda. If you're feeling extra fancy, garnish your drink with a slice of lime or a sprig of mint.
🍽Helpful Kitchen Tools
This post contains affiliate links. That means that if you make a purchase after clicking on a link I may earn a small commission at no extra cost to you. For more information, click here.
More Information
More Information
More Information
More Information
More Information
📋Featured Recipe Collection
⭐Before You Begin! If you make this recipe, please leave a review and star rating. This helps my business thrive and continue providing FREE recipes.
Non-Alcoholic Fall Drinks