For this week's menu plan I have five family friendly recipes that I know the whole family will enjoy at the same time.
When our children were younger it was difficult to plan dinner. I wish I had this blog and my Weekly Meal Plan to help me! There were some nights I was making different meals for dinner...and usually one of those meals was waffles.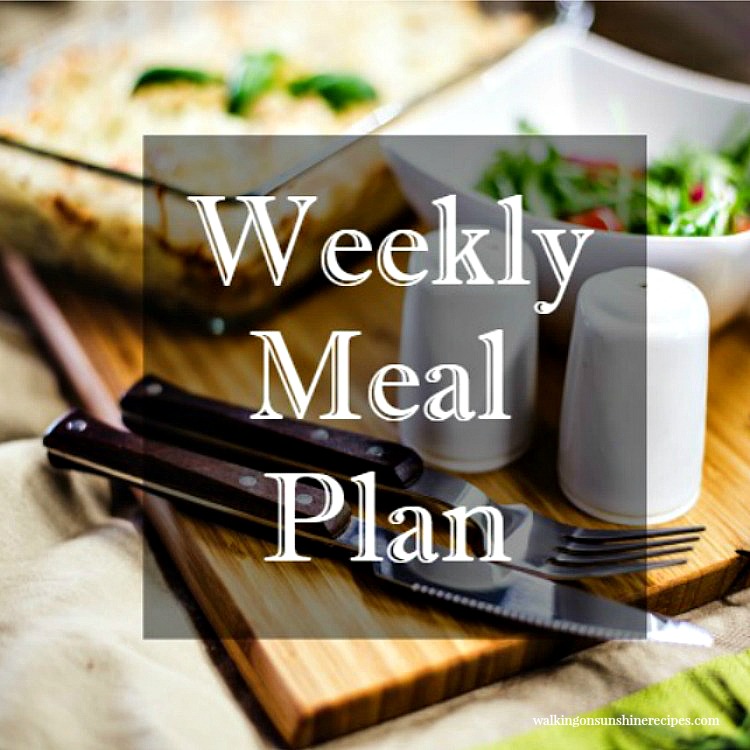 I am well aware that there might be children in our lives that are a little picky with what they want to eat which can make things difficult when it comes to planning meals. As an example, my son went through a phase of only wanting waffles for dinner. And yes, I gave him waffles. But you'll be happy to know that he usually only eats waffles for breakfast these days.
Family Friendly Recipes are featured as part of our Weekly Meal Plan this week. Together with printable menus available for you to customize for your family's dinner, you'll be able to use these recipes to inspire your meal planning this week.
Family Friendly Recipes
First up this week, I'm sharing Pizza and Pepperoni Braid which is a fun and easy twist on traditional pizza that is ready fast! As a result, this recipe is perfect for nights you think you're too busy to cook!
Hamburgers with Mushroom Gravy over Buttered Noodles can also be served with creamy mashed potatoes if you find you have a little more time to get dinner together. Next up we have Asian Style Sloppy Joes which is a sweet and savory version of a family favorite Sloppy Joes!
Baked Spaghetti Pie Recipe is spaghetti topped with meat sauce and layer of melted cheese. Finally, Slow Cooker Italian Beef Sandwiches is slowly cooked in Italian seasonings, beef broth and mixed with pepperoncini peppers make for a delicious start to your weekend!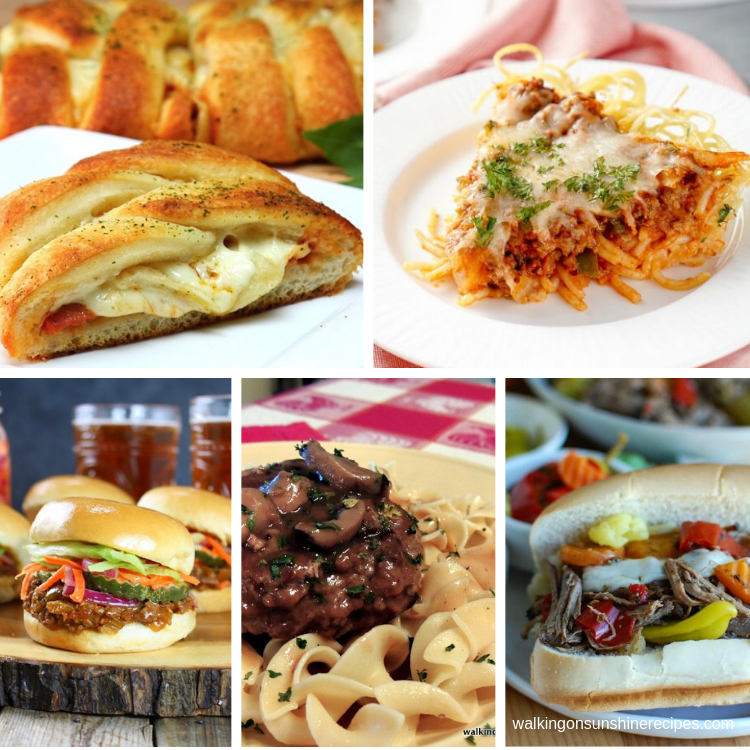 Weekly Meal Plan
If your family is like mine, they don't like having the same recipe over and over again. I think you're going to enjoy trying these new recipes this week.
I'm so happy we have our Weekly Meal Plan to help every week to make sure we have good meals on the table every night for our families. If you're struggling with getting meals together and on the table every night, I suggest you start planning out your meals.
Get the kids involved with the planning also! Have them pick a meal one night a week. And make sure they know they need to pick a healthy meal that includes vegetables. Make it fun for them!
FREE WEEKLY MEAL PLAN PRINTABLES
Once you sign up to join my newsletter, you'll have access to my printable's library where you can download the meal plan, grocery list, freezer list and pantry list printables available. Click HERE to sign up…it's easy!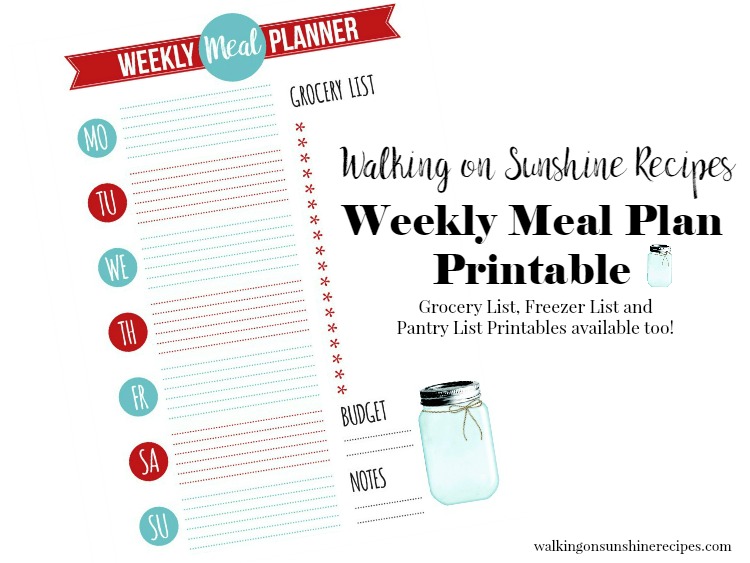 Weekly Meal Plan PrintablesClick HERE to Print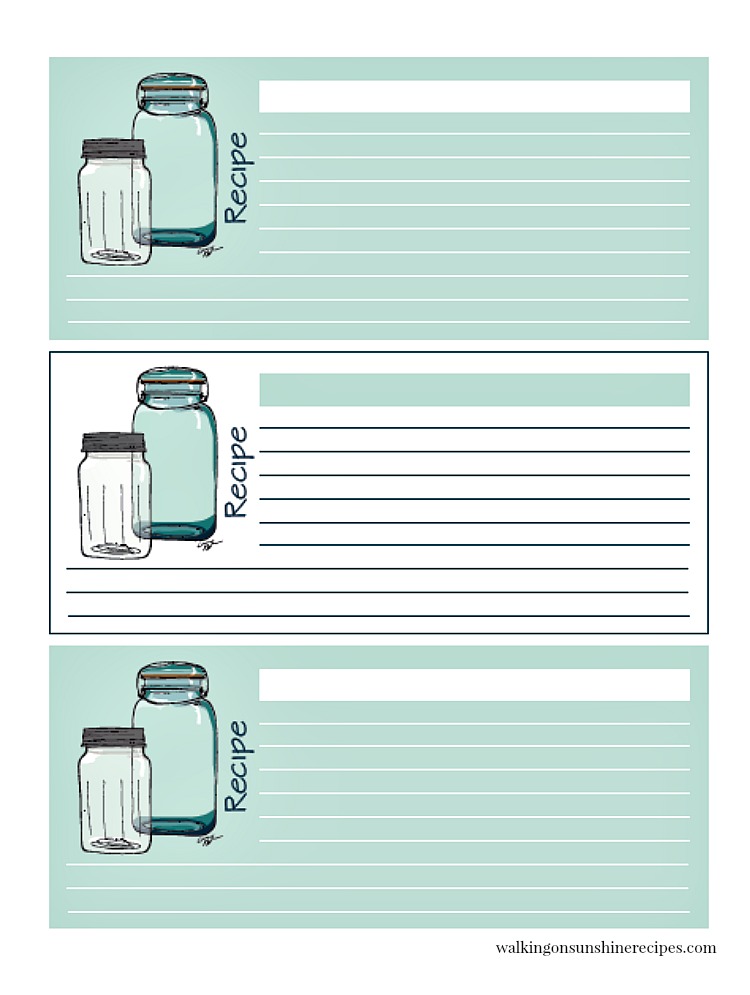 Recipe CardsClick HERE to Print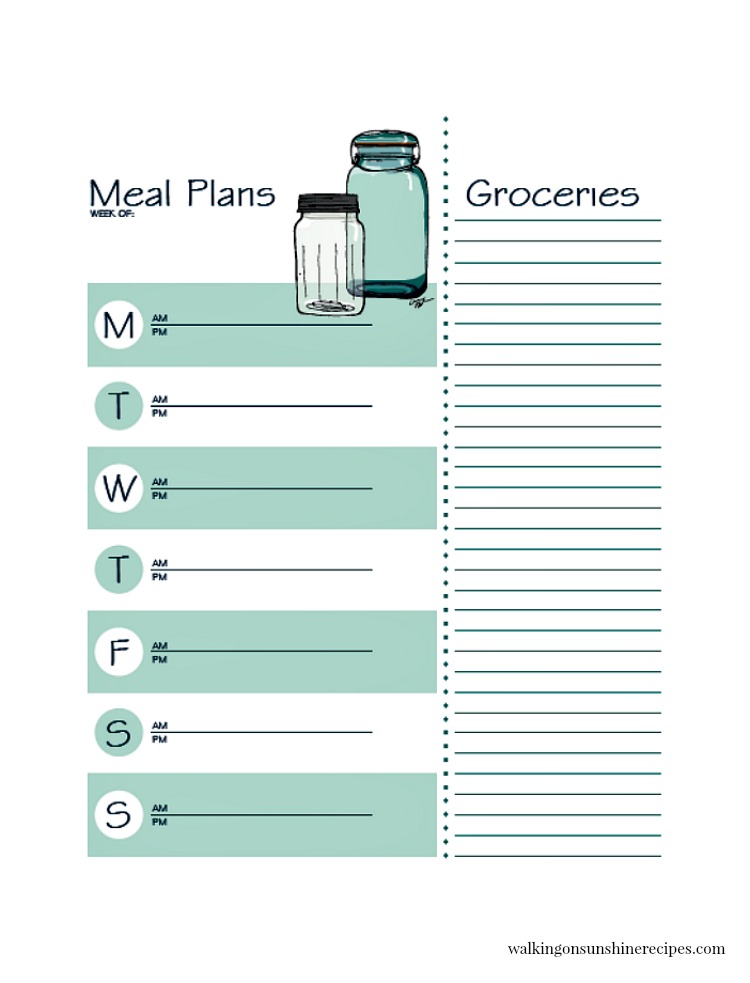 Meal Plan and Grocery ListClick HERE to Print
Pantry, Freezer and Grocery ListsClick HERE to Print
Weekly Meal Plan: Family Friendly Recipes
This week I am featuring 5 family friendly recipes that will help you get dinner on the table pretty quick. All you'll need is a little planning to help you get dinner ready for your family this week.

In case you're looking for more dinner ideas, check out the past Weekly Meal Plans available on the site for you: