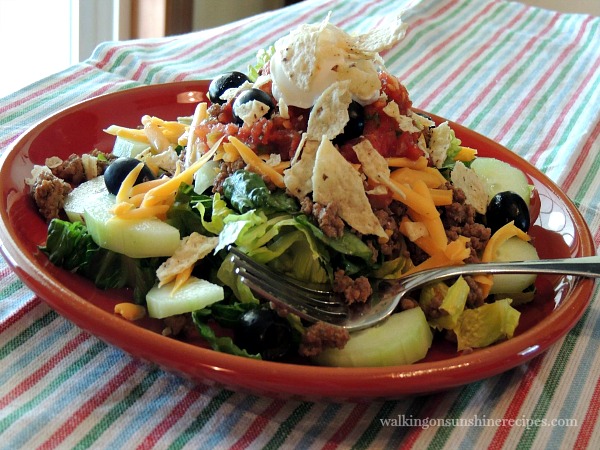 One of the most easiest recipes I make that everyone in my family enjoys is tacos. And another way to enjoy tacos is with a Taco Salad.
Making a taco salad is so easy. Just serve the delicious seasoned ground beef over a big salad with crushed tortilla chips on top. Sometimes I'll even make sure I make extra taco meat so I can enjoy salads for lunch during the week.
I started making my own homemade taco seasoning mix ages ago and it's so much better for you than the store bought packets, but if that's what you have on hand, do not let that stop you from enjoying Taco Tuesday with your family!
Homemade Taco Seasoning
Make sure you print out the recipe for the homemade taco seasoning at the bottom of the post!
I mix the above ingredients together and store in a mason jar.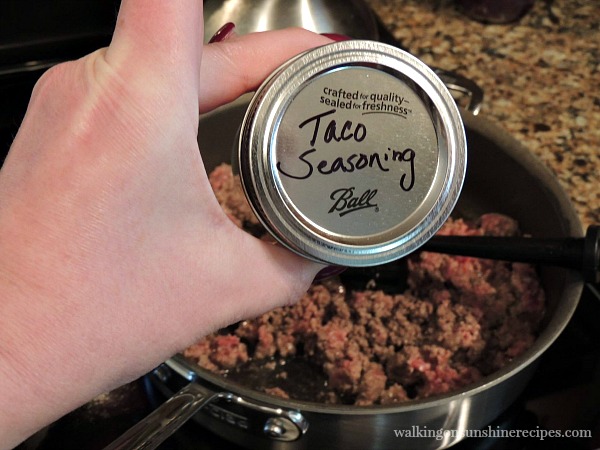 How to Use the Homemade Taco Seasoning
After browning the meat, add two to three tablespoons of the seasoning mix and
1/4 cup of water. Simmer until the meat is cooked all the way through.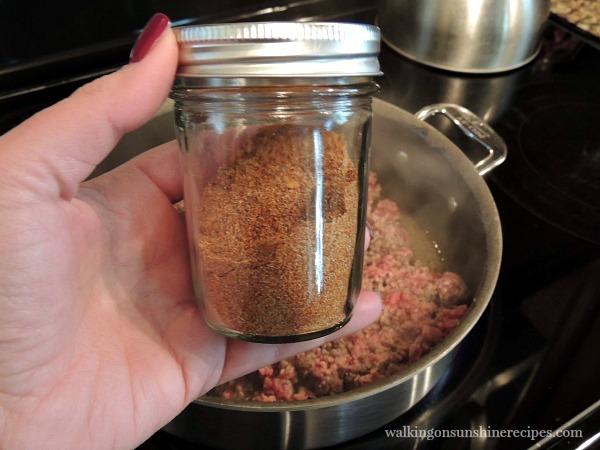 The perfect dinner recipe or lunch recipe!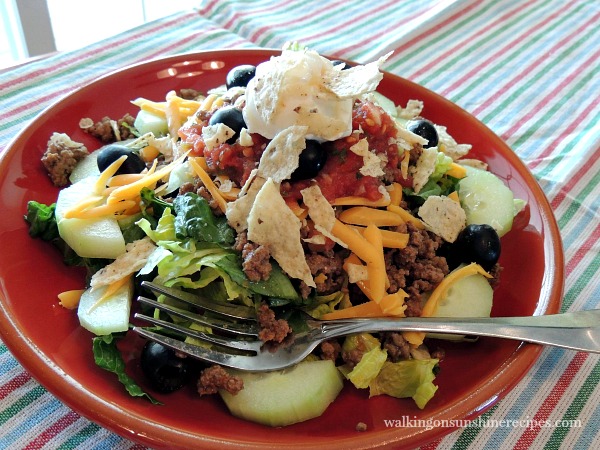 Another must for taco night is Homemade Salsa.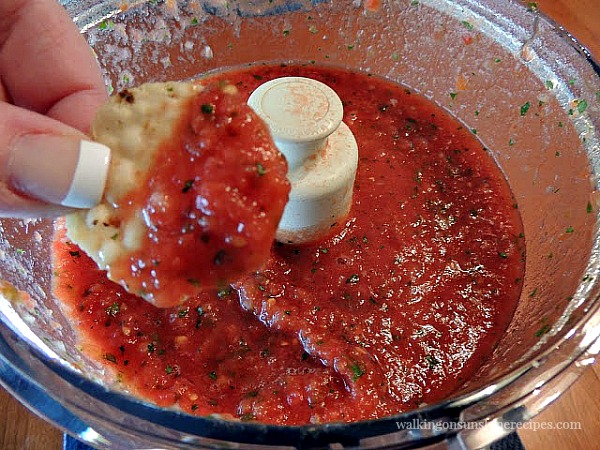 Homemade Taco Seasoning Mix
You'll be surprised at how easy it is to make Homemade Taco Seasoning and never purchase the packets again!
INGREDIENTS:
1 TBS. chili powder
1 TBS. ground cumin
1 TBS. garlic powder
1 TBS. onion powder
1/2 TBS. crushed red pepper flakes
INSTRUCTIONS:
Add all the ingredients in a bowl and stir to combine.
Store in an air-tight container or mason jar.
Don't forget to label the jar!
To Use:
Add 1 to 2 TBS of seasoning mix to one pound of browned ground beef with 1/4 cup water.
Allow the meat and seasoning to simmer for about 10 minutes.
Serve the seasoned taco meat in taco shells or over a bed of lettuce.
.recipe-inner{text-align:left;max-width:620px;border:6px double #009BFF;padding:20px;background:#f2f2f2;margin: 40px auto;font-family:Lato, sans-serif;}#recipe .recipe-name{font-size: 21px;}#recipe .info{font-size:13px;text-transform:capitalize;border-bottom:2px solid #000;padding-bottom:7px;margin-bottom:20px}.info:after{content:";display:table;clear:both}#recipe .info span:first-child{margin-right:30px}#printbutton{border:0;margin:0;color:#fff;float:right;background:#555; padding:5px;border-radius:3px;cursor:pointer}#recipe .time{text-transform:uppercase;font-size:12px;text-align:center;background:#fff;padding:15px 0;margin-bottom:20px}#recipe .time span:not(:last-child){margin-right:12px}#recipe .time span:not(:last-child):after{content:";display:inline-block;height:10px;width:1px;background:#000;vertical-align:middle;margin-left:12px}#recipe .summary{line-height:1.7;font-style:italic}.ingredients{line-height:1.7}.ingredients h3,.instructions h3{font-size:20px !important;margin-bottom:0;color:#000}.ingredients ul{margin:0!important;margin-top:5px !important;}.instructions li{margin-bottom:15px !important;line-height:1.6;text-align:left;}.ingredients li{text-align:left}#recipe .instructions{margin-top: 30px;}#recipe .instructions ol{padding-left:39px;margin:0!important;margin-top:6px !important;}.posturl{border-top:1px solid #ccc;padding-top:10px;}.ing-section{padding-left:20px;margin: 10px 0;}.ing-section > span{font-weight:700}.recipe-credit{display:none;font-size:13px;border-top: 1px solid #ccc;padding:10px;text-align:center;background:#ffffff;margin:-20px;margin-top:15px;}.recipe-credit a{color:blue;text-decoration:none;}.copyright-statement{ font-size: 13px;font-style:italic;border-top: 1px solid #ccc;margin-top:15px;padding-top:15px;line-height:1.6;}#recipe .image{text-align:center;margin-bottom:25px}#recipe .image img{max-width:100%}#recipe .recipe-name{line-height:1.6;text-transform:uppercase;margin-top:0;letter-spacing:1px;text-align:center;margin-bottom:20px}#recipe .time{border-top:1px dashed #000;border-bottom:1px dashed #000;border-right:0;border-left:0}#recipe .summary{margin-bottom:30px}#recipe .summary:after{content:";display:block;width:50px;height:2px;background:#000;margin:auto;margin-top:10px}#recipe .instructions{margin-top:30px}#recipe .instructions ol{padding-left:39px;margin-top:6px}function printDiv(a){var b=document.getElementById(a);newWin=window.open(",'printwin');var c=newWin.document.createElement('style');c.innerHTML='html{font-family:sans-serif}img{display:none;}#printbutton,.recipe-credit{visibility:hidden;display:none;}.info{text-align:center;text-transform:capitalize}.recipe-name{text-align:center}.info span{margin-right:20px}.time{text-align:center;padding:10px;border-top:1px dashed #000;border-bottom:1px dashed #000;}.time span{margin-right:20px}.adunit,.adunitlabel,.adunitwrapper{display:none!important}';newWin.document.getElementsByTagName('head')[0].appendChild(c);newWin.document.getElementsByTagName('body')[0].innerHTML = b.innerHTML;newWin.print();}