This easy and inexpensive recipe for homemade ranch salad dressing and seasoning mix, you can whip up delicious and flavorful ranch dressing in just minutes!
Made with pantry staples like garlic powder, onion powder, dill and a few other spices, you'll love this classic ranch dressing flavor! And it only takes minutes to prepare.
Get ready to put that store-bought bottle salad dressing aside as I show you how easy it is to make the perfect ranch seasoning blend right at home.
A salad is the perfect way to round out any of our Family Dinner Ideas.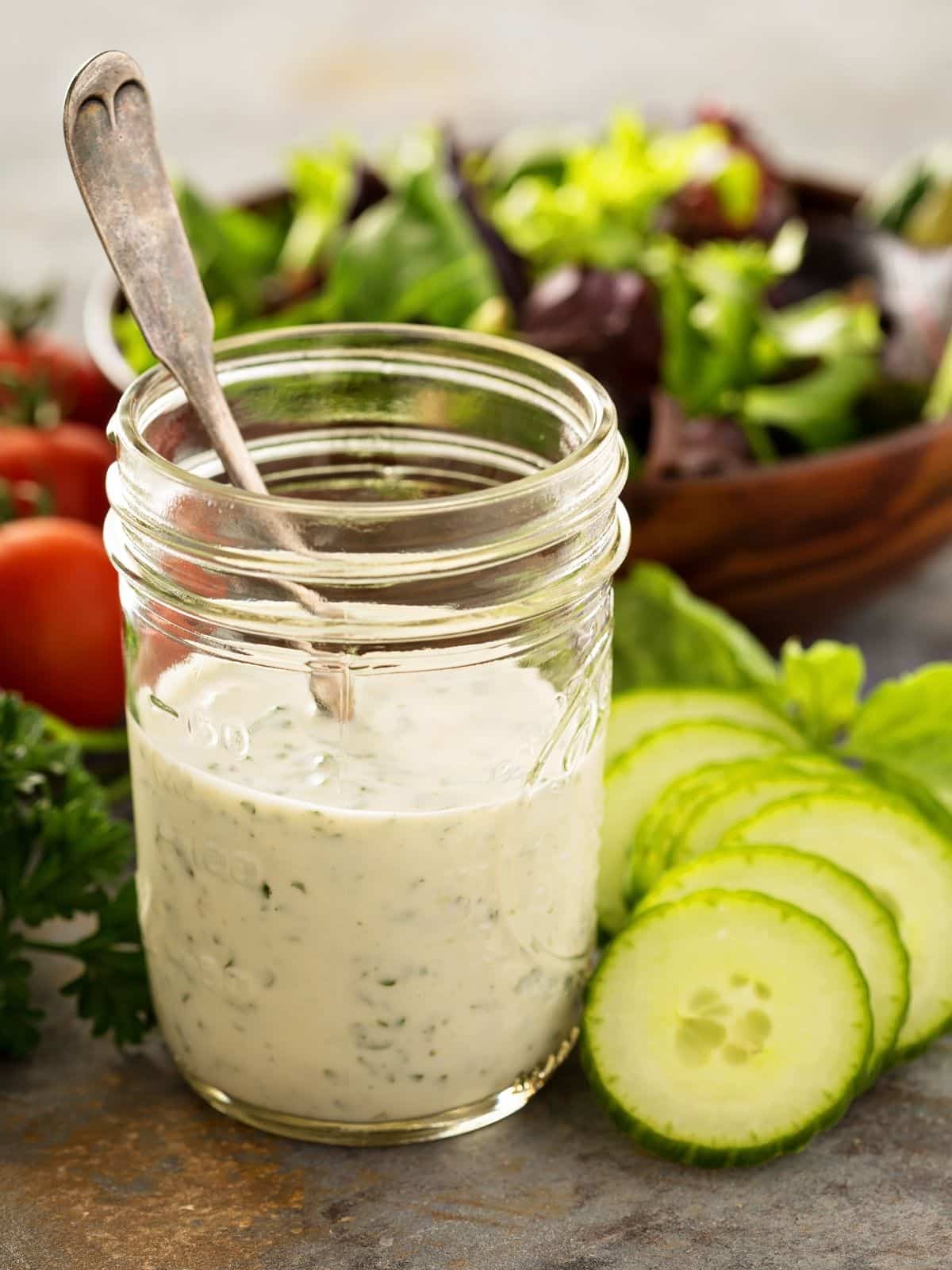 If you're searching for a flavor boost that can be used to enhance the taste of everything from salads to sandwiches, then homemade ranch dressing mix is your solution.
Use it in place of ordinary mayonnaise on a sandwich or you can make a dip for veggies and crackers. It's also great on hamburgers or to dip pizza in!
Once you have the dry mix made all you need to do is combine it with sour cream, mayonnaise, milk or buttermilk for a delicious, very easy recipe for homemade ranch salad dressing.
The dry mix will last up to 6 months once stored in a glass mason jar or an air-tight container.
You can also try my homemade Italian Salad Dressing Recipe, Copycat Olive Garden Salad Dressing or my Pizza Dipping Sauces.
Table of Contents
Looking for a few more homemade seasoning mixes? Try my taco seasoning mix or my Steak Seasoning Mix.
Dry Mix for Dressings
You can make a variety of delicious and nutritious dry mixes for salad dressings. Try adding your favorite Italian herbs or spices together and create a classic Italian salad dressing using olive oil and balsamic vinegar.
You can also make a yogurt-based dressing by combining plain Greek yogurt with lemon juice, dill weed, minced garlic, and honey. Experimenting with different spice combinations to help you find the perfect blend that suits your tastes!
Why add dry milk to a seasoning mix?
Adding dry milk to a dry ranch dressing mix gives the dressing a creamier consistency and extra richness. The dry milk also helps to thicken the dressing, allowing it to cling to your salad and maintain its flavor after chilling in the fridge.
Bob's Red Mill Non Fat Dry Milk Powder
🛒Helpful Kitchen Tools
Wide Mouth Mason Jars 16 oz
Wide-Mouth Mason Jar Canning Funnel with Handle for Wide and Regular Jar,Stainless Steel Kitchen Funnel Set
Stainless Steel Whisk for Blending, Whisking, Beating and Stirring, Enhanced Version Balloon Wire Whisk Set, Set of 3
20Packs Glass Jars Set, Customized Labels, Food Storage Container
📋Ingredients:
Be sure to see the recipe card for exact quantities, detailed instructions and special notes.
Instructions to make the dry mix
Combine all the ingredients for the dry mix in a bowl.
Add the dry mixture to a air-tight container or mason jar to store until you're ready to prepare the salad dressing.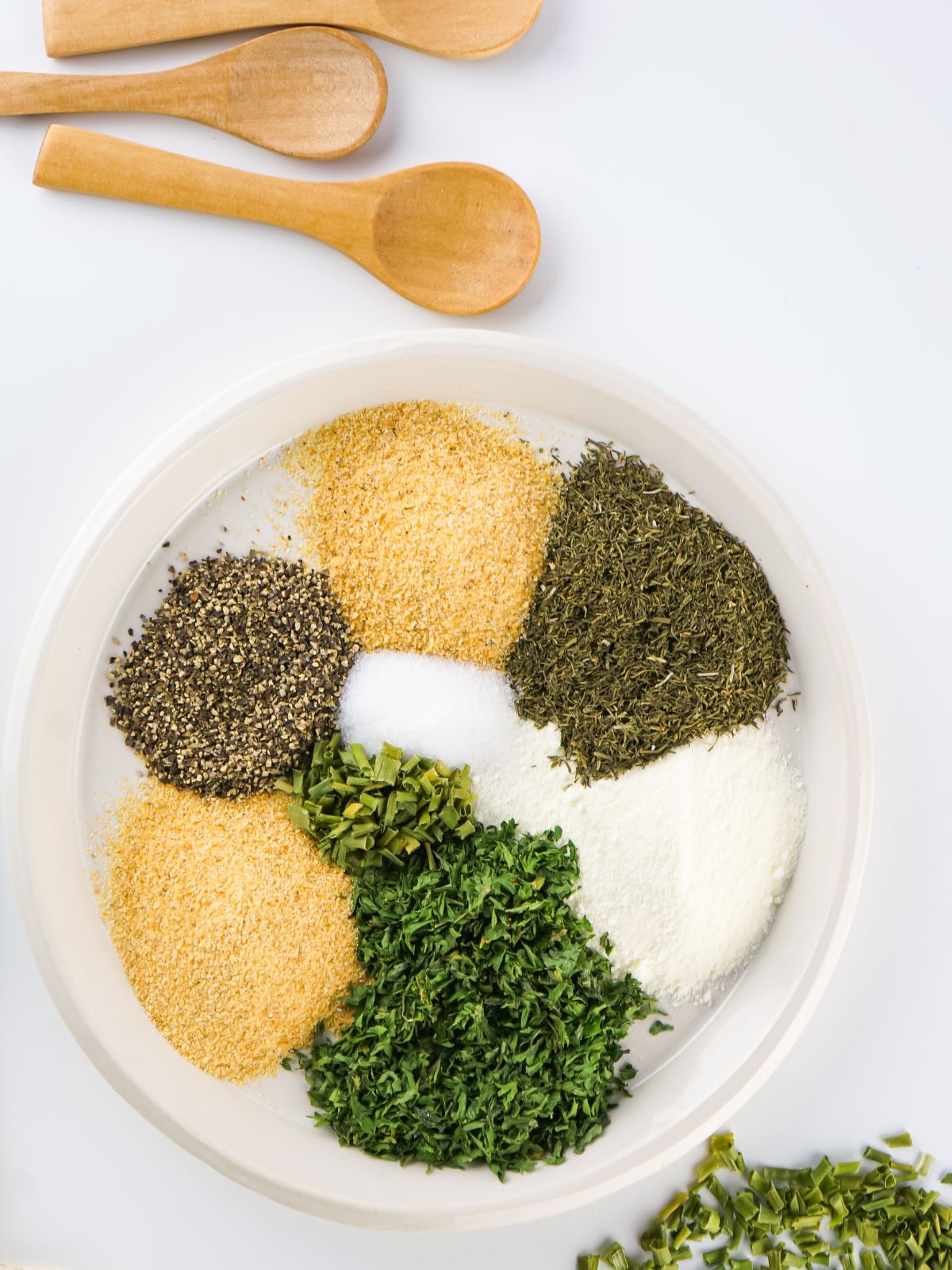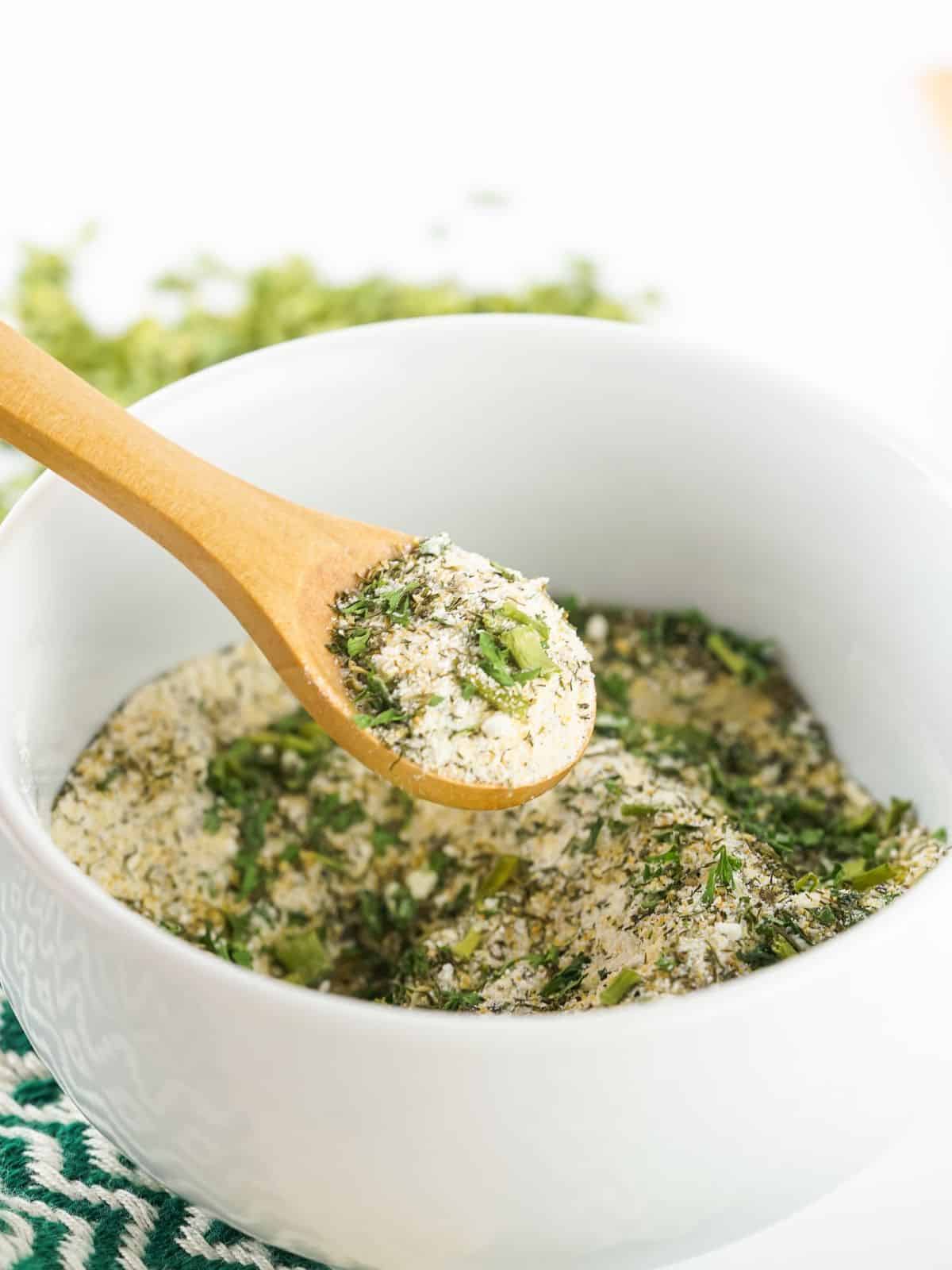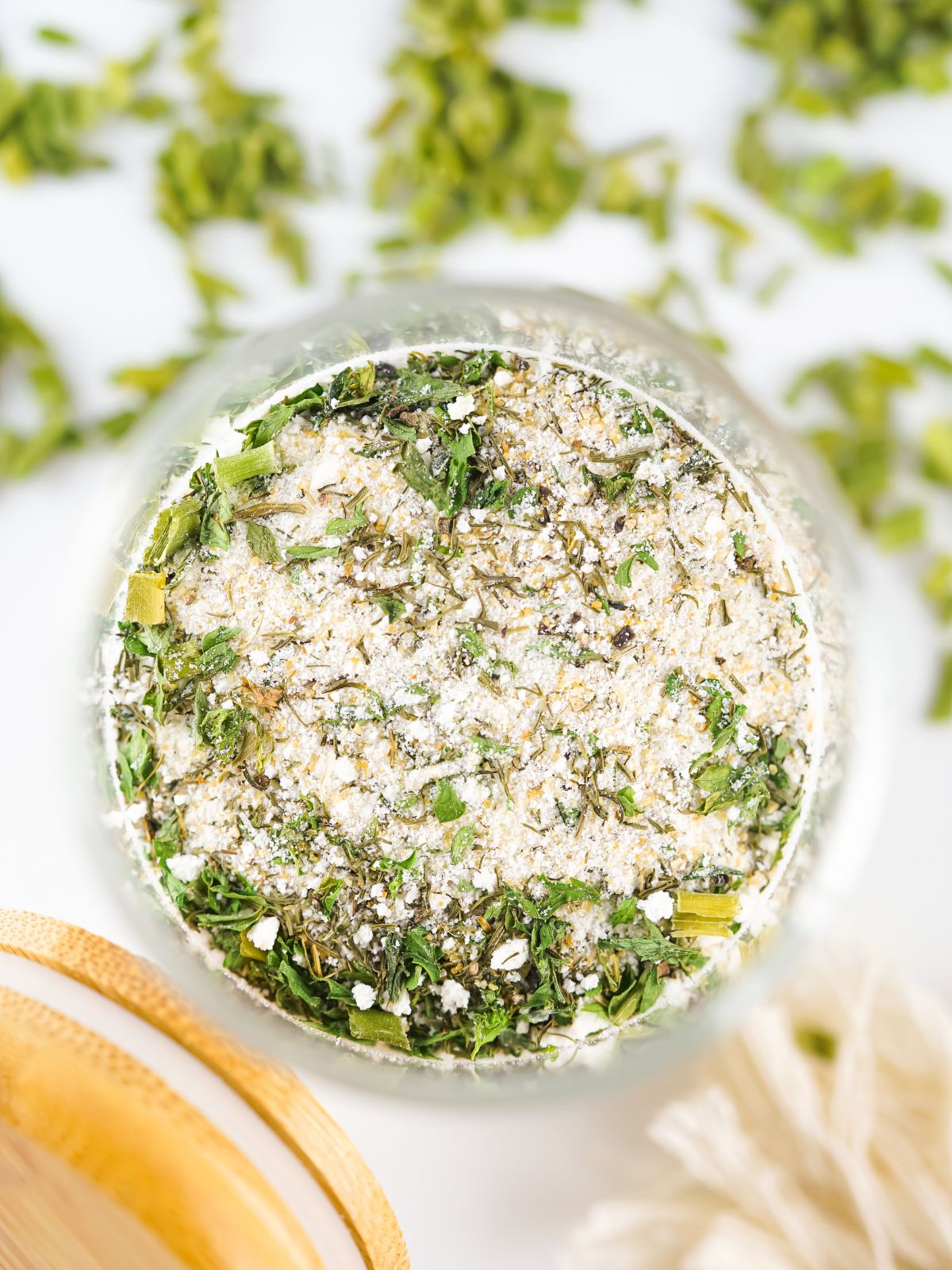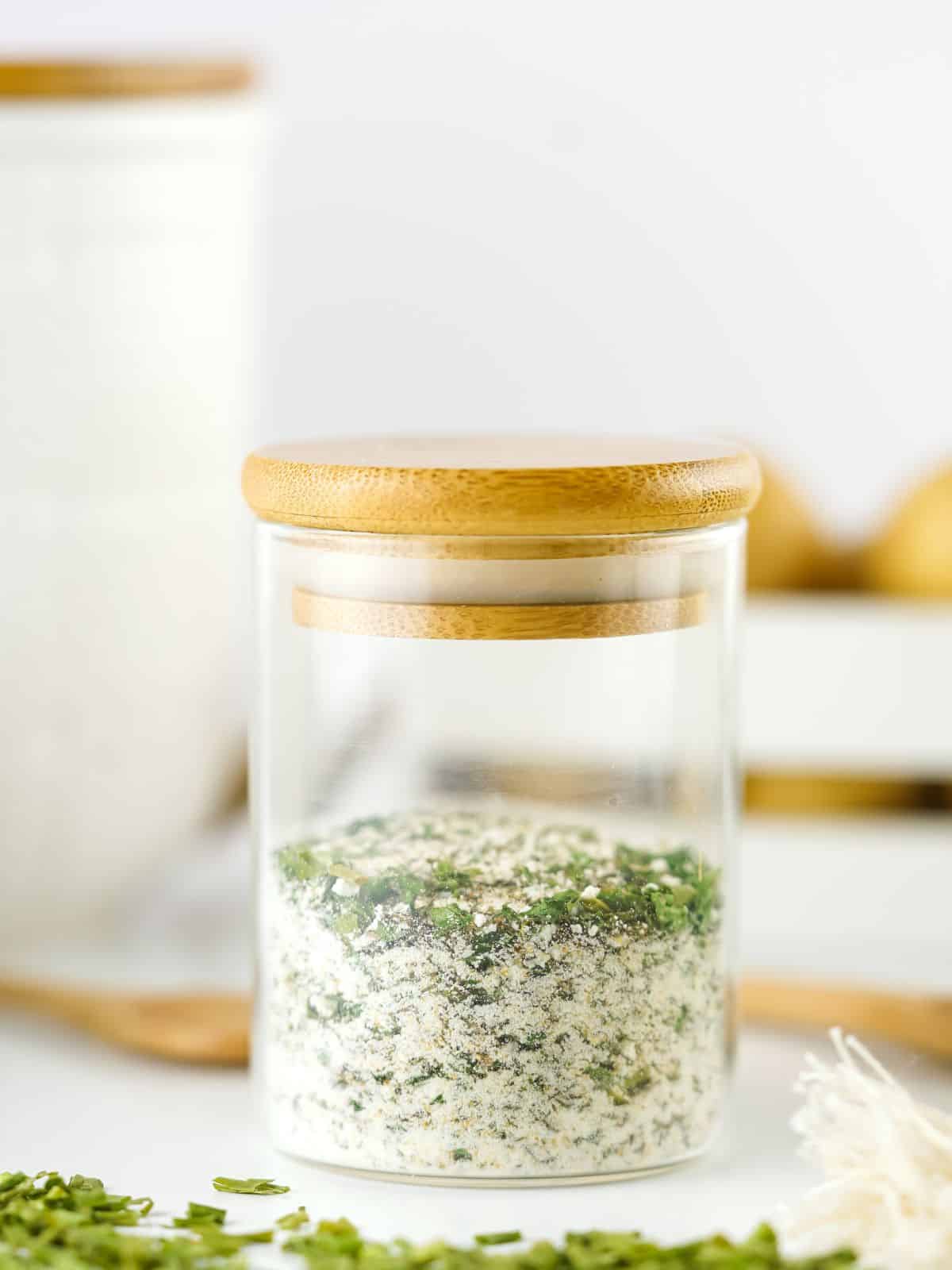 📌Quick Tip: The dried green spices will want to separate from the rest of the ingredients. That's ok, just give it a good stir before using it each time.
How to make Ranch Salad Dressing
Add 3 tablespoons ranch seasoning mix, ½ cup mayonnaise, ½ cup sour cream, and enough milk to get the consistency you desire.
Stir until well combined and refrigerate at least 20 minutes before serving.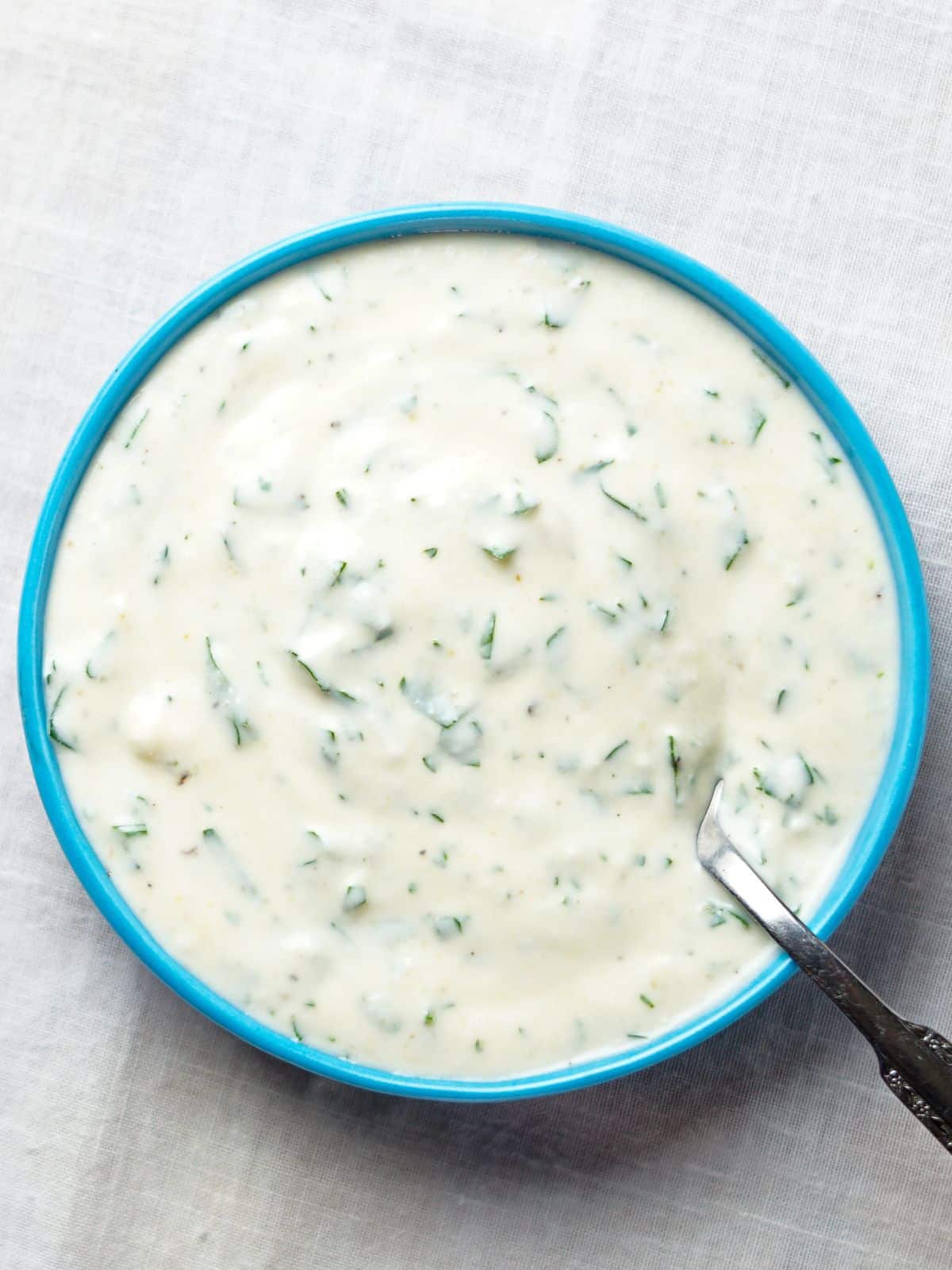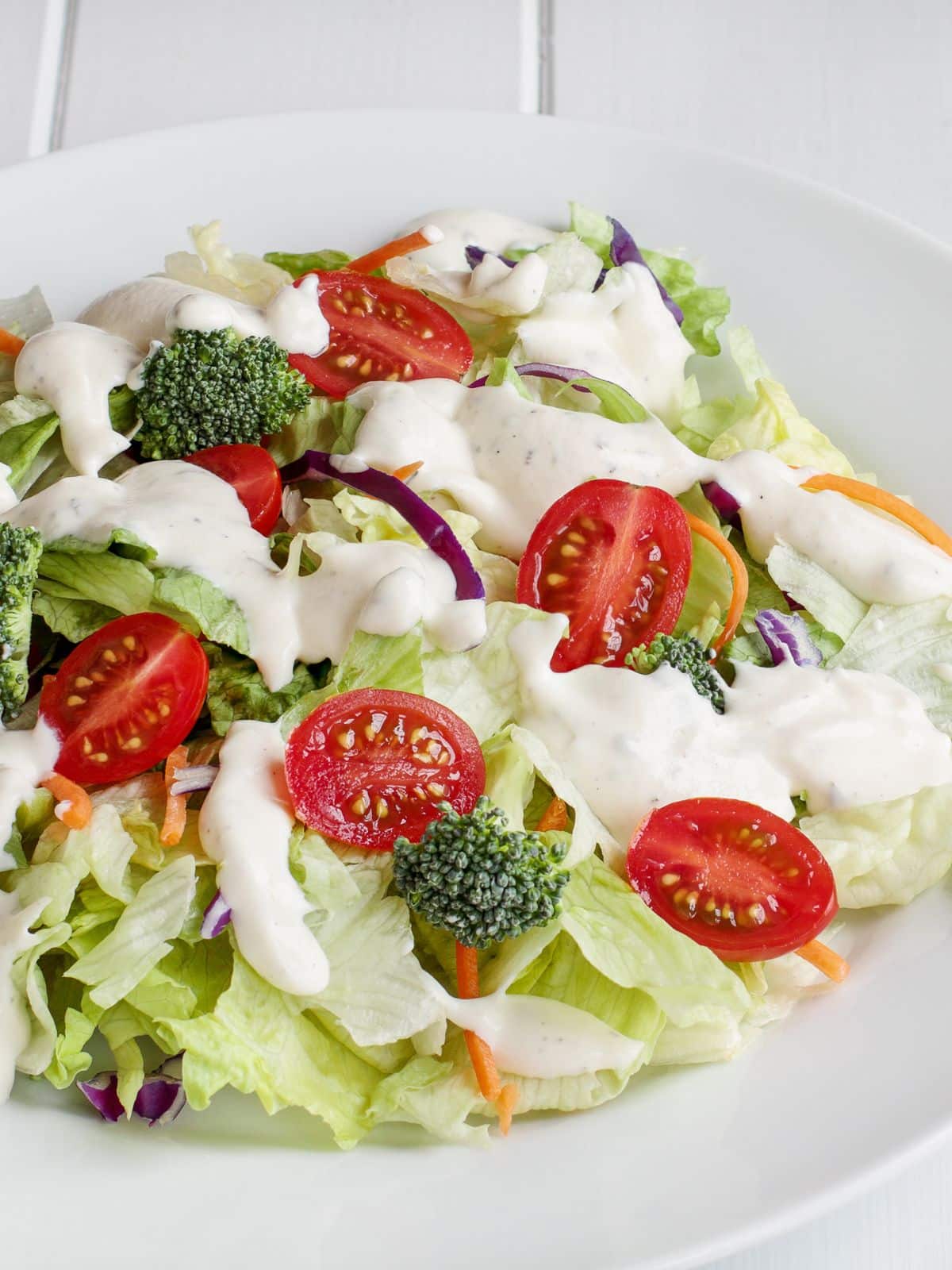 💭Recipe Variations
That's the best thing about making your own. Want more chives? Throw them in there!
Want a little less garlic powder, no problem, adjust it down a bit.
In other words, adjust it to meet your perfect preferences.
💭Storage Tips
The dry mix will last about 6 months is stored properly in an air tight container or mason jar.
Once the salad dressing is prepared, store it in the refrigerator for up to two weeks.
Make sure the container is airtight. This will keep the dressing from going bad too quickly once it is combined with the wet ingredients.
🍽 Make it a Meal
This dressing is perfect for tossed salads, vegetable dips, and more. It's also a great way to add some extra flavor to your favorite recipes.
The next time you're getting ready to grill chicken, brush the chicken with a little of this homemade ranch dressing.
This dressing also works great brushed on vegetables before grilling.
Check out my other recipe for 30 Minute Caprese Chicken which would be the perfect side dish for salad with this Homemade Ranch Dressing recipe.
I use this dressing for my Easter Salad Recipe in the shape of an Easter Egg for our Easter Brunch this year!
💡Recipe FAQ
How long will homemade ranch last?
The dry mix will last up to  6 months once stored in a glass mason jar or an air-tight container. Be sure to store it to where no moisture such as humidity can reach it. If you're worried about it, add one of those preservation packets to your jar.
🌟Try these recipes next...
📇Recipe Card
Yield: 1 cup
Homemade Ranch Mix and Salad Dressing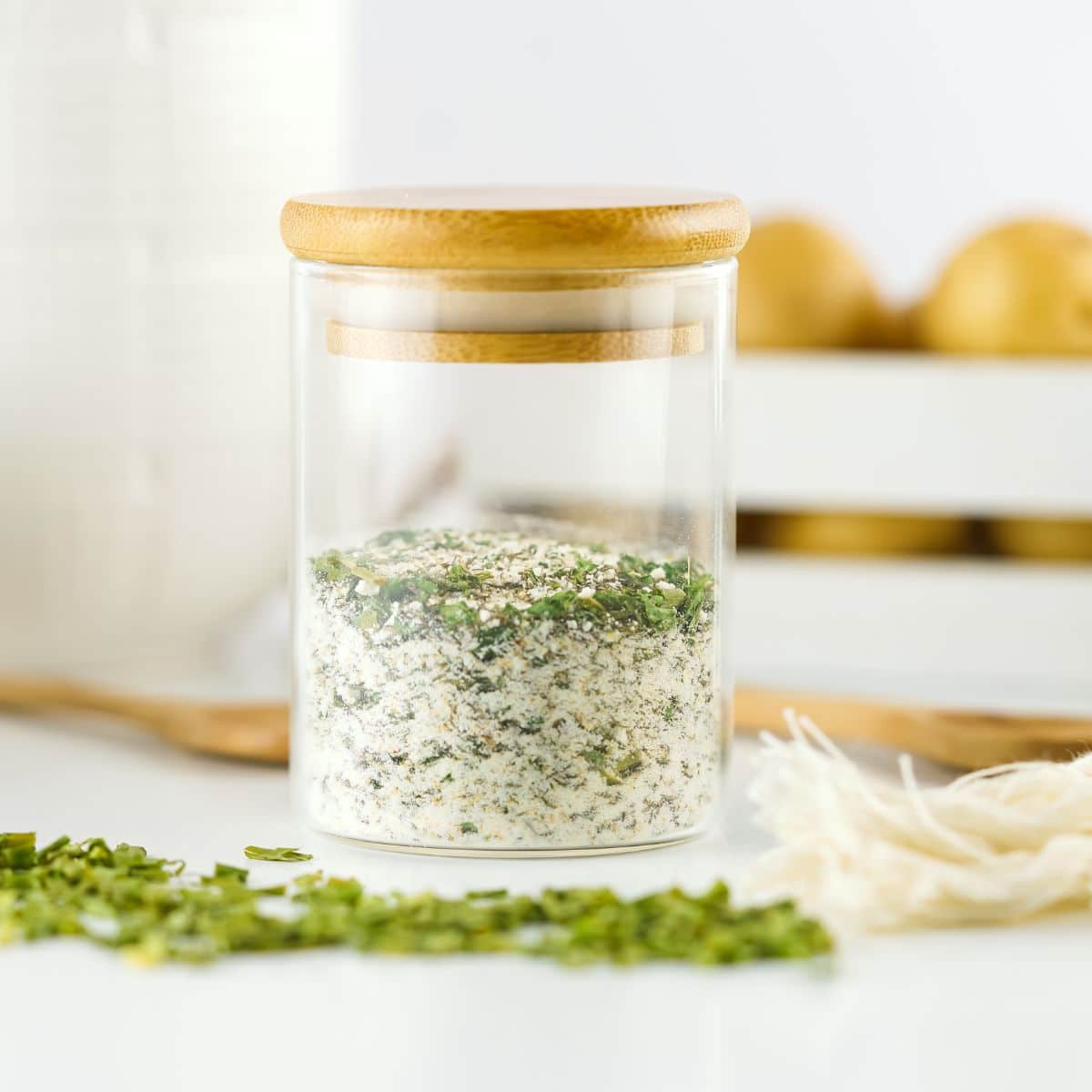 Forget the store-bought packets and take homemade Ranch Seasoning to a whole new level. With bold flavor and velvety texture, it's an excellent addition for dips, dressings, chicken dishes - you name it! It'll transform your meals into something special.
Ingredients
Dry Ingredients:
½ cup cry milk
1 tablespoon dried parsley
1 tablespoon dried dill
2 teaspoons garlic powder
2 teaspoons onion powder
1 teaspoon black pepper
1 teaspoon dried chives
½ teaspoon salt
Wet Ingredients:
½ cup mayonnaise
½ cup sour cream
Whole milk.
Instructions
Mix together the dry ingredients and store in a air tight container.
Add 3 tablespoons to the wet ingredients.
Add enough milk to get the consistency you desire for your salad dressing.
Notes
Be sure to store it to where no moisture such as humidity and such can reach it.


Nutrition Information:
Yield:
12
Serving Size:
1
Amount Per Serving:
Calories:

103
Total Fat:

10g
Saturated Fat:

3g
Trans Fat:

0g
Unsaturated Fat:

6g
Cholesterol:

12mg
Sodium:

165mg
Carbohydrates:

3g
Fiber:

0g
Sugar:

2g
Protein:

2g
The nutrition information is calculated automatically. I cannot guarantee its accuracy. If this data is important to you, please verify with your trusted nutrition calculator.
This recipe has been updated since it first appeared in 2013 with new photos, information and a new printable recipe card that includes nutritional information. I hope you enjoy the updates as much as I enjoyed working on them!