This lemon lime water recipe is perfect for those hot summer days when you want sparkling and refreshing infused water recipes. Staying hydrated is important all year long, but especially when the temperature rises.
Packed with antioxidants and vitamins, recipe's lemon lime infused water is a great way to help you stay hydrated and nourished all day long. So why wait? Try this recipe today and enjoy the delicious taste of summer all year round!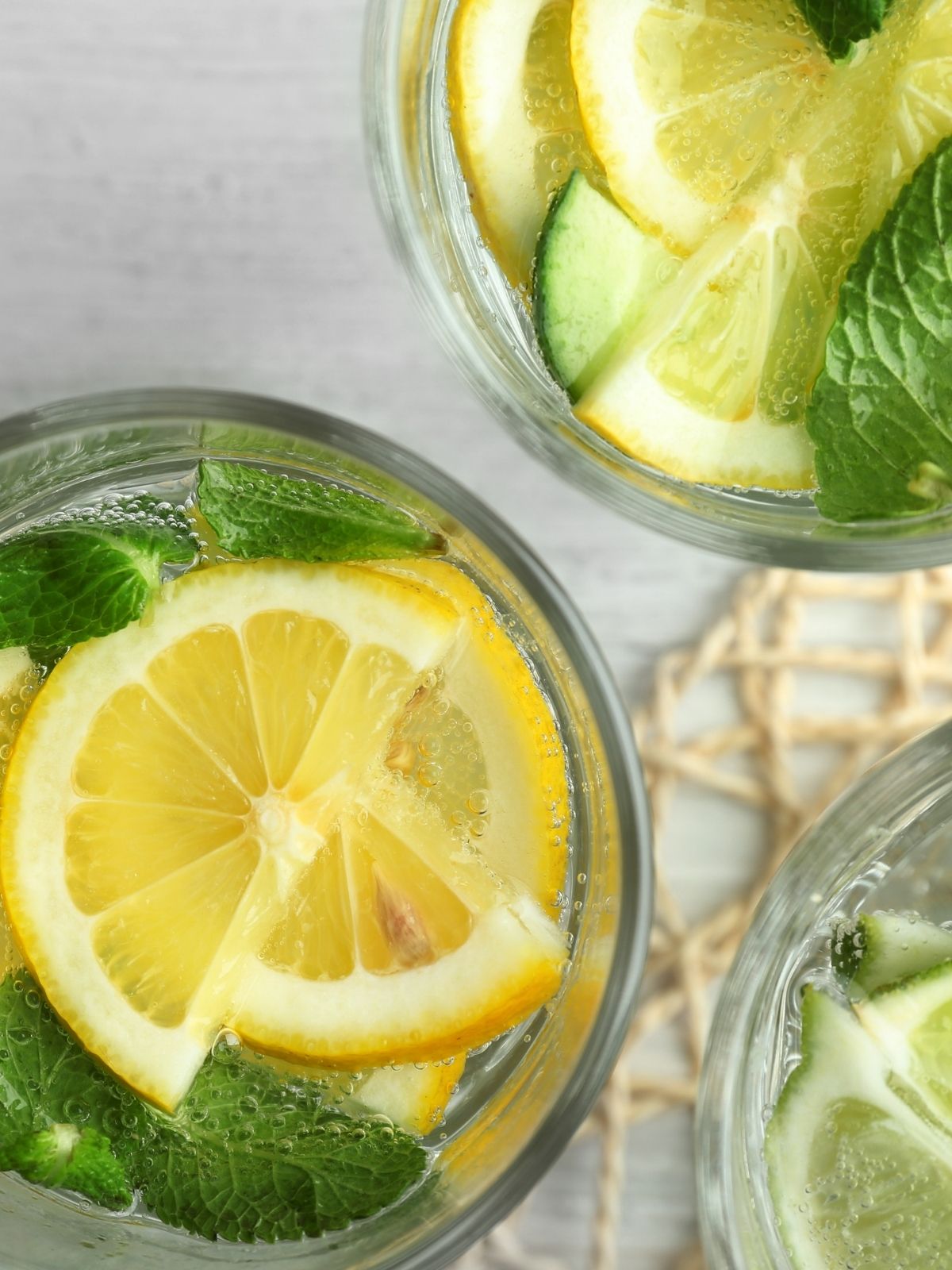 Infused water is much healthier than soda or juice and it gives you all the great tastes you are looking for in a refreshing chilled drink.
Made with real lemon and lime juice, this refreshing beverage is perfect for quenching your thirst on a hot day. Plus, it's packed with antioxidants and vitamin C, making it a healthy choice for sipping throughout the day.
If you love the flavor of lime alone, try my Sparkling Lime Water recipe!
Looking for more refreshing beverages? Try these infused water recipes, lime water recipe or my non-alcoholic drinks to help quench your thirst on a hot day.
Table of Contents
Lime Water vs. Lemon Water
Lime water and lemon water are both a refreshing and healthy alternative to sugary drinks. They're packed with vitamins and minerals that can help boost your health. Lemons and limes equally rich sources of Vitamin C, which is an important nutrient for immunity, skin health, and more.
Drinking lemon water and lime water can help you stay hydrated, fight off illness, and even improve your complexion. Plus, it's a low calorie way to enjoy the delicious taste of citrus fruit.
Whether you're looking to improve your health or just quench your thirst, lemon water or lime water is the perfect choice. It really depends on your taste and which flavor you enjoy more.
Easy Family Meal PlannerClick HERE for More Information
How to Make Lime Water at Home:
Made with just a few simple ingredients, this zesty drink is sure to please.
Start by adding freshly squeezed lemon and lime juice to a glass of cold water. I like to use prepared coconut water for added sweetness. Most coconut water is sweetened, so if you like less sugar you can always substitute with plain sparkling or seltzer water.
If you like, you can add a little more sweetness with a teaspoon of honey or sugar. Stir everything together and enjoy!
You can adjust these ingredients to suit your tastes even use some of your own fresh herbs for added flavor.
What does lemon and lime water do for you?
Lemon and lime water is one of the healthiest drinks you can have. Not only does it taste great, but it offers numerous health benefits.
For one, lemon and lime water is a great way to stay hydrated. It's packed with electrolytes and it's also a low calorie drink, so you can enjoy it without having to worry about putting on weight.
But that's not all – lemon and lime water can also help boost your immune system, fight off infections, and even help improve your digestion.
Muddle the Fruit
If you're looking to add a little something extra to your cocktails, muddling fruit is the way to go. Not only does it add flavor and depth, but it also looks beautiful. Here's a step-by-step guide to muddling fruit like a pro:
Placing your fruit of choice in the bottom of a glass.
Then, use a muddler (or the back of a spoon) to press and twist the fruit, releasing all of its juices.
Next, add the rest of your ingredients
Helpful Kitchen Tools
This post contains affiliate links. That means that if you make a purchase after clicking on a link I may earn a small commission at no extra cost to you. For more information, click here.
Mason Jar Beverage GlassesMore Information
Skinny Clear Glass StrawsMore Information
Stainless Steel Cocktail MuddlerMore Information
Ice Cube Trays 4 Pack, Easy-ReleaseMore Information
Main Ingredients Needed:
This is an overview of the ingredients and instructions. Be sure to see the recipe card below for exact quantities, detailed instructions and special notes.
Can of coconut water
Fresh lemon cut into slices
Fresh lime cut into slices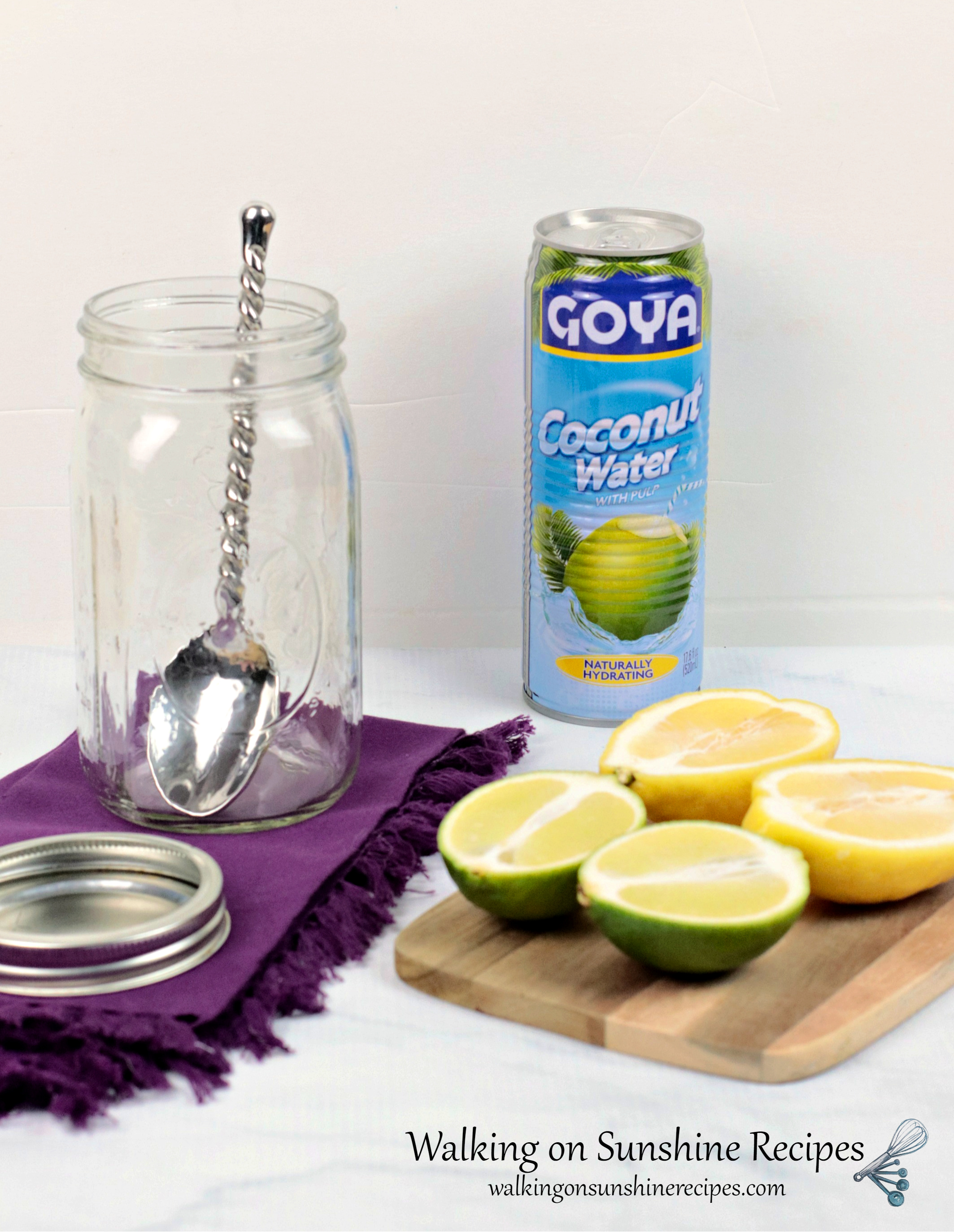 Step-by-Step Directions:
Step 1: Slice the lemons and lime. Then place the slices in a large glass mason jar with a lid.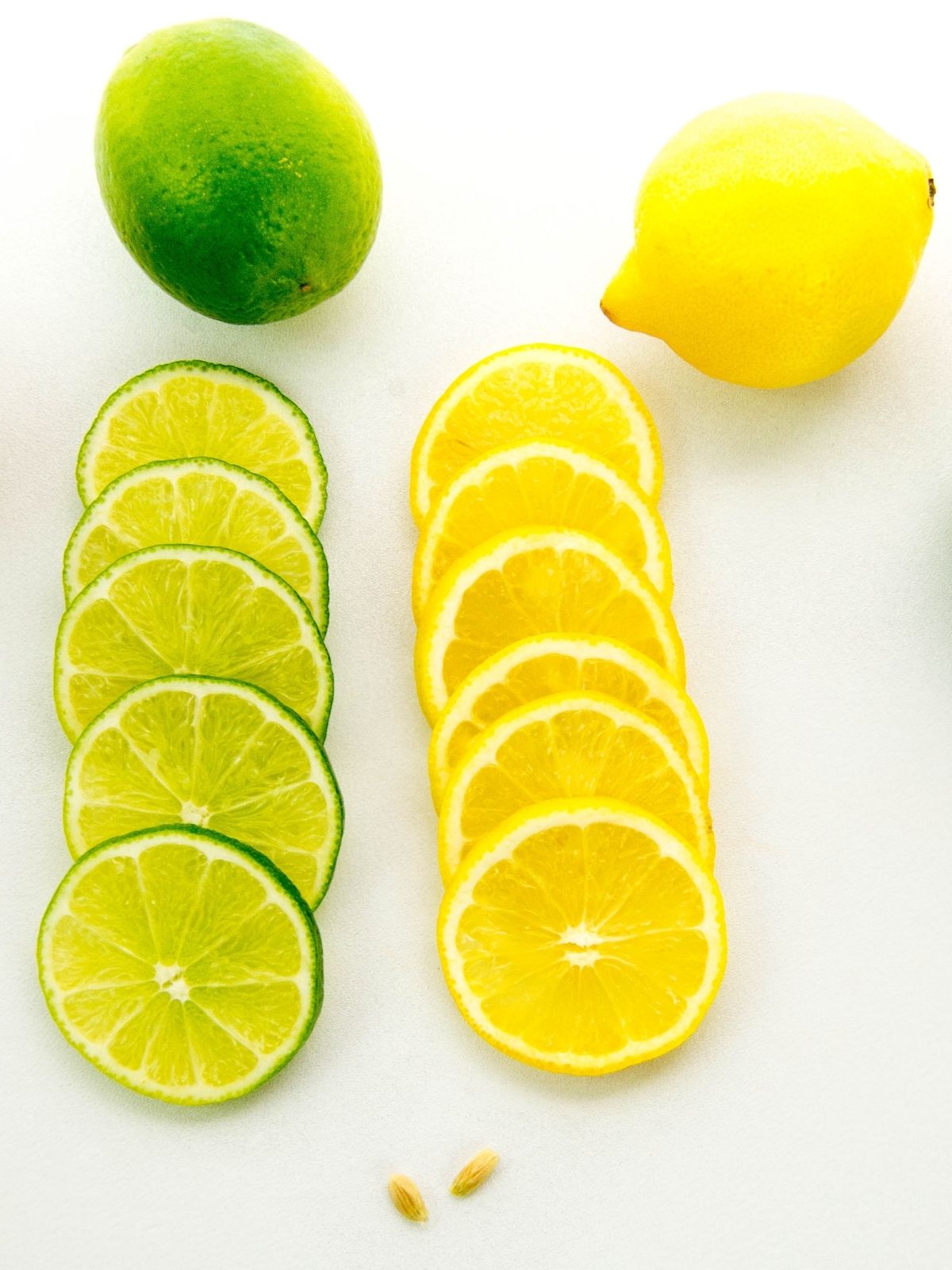 Step 2: Cover with coconut water and place jar in the refrigerator for at least 12 hours for a good infused flavor. 
Step 3: Stir it up and serve it strained or with the fruit included. It's up to you! Just beware of those pesky fruit seeds.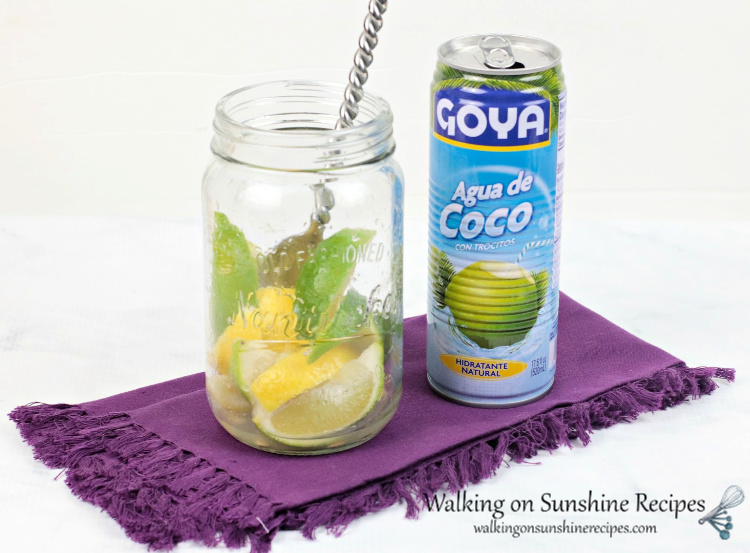 Can this recipe be doubled?
Of course, it can. It can even be tripled if you want to make a large batch for a picnic or party . Lemon Lime Coconut Water would look fabulous served in a large punch bowl or Mason Jar Drink Dispenser like the ones I have below.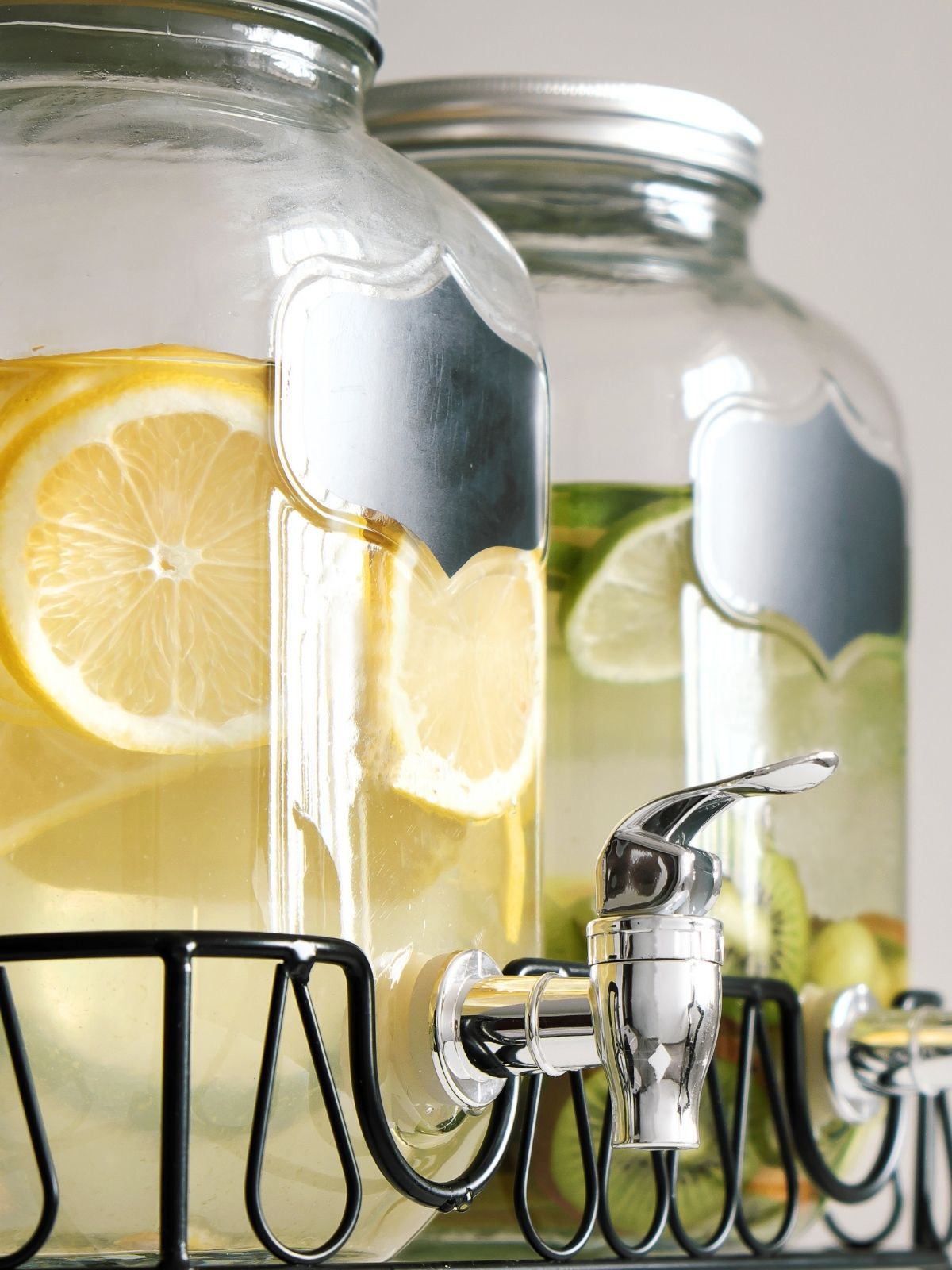 ⭐Before You Begin! If you make this recipe, please leave a review and star rating. This helps my business thrive and continue providing FREE recipes.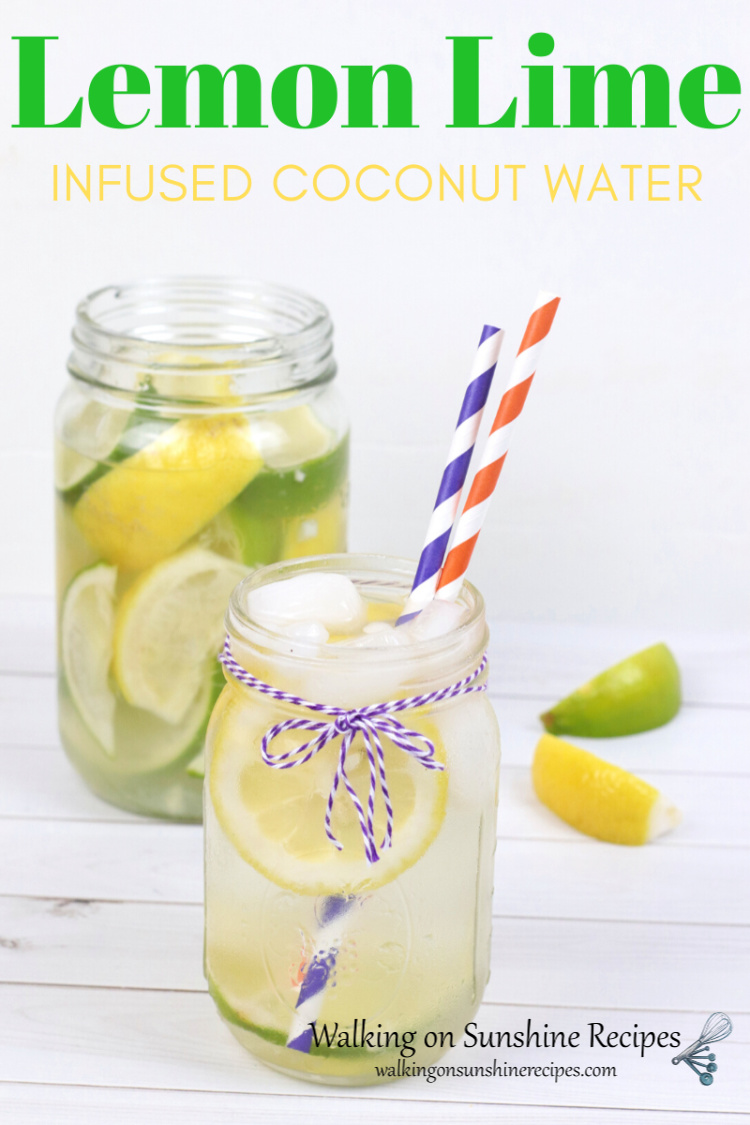 How to Make Lemon Lime Ice Cubes
If you're like most people, you hate wasting food. But what are you supposed to do with those leftover lemons and limes? Throw them away? No way! You can make ice cubes with them:
Cut up your lemons and limes into small pieces.
Place the lemon and lime pieces into an ice cube tray.
Fill the tray with water, and then freeze it.
Once the ice cubes are frozen, add them to your water, tea, or any other beverage for a citrusy twist!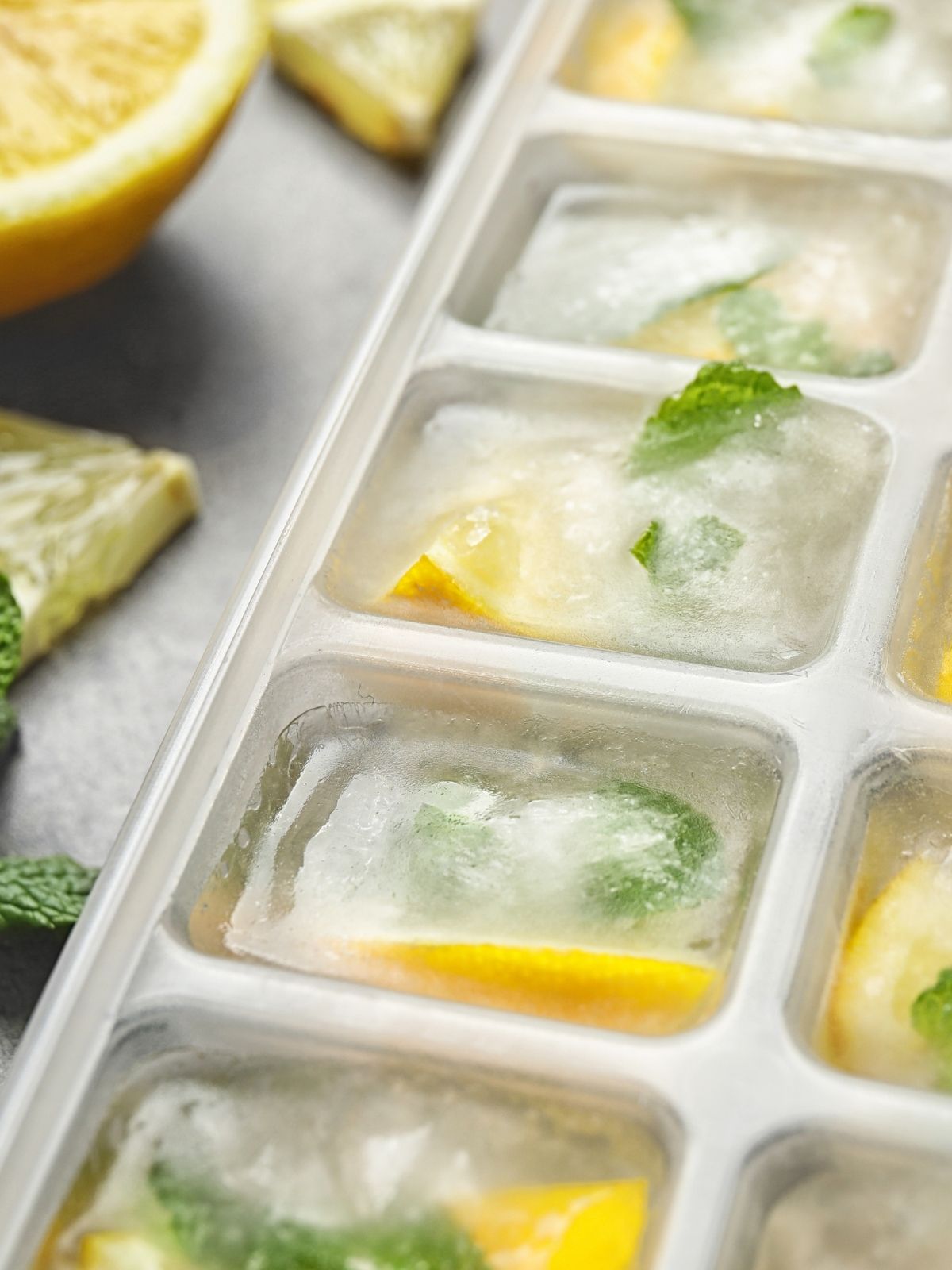 Looking for even more delicious drink recipes?
More Information
More Information
More Information
More Information
More Information
📇Recipe Card
Yield: 1 Beverage
Lemon Lime Water Recipe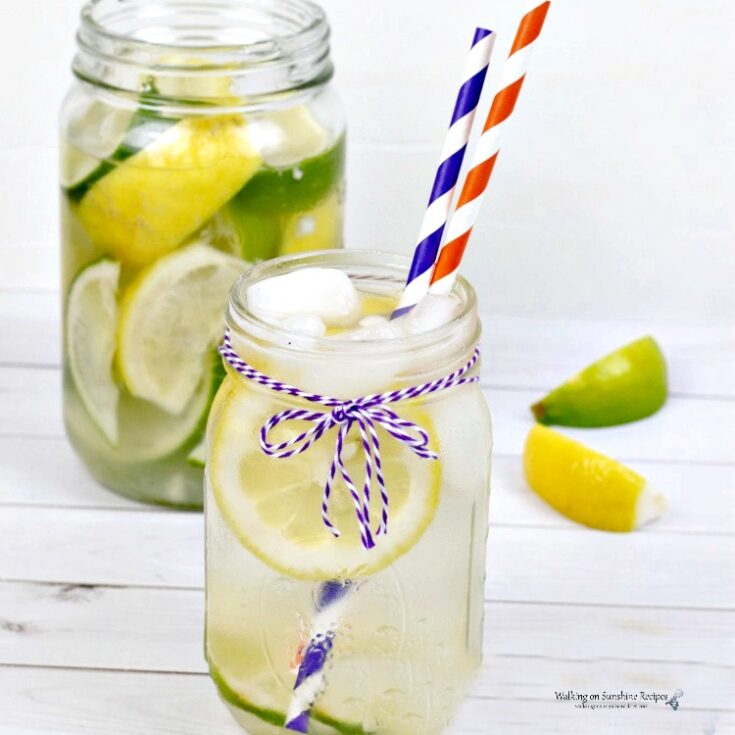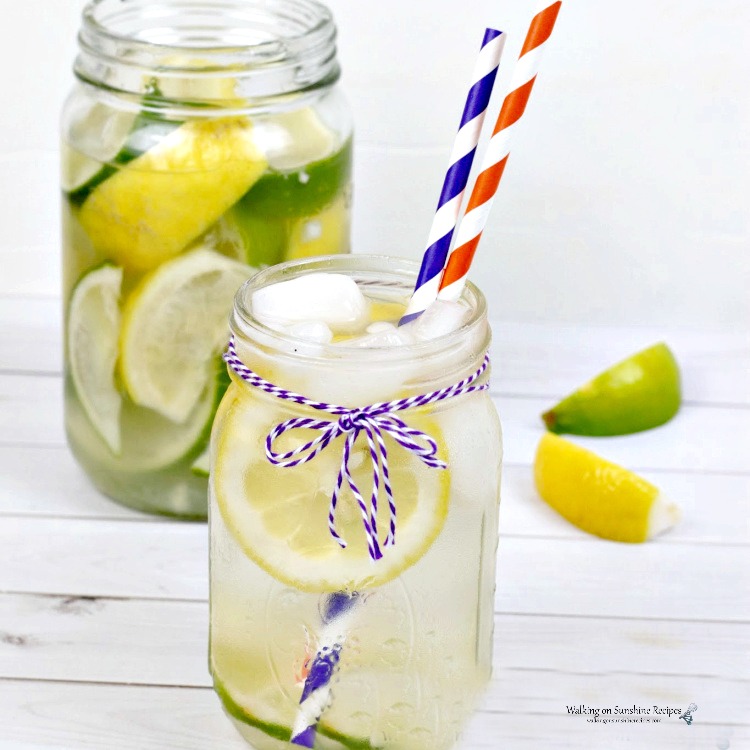 This lemon lime water recipe is perfect for those hot summer days when you want something sparkling and refreshing
Total Time
12 hours
5 minutes
Ingredients
1 17.6 ounce can of coconut water
1 large fresh lemon cut into slices
1 large fresh lime cut into slices
Instructions
Place lemon and lime in a large glass mason jar with a lid.
Gently muddle the fruit with the back of a spoon to release the natural flavors into the water.
Pour the can of coconut water into the jar and place it in the refrigerator for at least 12 hours.
Serve in a glass filled with ice, garnish with a slice of lemon and lime and enjoy!
Notes
This recipe can be doubled or even tripled! I think it would look great in a fun Mason Jar Drink Dispenser for a summer picnic.
Recommended Products
As an Amazon Associate and member of other affiliate programs, I earn from qualifying purchases.
Nutrition Information:
Yield:
1
Serving Size:
1
Amount Per Serving:
Calories:

150
Total Fat:

2g
Saturated Fat:

1g
Trans Fat:

0g
Unsaturated Fat:

0g
Cholesterol:

0mg
Sodium:

589mg
Carbohydrates:

36g
Fiber:

10g
Sugar:

18g
Protein:

5g
The nutrition information is calculated automatically. I cannot guarantee its accuracy. If this data is important to you, please verify with your trusted nutrition calculator.
This recipe has been updated since it first appeared in 2020 with new photos, information. I hope you enjoy the updates as much as I enjoyed working on them!