Looking for a delicious and comfort food ideas for dinner to serve to your family? Look no further than our weekly meal plan! This week's list of recipes are sure to please everyone in the family with its hearty flavors and filling ingredients.
Take advantage of the new editable meal planning printables to help you organize and plan out the perfect meals for your family.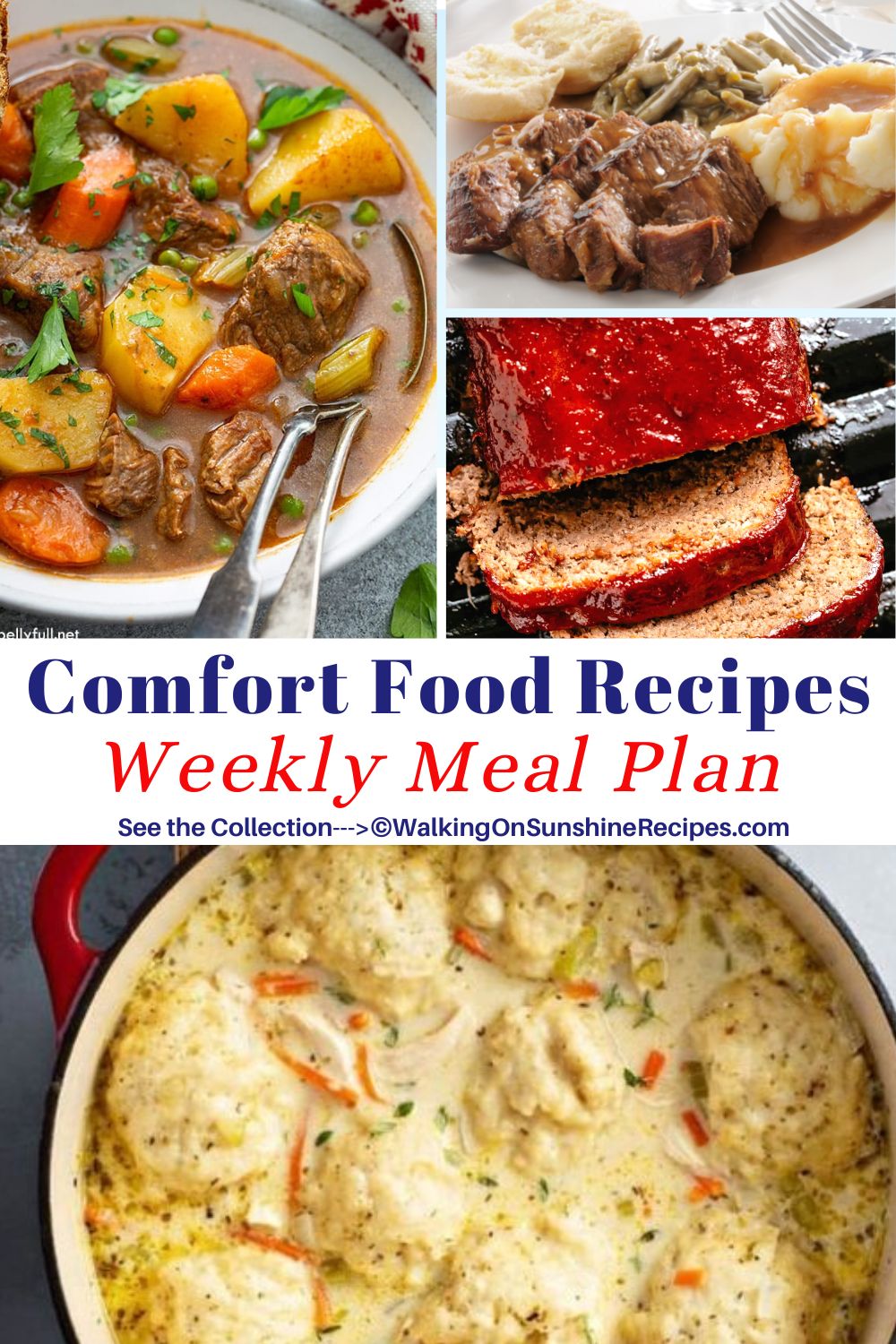 When it comes to comfort food, there are endless possibilities. A warm and hearty stew is always a good choice, as is a classic lasagna or a plate of spaghetti and meatballs. For something a little lighter, a grilled cheese sandwich or a bowl of homemade beef barley soup can hit the spot.
And of course, no comfort food list would be complete without mentioning my mother's pot roast recipe. Whatever your comfort food craving may be, there's sure to be a dish that will hit the spot. So go ahead and indulge yourself—after all, comfort food is meant to be enjoyed!
Looking for more Weekly Meal Plans? Easy Dinner Recipes, Frugal Dinner Ideas and Recipes, Crock Pot Recipes or Easy Chicken Dinner Recipes. All are filled with great ideas to help you get dinner on the table for your family.
Table of Contents
Best Weekly Meal Plan
Anyone who has ever stepped foot in a grocery store knows that it can be an overwhelming experience. With so many options and temptations, it's all too easy to end up spending more money than you intended.
This is why menu planning is such a great idea. By taking the time to plan out your meals in advance, you can save both money and time. When you know what you're going to make ahead of time, you can make a grocery list that focuses on the specific ingredients you need.
This can help you avoid impulse purchases and sticking to your budget. In addition, menu planning can help you avoid wasting food. If you have a plan for each meal, you're less likely to let perishables go to waste. With a little effort, menu planning can help you eat better and save money at the same time.
Meal Planner Notebook
What exactly is a meal planner notebook? A meal planner notebook is a notebook that helps you plan your meals. It can include recipes, grocery lists, and ideas for different meals.
It can help you to stay organized and make sure that you have everything you need for each meal. Check out the editable one available HERE.
Weekly Meal Plan
If your family is like mine, they don't like having the same recipe over and over again. I think you're going to enjoy trying these new recipes this week.
Get the kids involved with the planning also! Have them pick a meal one night a week. And make sure they know they need to pick a healthy meal that includes vegetables. Make it fun for them!
This is just an example of how I like to meal plan. You could also incorporate a "leftover meal" or even "clean out the refrigerator" night.
Try to use what you have in your pantry and freezer to plan meals. It helps to keep a list so you know exactly what you have on hand.
Assign each day of the week a different category and then plan a meal according to that category.
Monday - Meatless, Vegetarian or even Leftovers from the weekend.
Tuesday - Taco Tuesday or Mexican Recipe
Wednesday - Chicken, Beef or Fish
Thursday - Pasta or Italian Night
Friday - Sandwiches and Soup
Saturday - Pizza or Eat Out, Order In
Sunday - Comfort Food Meal
Now, pick a side dish to serve with the recipes listed above. Side dishes should include potatoes or rice along with one or two veggies. A tossed salad with homemade ranch salad dressing is always nice too.
🍽 Weekly Meal Plan Collection
⭐Before You Begin! If you make any of these recipes, please leave a review and star rating. This helps my business thrive and continue providing FREE recipes.
Easy Family Meal PlannerClick HERE for More Information
Weekly Meal Plan - The Best Comfort Food for Dinner
This week I am featuring 7 Comfort Food Recipes for our weekly meal plan. All you'll need is a little planning to help you get dinner ready for your family with these delicious recipes.
This post contains affiliate links. Your cost is the same, but I earn a commission when you shop through them. For more information, click here.
More Information
More Information
More Information
More Information
More Information
More Information
More Information
More Information
More Information