This coming week is crazy busy so we're keeping it easy but I'll still be cooking every night for my family. If you're already stressing out over what to cook for dinner this week, join me as I share the 7 Easy Dinner Recipes my family will be enjoying.
Meal prepping at the start of the week one day a week is an excellent way to stay organized, think ahead, save time and make nutritious meals.
Read on for tips, tricks and some tasty recipe ideas that will help keep dinnertime running smoothly all week long.
Check out the other Weekly Meal Plans available for you and grab the FREE Pantry List Essentials Printable below!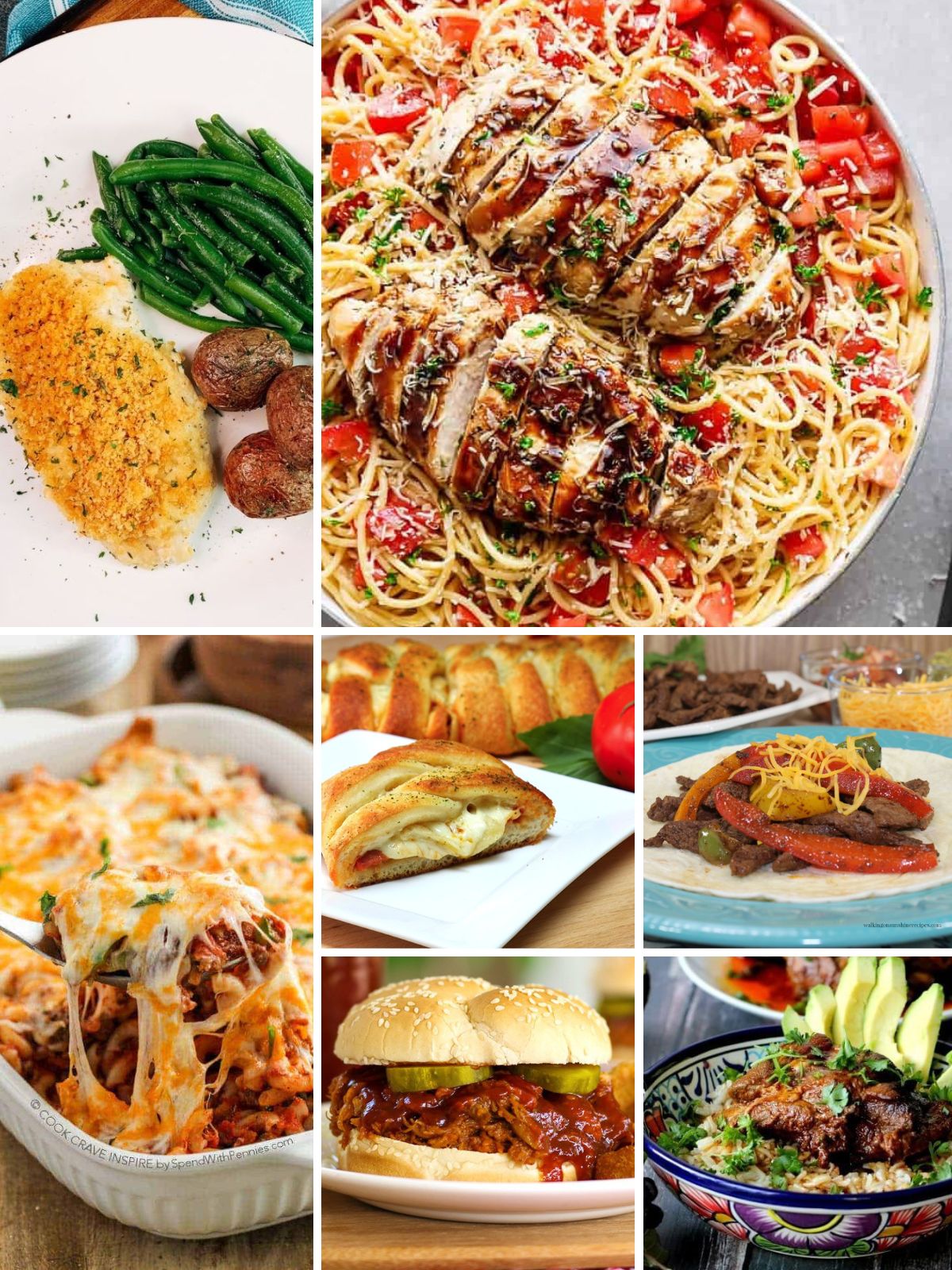 Are you trying to eat better, save money, and lessen the stress of planning last-minute weeknight dinners? Look no further than these 7 easy recipes featured this week.
With just a few ingredients and little effort you can create delicious recipes that will have your family looking forward to every meal!
Make sure you check out 10 Essentials Pantry Items and  Freezer Meal Planning Tips to further help you customize your family's dinner. Let's talk about this week's meal plan!
Table of Contents
Meal Planning Categories
This is just an example of how I like to meal plan. You could also incorporate a "leftover meal" or even "clean out the refrigerator" night.
Try to use what you have in your pantry and freezer to plan meals. It helps to keep a list so you know exactly what you have on hand.
Monday - Meatless, Vegetarian or even Leftovers from the weekend.
Tuesday - Taco Tuesday or Mexican Recipe
Wednesday - Chicken, Beef or Fish
Thursday - Pasta or Italian Night
Friday - Sandwiches and Soup
Saturday - Pizza or Eat Out, Order In
Sunday - Comfort Food Meal
How to plan dinner for the week
Planning dinner for the week can help save time and money while still providing nutritious, delicious meals. Here are some tips to help you plan dinner for the week:
Choose recipes you know your family will eat.
Check your pantry and fridge for ingredients you already have on hand, then make a grocery list for the remaining items.
Plan out how many nights you want to prepare dinner at home, and how many leftovers or takeout meals you'll need for the rest of the week.
Make sure to prepare extra food when cooking so that it can be used throughout the week as lunch or dinner options.
Lastly, don't forget to enjoy the process of planning – getting creative with recipes and experimenting with flavors is part of what makes cooking so fun!
Once you have the main dish selected, choose a side dish to serve alongside. Side dishes should include potatoes or rice along with one or two veggies. A tossed salad with homemade ranch salad dressing is always nice too.
Become a Member!
If you're looking for more detailed meal plans for TWO PEOPLE that include grocery lists, you're going to love Eat at Home Menu Plans for TWO. The Eat at Home Menu Planning does all the work for you. For only a few dollars per week and you get four different menu plans for every week.
Save 25% off any plan with the code WOS25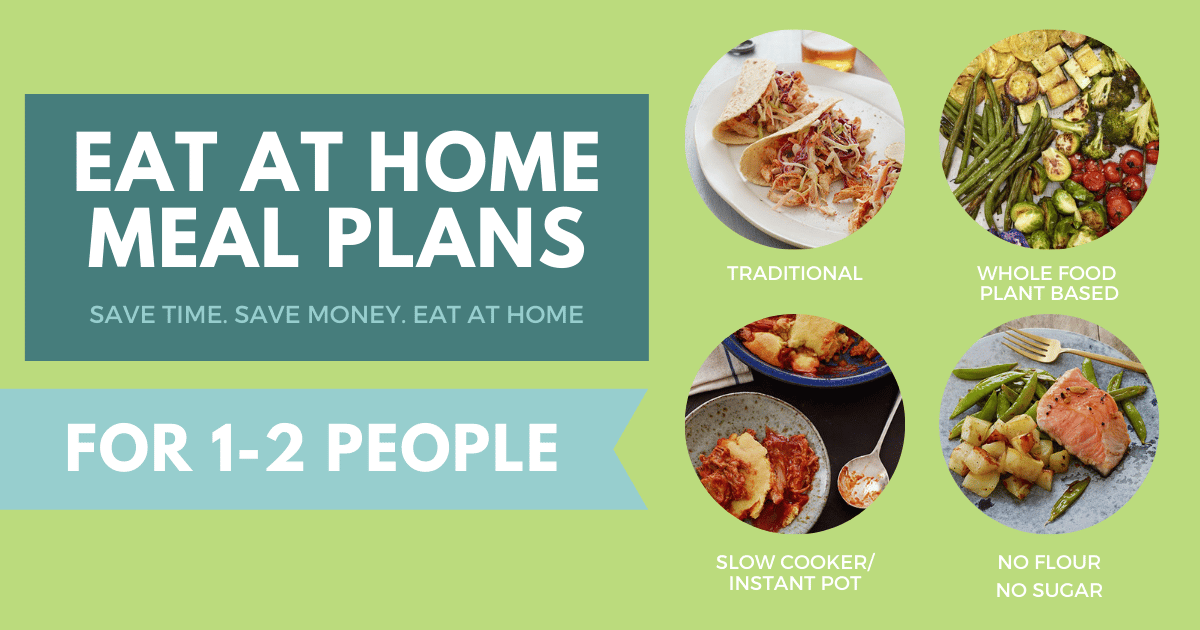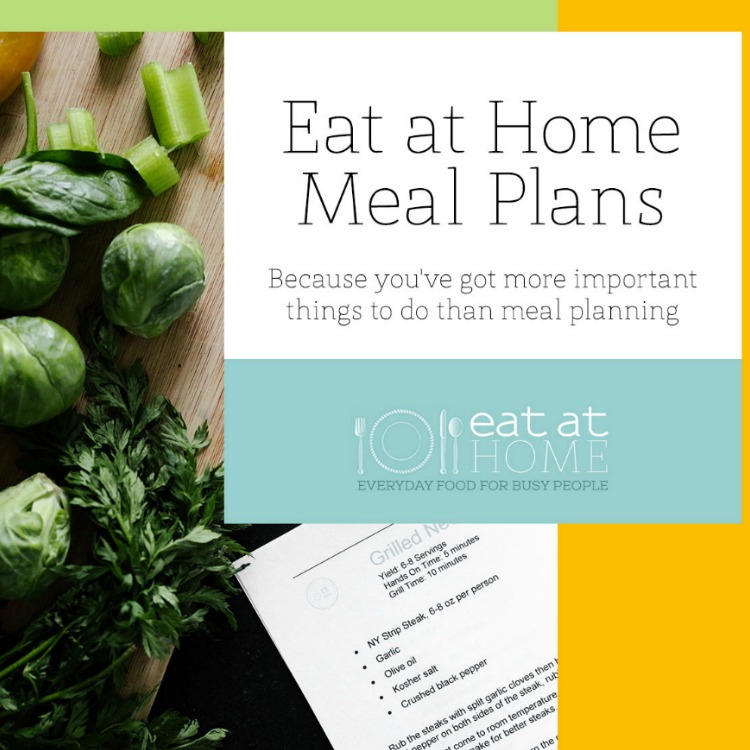 More Information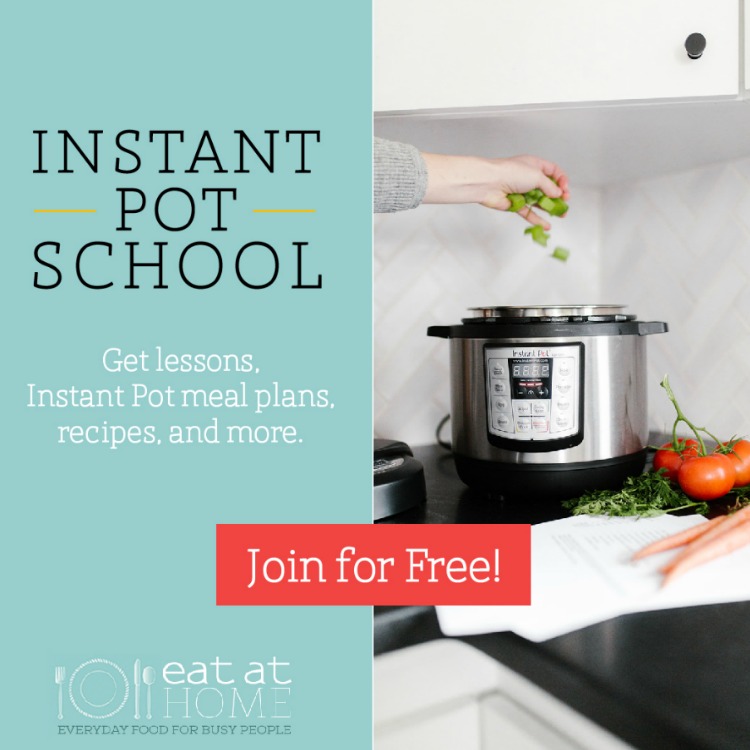 More Information
More Information
More Information
More Information
More Information
More Information
More Information
More Information
More Information
More Information
📋 Weekly Meal Plan
Easy Dinner Recipes
Easy Dinner Recipes are featured as part of our Weekly Meal Plan. Printable menus available for you to customize for your family's dinner.
This recipe has been updated since it first appeared in 2018 with new photos and a new printable meal plan. I hope you enjoy the updates as much as I enjoyed working on them!