A great collection of delicious soup recipes for you to make for your family!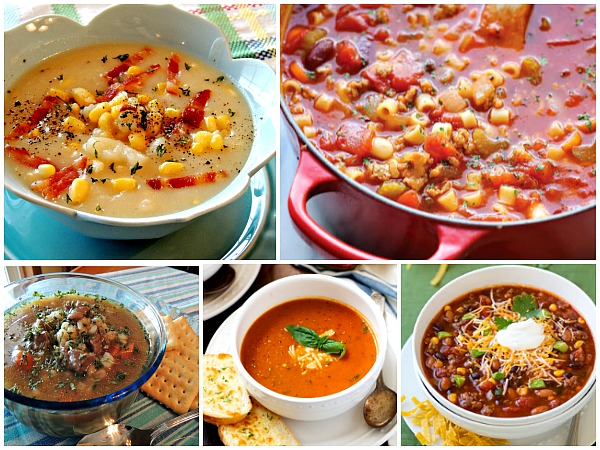 One of my favorite things to make for dinner is soup.  Yes, even during the hot summer months, I have been known to make soup for dinner.  It's a delicious, easy and very economical meal.  Here is a great roundup of delicious soup recipes to make for your family.  I've included a few of our favorite soup recipes as well.
Delicious Soup Recipes
We love this soup.  It is so incredibly easy as you put everything in the crock pot in the morning and when you come home at the end of the day your dinner is ready!  I like to bake the bacon in the oven and then add it as a topping right before serving.
Browning the meat first sears in the flavor of the beef.  Who knew "barley" could taste
so good?  This really is a hearty soup and you won't need much but a few crackers
on the side to complete your dinner.  This soup freezes well also....that's if you have any leftovers!
Another soup that cooks up pretty quickly if you already have leftover chicken.  If not, I suggest
cooking a couple of chicken breasts in the crock pot first and then add the shredded chicken to the soup.  Serve with plenty of tortilla chips and sour cream.  Yummy!
I like to broil the pieces of crusty bread first and then add them to the soup with cheese and place the bowls on a baking tray under the broiler to get the cheese nice and melted.
My husband loves this soup and so do I.
Now, on to some great soups from a few of my Foodie Friends...