Bursting with tropical flavors and refreshing goodness, this collection of pineapple juice drinks non-alcoholic is the perfect choice for those seeking a vibrant and delicious alternative to alcoholic drinks.
Whether you're hosting a summer barbecue, planning a family brunch, or simply craving a taste of the tropics, our pineapple-inspired beverages are sure to captivate your taste buds and transport you to a sunny paradise.
Check out all the other Fresh Non-Alcoholic Drinks for even more delicious beverages.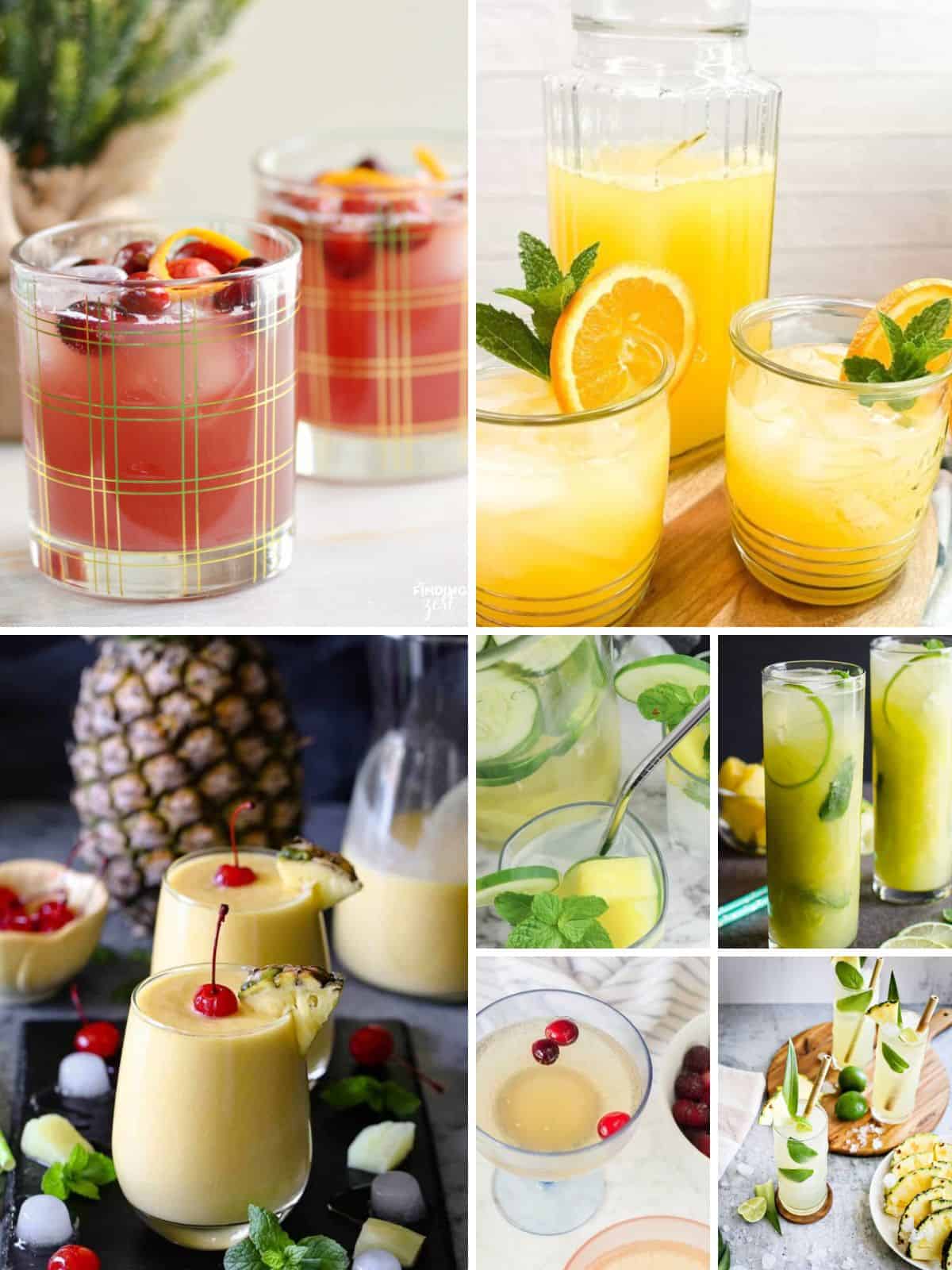 Included in this collection are fruit-inspired drinks including Pineapple Orange Punch, Pineapple Mango Pina Colado and a fun Cranberry Pineapple Mocktail.
With bold tropical flavors, these easy-to-make infused water recipes and beverages are perfect for entertaining guests or just serving up something special on a hot day.
Whether your preference is smoothies, mocktails or even juices – let me show you how to whip up the ultimate pineapple blend with our irresistible recipes.
Looking for more infused water recipes? Try my Strawberry Infused Water,  Lemon Lime Water Recipe or my Lime Water Recipe. All are great ways to stay refreshed over the summer and all year long too!
Table of Contents
👩‍🍳Recipe Notes
Preparing a non-alcoholic drink can be just as enjoyable and refreshing as creating a cocktail. Here are some easy tips to help you prepare a delicious and satisfying non-alcoholic beverage:
Enhance your drink with a vibrant ingredient, such as fruity juice, herbal tea, or refreshing sparkling water. The flavor will serve as the perfect foundation, adding an extra dimension of taste to your beverage.
Try sweetening the drink with natural sweetness such as honey, agave syrup, or maple syrup.
Want to give your drinks a bubbly twist? Try using soda water, sparkling water, or a splash of ginger ale to add fizz to your beverage.
Add fresh fruit slices, or herb sprigs to the drinks just before serving.
Serve the drinks with plenty of ice!
📌Quick Tip: Always use cold water when infusing with fruits and vegetables. Do not use hot water. Hot water makes the vegetables and fruit fall apart and it can alter the taste. It might even cook the fruits, vegetables and herbs.
💡Recipe FAQ
Simply click the plus sign to read more about the questions you see below. If YOU have a question regarding this recipe, please let me know in the comment section.
What are some unique flavor combinations for non-alcoholic drinks that will wow my guests?
Try making a Virgin Piña Colada. Your guests won't even miss the alcohol! Create a non-alcoholic sangria using hibiscus tea, tropical fruits, and a hint of citrus for a refreshing and exotic beverage.
🛒Helpful Kitchen Tools
FineDine Glass Drink Dispenser for Fridge - 1 Gallon Water, Laundry Detergent or Beverage Dispenser for BBQ, Picnic, Pool Party and Social Events
Glaver's Colored Glassware, Ice Cold Drinking Glasses Set of 4 – 18 Oz Vintage Drinking Glasses for Kitchen, Dining Table – Red, Yellow, Blue, and Green Glass Tumblers
Whaline 2 Pack Summer Boho Daisy Drinking Glasses 16oz Danish Pastel Daisy Flower Glasses Cup with Bamboo Lids Straw Cleaning Brushes Aesthetic Ice Coffee Cup for Cocktails Whiskey Beer Soda Gifts
6Pcs Glass Swizzle Stick Coffee Cocktail Juice Milk Drink Swizzle Stick
🌟Try these recipes next...
📇Recipe Collection
⭐Before You Begin! If you make any of these recipes, please leave a review and star rating. This helps my business thrive and continue providing FREE recipes.
Pineapple Juice Drinks Non Alcoholic