This collection of stuffed crescent rolls recipes are perfect for any occasion - whether you're hosting a party or just looking for a delicious snack. They're also quick and easy to make, so you can enjoy them any time.
The recipes featured all use flaky, buttery crescent rolls that are filled with either savory or sweet fillings. There's something for everyone!
Check out my list of other Crescent Roll Recipes for even more ideas of how to use this incredible refrigerator dough.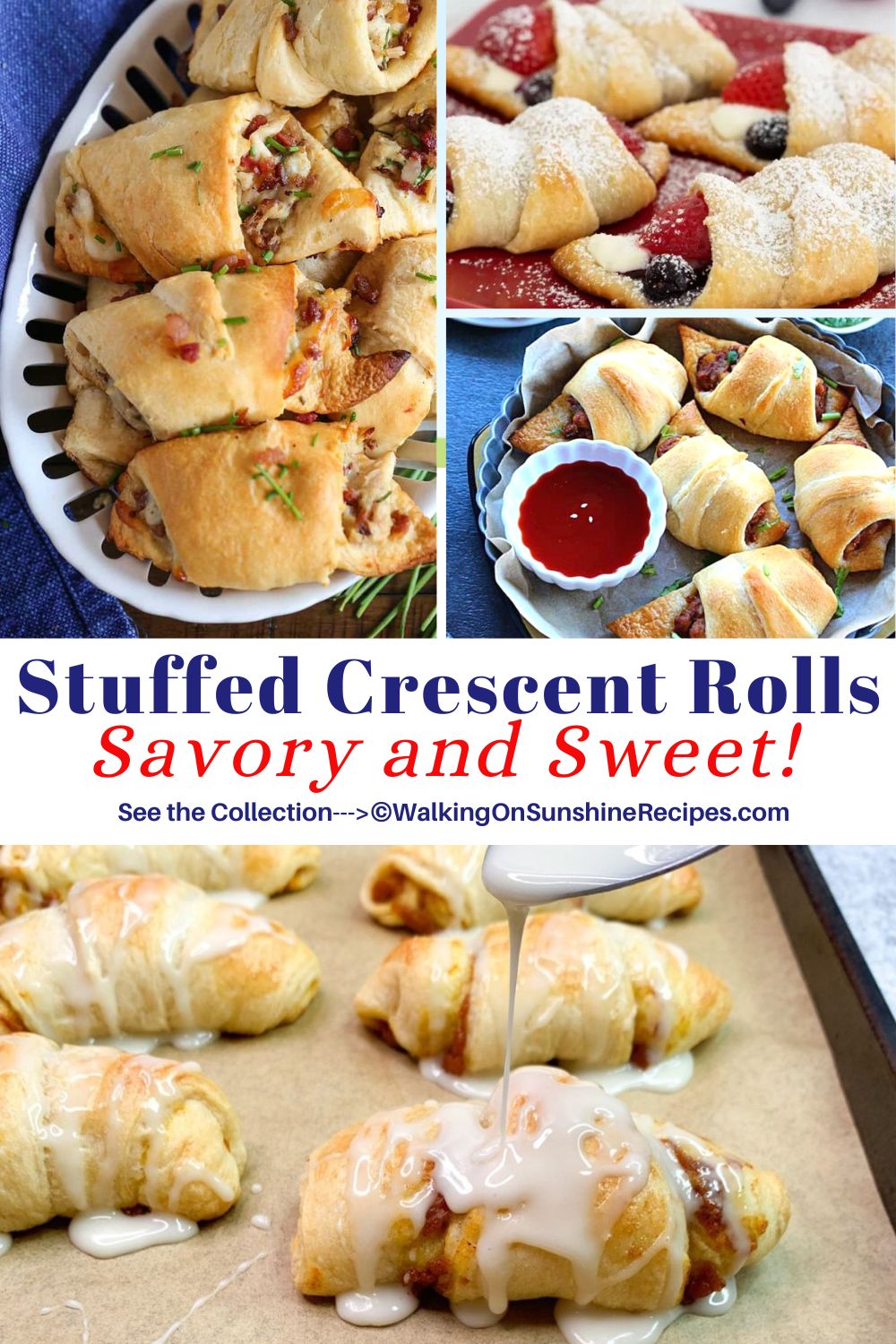 I love using them for savory and sweet recipes! And what's better than a warm, doughy crescent roll? A stuffed crescent roll, of course!
They are so many ways you can use crescent rolls and this collection of stuffed crescent rolls just goes to show you they are more than just a heated roll on your plate for dinner.
Looking for more Crescent Roll Recipes? Try Crescent Cream Cheese Cinnamon rolls that taste just like the inside of a cinnamon roll without all the work!
Table of Contents
Crescent Roll Ideas
Stuffed crescent roll ideas are a delicious and easy way to show your culinary creativity. The best part about them is that you can fill them with almost anything you can imagine. The sky is the limit when it comes to fillings. Here are a few tips to help you create the perfect stuffed crescent roll:
First, preheat your oven according to the package directions. This will ensure that your rolls cook evenly.
Next, unroll the crescent dough and separation into individual triangles.
Then, decide on your filling. Anything from cream cheese and fruit to savory meats and vegetables will work well. Just be sure not to overstuff the rolls, or they will be difficult to close.
To finish, simply roll up the dough around the filling, starting at the wide end of the triangle.
Brush the rolls with a beaten egg white before baking to help them look shiny.
Then, bake according to either the package or recipe directions.
Can I substitute pizza dough for crescent rolls?
While crescent rolls and pizza dough may look similar, they are actually quite different when it comes to cooking. Crescent rolls are made with a light, flaky dough that is rolled into a crescent shape.
However, when substituting pizza dough for crescent rolls in a recipe, you may need to make some adjustments. For example, you may need to roll the dough out a bit thinner, as pizza dough tends to be less pliable than crescent roll dough.
Some recipes, using pizza dough in place of crescent rolls won't work. The dish will likely come out overcooked and tough.
If you're craving pizza but all you have is crescent rolls, don't worry! Simply follow the recipe I used for Making Pizza with Crescent Rolls.
What to make with Crescent Rolls
Here are just a few ideas of what you can stuff with crescent rolls:
Peanut Butter or Nutella
Sprinkle chocolate chips on the dough before rolling up.
Softened cream cheese with fresh berries.
Flavored butter; try my Homemade Garlic Butter recipe.
Mozzarella sticks with pepperoni slices.
Leftover taco meat or sloppy Joes.
Roll cooked hot dogs up in crescent rolls and bake.
Helpful Kitchen Tools
This post contains affiliate links. That means that if you make a purchase after clicking on a link I may earn a small commission at no extra cost to you. For more information, click here.
More Information
More Information
More Information
More Information
⭐Before You Begin! If you make this recipe, please leave a review and star rating. This helps my business thrive and continue providing FREE recipes.
Stuffed Crescent Rolls Recipes
Stuffed Crescent Rolls Recipes all use flaky, buttery refrigerator crescent rolls that are filled with either savory or sweet fillings.