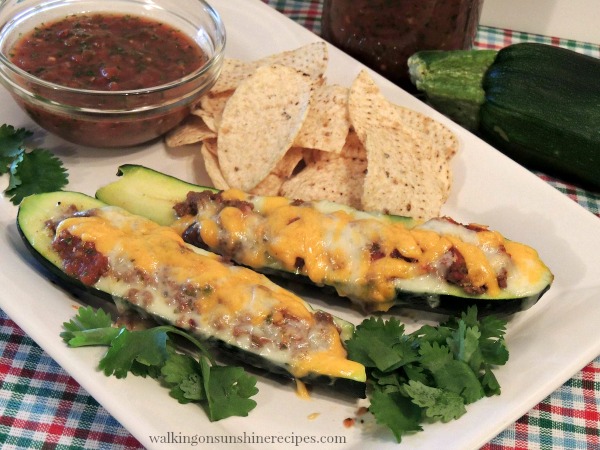 This recipe for Stuffed Zucchini is the perfect way to use up all the zucchini growing in our gardens. And if your garden is overflowing with zucchini, like mine is, you're going to really enjoy this recipe.

Stuffed Zucchini
Ingredients:
Leftover taco meat
Zucchini
Cheddar and Monterey Jack Cheese; grated
Salsa
Directions:
Slice the zucchini in half.
Using a sharp spoon or melon baller, scoop out the seeds and some of the flesh of the zucchini forming a "tunnel" for the taco meat to sit in.
Bring a pot of water to boil and place the zucchini halves into the boiling water for one minute.
Remove from the boiling water and lay on a flat surface.
Fill the "tunnel" with taco meat.
Spread some of the salsa in the bottom of a baking dish that has first been sprayed with a non-stick spray.
Lay the stuffed zucchini on top of the salsa.
Put a layer of salsa on top of the taco meat.
Add the cheese to the top of the zucchini boats.
Bake in a 425 degree oven for about 20 minutes; until heated through and the cheese is bubbly.
Cool slightly before serving.
Ready to add the cheese and then into the oven…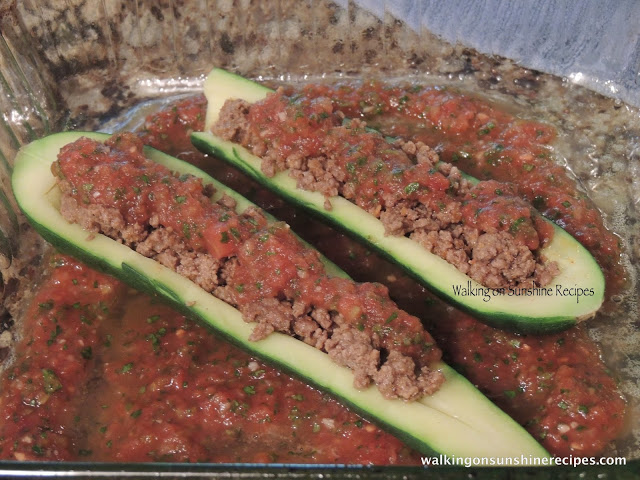 Add a side salad and you have a nice lunch or a light dinner…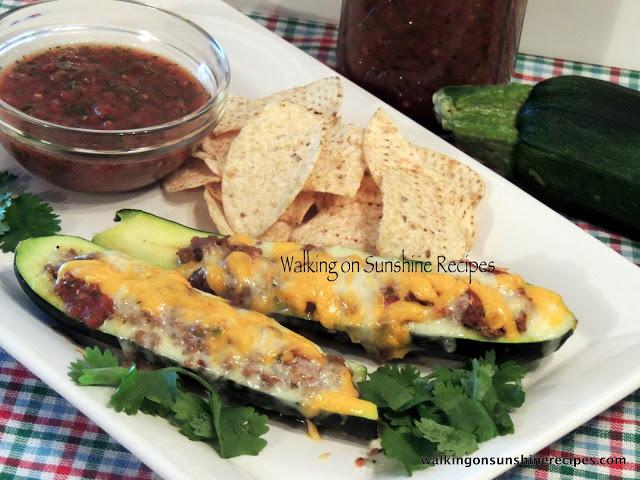 These were DELICIOUS!
AND if you're looking for a GREAT taco seasoning mix recipe, go
HERE
…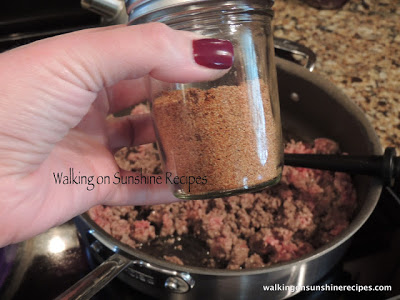 And
HERE
is the recipe I use for homemade salsa, because it really does make
a HUGE difference.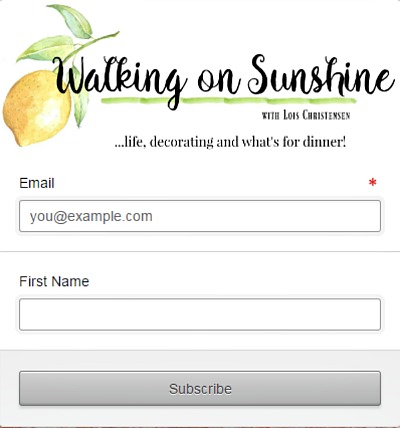 Find What You Need at Amazon!
amzn_assoc_placement = "adunit0";
amzn_assoc_search_bar = "true";
amzn_assoc_tracking_id = "walkonsunscre-20";
amzn_assoc_ad_mode = "manual";
amzn_assoc_ad_type = "smart";
amzn_assoc_marketplace = "amazon";
amzn_assoc_region = "US";
amzn_assoc_title = "My Amazon Picks";
amzn_assoc_debug = "false";
amzn_assoc_ead = "0";
amzn_assoc_linkid = "713484ed4d89ff4488813d9d6ee9e55d";
amzn_assoc_asins = "B00008W70O,B0000CFLM2,B0001HLTSE,B00L9LD85S,B0051O9YUM,B00IRU6NKG,B00BXOM4U6,B0000630NY";
Don't forget to check out my hubby's blog, Manning the Wall.