In this collection of Easy Zucchini Recipes, you'll find everything from zucchini fritters and cheesy casseroles and muffins.
Whether you're looking for a new way to use up your garden's abundance of zucchini or simply want to try something new, these recipes are sure to delight your taste buds.
Add any of these recipes as a side dish or appetizer to your Weekly Meal Plan available to help you get dinner on the table for your family!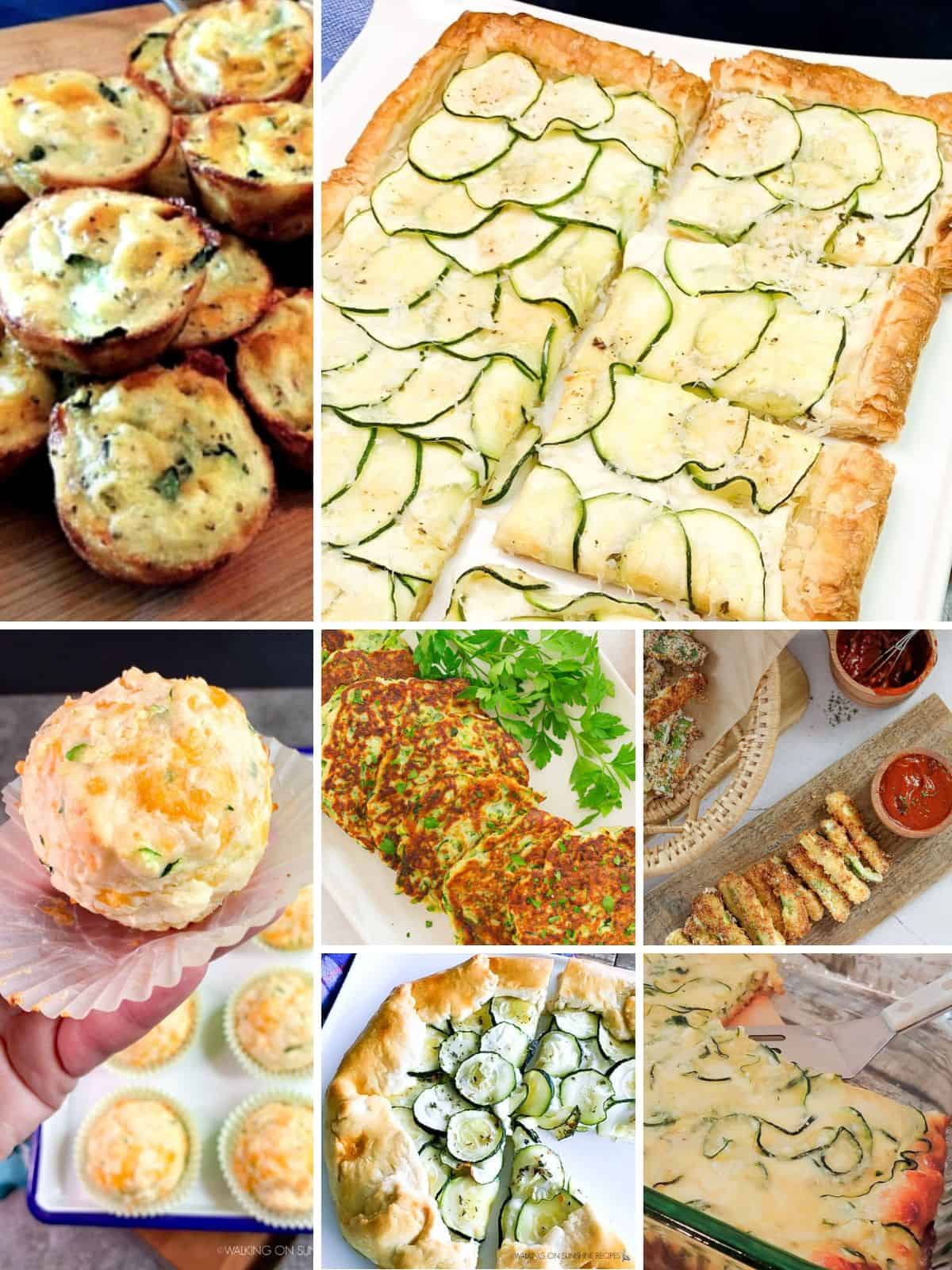 It seems during the summer we're all looking to add more vegetables to our plates. Maybe that's because a lot of us plant gardens or perhaps have access to a neighborhood farmer's markets.
For whatever reason, there's always one vegetable that seems to get more love than any other growing in summer gardens: Zucchini. And why not?
Zucchini is a nutritious and delicious summer squash that is packed with a variety of health benefits. Incorporating it into your recipes can add a boost of nutrients to your meals while also enhancing their flavor and texture.
It's also low in calories but high in fiber, vitamin C, vitamin A, and antioxidants. It has anti-inflammatory properties that can promote heart health, reduce cholesterol, and improve digestion.
Table of Contents
Zucchini Appetizers
Savory Zucchini Recipes
Easy Family Meal PlannerClick HERE for More Information
Frequently Asked Zucchini Questions
What is the best way to grate zucchini?
Depending on the recipe you are preparing, you may want to peel the zucchini first, then trim off the ends and hold the end of the zucchini over the blades of a grater being careful as the zucchini reaches the bottom so you don't hurt yourself. You can use either a box, plank or even food processor.
Can you grate zucchini ahead of time for recipes?
Yes! You can definitely grate or prep the zucchini ahead of time. Keep it in a sealed air-tight container or plastic bag. I like to also add a paper towel to the plastic bag or container to help with any excess moisture from the zucchini. Properly stored, grated zucchini will last in the refrigerator for up to 3 to 5 days.
This recipe collection has been updated since it first appeared in 2018 with new photos and information. I hope you enjoy the updates as much as I enjoyed working on them!