This week's 30 minute meal plan can help all of us prepare delicious meals in no time...well, in 30 minutes or less!
From one pan chicken recipes, to hearty casseroles and homemade soup, there's something for everyone!
Check out all the past Weekly Meal Plans for more inspiration to help you get dinner on the table for your family this week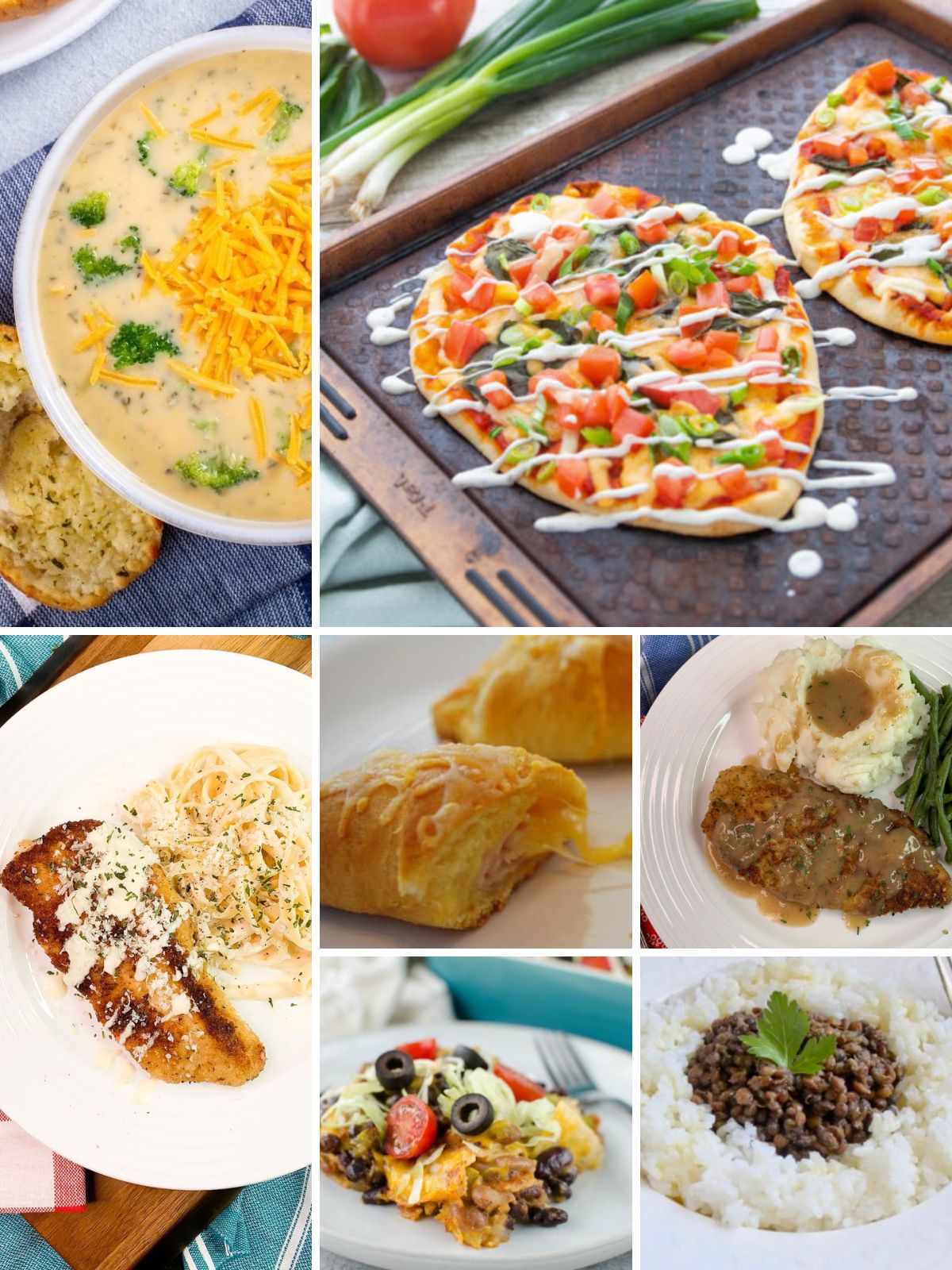 Like most busy moms, I often find meal planning to be a daunting task. I'd rather NOT think about it! But, by the end of each day, my family is hungry and I need help!
Looking for more Weekly Meal Plans? Easy Dinner Recipes, Frugal Dinner Ideas and Recipes, Crock Pot Recipes or Easy Chicken Dinner Recipes. All are filled with great ideas to help you get dinner on the table for your family.
Meal Planning Ideas
Start by checking the family calendar to determine the type of meals needed each evening. Will everyone be home at the same time or will you be eating in shifts?
Once you're figured out how many nights you need to have dinner ready, take inventory of what's available in your pantry and freezer.
Choose 3-4 recipes for the upcoming week, prioritizing those that can be made with existing ingredients. As a bonus, consider doubling one of the recipes to create a batch for future use.
Put together a grocery list. Take advantage of what's on sale at your local grocery store. I like to order our groceries online and pick them up so I'm not tempted to purchase impulse items.
Meal Planning Categories
This is just an example of how I like to meal plan. You could also incorporate a "leftover meal" or even "clean out the refrigerator" night.
Try to use what you have in your pantry and freezer to plan meals. It helps to keep a list so you know exactly what you have on hand.
Monday - Meatless, Vegetarian or even Leftovers from the weekend.
Tuesday - Taco Tuesday or Mexican Recipe
Wednesday - Chicken, Beef or Fish
Thursday - Pasta or Italian Night
Friday - Sandwiches and Soup
Saturday - Pizza or Eat Out, Order In
Sunday - Comfort Food Meal
All of the recipes featured this week are 30 minute meal plans. Which is perfect for busy days when you think you don't have enough time to cook dinner.
Once you have your meal plan together, pick a side dish to serve alongside. Side dishes could include potatoes or rice along with one or two veggies. A tossed salad with homemade ranch salad dressing is always nice too.
🙋Become a Member - 50% Off Meal Plans!
Are you tired of the daily struggle to figure out what to cook for dinner every night?
If this sounds like you, I can take you from struggling to striving with my NEW Meal Plan Membership! 
This unique membership has been carefully curated to give you a new meal plan every week. Here's what's included:
7 mouthwatering dinner recipes
7 printable recipe cards
1 weekly dessert recipe with recipe card
A complete shopping list
Just imagine…Waking up on a Monday morning knowing exactly what's on the menu for the entire week! No more last-minute scrambles to find a recipe or resorting to takeout...again.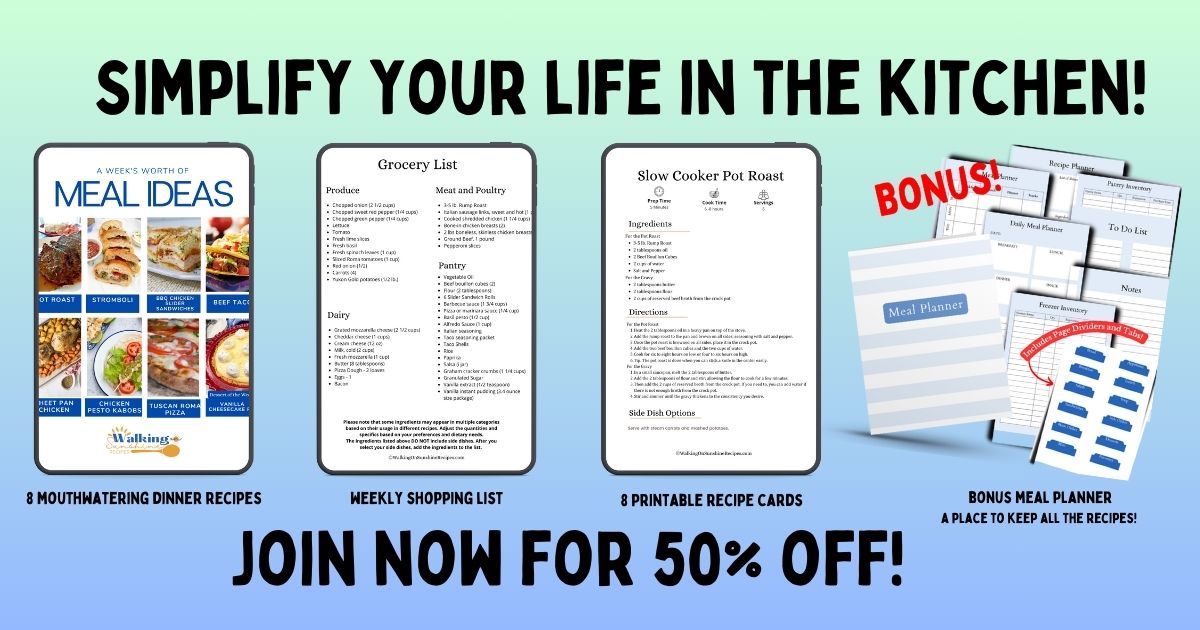 Sign up now and get access to the monthly plan at a discounted rate of $5.99 for the life that you are a member. That's a 50% savings over the life of the plan!

Large Meal Prep Planner, Spiral, Pull-off Grocery Shopping Lists, Kitchen Management, Tabbed Dividers, Laminated Covers
Meal Planner: Track And Plan Your Meals Weekly Meal Prep And Planning Grocery List
Weekly & Daily Meal Prep Journal with Shopping and Grocery Lists for Menu Planning
Magnetic Chalkboard Monthly Calendar - Weekly Meal Planning Blackboard Combo Set with Neon Bright Liquid Chalk Markers
🍽 Weekly Meal Plan Collection
⭐Before You Begin! If you make any of these recipes, please leave a review and star rating. This helps my business thrive and continue providing FREE recipes.
30 Minute Meal Plan
From one pan chicken recipes, to hearty casseroles and homemade soup, there's something for everyone in this 30 Minute Meal Plan Collection.
ggghttps://walkingonsunshinerecipes.com/30-minute-meal-plans/