Cast Iron Pan Pizza is a personalized sized pizza made in my favorite heavy duty skillet pan. This is an easy recipe that uses store-purchased pizza dough and homemade marinara sauce. Next, you top it off with shredded mozzarella and pepperoni. Don't forget a little basil!
Let me show you how fast, easy and delicious making your own pizza can be!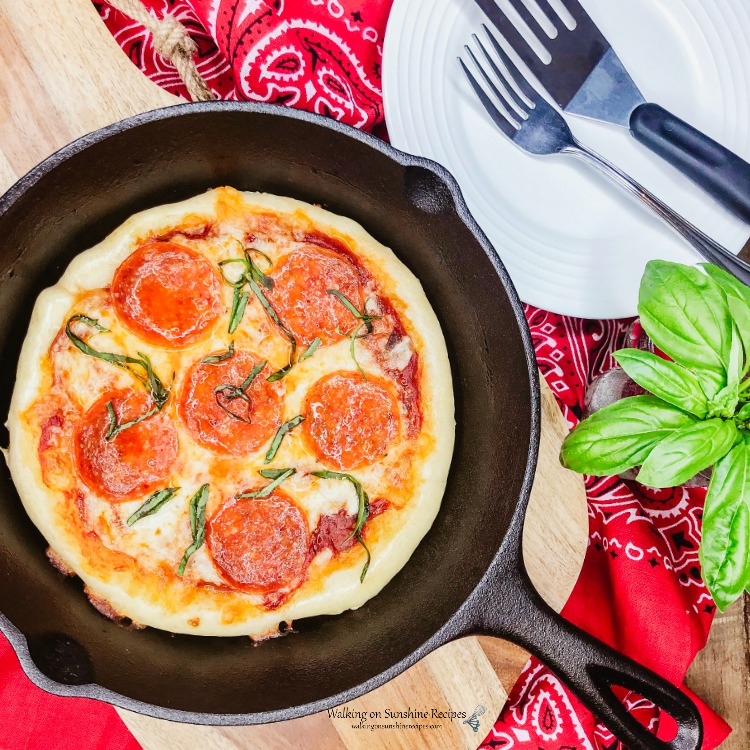 Cast Iron Pan Pizza
For the most part, I've been cooking for one the past few weeks...me! My husband has been away training the cadets again this summer. The other night I wanted pizza for dinner, but decided to make it a little differently than the normal pizza we usually enjoy.
I made an individual pan pizza in my favorite 8-inch cast iron skillet pan. At the last minute I decided to take a few photos in case the pizza turned out delicious and I'm so glad I did!
In the first place, the pizza was delicious. The recipe came together so quickly too! You are going to love this recipe!
Helpful Kitchen Tools
This post contains affiliate links. Your cost is the same, but I earn a commission when you shop through them. For more information, click here.
Cast Iron Pan - you are going to need one. I used an 8 inch size. Of course, if you have a different sized pan you'll have to adjust the ingredients.
Cheese Grater - you can use pre-shredded cheese if you want.
Pizza Cutter - this one really is the best.
How to Make Cast Iron Pan Pizza
Make sure you print out the recipe below and save it for later!
Ingredients:
Store-bought pizza dough. These are usually sold in one pound sizes. For this recipe you need one quarter of a one pound loaf of dough. See tip below.
Olive oil
Pizza or marinara sauce
Sliced pepperoni
Shredded whole milk mozzarella
Fresh basil for garnish. This is fresh basil from our garden. It is growing so nicely this year!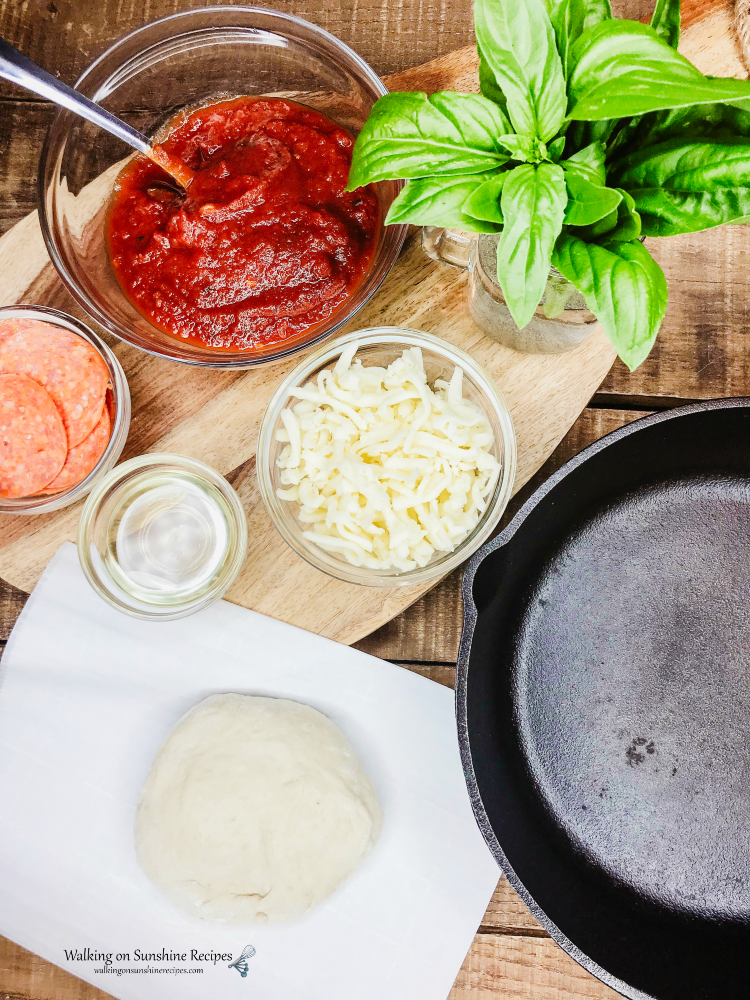 How to Shape the Pizza Dough
There are two ways you can shape the pizza dough to fit in the pan.
Using a rolling pin, place the pizza dough on top of a parchment baking sheet.
Pressing gently, roll our the pizza dough being careful not to roll too thin.
You can also shape the dough into a circle using your hands.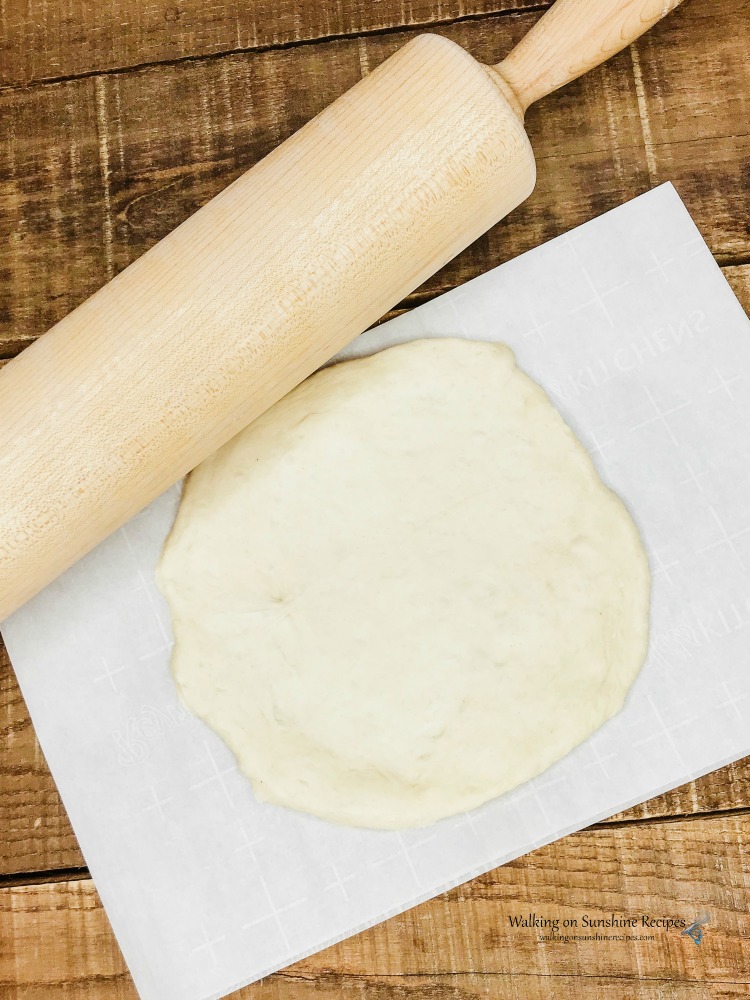 Make sure you preheat the cast iron pan for at least 15 to 20 minutes. You want a hot pan to put the pizza dough in. Add the olive oil to the bottom of the pan using a pastry brush.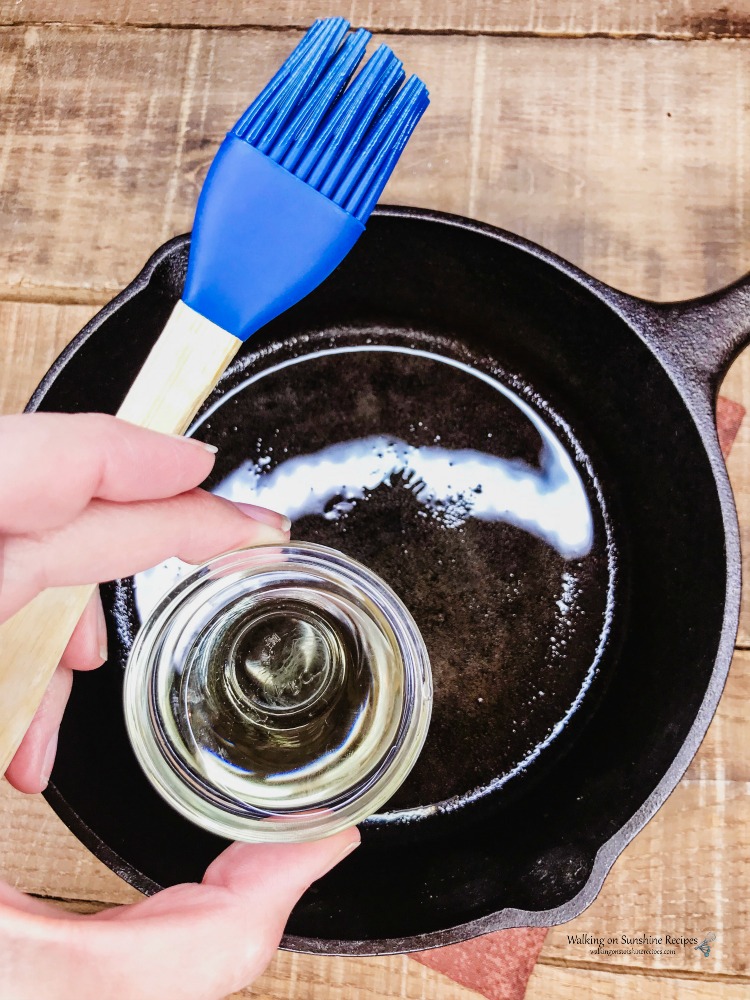 How to Fit the Pizza Dough in the Pan
First of all, you want to make sure the pizza dough is rolled out to the size of the pan you're using.
Then being careful, because the cast iron pan is HOT, place the pizza dough into the pan. Because the pan is hot, the dough will start to bake right away, but you should be able to move it around and adjust it to fit.
I love using this Silicone Hot Skillet Cover Holder. Just be careful NOT to put it in the oven with the cast iron pan.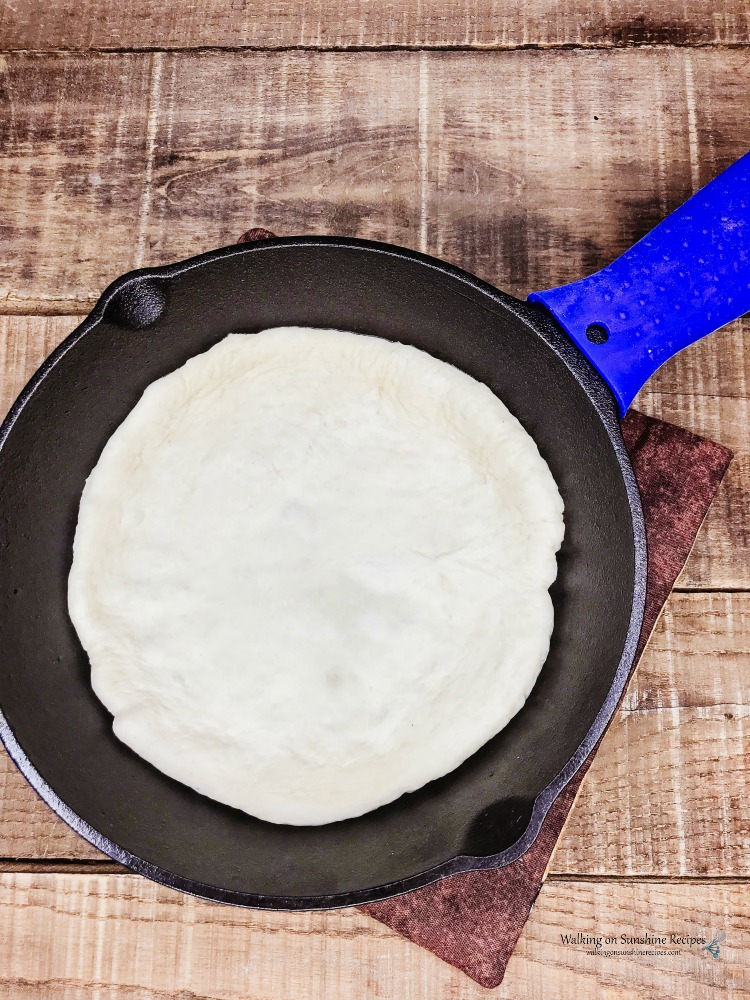 Favorite Pizza Toppings
Once you have the pizza dough in the bottom of the cast iron pan, now comes the fun part!
Add the marinara sauce. You can use homemade marinara sauce or jar sauce. You can even use pizza sauce from a jar.
Then add the cheese and pepperoni, working quickly since the pizza dough is already cooking because the pan is hot.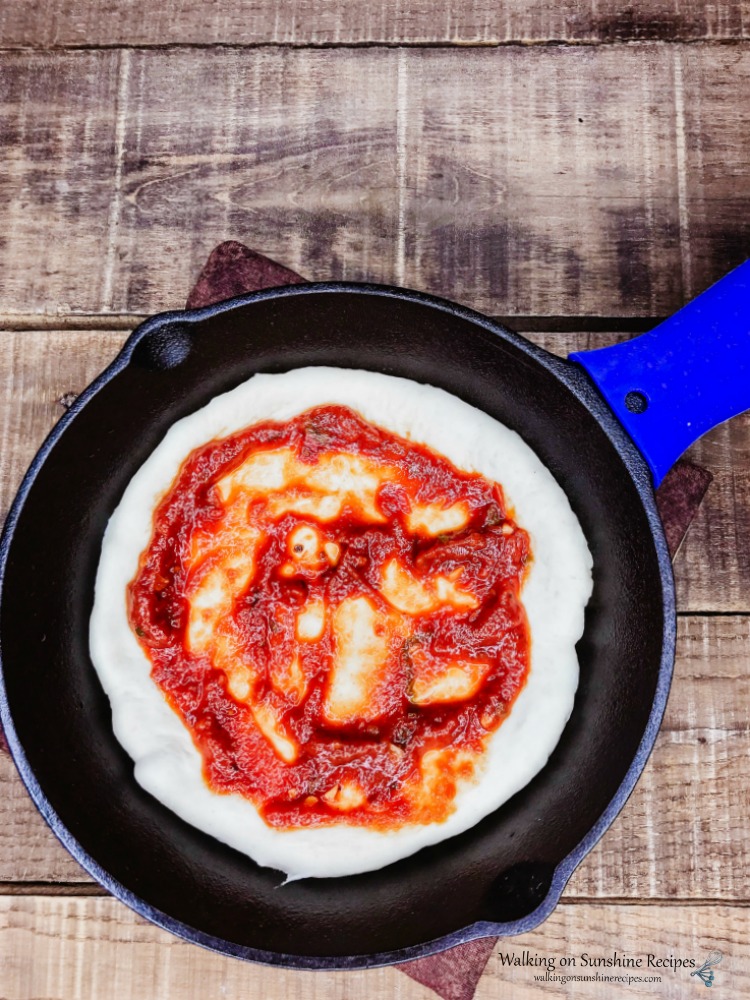 How Long to Bake Cast Iron Pan Pizza
Return the pan back to the oven and continue baking for an additional 10 to 12 minutes or until the pizza is golden brown and the cheese is bubbly.
Be careful when you remove the cast iron pan from the oven. Not only is the cast iron pan hot (duh) but it can damage your counter tops if you place it directly on top.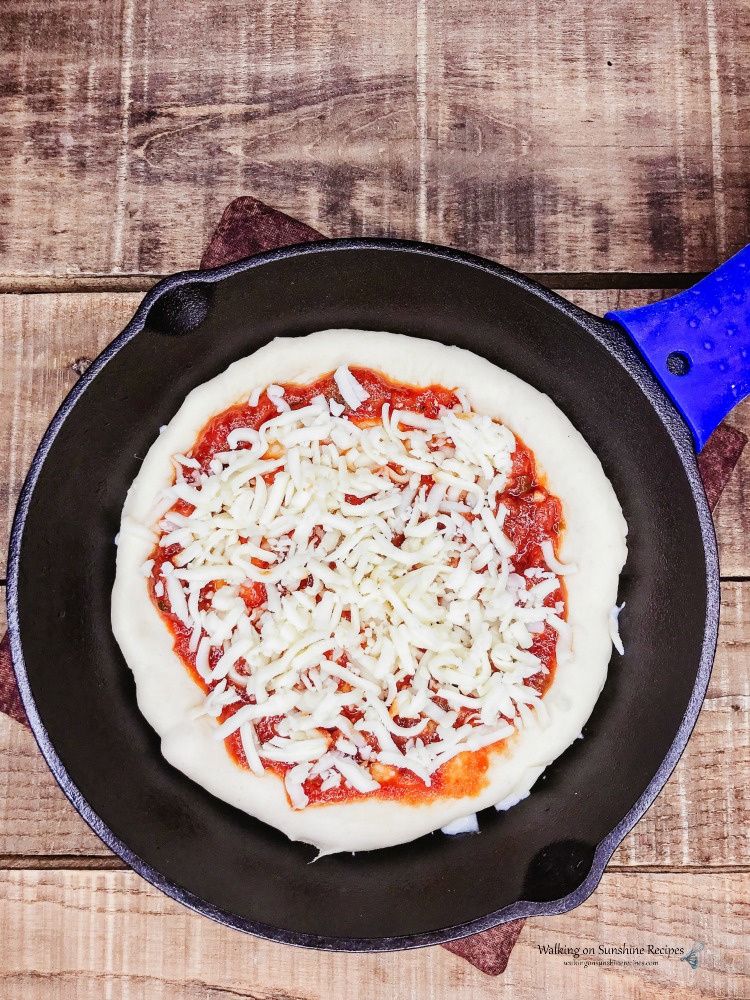 How to Serve Cast Iron Pan Pizza
Allow the pizza to cool down for a few minutes in the cast iron pan.
Using a large spatula, gently lift and remove the pizza from the pan and place on a cutting board.
Add the fresh basil to the top of the pizza.
Slice and enjoy!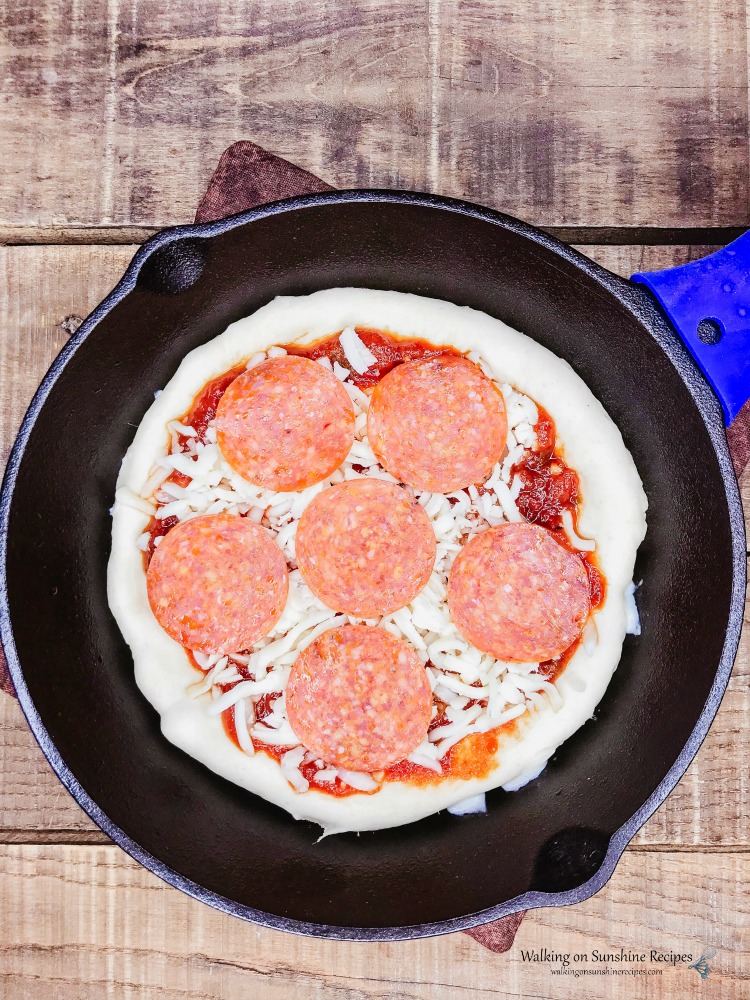 Tips for Making Cast Iron Pan Pizza
Pizza Dough - you can choose to use store-purchased pizza dough. You can purchase a pound loaf from your favorite pizza restaurant. Or you can make homemade pizza dough.
Cut the pizza dough into 4 even pieces. You'll only be using one of these pieces to make this recipe.
You can freeze the other three pieces of pizza dough by placing them on a baking tray that's been lined with parchment paper.
Place the baking tray in the freezer to flash freeze for about 20 minutes.
Remove the frozen pizza dough from the freezer. Place in a plastic bag that's been labeled pizza dough.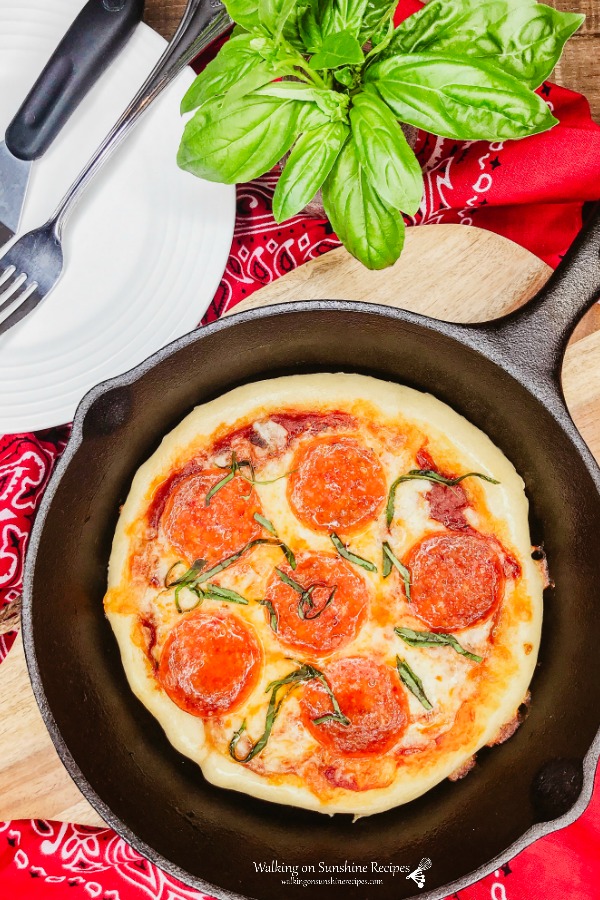 What to Serve with Cast Iron Pan Pizza
When I made this for my dinner over the weekend, I served a small tossed salad as my side dish. I love using my Homemade Italian Salad Dressing to use on top of fresh lettuce. Creamy Pasta Salad always goes great with pizza.
Or you might be interested in trying out a few of our Pizza Dipping Sauces.
You might be interested in reading these Easy Tips on Cleaning Cast Iron Pans!
Yield: 1 - 8 inch pan pizza
Cast Iron Pan Pizza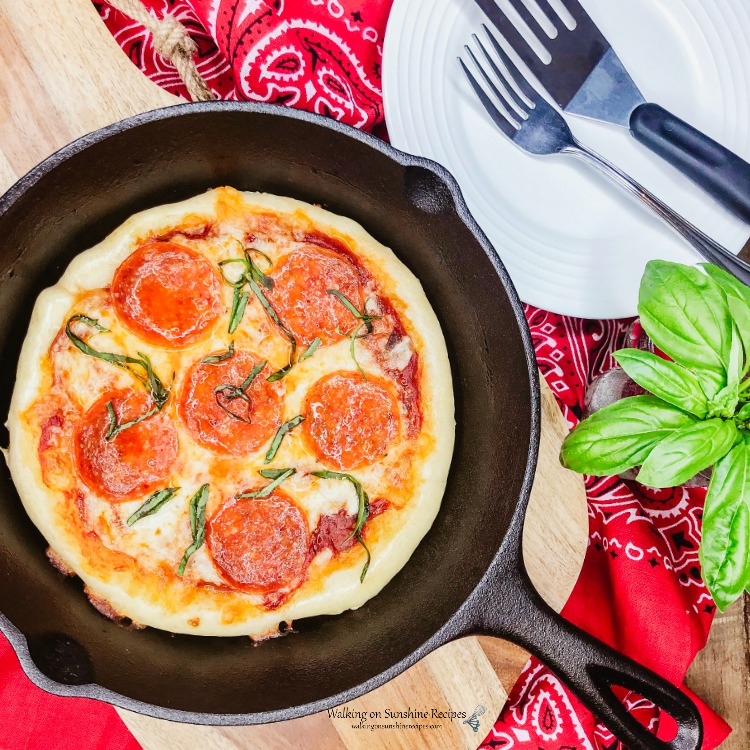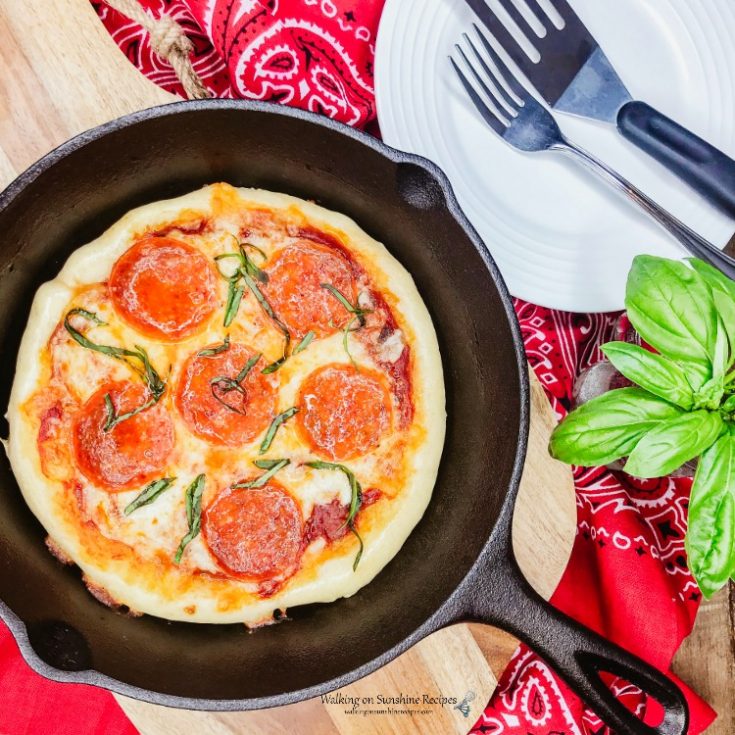 Cast Iron Pan Pizza is a personalized pizza made just for one! Pizza dough,marinara sauce and your favorite pizza toppings make for a delicious recipe!
Ingredients
4 ounces store-bought pizza dough
1 tablespoon olive oil
¼ cup pizza or marinara sauce
6 slices pepperoni
⅓ cup shredded whole milk mozzarella
fresh basil for garnish
Instructions
Place an 8-inch cast iron skillet in the oven and preheat to 450 degrees F.
While the skillet is preheating, using a rolling pin, carefully roll out the pizza dough into an 8 to 10 inch circle.
Remove the skillet from the oven.
Using a pastry brush, brush the olive oil all over the cast iron pan.
Gently fit the pizza dough inside the cast iron pan making sure it goes all the way to the edges
Spread the pizza or marinara sauce over the dough.
Top with the shredded mozzarella cheese followed by the sliced pepperoni.
Return the pan back to the oven and continue baking for an additional 10 to 12 minutes or until the pizza is golden brown and the cheese is bubbly.
Recommended Products
As an Amazon Associate and member of other affiliate programs, I earn from qualifying purchases.
Nutrition Information:
Yield:
2
Serving Size:
1
Amount Per Serving:
Calories:

397
Total Fat:

20g
Saturated Fat:

6g
Trans Fat:

0g
Unsaturated Fat:

13g
Cholesterol:

27mg
Sodium:

872mg
Carbohydrates:

41g
Fiber:

3g
Sugar:

6g
Protein:

13g
The nutrition information is calculated automatically. I cannot guarantee its accuracy. If this data is important to you, please verify with your trusted nutrition calculator.