Are you craving a batch of mouth-watering cookies but short on time or ingredients? Look no further than this collection of cookies made with cake mix.
These 27 treats are a quick and easy way to satisfy your sweet tooth without spending hours in the kitchen.
You won't believe how easy it is to turn a basic cake mix into mouthwatering cookies with just a few additions and creative twists. Your friends and family will be impressed by the deliciousness!
Check out all the other Easy Cookie Recipes for even more delicious ideas.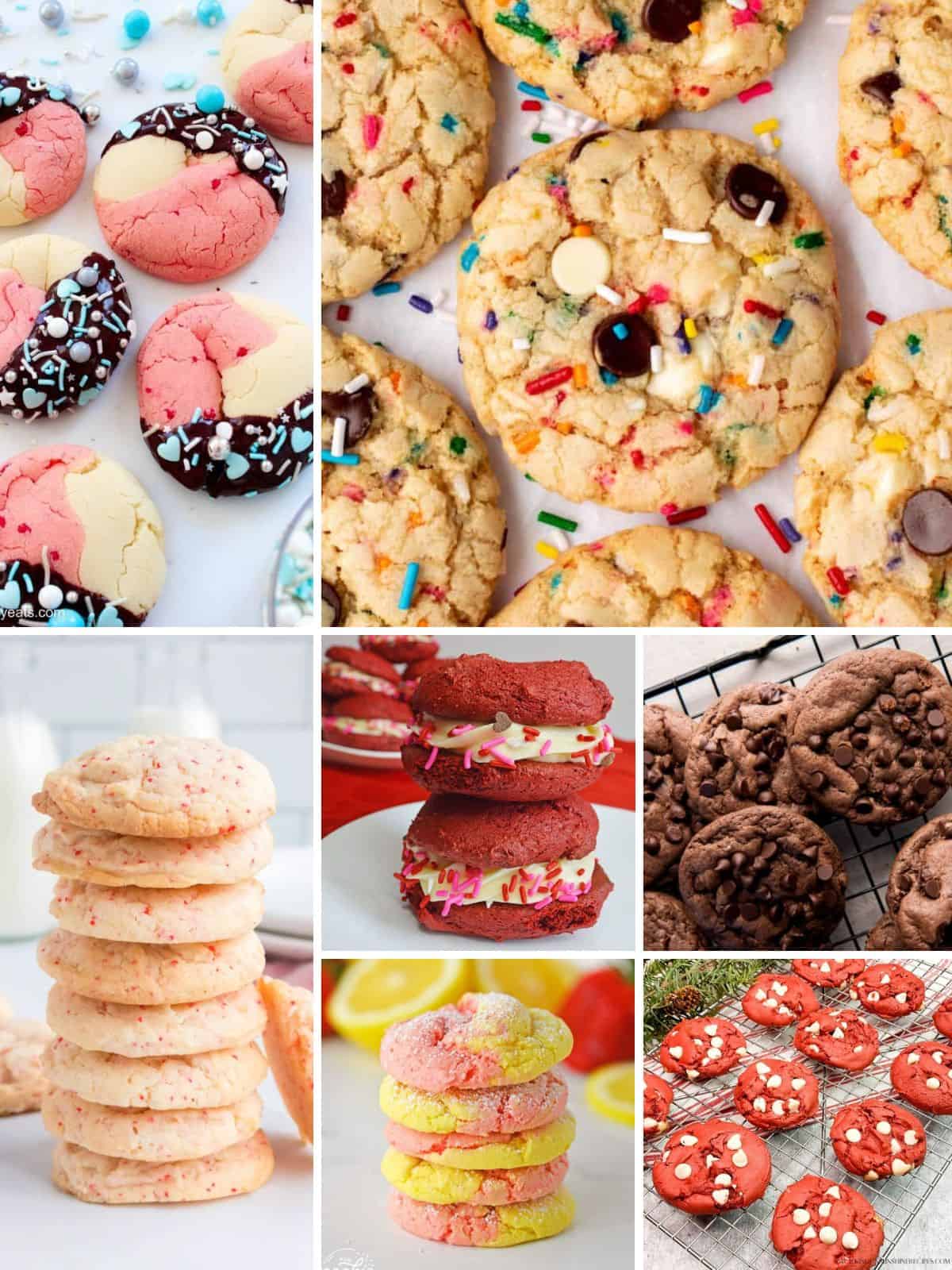 Included in this collection are recipes for classic cookie favorites to unique flavor combinations! Get ready to tantalize your taste buds and impress your loved ones with these yummy cookies!
Make sure you check out my Cake Mix Baking Secrets and Printable that gives you tips on how to bake with a box of cake mix.
Looking for more Easy Desserts made using a boxed cake mix ? Try my Cake Mix Pumpkin Chocolate Chip Cookies, Chocolate Sugar Crinkle Cookies and my Chocolate Chip Cookies from Cake Mix
Table of Contents
📌Did You Know? You can bake cookies with any flavor of cake mix. The ratio is 1 boxed cake mix + ½ cup vegetable oil + 2 eggs.
👩‍🍳Recipe Tips
Not all cake mixes are suitable for making cookies. Avoid mixes that have added pudding or filling.
When baking cookies using a cake mix, try adding extra ingredients like chocolate chips, nuts, or dried fruit.
For best results, chill the dough before baking. Chilling helps the cookies hold their shape while baking, preventing excessive spreading.
To prevent sticking, use parchment paper on the baking sheet. This will make it easier to remove the cookies as well.
Lastly, it is important to note that all ovens bake differently. Therefore, you should closely monitor the cookies while they are baking. Keep an eye on them, as they might be done quicker or require an additional minute or two.
Easy Cake Mix RecipesMore Information
❄️Freezing Tips
Place baked cookies in a single layer on a baking sheet to flash freeze for 30-60 minutes.
Then transfer to a freezer bag or air-tight container with parchment or wax paper in between each layer to keep them from sticking.
Stored properly, they'll keep for up to 3 months.
💡Recipe FAQ
Simply click the plus sign to read more about the questions you see below.
If YOU have a question regarding this recipe, please let me know in the comment section!
Can I freeze cake mix cookie dough?
Yes, you can free cake mix cookie dough. Scoop out the cookie dough onto a baking sheet. Then place the baking sheet in the freezer and flash free the dough balls.. Then individually wrap each frozen cookie dough ball in plastic wrap or place them in separate freezer-safe bags.
🛒Helpful Kitchen Tools
Airtight Cookie Jar
Darware Sugar and Creamer Set, Milk Carton Shaped White Ceramic Cream Jug and Sugar Bowl
Child to Cherish Santa's Message Plate Set, Santa Cookie Plate, Santa Milk jar, and Reindeer Treat Bowl
You Are Special Plate, Birthday Plate or Special Occasion Plate for Celebrations – Red Dinner Plate
📇Recipe Collection
⭐Before You Begin! If you make any of these recipes, please leave a review and star rating. This helps my business thrive and continue providing FREE recipes.
Cookies Made with Cake Mix
Included in this collection of 27 cookies made with cake mix are red velvet, lemon, strawberry, Funfetti cookies and more!