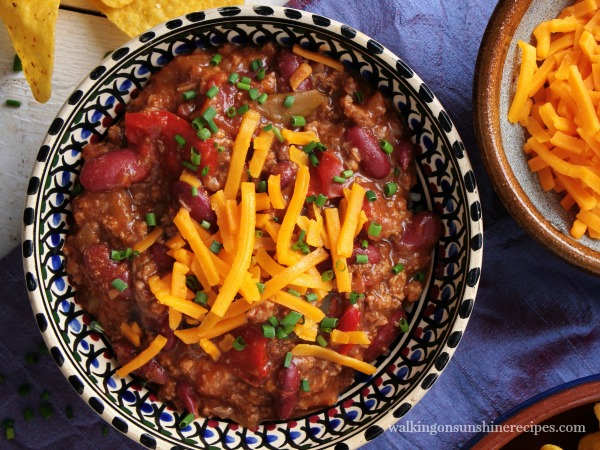 The other day on my Walking on Sunshine Facebook Page, I mentioned that I had never made chili. There were quite a few surprised people. And then the recipes started coming in.
I had a fun time reading all the recipes and comments and put together a really yummy recipe of Crock Pot Chili that I want to share with you today.

Crock Pot Chili
Ingredients:

One pound ground beef
1 small onion; chopped
1 Tbs. butter
1 Tbs. oil
1 can diced tomatoes
1 small can chopped chiles
1 can kidney beans; rinsed
1 small can tomato sauce
2 Tbs. sweetened cocoa powder
Directions:

In a heavy pan over medium heat on top of your stove, brown the onion in the oil and butter.
Add the ground beef and cook until no longer pink.
Transfer the ground beef and cooked onion to your crock pot that has been sprayed with non-stick cooking spray.
Add the remaining ingredients, except the sweetened cocoa powder.
Cook on low for 4 to 6 hours.
After 4 to 6 hours, add the sweetened cocoa powder and taste the chili for salt and pepper.

Top the chili with sour cream, cheddar cheese and green onion. Of course, I didn't have any green onions in the house, so I used chives from the garden, but you get the idea. Also good with the chili is nacho chips or crushed Ritz crackers.


My husband and I loved this recipe. We have now become a family who loves chili.

What to do with the leftovers? Make Chili Baked Potatoes!