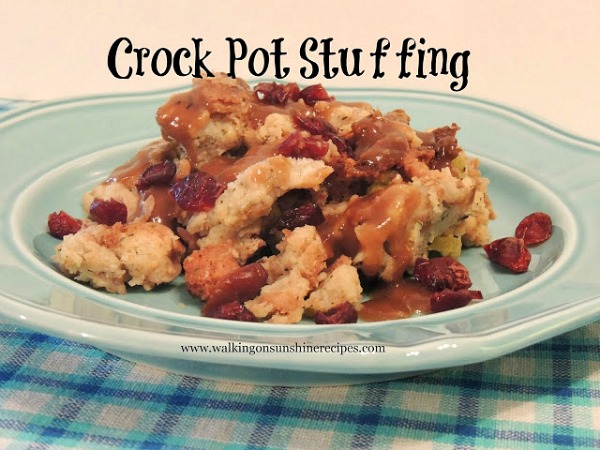 Thanksgiving is ONE week from today.
For those who are cooking, I'm sure you are putting the final touches on your menu and getting ready to head to the grocery store. You are going to enjoy today's recipe for Crock Pot Stuffing that might help you free up space in your oven while the turkey is cooking.
This is a basic stuffing recipe. Please use it as a guide for your favorite recipe. Add cooked sausage, chopped apples or whatever your family loves in a Thanksgiving stuffing.
Ingredients:
1 bag stuffing mix
1 cup chopped onion
2 to 4 celery stalks, chopped
1 Tbs. butter
1 tsp. thyme
1 tsp. poultry seasoning
1 egg
2 cans of chicken broth
½ cup to 1 cup of dried cranberries; added at the end
*I like to use Pepperidge Farm brand stuffing mix.
Directions:
In a large frying pan, melt the butter.
Add the onion and celery and cook until they are softened; a few minutes
Add the thyme, poultry seasoning and salt and pepper to taste.
Combine the cooked onion, celery and spices to the stuffing mix.
Add the beaten egg.
Beginning with one can, add the chicken broth and stir to combine.
Add stuffing to the crock pot that has been sprayed with non-stick cooking spray.
Cook on low for 4 hours; checking frequently to see if you need to add more chicken broth.
I checked mine every 20 to 30 minutes, stirring and adding up to another can of chicken broth over the course of 4 hours.
Depending on how your crock pot cooks, your stuffing could be done sooner or need more chicken broth, so continue checking.
Cook the onion and celery in butter until both are softened. Add the seasonings.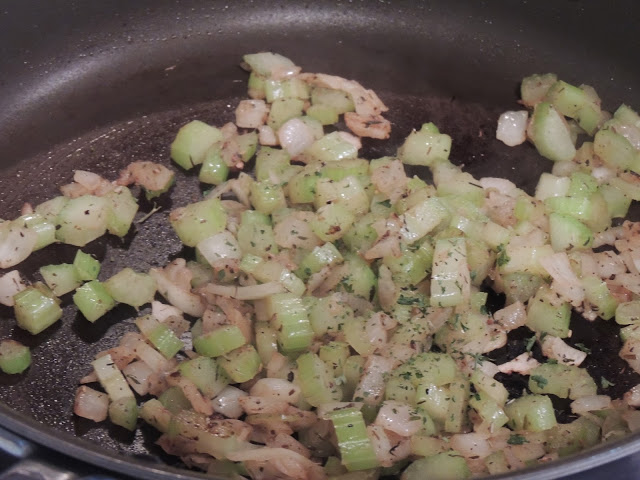 Combine the softened onion and celery with the stuffing mix. Beat in one egg and add one can of chicken broth. Check your stuffing every 30 minutes and add more chicken broth if needed. You don't want the stuffing to "soak" in the chicken broth, but you don't want it to dry out either. Just keep checking and adding broth as needed.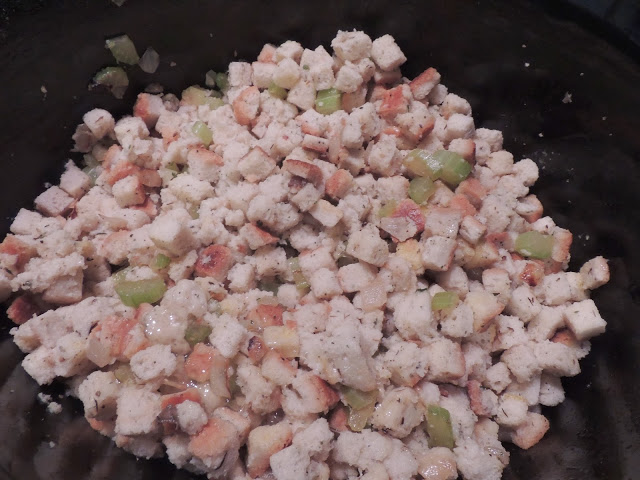 Stir the cranberries into the stuffing AFTER it is cooked.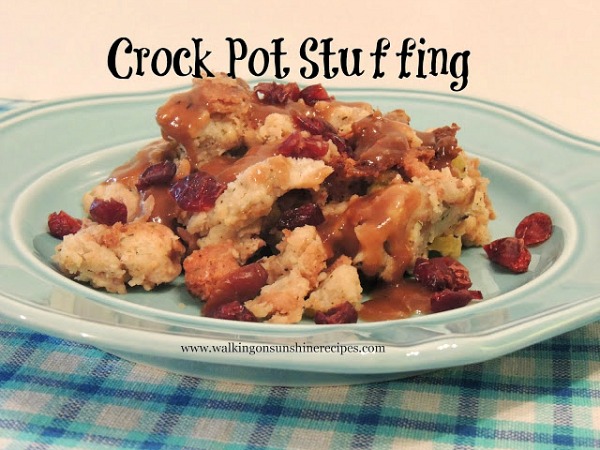 The stuffing came out moist and delicious.
This is a great way to cook the stuffing when your oven is already crowded
with the main course...the turkey.
Next week I'll share a recipe using leftover stuffing!