Company Mashed Potatoes are the perfect prep ahead recipe for Thanksgiving Day!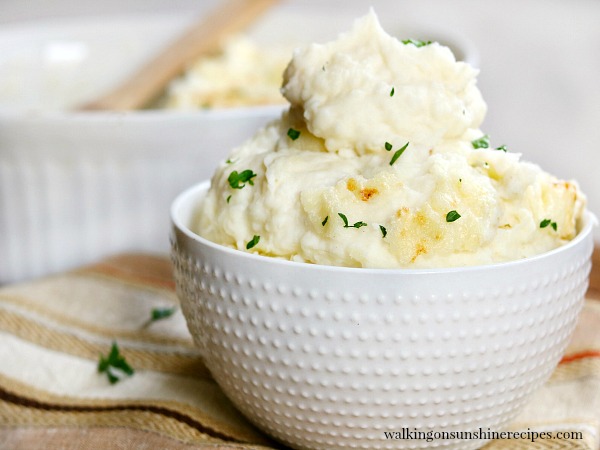 Today I'm sharing with you one of the easiest recipes that you will ever make for Thanksgiving. And I know you'll be coming back to the blog the day after Thanksgiving to thank me for sharing this recipe with you!
These Company Mashed Potatoes are creamy and oh so delicious AND they're made the day before your company arrives. That's right, you don't have to worry about peeling and mashing potatoes along with getting the turkey cooked and carved on Thanksgiving Day this year.
One of my favorite things to enjoy is mashed potatoes and gravy. In fact, when I was pregnant with our daughter, Olivia, my hubby used to stop at KFC to bring me home a serving of mashed potatoes and gravy at least once or twice a week. I am that obsessed.
But if you're like me, getting the Thanksgiving meal on the table can be a challenge. Especially if you have to peel around 10 pounds of potatoes…yes, I make ten pounds of potatoes for my family every year.
Two years ago I found this recipe for Company Mashed Potatoes and decided to add it to our menu. It was one of the best decisions I ever made when it comes to food.
You can make these potatoes the day before and then an hour or so before you're ready to serve dinner, put them in the oven until they are completely warmed through. You can even add chopped cooked bacon and cheddar cheese if you like.
That's what I did last year. I made two trays of the potatoes and in one tray I add chopped cooked bacon and grated cheddar cheese. It was amazing. The recipe below calls for five pounds of potatoes, so obviously I double the recipe for Thanksgiving Day.
I always use a
potato ricer
to make my mashed potatoes. It is the best tool for getting lump-free mashed potatoes. But you can use a regular masher or even an electric mixer. Just don't use a food processor or even a stand mixer. Your potatoes will turn to glue. Trust me, I know this.
Company Mashed Potatoes
The Perfect Side Dish for Thanksgiving!
Step by Step instructions. You start by preparing the potatoes like you would regular mashed potatoes. But once you have the extra "goodies" added, place the potatoes in a baking dish that's been coated with non-stick cooking spray and bake for about 30 minutes or until the potatoes are warmed through. If you want to make these the day before, you cover the baking dish with aluminum foil and place in the refrigerator BEFORE baking.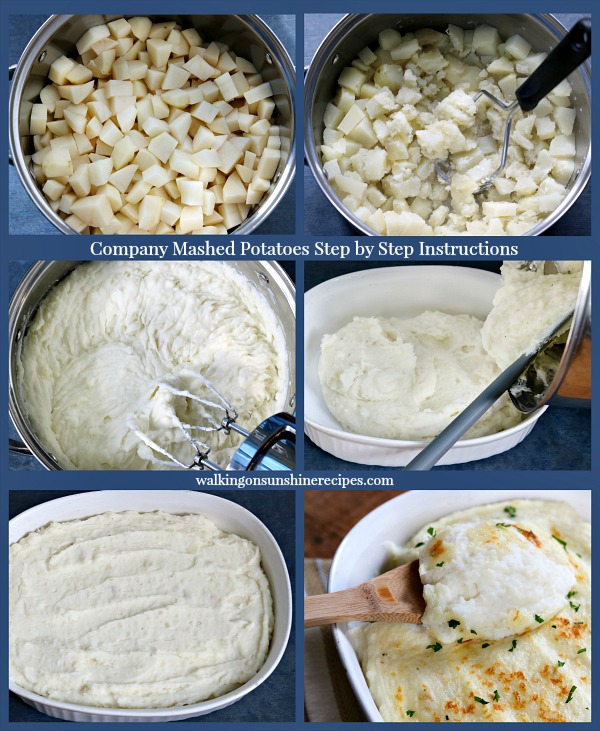 They look great on the buffet table. And you don't have to peel potatoes Thanksgiving morning. There are so many other things you need to be doing instead of peeling potatoes!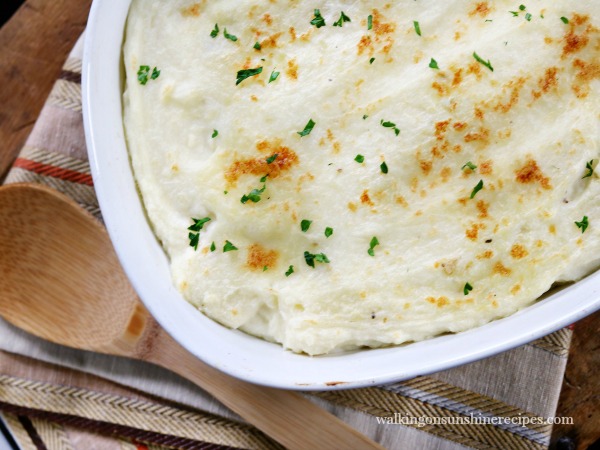 You are going to love these creamy Company Mashed Potatoes!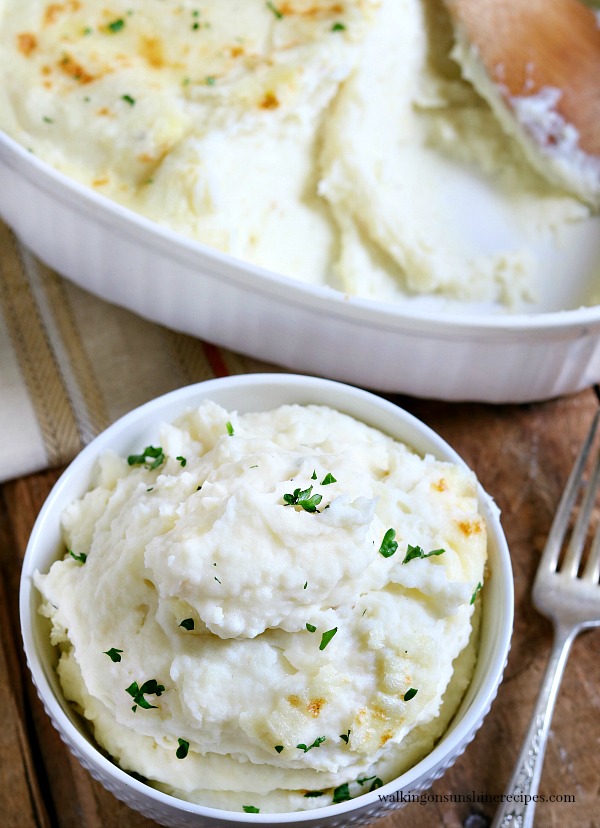 Company Mashed Potatoes
prep time: 30 MINScook time: 30 MINStotal time: 60 mins
These incredibly creamy mashed potatoes can be prepped a day ahead and then baked in the oven when you're ready for them to be served which makes them perfect for Thanksgiving Day.
ingredients:
5 pounds russet or Yukon gold potatoes
1 stick butter, plus more for topping
One 8-ounce package cream cheese, softened
1 cup half-and-half
Salt and pepper
instructions:
Peel and cut the potatoes and add them to a large pot of water. Bring to a boil and cook until the potatoes are fork tender.
Drain the potatoes thoroughly in a large colander. Place them back into the dry pot and mash the potatoes using an electric mixer or a ricer.

Using your electric mixer, add the butter, cream cheese and about 1/2 cup of half-and-half and mash. Adding more of the half-and-half as needed. (I usually use the whole amount).

Season with salt and pepper.

Transfer the potatoes to a medium-sized baking dish that has been sprayed with non-stick cooking spray.

Add a few tablespoons of butter over the top of the potatoes and place in the oven until the butter is melted and the potatoes are warmed through; about 30 minutes.
notes
1.  If you prepare these potatoes the day before Thanksgiving you will need to cover them with plastic wrap and/or aluminum foil and place in the refrigerator. 
2.  Reheating takes about 30 minutes or so.  I like to take them out of the refrigerator to bring to room temperature for about an hour. 
3.  You can stir in chopped cooked bacon into the potatoes too!
4.  I always double this recipe and use ten pounds of potatoes.  We love this recipe that much! 
.recipe-inner{text-align:left;max-width:620px;border:6px double #009BFF;padding:20px;background:#f2f2f2;margin: 40px auto;font-family:Lato, sans-serif;}.recipe-inner a{color: #4193f0;}#recipe .recipe-name{font-size: 21px;}#recipe .info{font-size:13px;text-transform:capitalize;border-bottom:2px solid #000;padding-bottom:7px;margin-bottom:20px}.info:after{content:";display:table;clear:both}#recipe .info span:first-child{margin-right:30px}#printbutton{border:0;margin:0;color:#fff;float:right;background:#555; padding:5px;border-radius:3px;cursor:pointer}#recipe .time{text-transform:uppercase;font-size:12px;text-align:center;background:#fff;padding:15px 0;margin-bottom:20px}#recipe .time span:not(:last-child){margin-right:12px}#recipe .time span:not(:last-child):after{content:";display:inline-block;height:10px;width:1px;background:#000;vertical-align:middle;margin-left:12px}#recipe .summary{line-height:1.7;font-style:italic}.ingredients{line-height:1.7;clear:both}.ingredients h3,.instructions h3,.notes h3{font-size:20px !important;font-weight:400 !important;margin-bottom:0;color:#000;text-transform: uppercase;}.ingredients ul{margin:0!important;margin-top:5px !important;}.instructions li{margin-bottom:15px !important;line-height:1.6;text-align:left;}.ingredients li{text-align:left}#recipe .instructions{margin-top: 30px;}#recipe .instructions ol,#recipe .instructions ol li {list-style:decimal !important;}#recipe .instructions ol{padding-left:39px;margin:0!important;margin-top:6px !important;}.posturl{border-top:1px solid #ccc;padding-top:10px;}.ing-section{padding-left:20px;margin: 10px 0;}.ing-section > span{font-weight:700}.recipe-credit{font-size:13px;border-top: 1px solid #ccc;padding:10px;text-align:center;background:#ffffff;margin:-20px;margin-top:15px;}.recipe-credit a{color:blue;text-decoration:none;}.copyright-statement{font-size: 13px;font-style:italic;border-top: 1px solid #ccc;margin-top:15px;padding-top:15px;line-height:1.6;}.notes pre{font-size: 15px;margin: 10px 0;padding-left: 20px;font-family: inherit;line-height: 1.7;white-space: pre-line;}.notes h3{margin: 0}.nutrition-info{font-size: 0;margin: 20px 0;padding: 10px;background: #fff;}.nutrition-info>div {display: inline-block;font-size: 14px;width: 20%;text-align: center;}.nutrition-info>div p{margin-top: 0;margin-bottom: 7px;}#recipe .image{text-align:center;margin-bottom:25px}#recipe .image img{max-width:100%}#recipe .recipe-name{line-height:1.6;text-transform:uppercase;margin-top:0;letter-spacing:1px;text-align:center;margin-bottom:20px}#recipe .time{border-top:1px dashed #000;border-bottom:1px dashed #000;border-right:0;border-left:0}#recipe .summary{margin-bottom:30px}#recipe .summary:after{content:";display:block;width:50px;height:2px;background:#000;margin:auto;margin-top:10px}#recipe .instructions{margin-top:30px}#recipe .instructions ol{padding-left:39px;margin-top:6px}function printDiv(a){var b=document.getElementById(a);newWin=window.open(",'printwin');var c=newWin.document.createElement('style');c.innerHTML='html{font-family:sans-serif}img{display:none;}#printbutton,.recipe-credit{visibility:hidden;display:none;}.info{text-align:center;text-transform:capitalize}.recipe-name{text-align:center}.info span{margin-right:20px}.time{text-align:center;padding:10px;border-top:1px dashed #000;border-bottom:1px dashed #000;}.time span{margin-right:20px}.adunit,.adunitlabel,.adunitwrapper,.adunitwrapper,.chicory-order-ingredients{display:none!important}.nutrition-info{font-size: 0;margin: 20px 0;padding: 10px;background: #fff;}.nutrition-info>div {display: inline-block;font-size: 14px;width: 20%;text-align: center;}.nutrition-info>div p{margin-top: 0;margin-bottom: 7px;}';newWin.document.getElementsByTagName('head')[0].appendChild(c);newWin.document.getElementsByTagName('body')[0].innerHTML = b.innerHTML;newWin.print();}