Sweeten up your summer with these easy summer peach desserts!
Whether you're picking them fresh from the orchard, or grabbing a few from your local grocery store, there's no denying that peaches are the star of the season.
From fruity pies to rustic cobblers, there are so many amazing recipes that can be made with peaches...including two different recipes for homemade peach jam!
Check out all the other Peach Dessert Recipes for even more delicious recipes.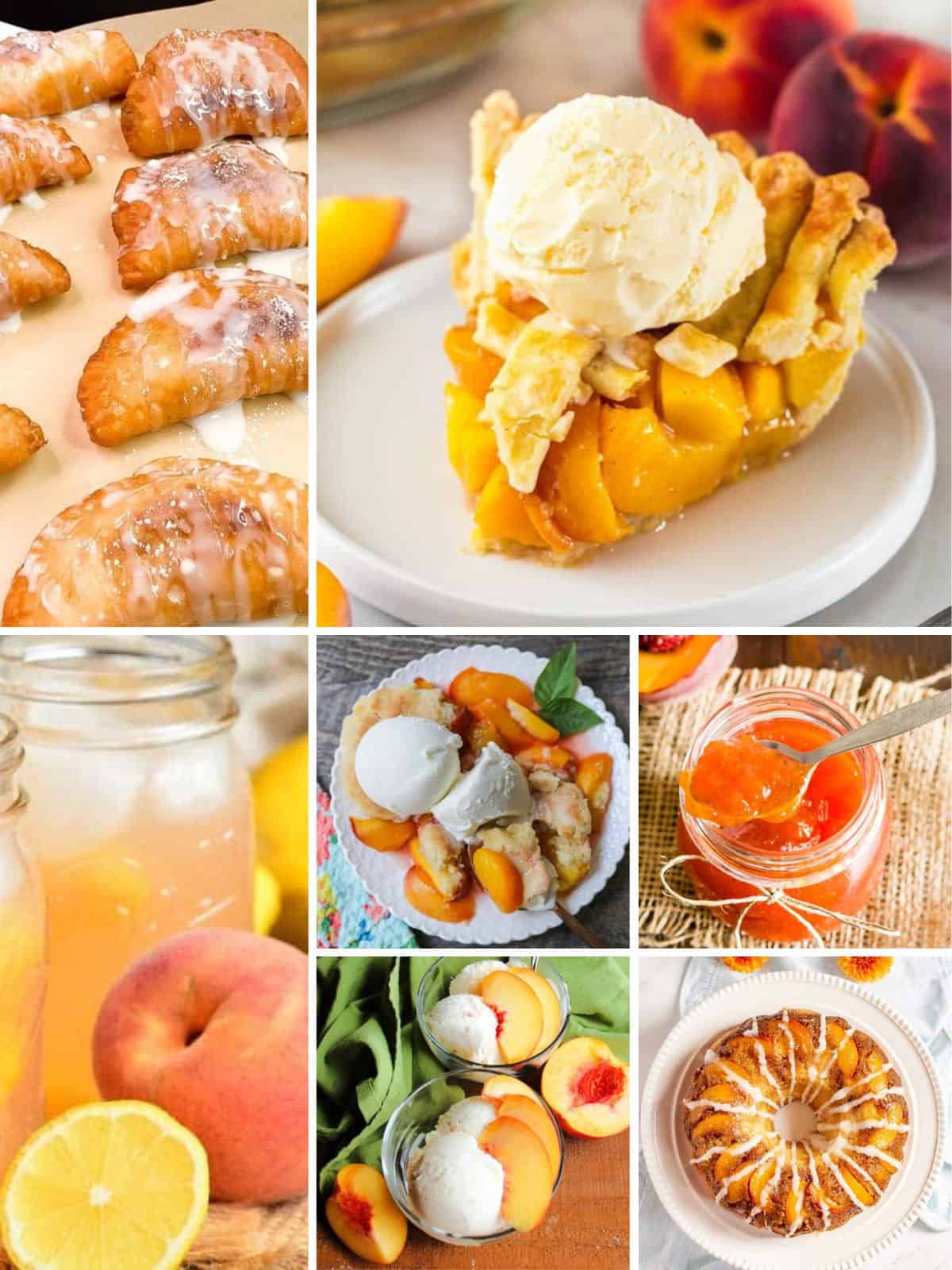 Ready to make summer memories that you won't soon forget? If so, then look no further than these delicious peach desserts!
As summer heats up, it's the perfect time to indulge in sweet and juicy peaches. You can use them in sweet and savory dishes, on the grill, or in salads too!
So, whether you're looking to make a classic peach cobbler or a unique peach and thyme galette, fresh summer peaches are sure to elevate any dessert to the next level.
Looking for more easy desserts using peaches? Try Peach Dumplings, Peach Cobbler with Brown Sugar Crumble or my Fried Peach Hand Pies...yummy!
Table of Contents
👩‍🍳Recipe Notes
When selecting peaches for your favorite dessert recipes, make sure they are ripe. After all, ripe peaches are juicy, tender and are full of sweetness!
Remove the skin from the peaches. See the tips below for an easy way to peel peaches.
Make sure you pair peaches with flavors that will bring out the full taste! Peaches go great with vanilla, cinnamon, nutmeg and ginger.
Peaches can be used in a wide variety of dessert recipes, from grilled peaches to peach cobbler, pies, tarts and more. Experiment with both cooked and uncooked recipes to find your perfect peach dessert.
Refrigerator Cinnamon Rolls eBookClick HERE for More Information
🌟Tips for Peeling Peaches
Bring a large pot of water to a boil.
Using a small paring knife, make an "X" on the bottom of all the peaches.
Carefully place the peaches in the boiling water for 30 seconds up to one minutes. If the peaches are not as ripe, you'll want to boil them for the full minute.
Remove the peaches using a slotted spoon into a bowl filled with ice water. This helps stop the cooking process and will cool the peaches down enough to be able to handle them.
Gently begin to remove the peach skin. You should be able to simply rub the skin off.
Once the skin is removed, continue with your recipe!
💡Recipe FAQ
Simply click the plus sign to read more about the questions you see below. If YOU have a question regarding this recipe, please let me know in the comment section.
Do you have to peel peaches for baking?
It depends on the recipe and your personal preference. Some recipes, such as peach pie or cobbler, require peeled peaches to ensure a smooth texture and even cooking. However, if you're grilling or roasting peaches, you're going to want to leave the skin on so the peach doesn't fall apart while cooking.

Are canned or frozen peaches better for baking?
While fresh peaches are always preferred for baking, both canned and frozen peaches can be used as a substitute. Canned peaches may be softer and sweeter, while frozen peaches may have a firmer texture and more natural taste.
What are the best baking peaches?
This really depends on your preference! Some people love freestone peaches because the pit easily separates from the flesh, making them easier to slice for baking. Clingstone peaches are sweet and juicy which are perfect for pies. Red Haven peaches are firm, making them great for grilling and roasting.
Good Morning Sunshine Breakfast eBookClick HERE for More Information
🛒Helpful Kitchen Tools
Strainer Spider Skimmers For Kitchen Cooking and Frying Food.
Mason Jars Canning Jars, 4 OZ Jelly Jars
4 Packs Glass Pie Plates,Deep Glass Pie Pans
2 Pack Adjustable Silicone Pie Crust Shield Pie Crust Shield Silicone Pie Protectors
⭐Before You Begin! If you make any of these recipes, please leave a review and star rating. This helps my business thrive and continue providing FREE recipes.
📇Recipe Collection
Easy Summer Peach Desserts
From fruity pies to rustic cobblers, here are 21 easy summer peach desserts including two different recipes for homemade peach jam!