Fried Peach Pies using Canned Biscuits - Individual pies made with canned peaches and biscuits. These are an easy peach dessert recipe to make that are also great to serve for brunch when family and friends are visiting. Let me show you how to make hand pies that will remind you of your childhood with only two ingredients!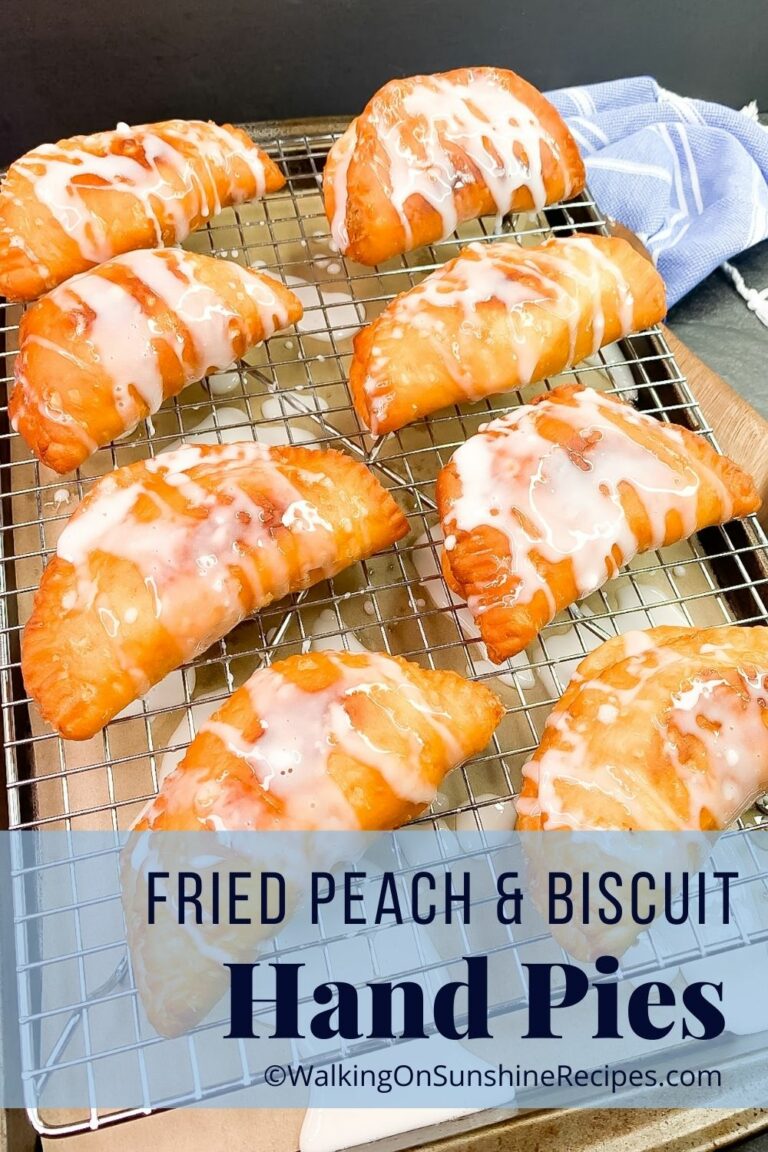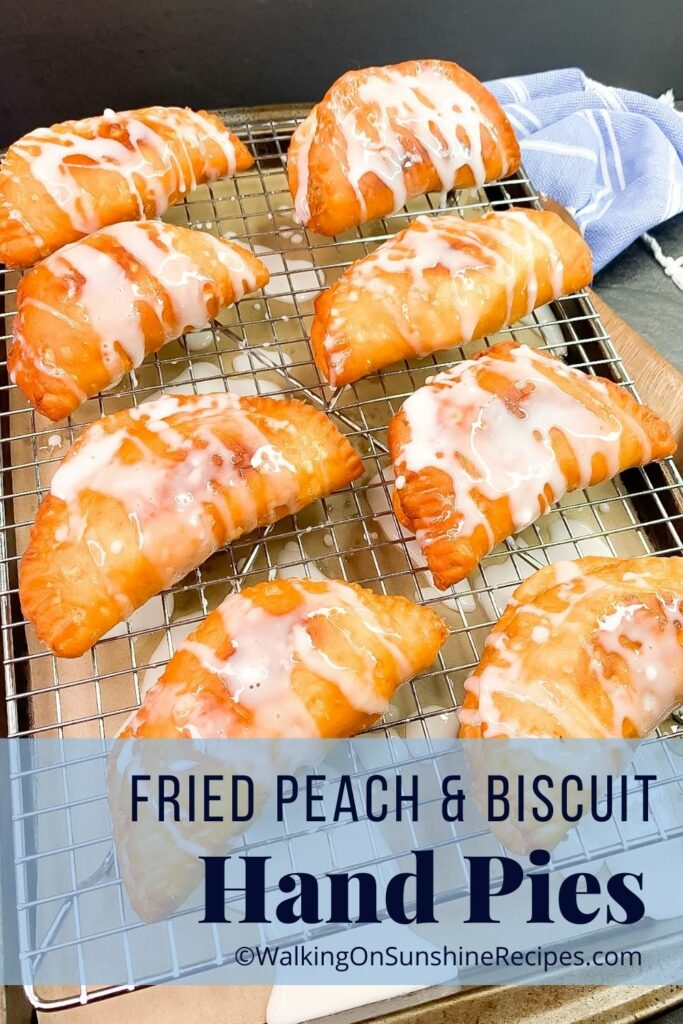 Using pre-made biscuits and canned peaches are a great way to get a dessert ready fast. You can also use homemade pie dough, refrigerator pie dough or even frozen puff pastry to make this fried peach pies using canned biscuits recipe.
I love easy desserts to make with canned peaches. Here are a few of my family's favorites:
Fried peach pies using canned biscuits is another one of my desserts to make with canned peaches that I know will be an instant hit with your family.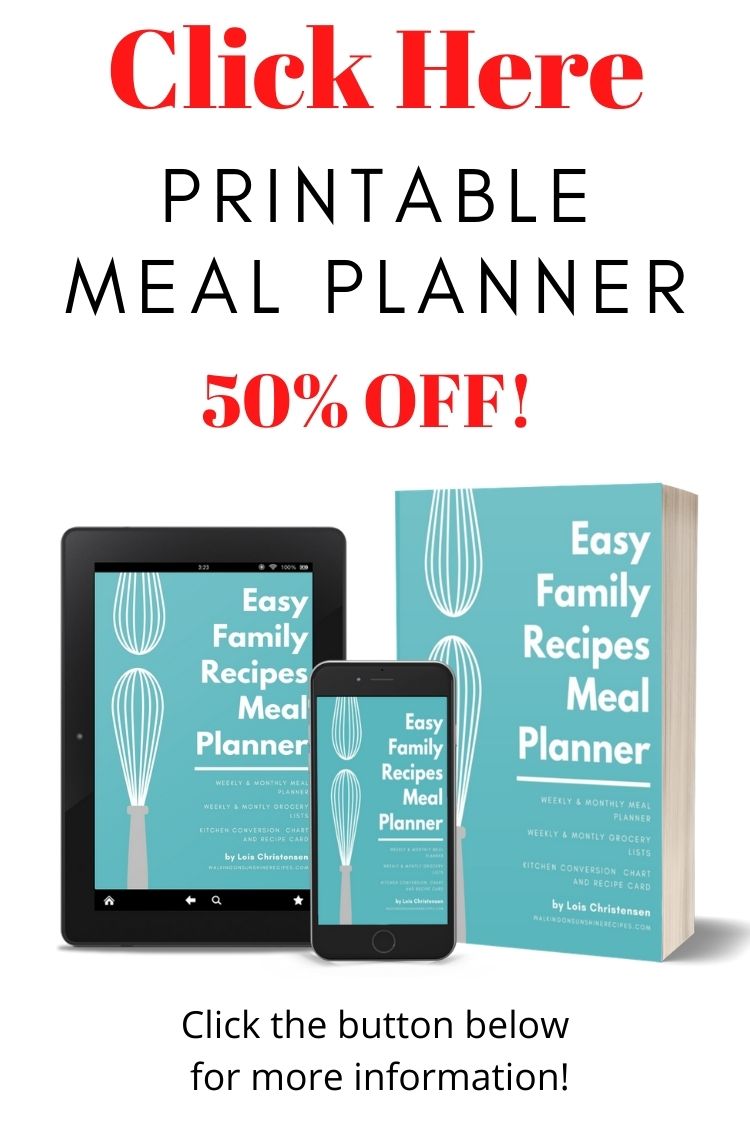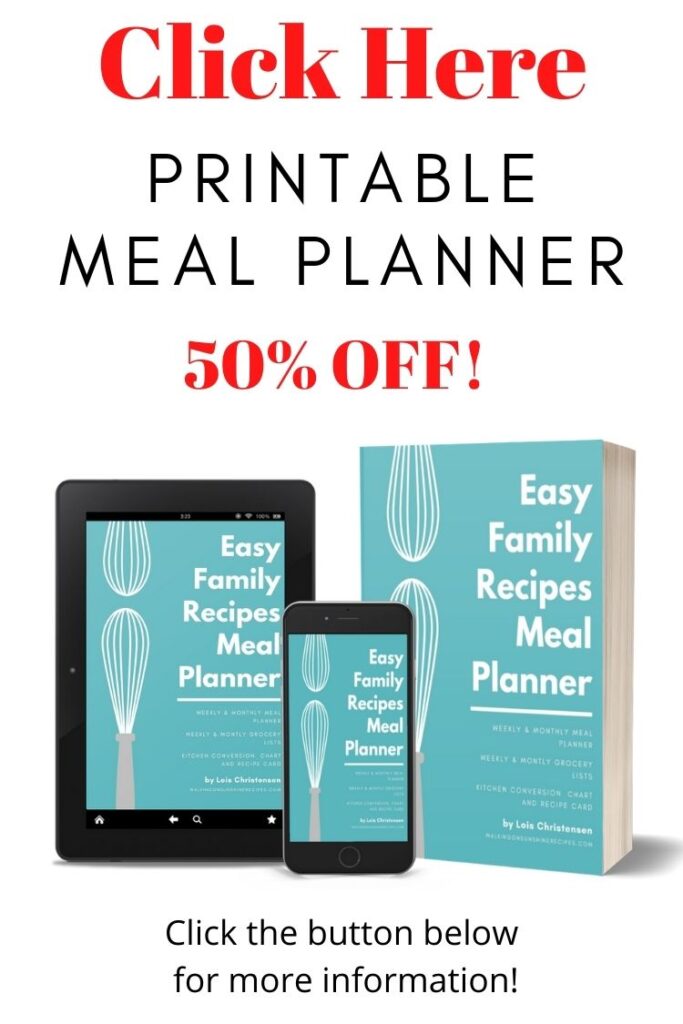 Tips for Making Hand Pies:
Make sure you drain the peaches well.
I used Pillsbury Grands biscuits for this recipe but, you may use any bigger type brand of biscuit that you prefer.
Use a rolling pin to flatten each biscuit.
If you don't have a rolling pin, you could use your fingers to press the biscuit dough until it's flattened.
Place the hand pies in the freezer for about 10 to 15 minutes before frying.
You can test to see if the oil is hot enough by using a digital meat thermometer or dropping a little water in the oil. If it sizzles, jjjjjjjj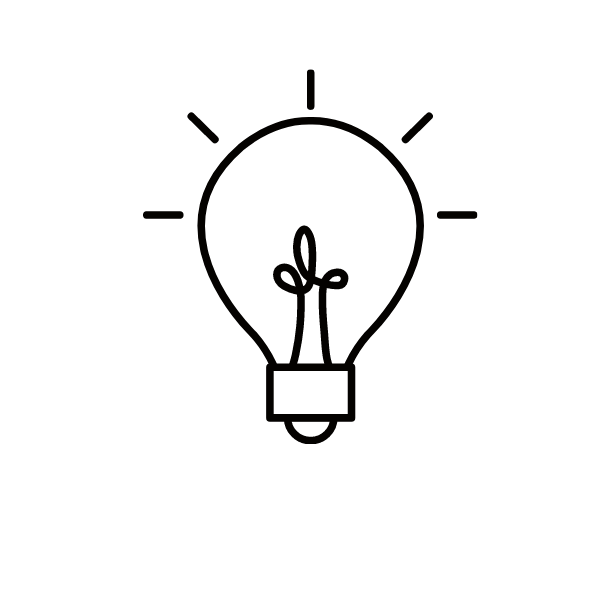 Cooking Tip: The oil is ready when you drop a little bit of water on it and the water sizzles and pops.
Helpful Kitchen Tools
digital meat thermometer
rolling pin
parchment paper
silicone
baking rack
Digital Instant Read ThermometerrMore Information
Silicone Measuring CupsMore Information
Mini Pocket Pie MoldMore Information
Mini Pie PressMore Information
Main Ingredients Needed
Exact measurements are listed below in the recipe card. Make sure you scroll down to print and save the recipe for later!
Pillsbury Grands Biscuits; 8 count size
Canned peaches - I used packed in light syrup.
Powdered sugar
Milk
Almond extract - if you don't like the flavor of almond extract, you can substitute vanilla extract.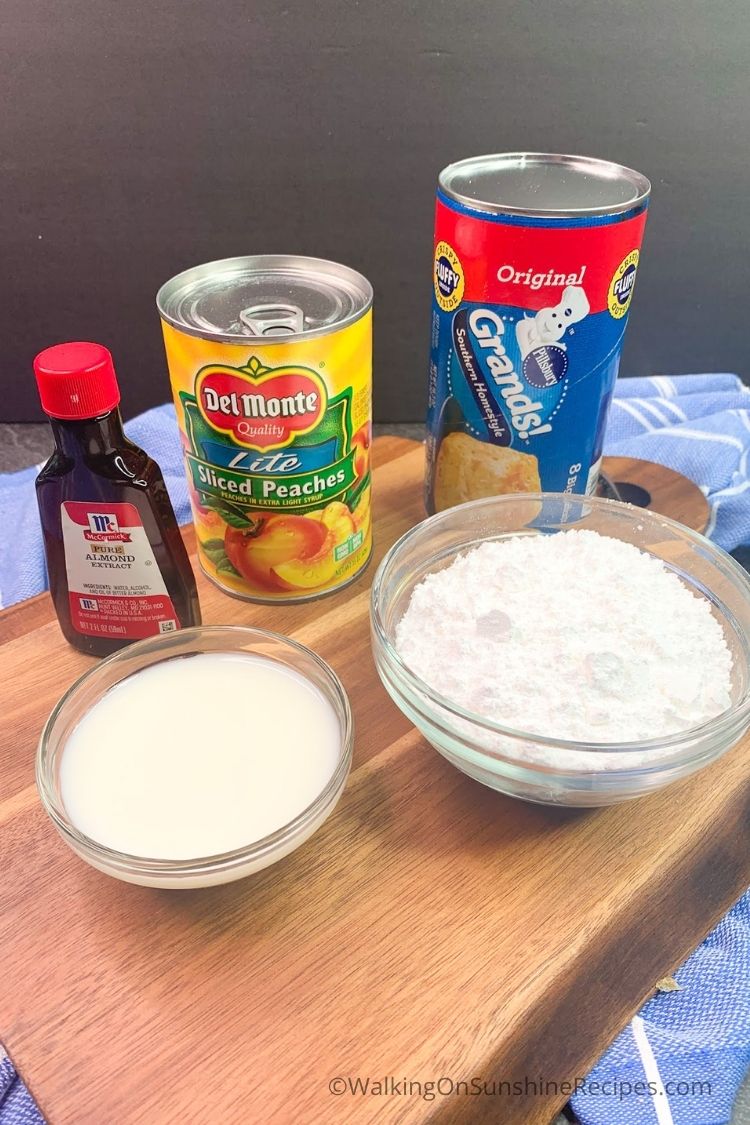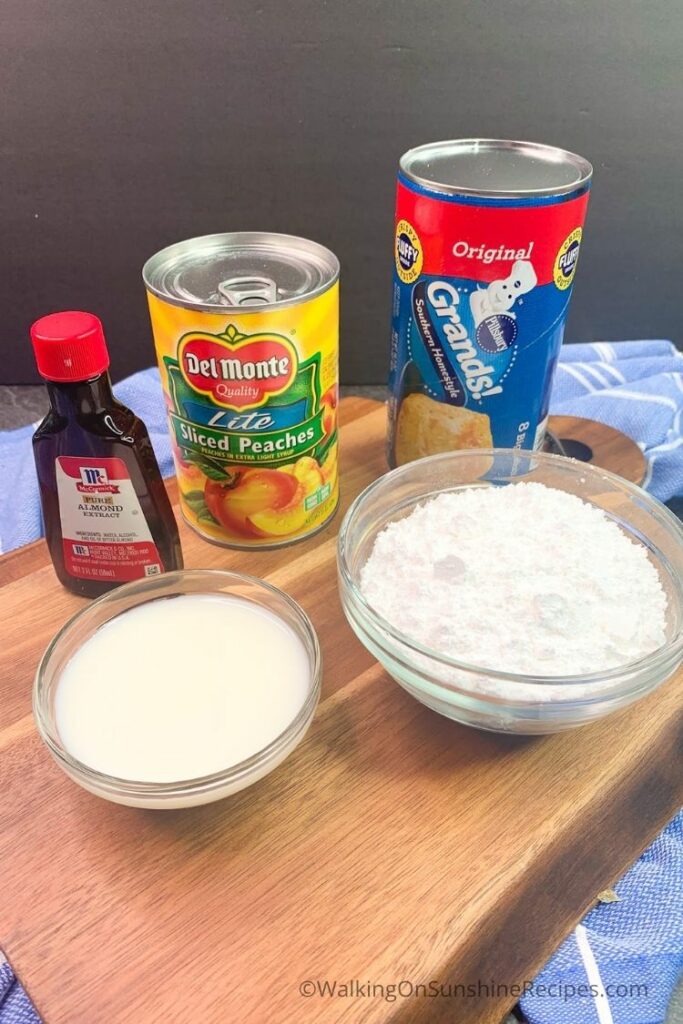 Step-by-Step Directions
Step 1: Flatten the Biscuits
Using a rolling pin, gently roll each biscuit into about a 4 - 6 inch round. You may need to sprinkle a little flour on top of each biscuit if you find the rolling pin is sticking.
Step 2: Add the Peaches
The canned peaches for this recipe for fried peach pies using canned biscuits needs to be drained.
Once the peaches are drained, add at least two peach slices to the biscuit round and gently fold over. Press the seams together and then using a fork, seal the edges completely.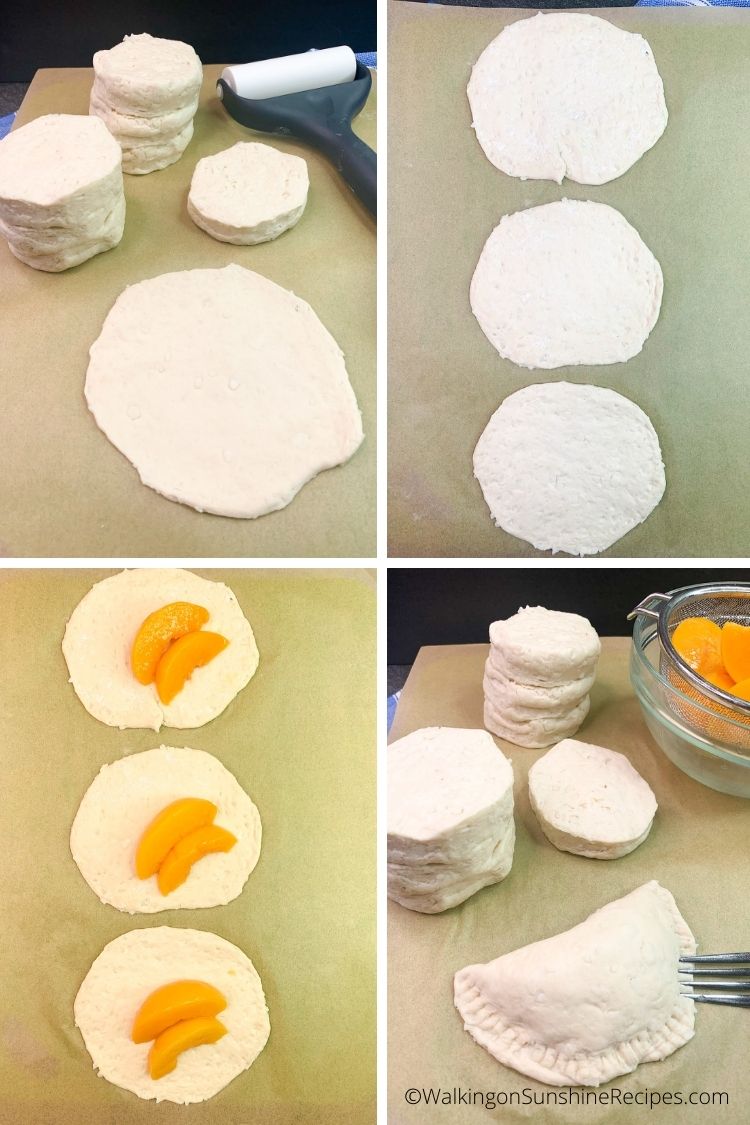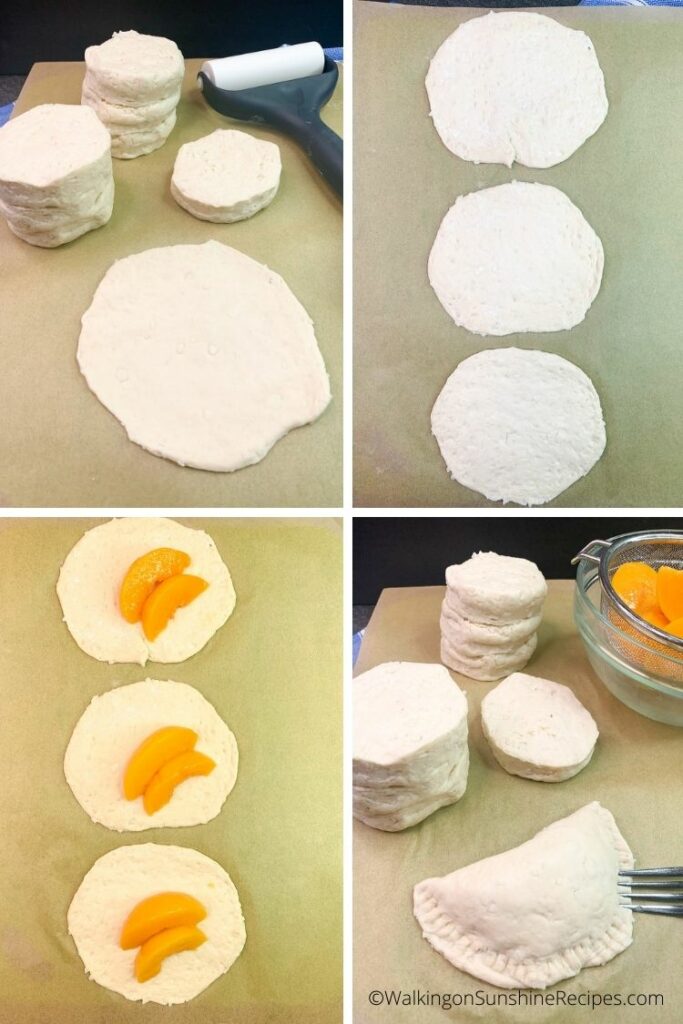 Place the hand pies on a parchment lined baking sheet. Then place the baking sheet in the freezer for at least 15 minutes before frying.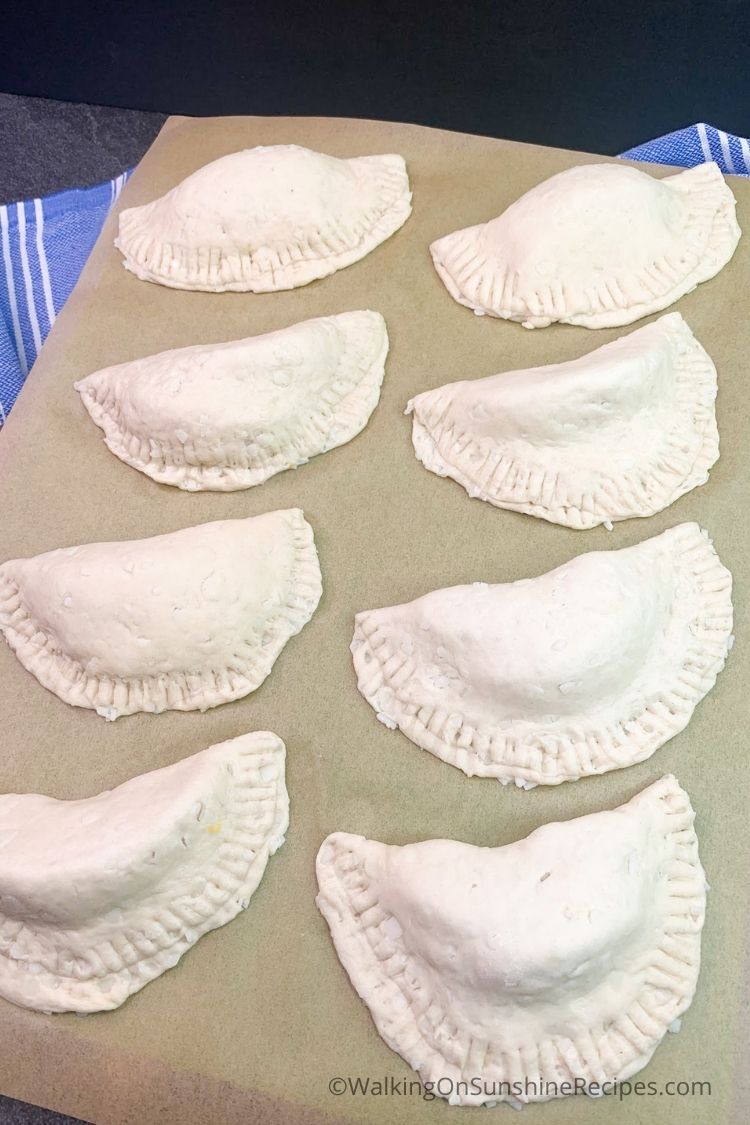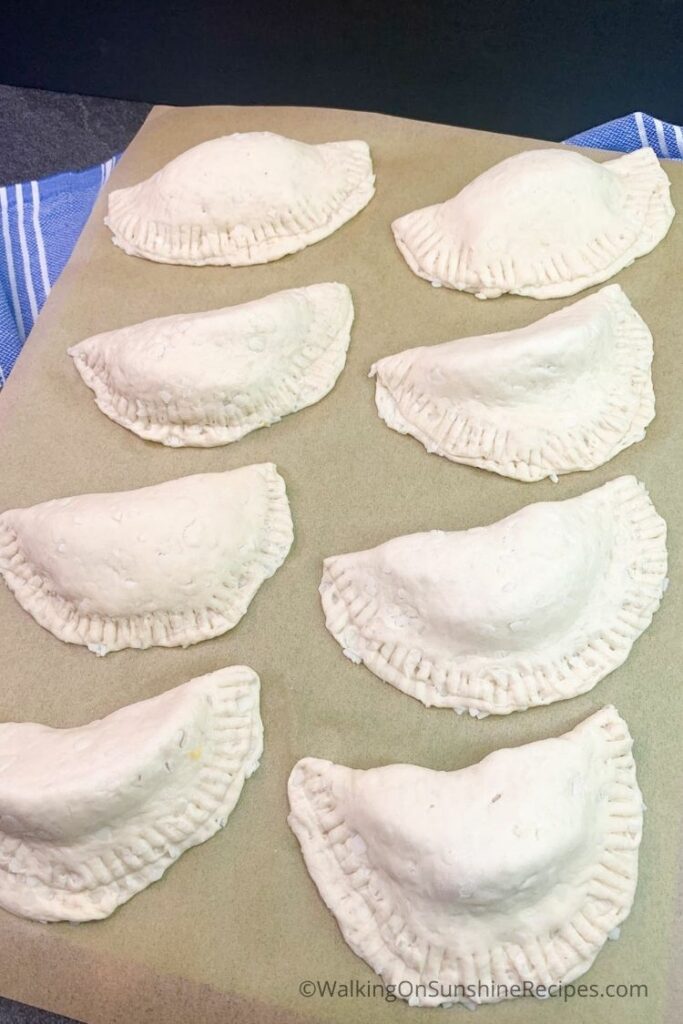 Step 3: Frying Instructions
Preheat the oil in a large skillet. I used my cast iron skillet. You don't need much oil, probably about a cup of oil for a skillet as large as I have.
Once the oil reaches 350°, add four of the hand pies. Do not add all eight at once. Please be very careful working with hot oil.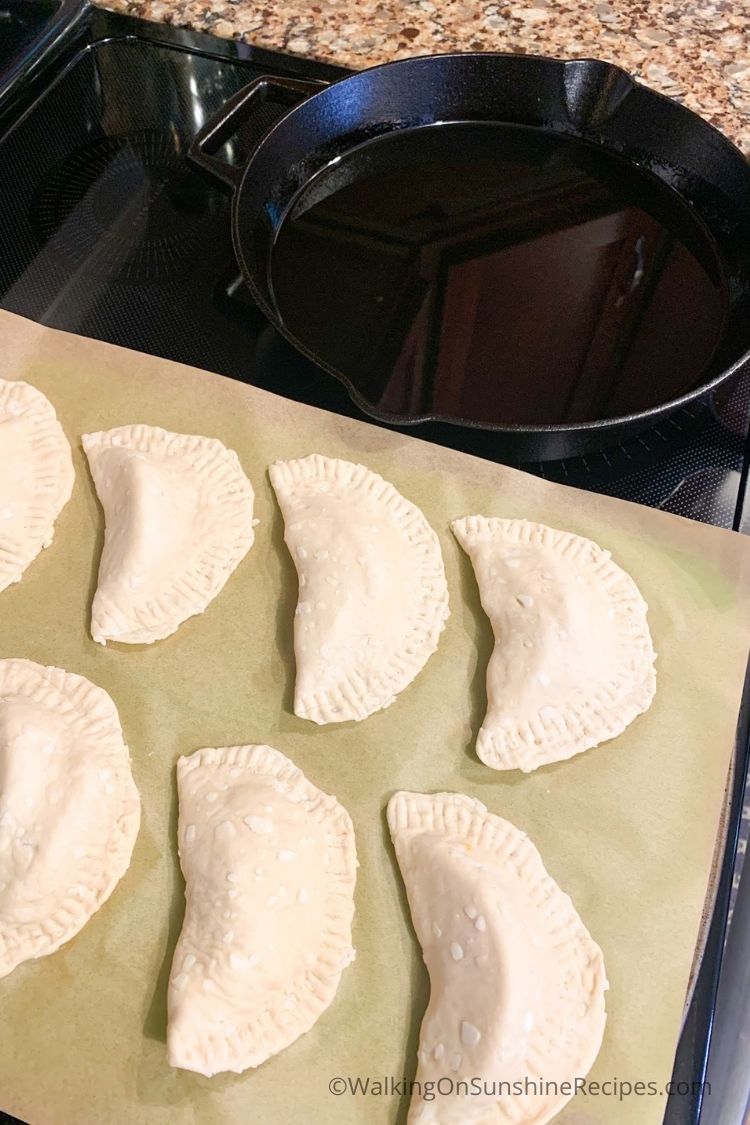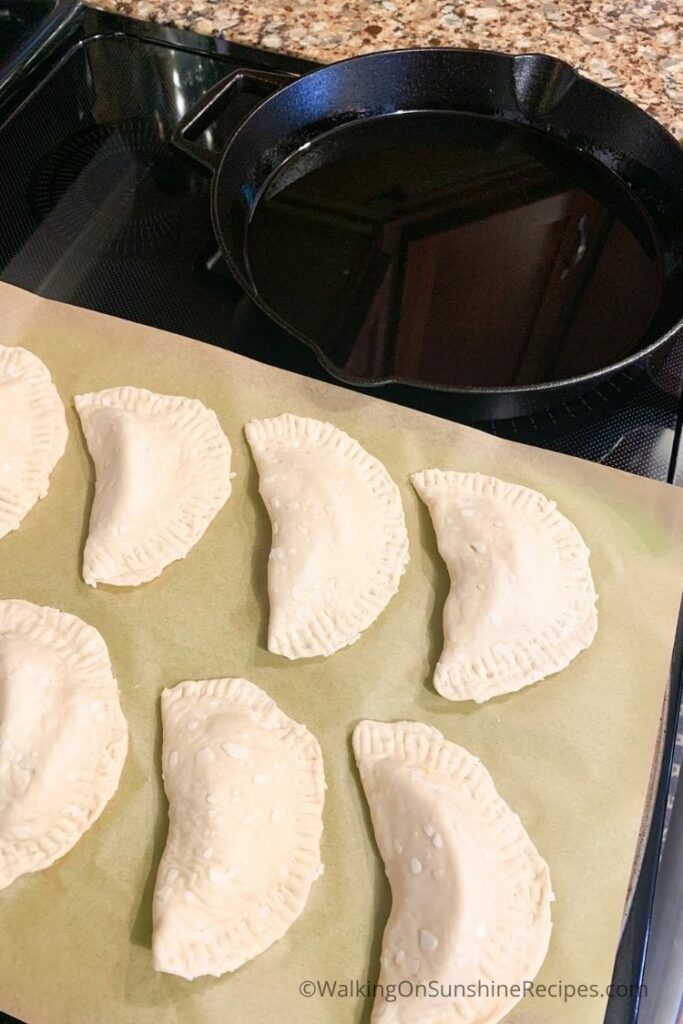 Allow the pies to cook for about two to four minutes and then gently flip them using metal tongs. Continue cooking for another two minutes until the pies are golden brown.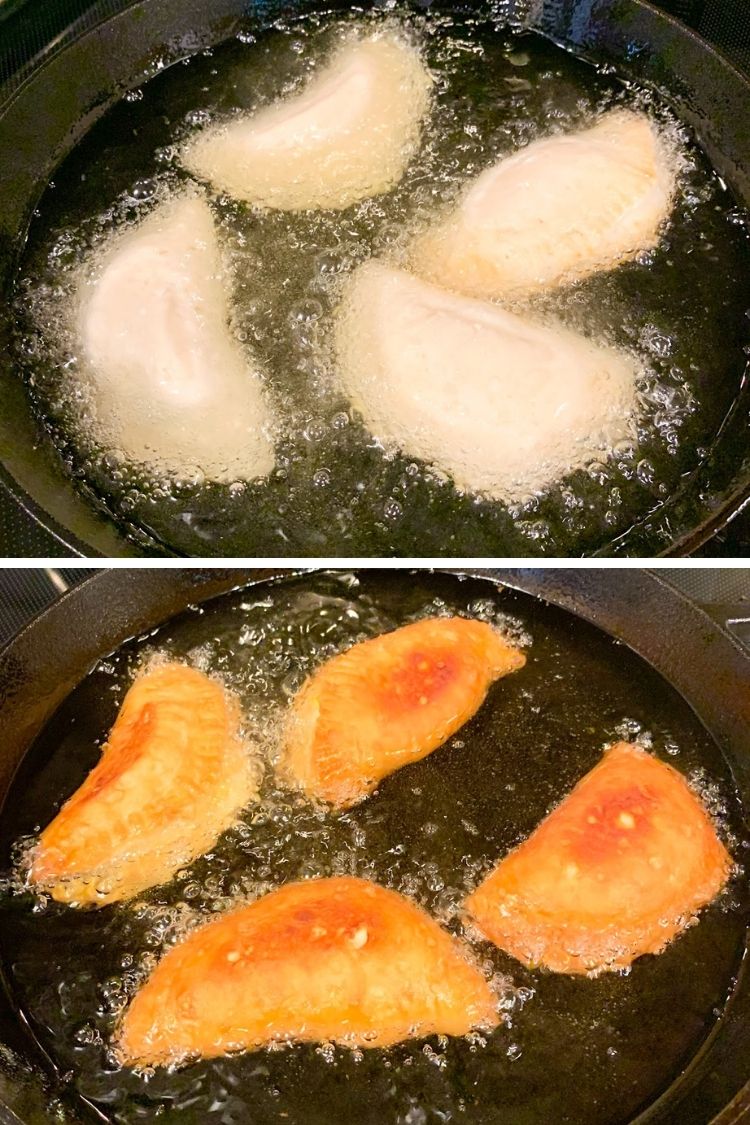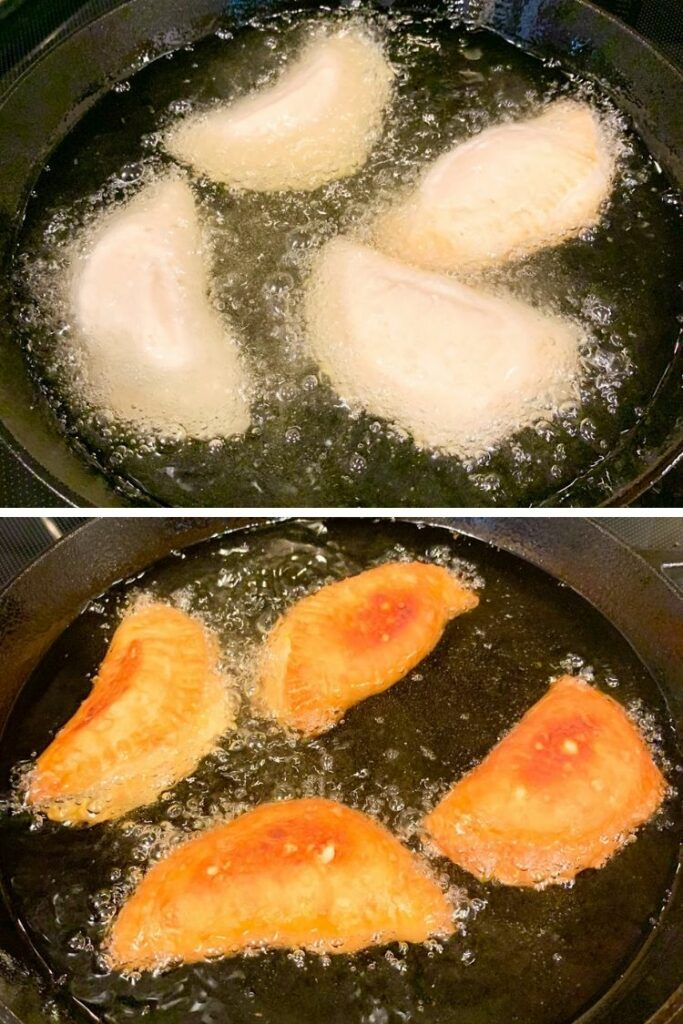 Step 4: Allow the Pies to Cool
Allow the hand pies to cool by placing them on a baking rack that's place on top of a baking sheet lined with parchment paper so any excess oil will drip off.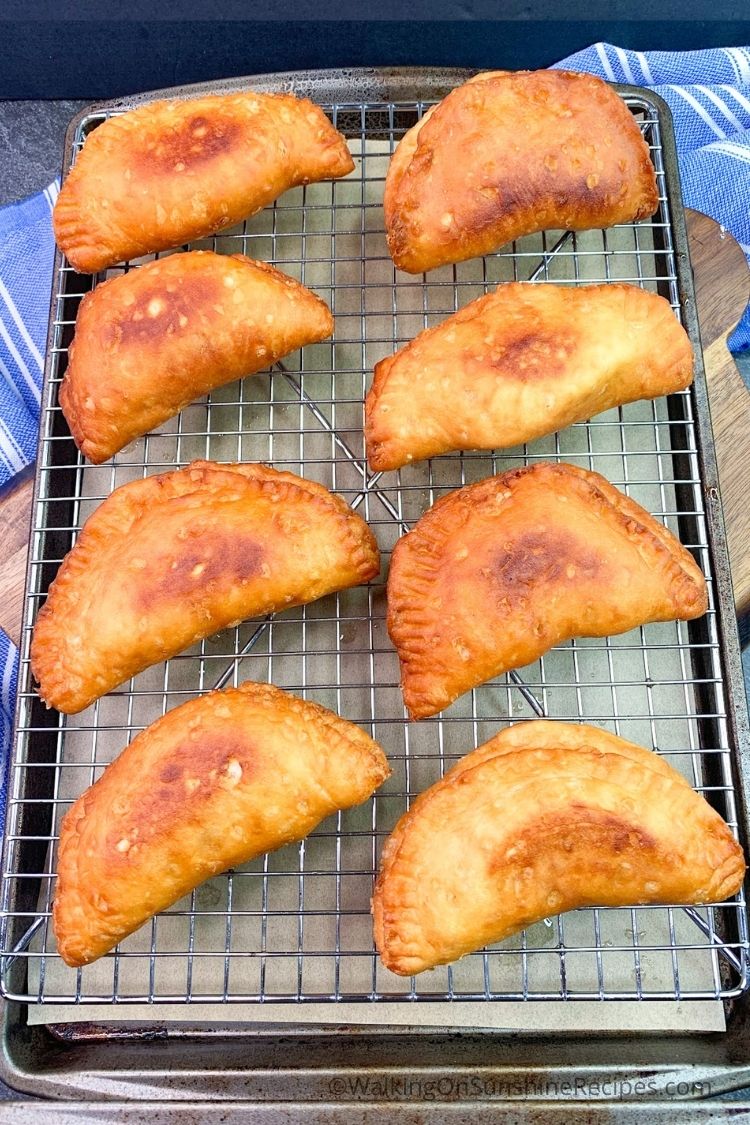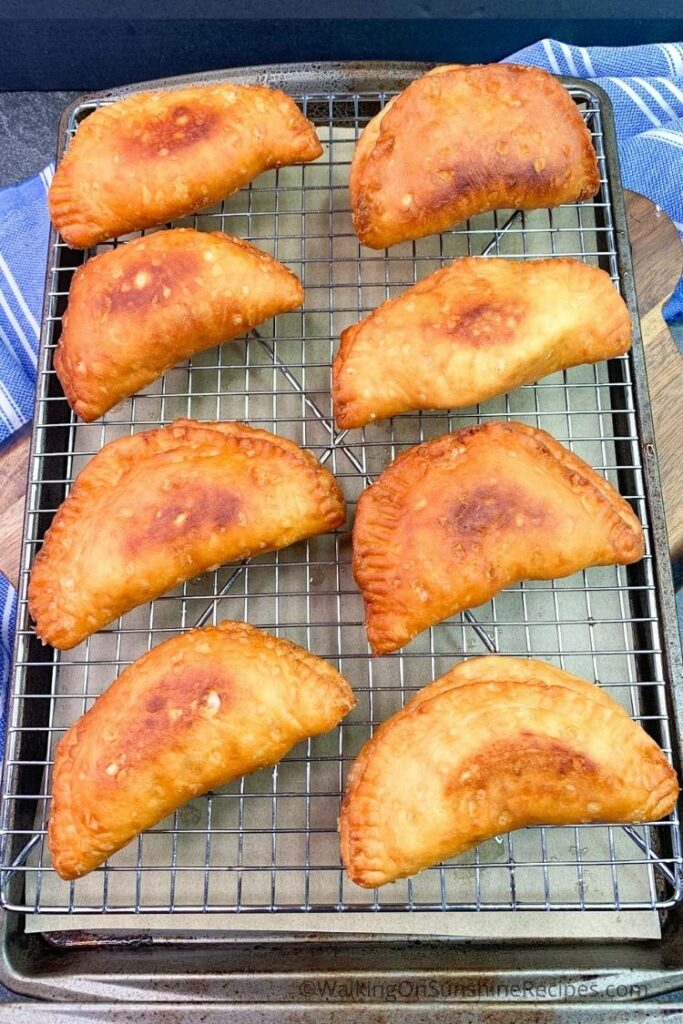 Step 5: Prepare the Glaze
Combine the ingredients for the glaze and pour on top of the cooled pastries.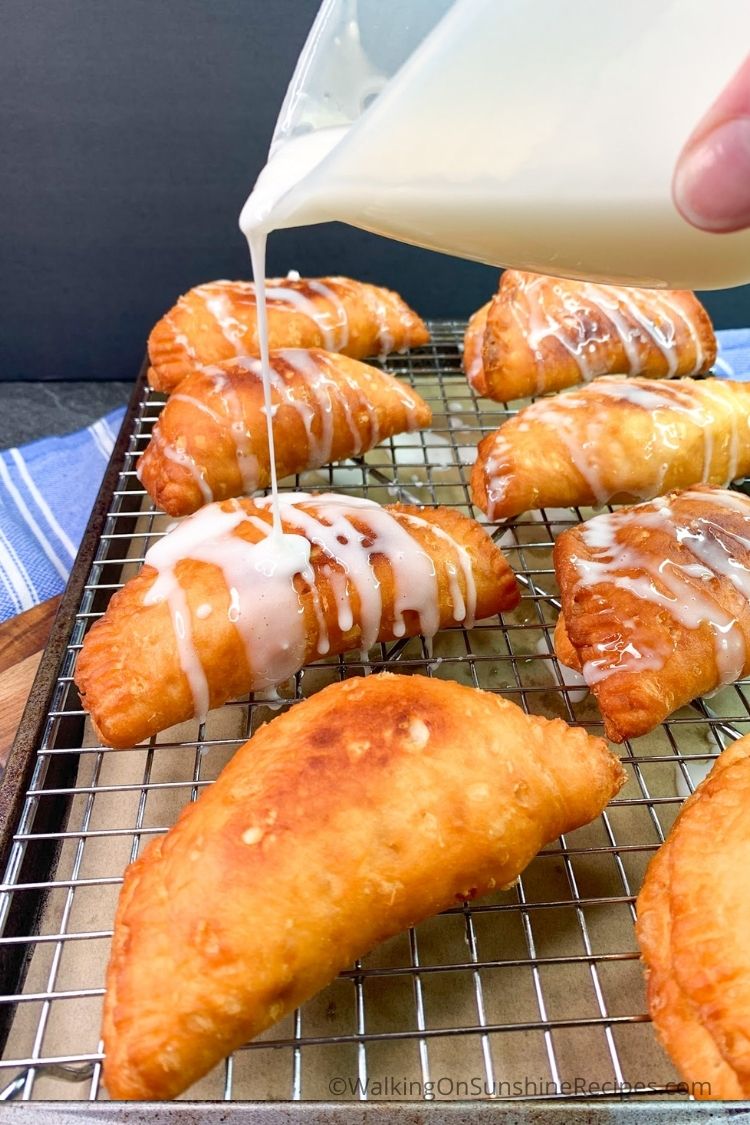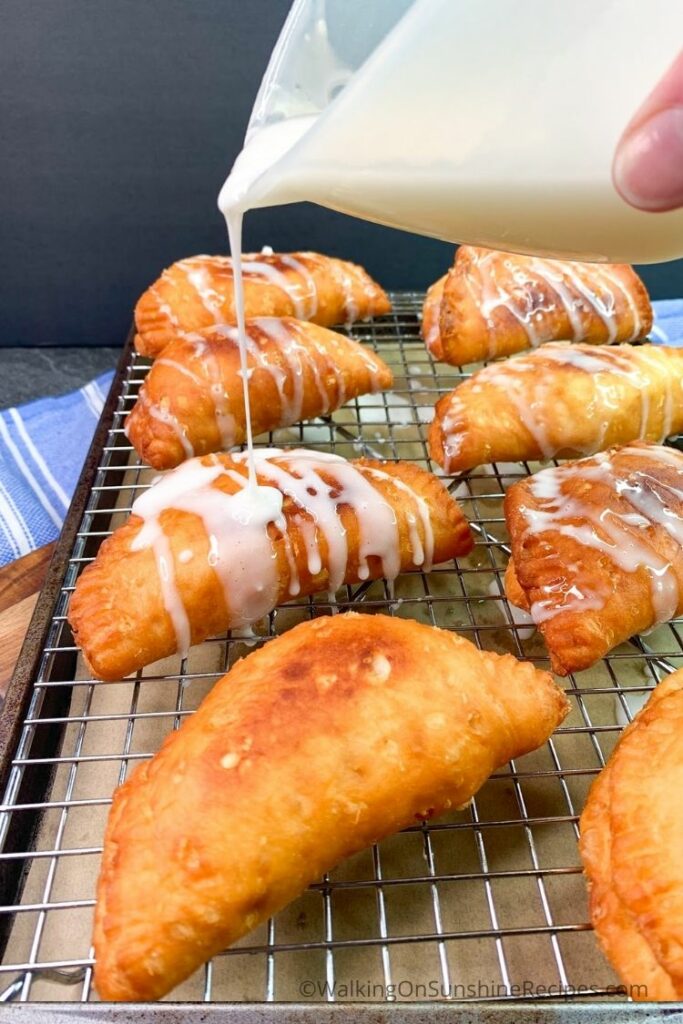 Pouring the glaze on top of the hand pies while they're still on top of the baking rack allows the glaze to drip down and not create a huge mess all over your serving platter.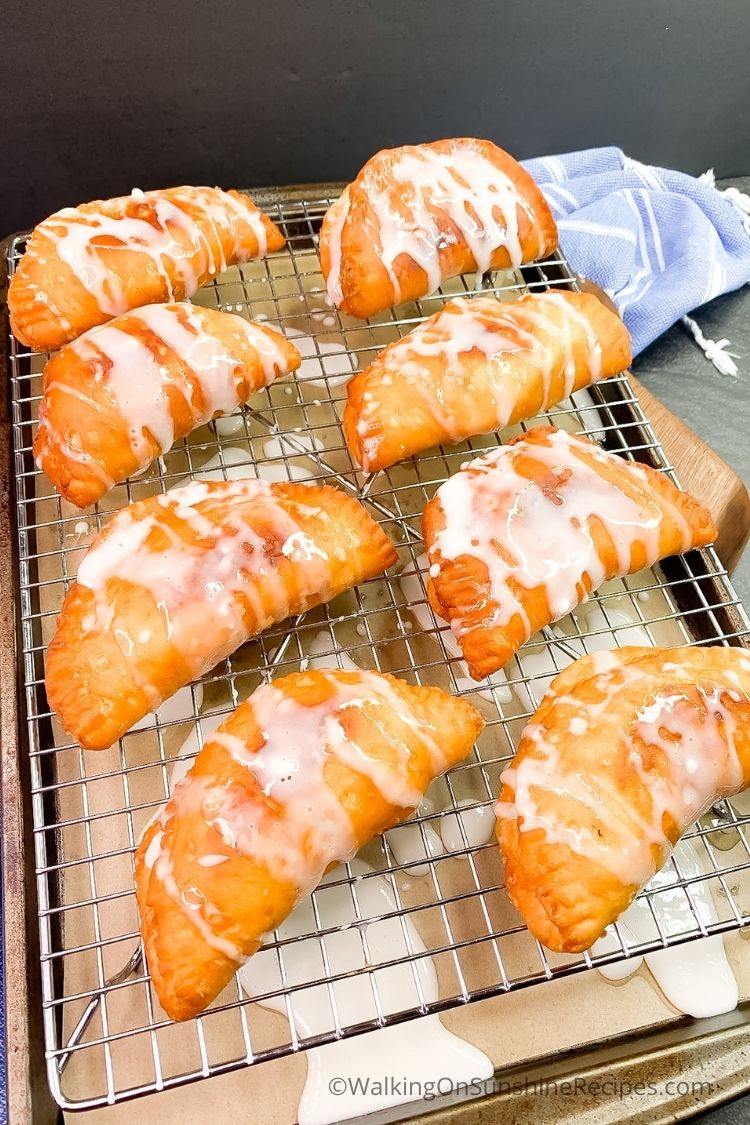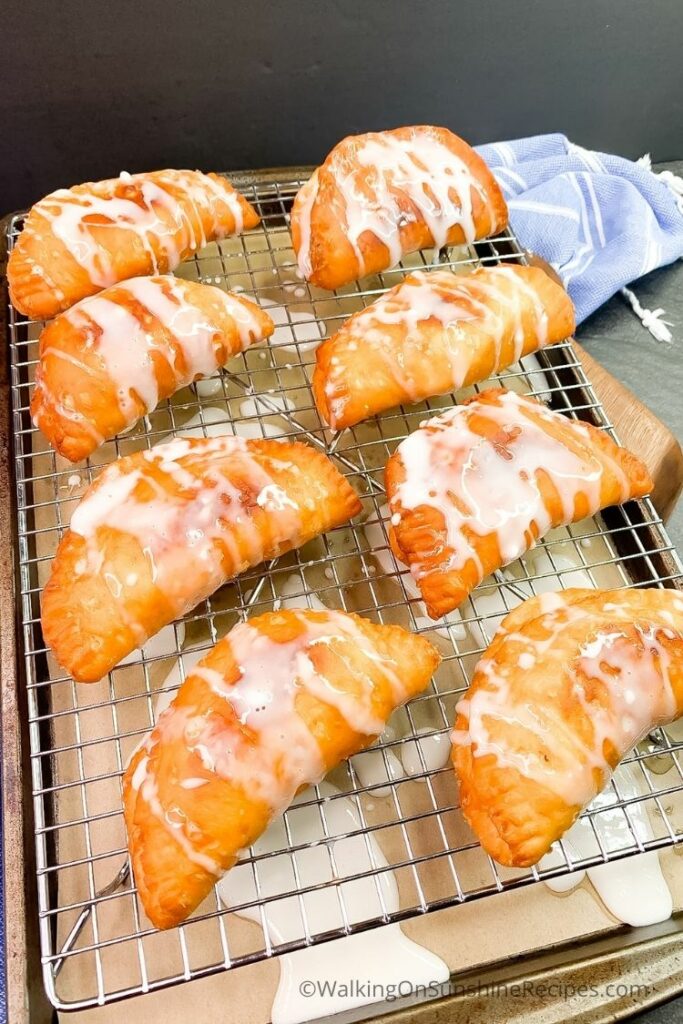 Step 6: Serving and Storing Tips
Fried peach pies using canned biscuits are best served warm or at room temperature. They would be great with a scoop of homemade vanilla ice cream or even homemade whipped cream.served on top!
Store them in a plastic container loosely covered with plastic wrap. Do not store them in a closed container as the glaze will soften the pies.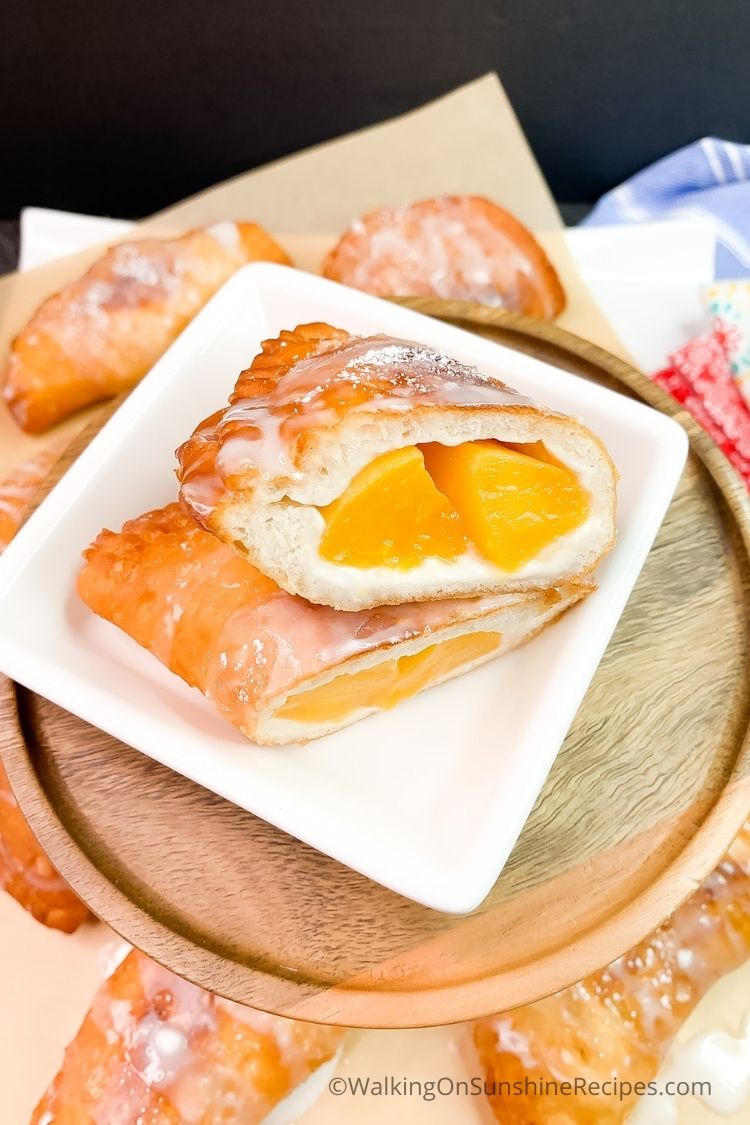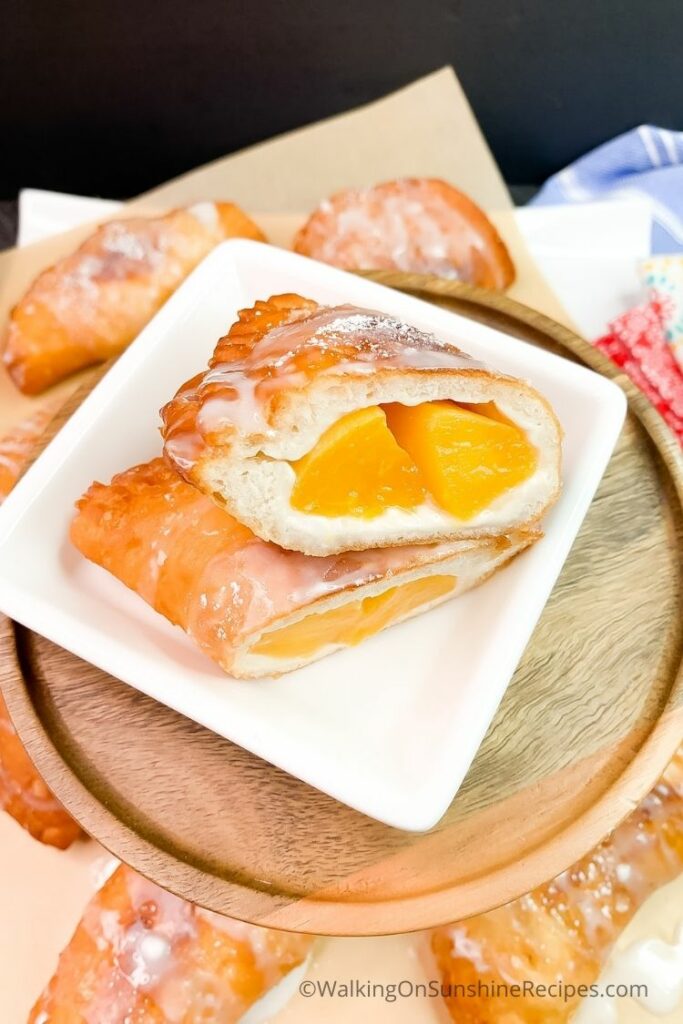 Tried this recipe? Let me know in the comments and don't forget to rate it!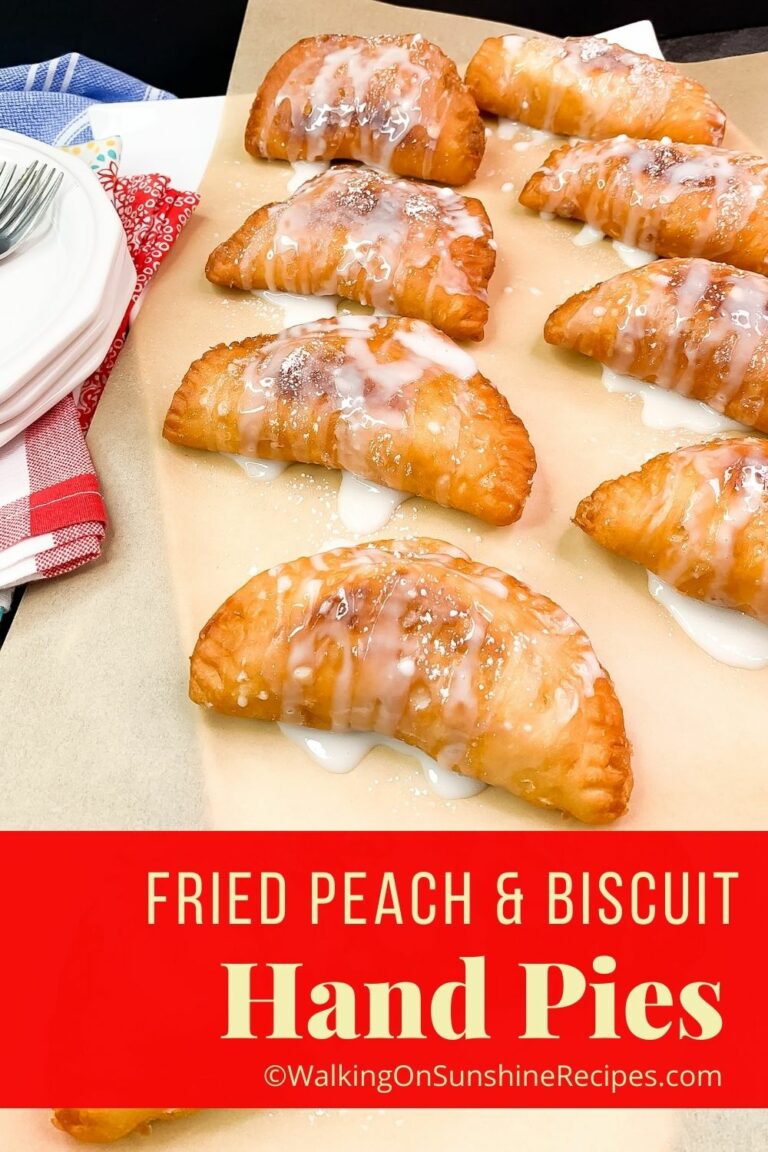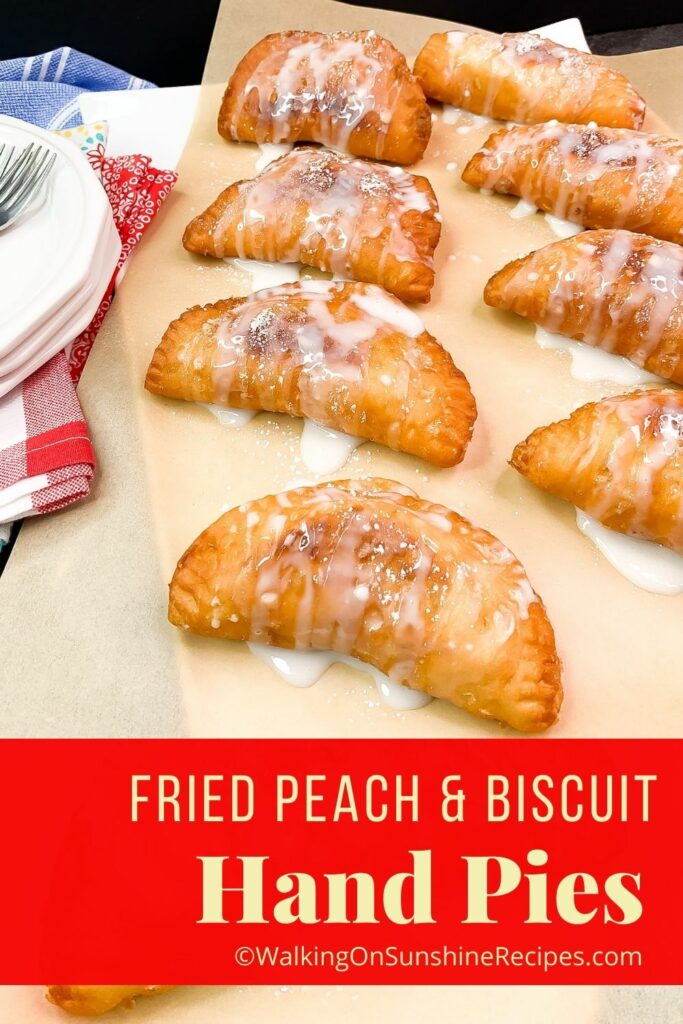 FREQUENTLY ASKED RECIPE QUESTIONS
Can I swap out the peaches for another fruit flavor?
Yes! Try blueberry, apple or even cherry pie filling in place of the canned peaches.
Ready for more great recipes?
Peach Cobbler Rolls – made with sweetened cream cheese, canned peaches and topped with biscuits, this is a "peaches and cream pie" inspired recipe.
You only need a few ingredients to make an impressive and easy Crescent Rolls Fruit Tart.
Peach Crunch Cake or Peach Dump Cake is one of the most easiest recipes you'll ever make. You literally dump all the ingredients into a baking dish and bake! 
More Information
More Information
More Information
More Information
Yield: 8 glasses
Homemade Peach Iced Tea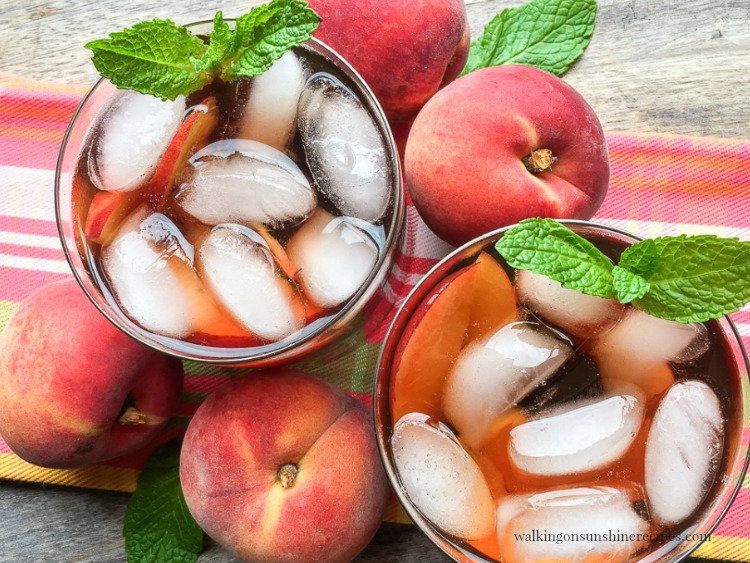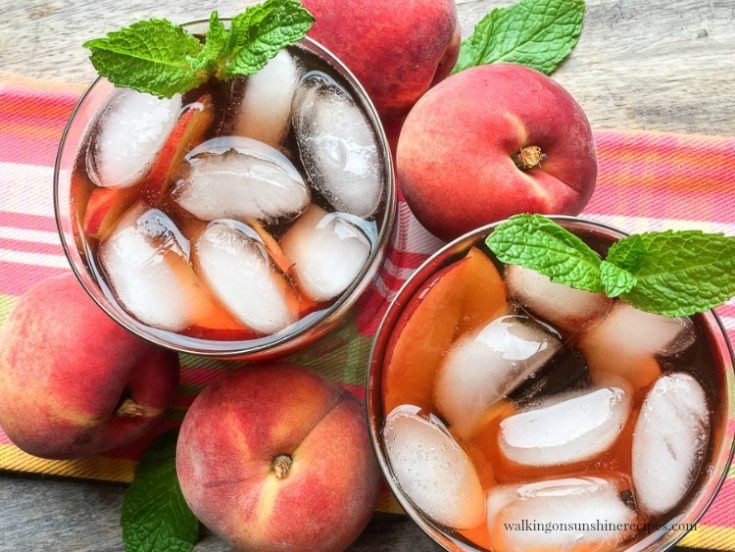 Homemade Peach Iced Tea is the perfect drink to help you beat the heat this summer!
Additional Time
30 minutes
Ingredients
8 cups water
6 black tea bags paper; tags removed
4 fresh peaches pitted and cut into chunks
1 tablespoon fresh ginger; finely minced
2 to 4 tablespoons honey; more or less depending on your taste.
6-8 fresh mint sprigs for garnish
Instructions
In a saucepan, bring the 8 cups of water to a boil and remove from heat.
Add the tea bags and cover the saucepan to allow the tea bags to steep.
Allow the tea to come to room temperature and then remove the tea bags from the water.
Fill a pitcher about ⅓ with ice.
Add the tea to the pitcher.
Add the chopped peaches, ginger and honey.
Taste for sweetness and add more honey if necessary.
Chill the tea for at least 2 hours before serving.
Notes
Garnish with sliced peaches and fresh mint sprigs.
Nutrition Information:
Yield:
8
Serving Size:
1
Amount Per Serving:
Calories:

73
Total Fat:

0g
Saturated Fat:

0g
Trans Fat:

0g
Unsaturated Fat:

0g
Cholesterol:

0mg
Sodium:

13mg
Carbohydrates:

19g
Fiber:

2g
Sugar:

16g
Protein:

1g
The nutrition information is calculated automatically. I cannot guarantee its accuracy. If this data is important to you, please verify with your trusted nutrition calculator.