We all know that chicken is one of the healthiest meats out there. But sometimes, it can be hard to find recipes that are both healthy and delicious. That's why we've gathered some of our favorite healthy chicken cutlet recipes for you to try.
These collection of recipes are all packed with flavor, but won't weigh you down. And best of all, they're perfect for a weeknight dinner. So go ahead and give them a try!
Check out all the other chicken cutlet recipes for more delicious ideas for dinner tonight!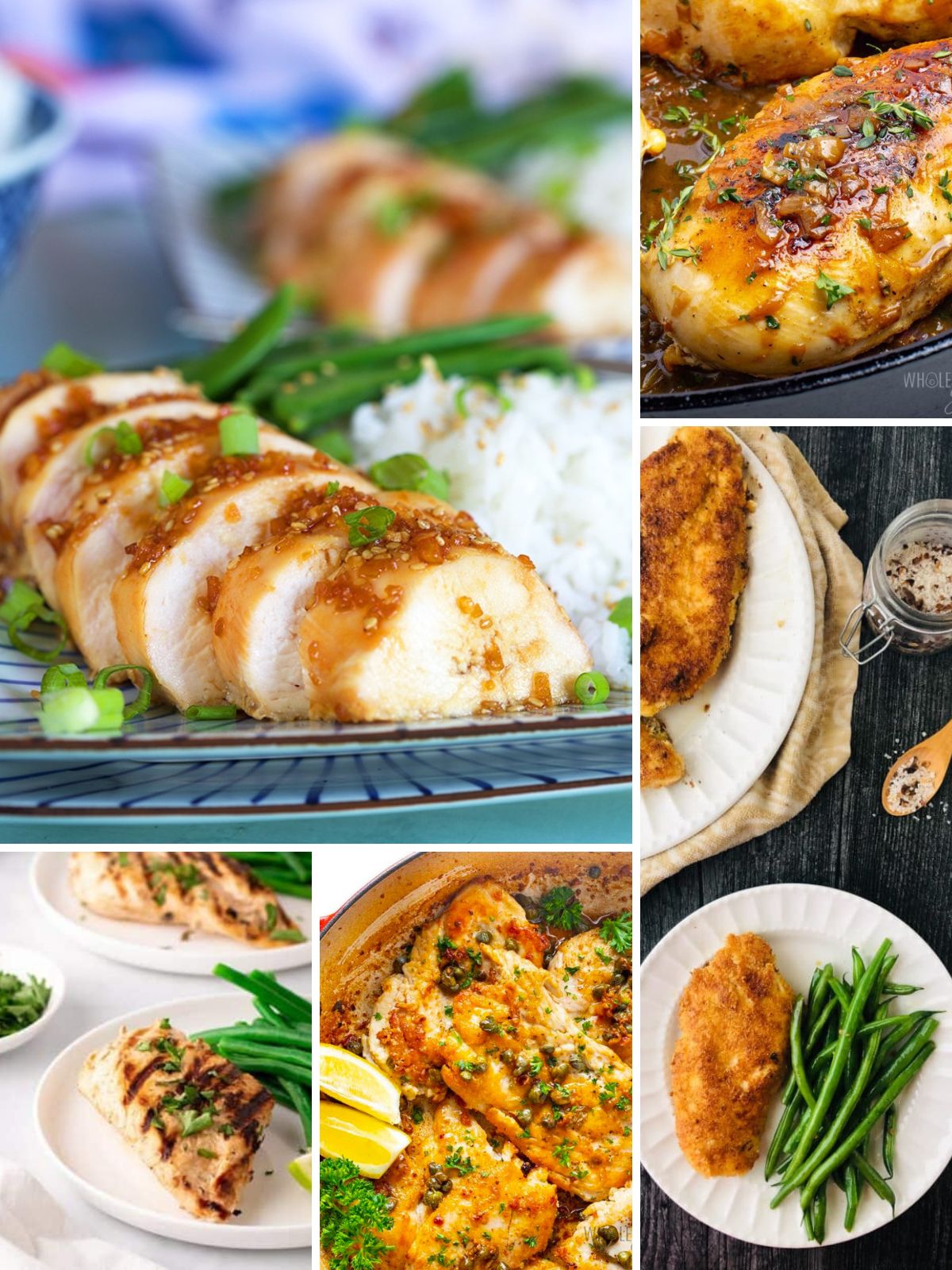 When it comes to dinner time, we all want something delicious and healthy that we can feel good about eating. But sometimes it can be hard to find recipes that fit the bill.
That's why I'm excited to share these healthy chicken cutlet recipes with you! These dishes are not only nutritious and full of flavor, but they're also quick and easy to make.
Whether you're looking for a new recipe to add to your weekly meal plan or something to impress your guests, these recipes are sure to do the trick.
Looking for more family favorite chicken recipes? Check out a few of my family's favorites that I love having in my "arsenal," so to speak because they cook fast. Baked Chicken Cutlet Recipes or my Chicken Cutlets with Gravy.
Table of Contents
Are Chicken Cutlets Healthy?
If you're looking for a lean, protein-packed option to add to your meal rotation, chicken cutlets are a great choice. They're low in fat and calories, but high in protein, making them a perfect option for those watching their weight or trying to build muscle. Plus, they cook quickly and can be easily adapted to a variety of flavors.
Chicken cutlets are a lean, protein-rich food that can be a healthy part of a balanced diet. One chicken cutlet provides about 26 grams of protein and only 3 grams of fat. Cutlets are also a good source of several vitamins and minerals, including iron, potassium, and phosphorus.
When prepared in a healthy way, chicken cutlets can be a nutritious and satisfying meal. For example, baked or grilled chicken cutlets are lower in fat than fried or breaded cutlets. And, when served with vegetables and whole grain bread, chicken cutlets make a well-rounded and nutritious meal.
So, whether you're looking for a quick and easy weeknight dinner or a healthy option for packing lunch, chicken cutlets can be a delicious and healthy choice.
Healthy Sides for Chicken Cutlet
Chicken cutlet is a popular dish that can be served in a variety of ways. While it is often served with rice or pasta, there are a number of healthy side dishes that can be paired with chicken cutlet to create a well-rounded meal.
For example, roasted vegetables such as Brussels sprouts or sweet potato fries are a great way to add fiber and vitamins to the dish. A simple salad made with greens and other vegetables is also a good option, and can be dressed with a light vinaigrette to add flavor without adding unnecessary calories.
Additionally, fruit can be a refreshing and healthy addition to chicken cutlet. Sliced apples or pears are a good choice, as they add sweetness and crunch to the dish. Check out this collection of End of Summer Melon Recipes that will help you choose a delicious side dish for chicken cutlets.
Whatever side dishes you choose, be sure to include an assortment of colors and textures to create a balanced and healthy meal.
Helpful Kitchen Tools
This post contains affiliate links. That means that if you make a purchase after clicking on a link I may earn a small commission at no extra cost to you. For more information, click here.
Digital Instant Read Meat ThermometerMore Information
Meat Tenderizer, Heavy Duty Hammer MalletMore Information
The Pioneer Woman Baking DishMore Information
Stainless-Steel Breading TraysMore Information
4 Pieces Breading Trays SetMore Information
Ceramic Mixing Bowls for Kitchen,More Information
⭐Before You Begin! If you make this recipe, please leave a review and star rating. This helps my business thrive and continue providing FREE recipes.
Healthy Chicken Cutlet Recipes