Looking for a delicious, healthier alternative to traditional french fries? Look no further than Sweet Potato Fries in the Air Fryer. These crispy, golden-brown fries are cooked to perfection with minimal oil, making them a guilt-free treat.
Plus, they're a lot healthier than traditional French fries that are fried in a deep fryer. So if you're looking for a new and healthy way to enjoy your favorite side dish, try this recipe and then check out all the other air fryer recipes I've created here on the blog for you.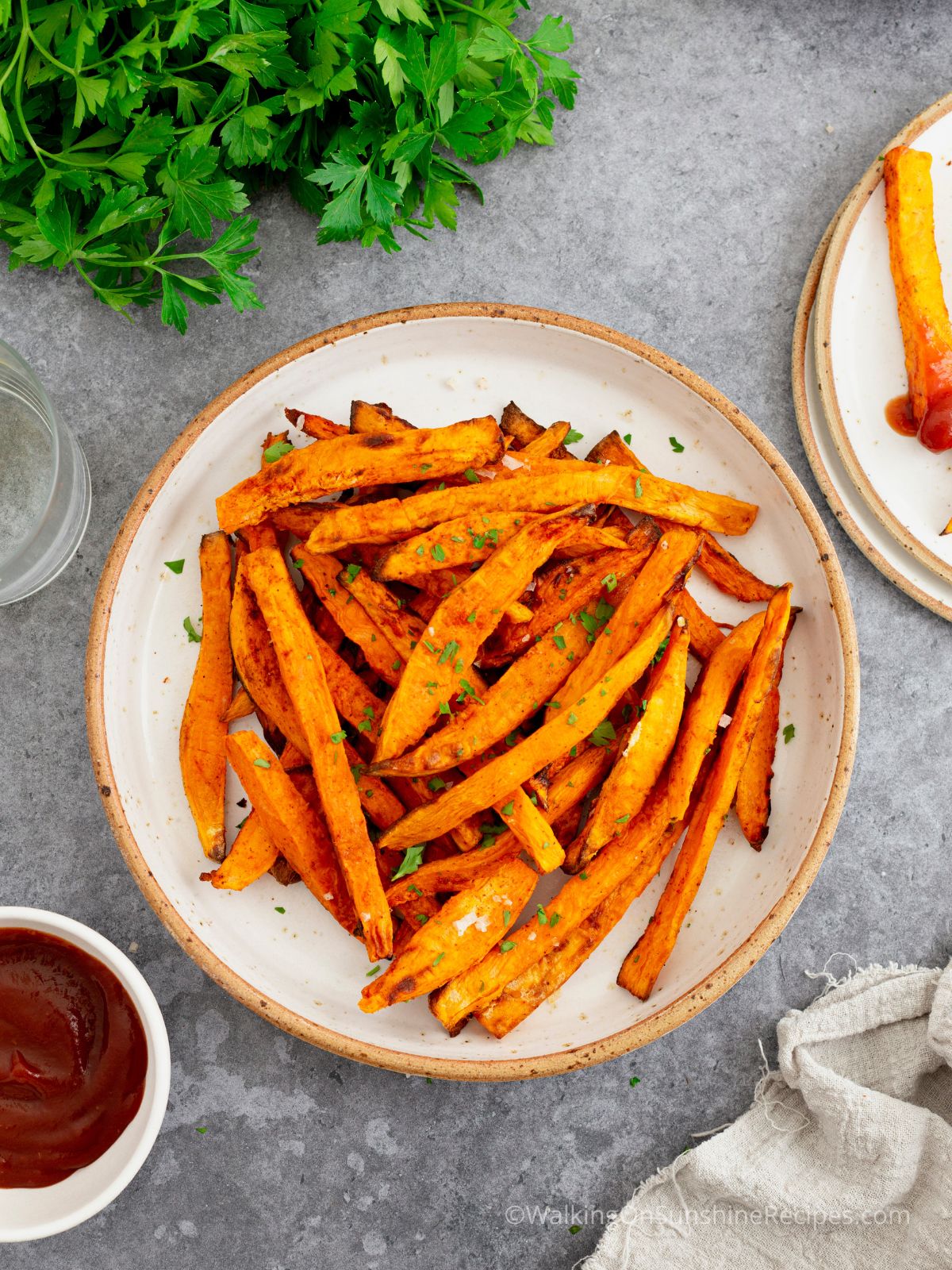 Sweet potatoes are a delicious, nutritious alternative to regular fries. They're packed with fiber, vitamins, and minerals, and they're relatively low in calories. Plus, they have a natural sweetness that regular potatoes lack.
If you're looking for a healthier way to satisfy your fry cravings, sweet potato fries are a great option. And air frying them means they'll be lower in fat and calories than deep-fried fries. So go ahead and indulge guilt-free!
If you're looking for tips on using the air fryer, check out my post on Air Fryer Recipes for Beginners.
Table of Contents
Looking for more Air Fryer Recipes? Try my Air Fryer Pizza, Air Fryer Chicken Skewers or choose a delicious recipe from this collection of Chicken Air Fryer Recipes.
💭How does the air fryer work to cook sweet potato fries?
Sweet potato fries are a delicious and healthy alternative to traditional French fries. However, they can be difficult to cook evenly, often resulting in burned or mushy fries. One way to achieve perfectly cooked sweet potato fries is to use an air fryer.
Air fryers work by circulating hot air around the food, cooking it evenly on all sides. This circulation of air also helps to create a crispy outer layer, similar to deep-fried foods.
They allow you to cook food quickly and evenly without the need for large amounts of oil. This makes them ideal for making healthier versions of typically fried foods like wings, chicken nuggets, and, of course, French fries.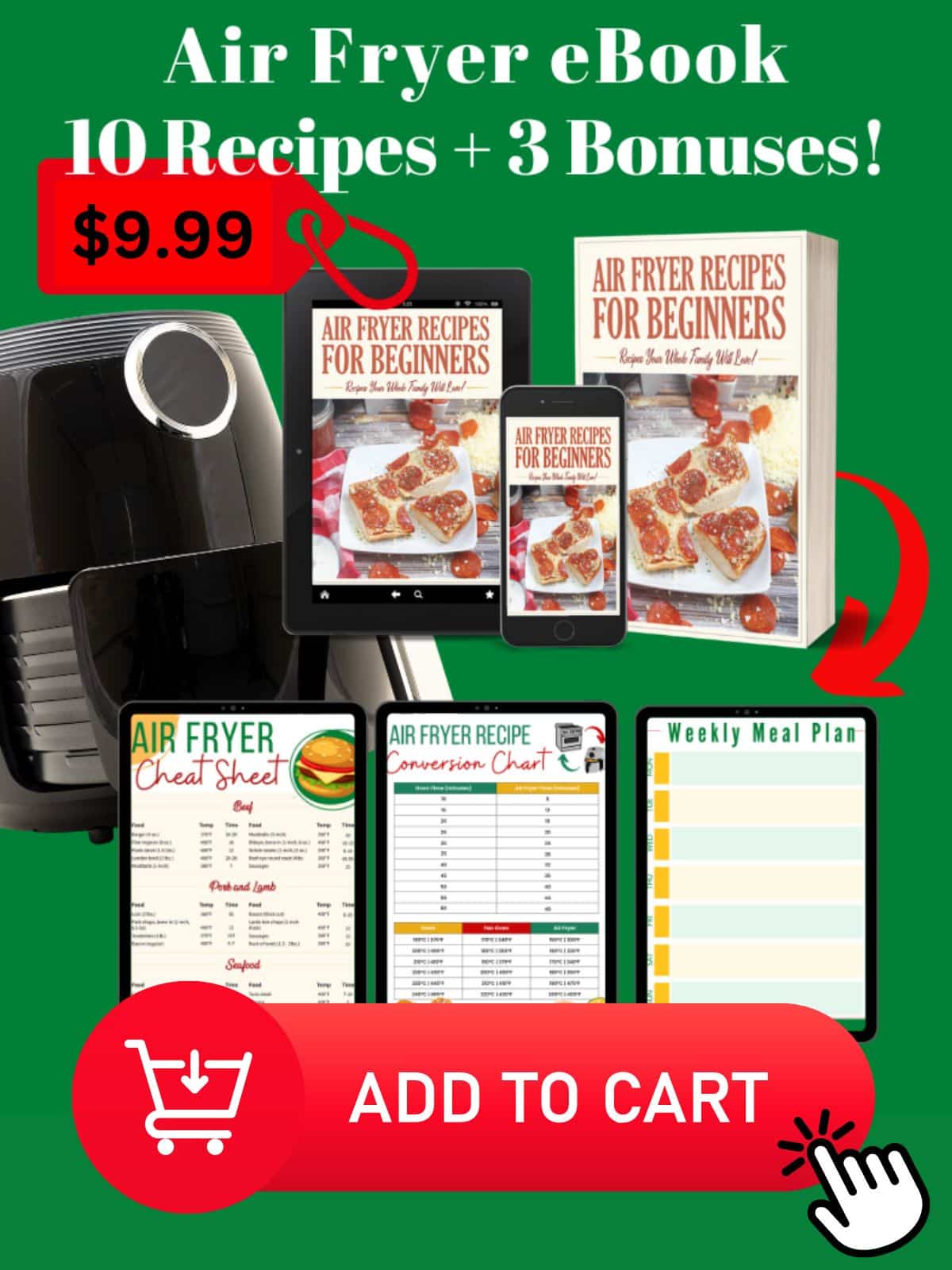 💭Tips for making sweet potato fries in an air fryer?
If you're looking to make some healthier sweet potato fries, here's what you need to do:
Cut your sweet potatoes into thin, even slices. The thinner they are, the crispier they'll be.
Make sure you preheat the air fryer, that way the sweet potatoes start cooking right away.
Only toss your potato slices with a little amount of oil (just enough to coat them lightly). Add your favorite seasonings at this point if you want - salt, pepper, paprika, etc.
Place the potatoes in the air fryer basket in a single layer (you may need to cook them in batches depending on the size of your air fryer). Cook for 15-20 minutes or until they're golden brown and crispy.
🍽Helpful Kitchen Tools
This post contains affiliate links. That means that if you make a purchase after clicking on a link I may earn a small commission at no extra cost to you. For more information, click here.
Air Fryer Accessories Cooking Times CheatMore Information
Ultrean Air Fryer Accessories, Set ofMore Information
Airware Reusable Air Fryer Liners –More Information
Dehydrator Rack Stainless Steel Stand AccessoriesMore Information
Philips Kitchen Appliances Grill Master AccessoryMore Information
🥘Main Ingredients Needed
This is an overview of the ingredients and instructions. Be sure to see the recipe card below for exact quantities, detailed instructions and special notes.
🔪Step-by-Step Instructions
Step 1 | Combine the Ingredients
Wash and dry the sweet potatoes.
Cut them into ¼ inch wide strips and then each strip into ¼ inch wide strips.
In a large plastic zip lock bag combine the potatoes, oil and spices. Massage the potatoes to coat them evenly with the oil and spices.
Transfer them to a preheated 375°F air fryer.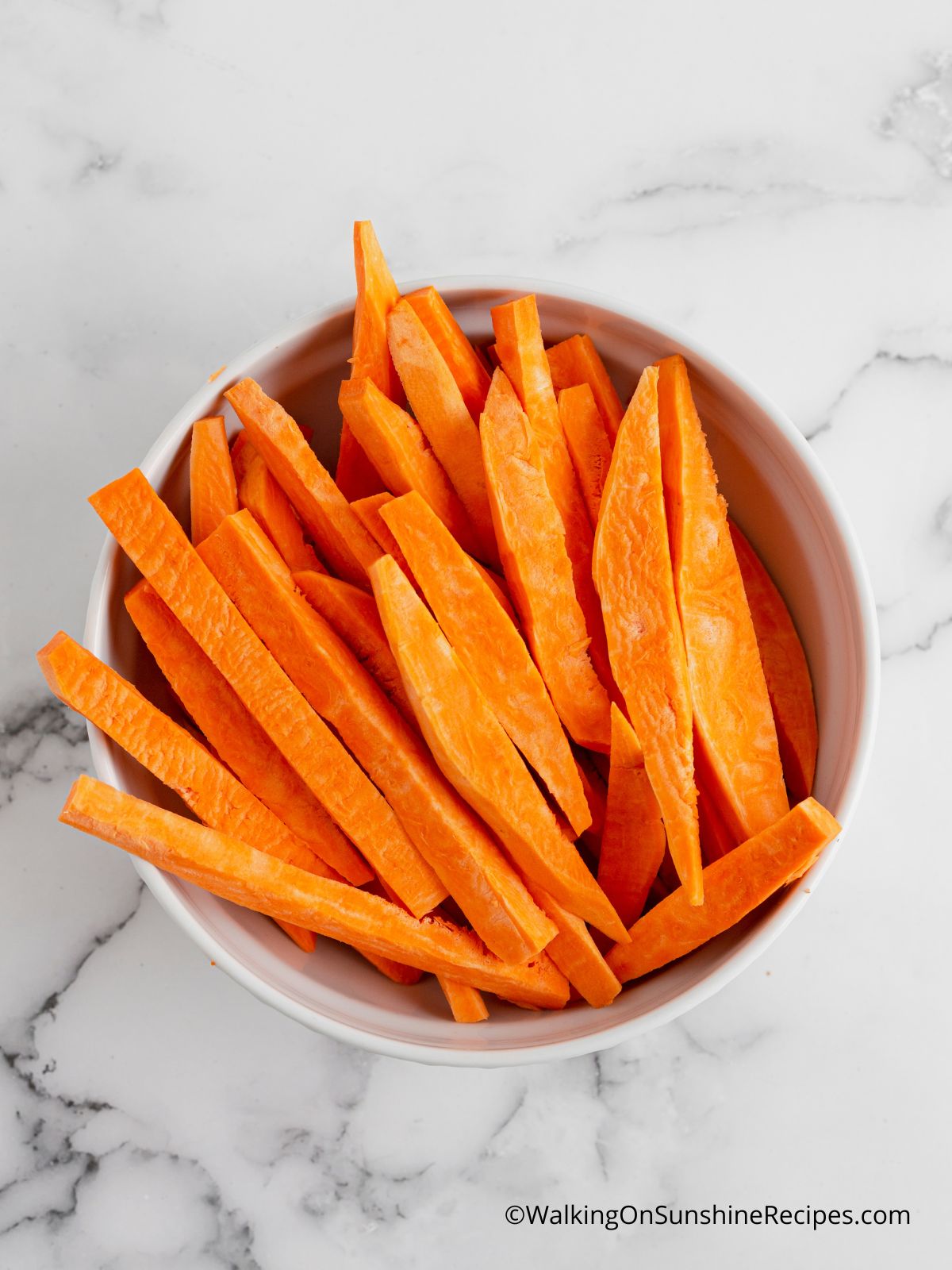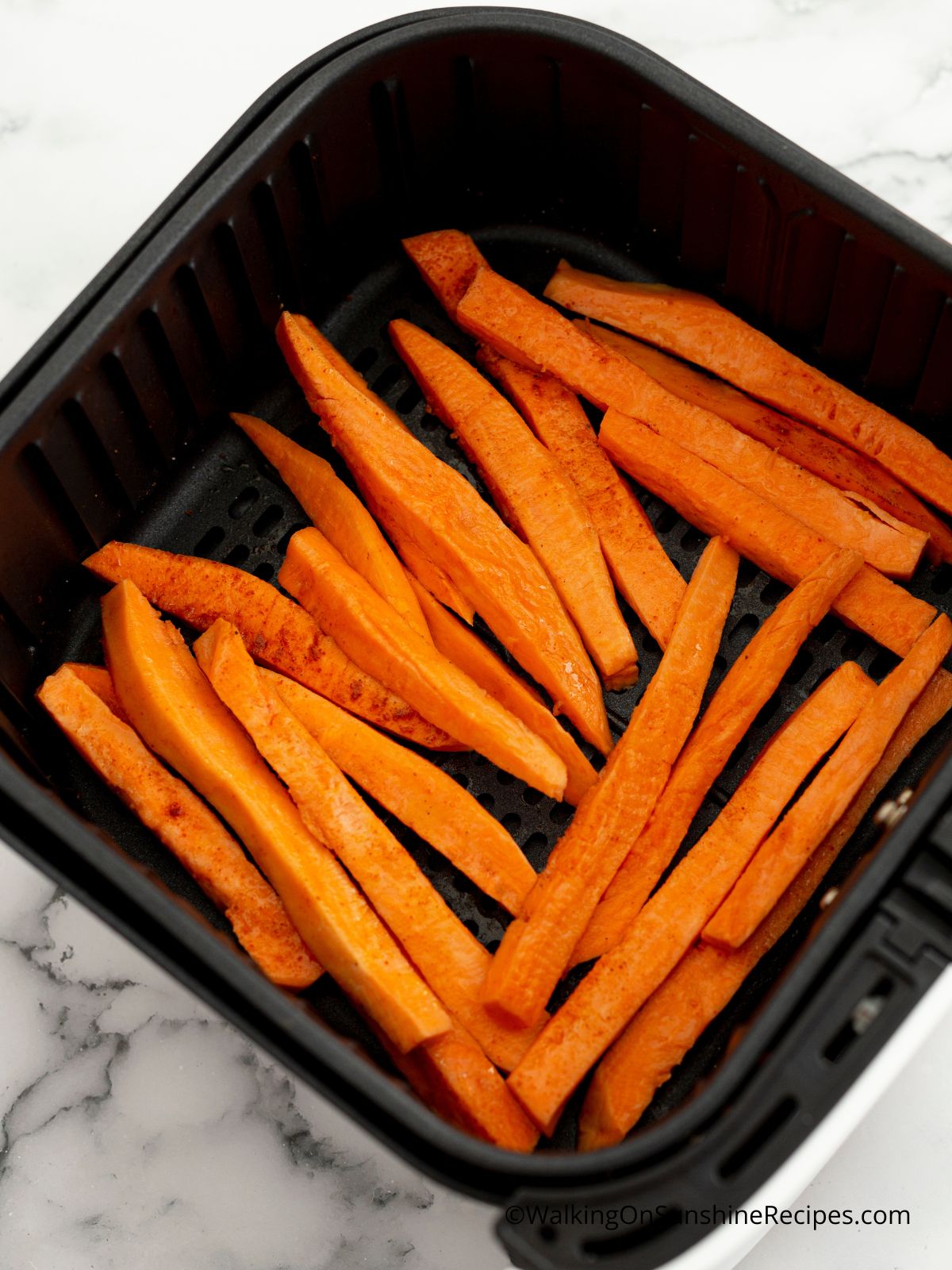 Step 2 | Baking Instructions
Bake for 15 - 20 minutes.
Make sure you remove the basket from the air fryer a few times and shake to ensure even frying.
The fries should be crispy and cooked through. If they're not as crispy as you would like, you can fry them for another minute or two. Make sure they don't get too charred.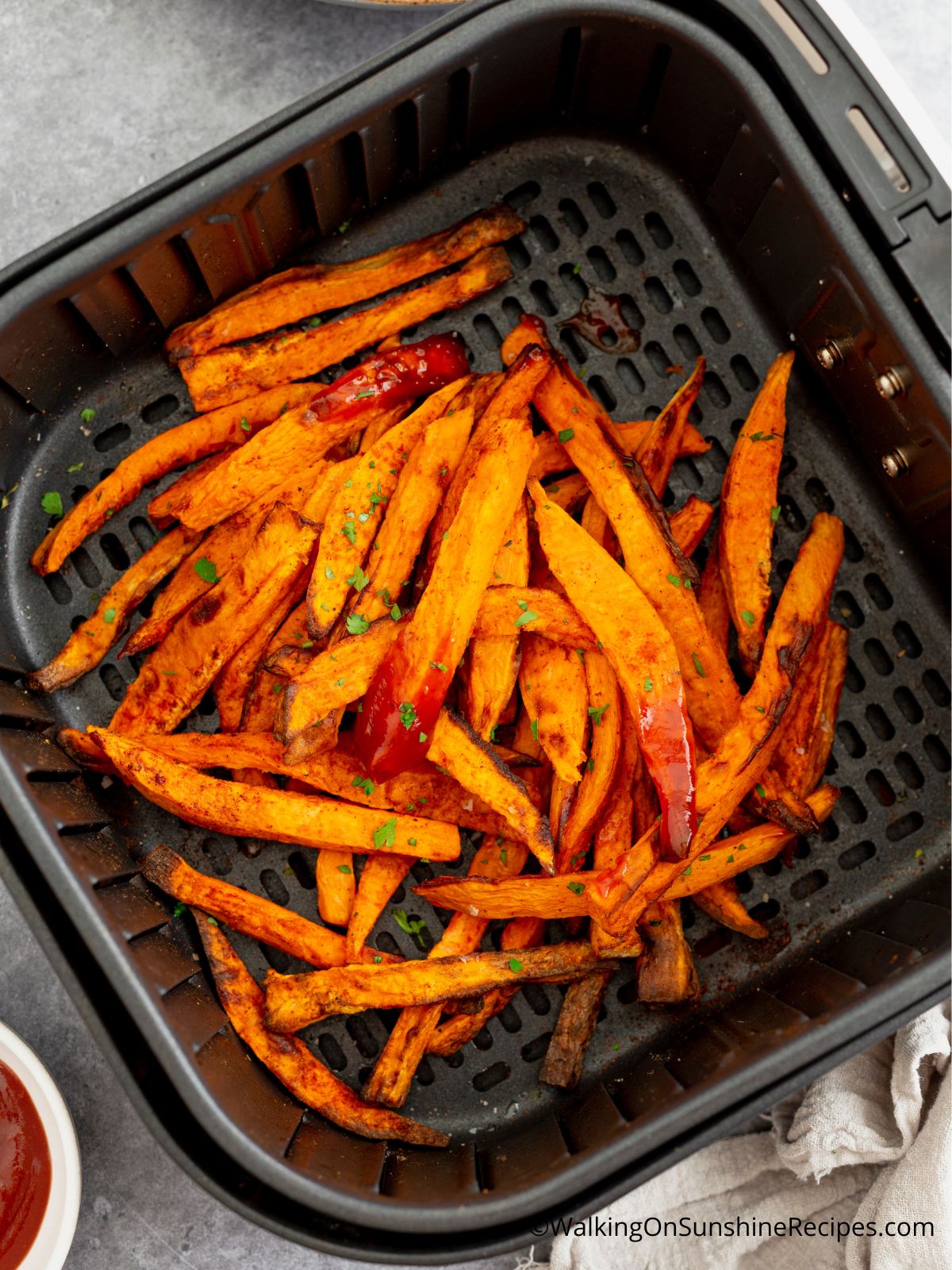 💭Serving Tips
Serve these sweet potato fries with ketchup, barbecue sauce, or ranch dressing. For a heartier meal, pair sweet potato fries with grilled chicken kabobs or fish. Serve them alongside a salad or coleslaw for a complete meal. No matter how you serve them, sweet potato fries are sure to be a hit!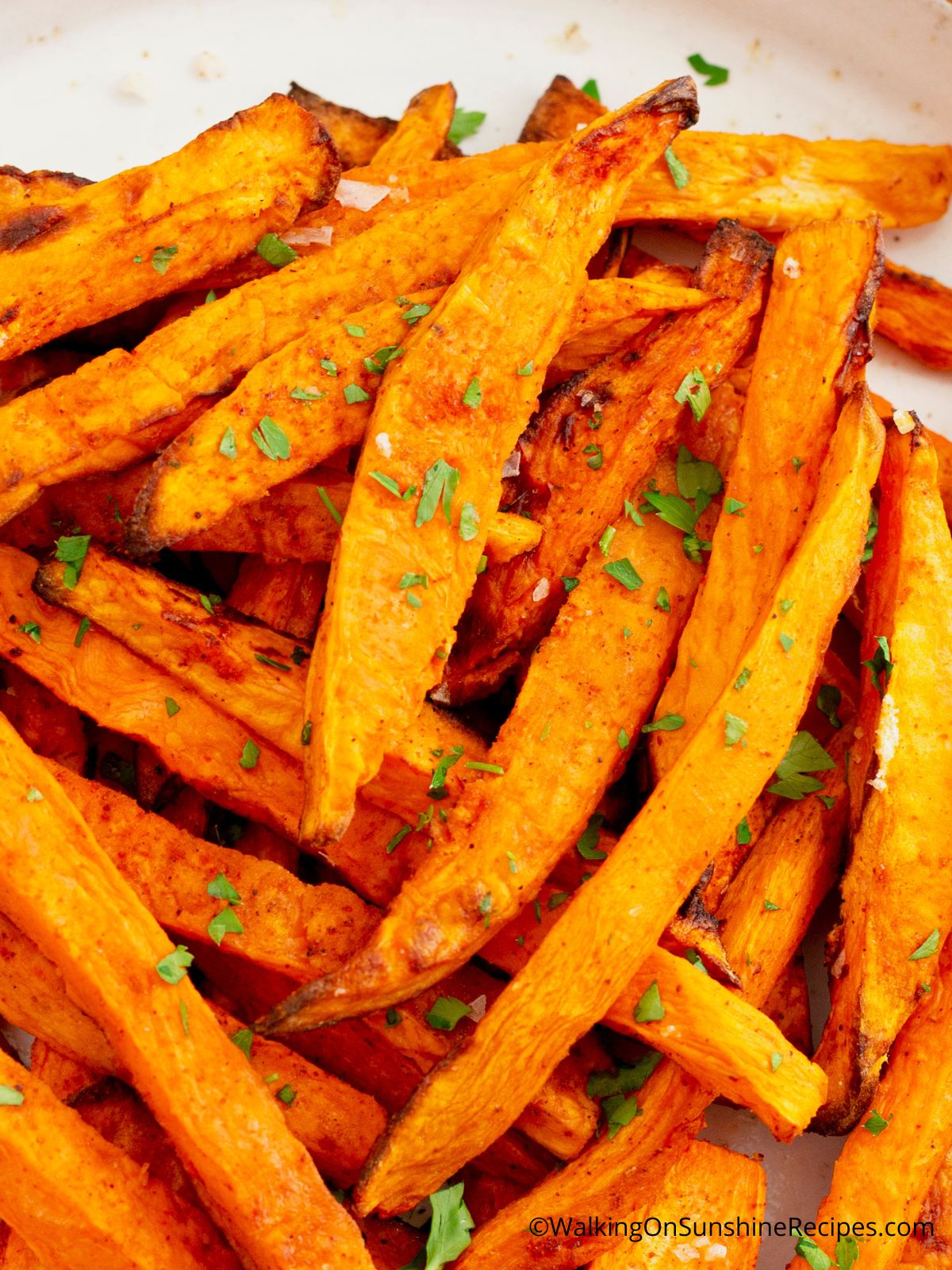 ⭐Before You Begin! If you make this recipe, please leave a review and star rating. This helps my business thrive and continue providing FREE recipes.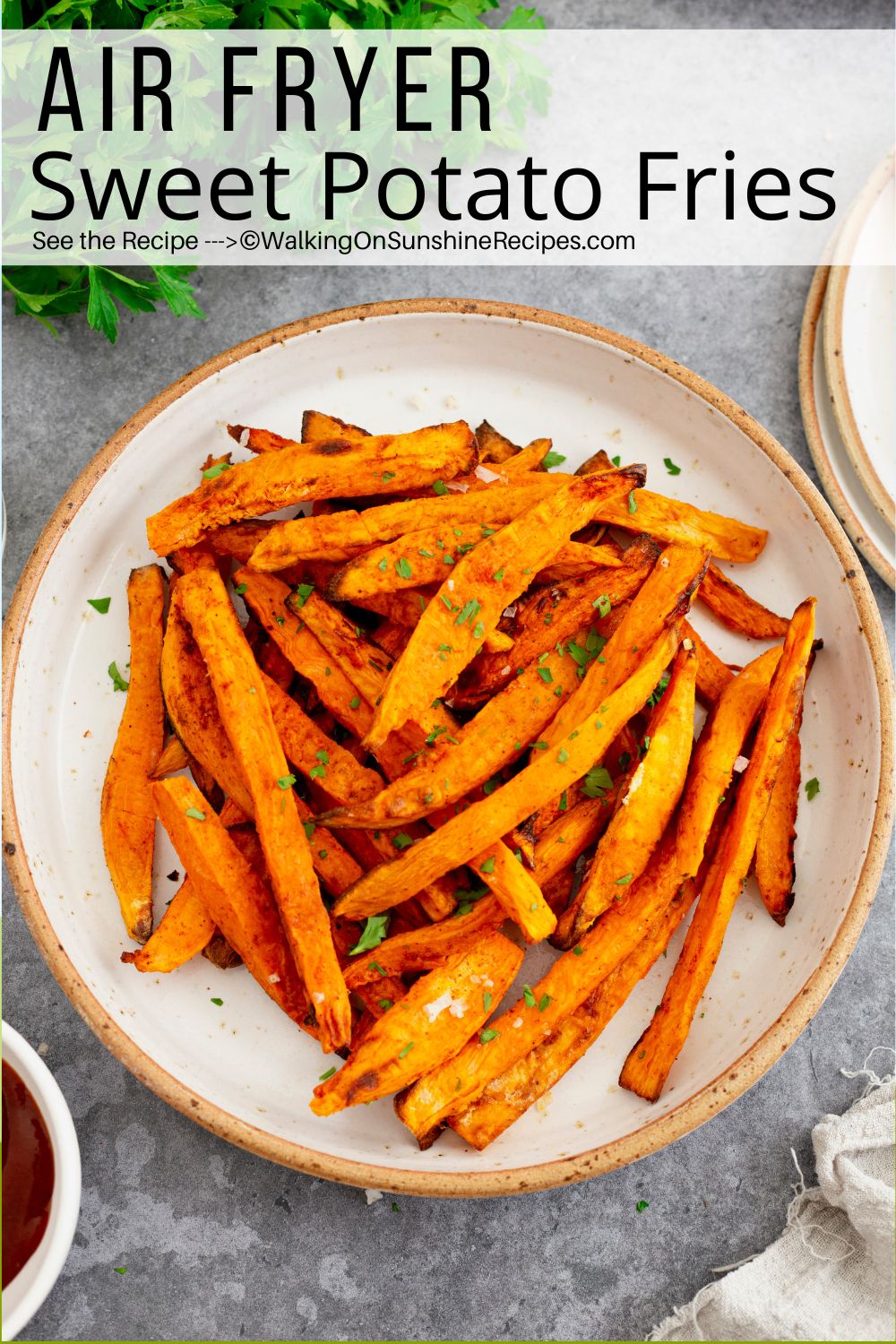 💭Storage Tips
If you do have leftovers, store them in an air tight bag or container.
You can reheat them in the air fryer for 3 - 5 minutes.
💭Top Recipe Tip
Season the fries with salt befroe air frying but then add more salt after they've finished cooking. The fries will soak up the salt while cooking, so you will definitely need to add a little big more right before serving.
💭Recipe Variations
Try a different vegetable and make my Air Fryer Zucchini Sticks recipe!
Yield: 3 servings
Sweet Potato Fries in the Air Fryer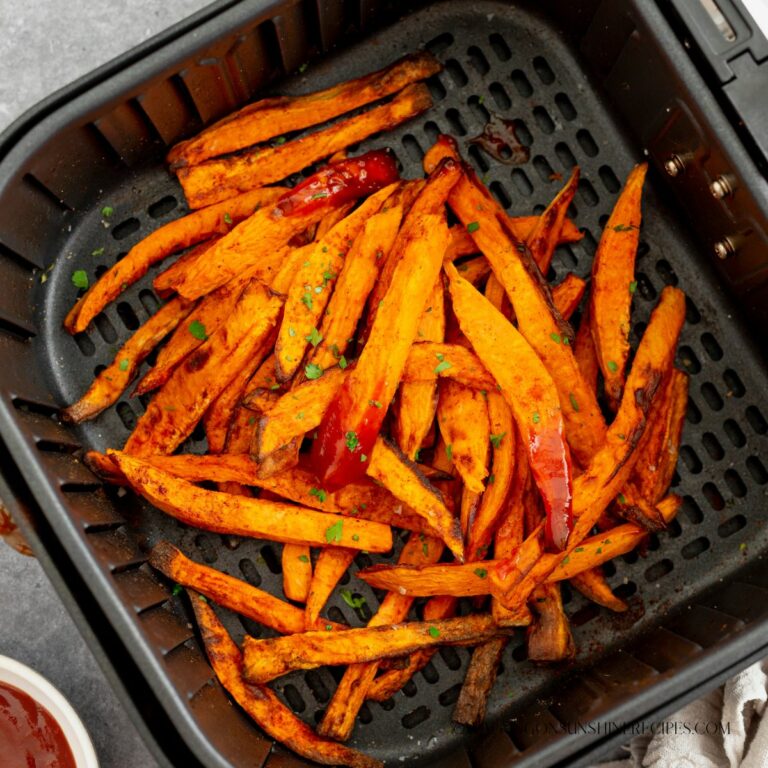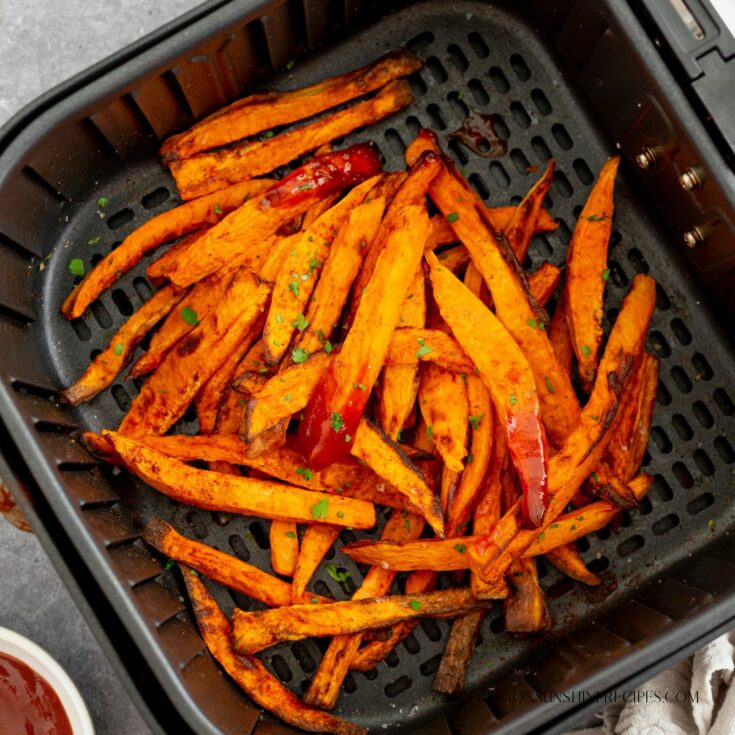 Crispy, golden-brown Sweet Potato Fries in Air Fryer are cooked to perfection with minimal oil, making them a guilt-free treat.
Ingredients
2 large sweet potatoes, washed and scrubbed
1 - 2 tablespoons of vegetable oil
1 teaspoon onion powder
1 teaspoon sweet paprika
2 teaspoons salt
1 teaspoon black pepper
Instructions
Preheat air fryer to 375°F according to manufacturer's instructions.
Cut the potatoes in ¼ inch wide strips and then each strip into ¼ inch wide strips.
Add the potatoes to a large plastic bag and then add the vegetable oil, and seasoning mixes.
Remove the potatoes and add them to the basket of the preheated air fryer.
Bake for 15 - 20 minutes shaking the basket halfway through to ensure even frying.
The fries should be crispy and cooked through. If you want them a little crispier, continue to bake for another minute or two.
Nutrition Information:
Yield:
3
Serving Size:
1
Amount Per Serving:
Calories:

195
Total Fat:

9g
Saturated Fat:

1g
Trans Fat:

0g
Unsaturated Fat:

8g
Cholesterol:

0mg
Sodium:

1454mg
Carbohydrates:

26g
Fiber:

5g
Sugar:

8g
Protein:

3g
The nutrition information is calculated automatically. I cannot guarantee its accuracy. If this data is important to you, please verify with your trusted nutrition calculator.