Gather family and friends for a special holiday celebration! Show off your culinary creativity with a delicious array of holiday party food to share and enjoy.
From festive mini quiches to savory potato skins, you'll find the perfect appetizers to tantalize everyone's taste buds. Top off your spread with sweet treats and other goodies that will have your guests in the holiday spirit!
Check out all the other Christmas Snacks you can prepare for your family over the holidays.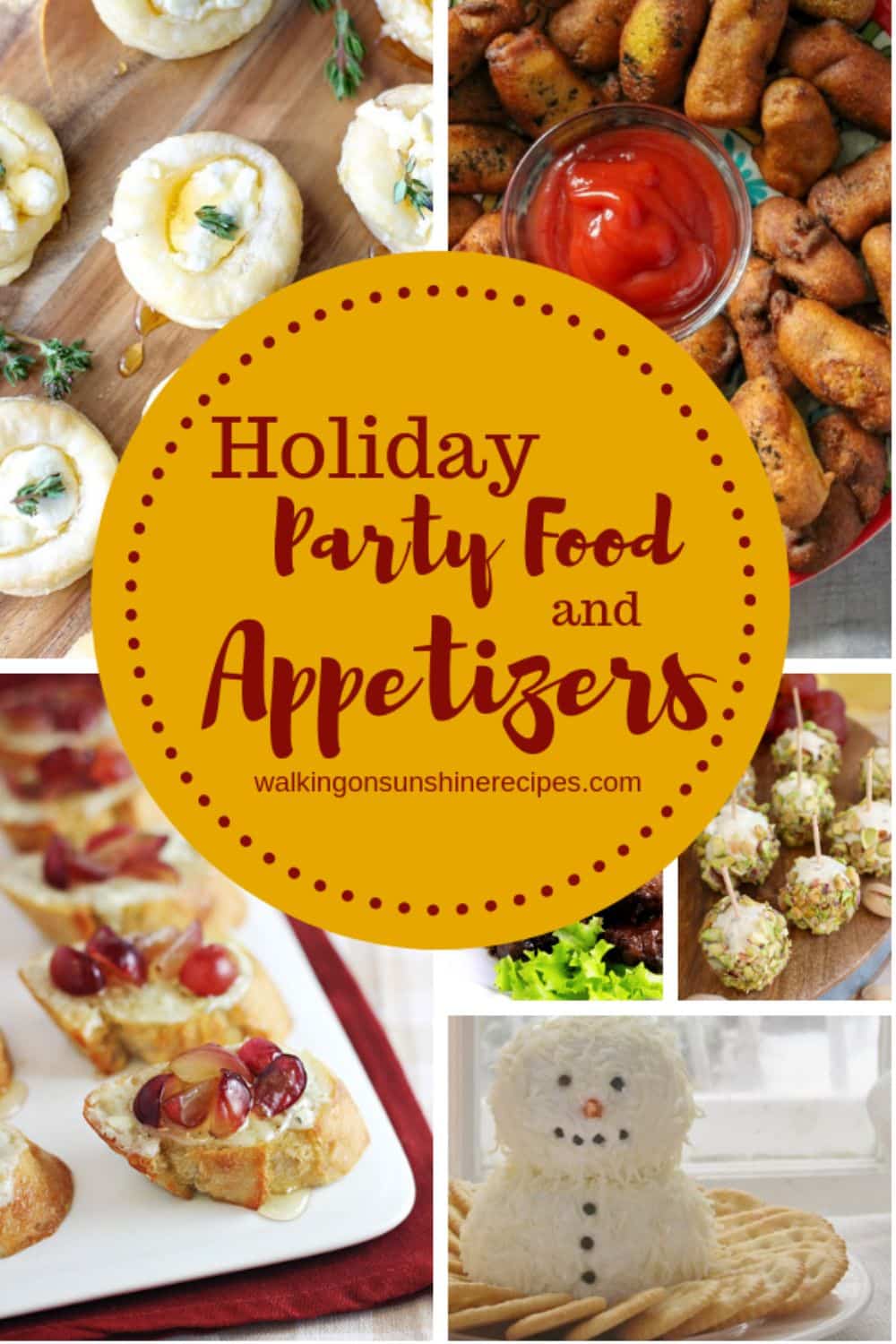 Do you love appetizers more than the main meal when you're entertaining? I sure do! My husband and I love to watch movies and enjoy a meal out of just appetizers around the holidays.
Today I'm sharing with you a collection of holiday inspired recipes that are perfect to serve for any celebration.
Preparing for a holiday party with family and friends can be both exciting and overwhelming. But you'll see from the list of recipes shared below that the food will at least be delicious!
When you're planning for your party, try to include a few festive activities like singing your favorite Christmas carols and songs from a Christmas playlist or playing a few games to keep the atmosphere fun.
Looking for more Easy Appetizer Recipes? Try my Mini Puff Pastry Appetizers or my Italian Puff Pastry Appetizers
Table of Contents
💭Holiday appetizers for parties 
Holiday parties are the perfect time to show off your culinary creativity with an array of delicious appetizers! Start your party off right with mini quiches, air fryer mini ravioli, and stuffed mushrooms that are sure to impress.
Make sure you check out our post on how to create the perfect charcuterie board. It includes tips and ideas on the best way to put one together for your holiday party.
If you're looking for something sweeter, try my recipe for Easy Italian Christmas Cookies festive or peppermint truffles that will have everyone in the holiday spirit. Whatever you choose to serve, you'll be sure to create a delicious spread that everyone can enjoy!
💭What to take to a holiday party?
If you're invited a to a holiday party, what should you bring? Consider bringing something special that reflects the festive spirit of the season.
A plate of holiday cookies decorated with festive colors and shapes are always welcomed to any party. Put together a charcuterie board featuring seasonal flavors.
Or try your hand at preparing a few fancy sandwiches like my cucumber tea sandwiches. Use Christmas cookie cutters to make cute shapes out of cheese and ham sandwiches!
Try to call ahead to your host a few hours before arriving to see if you can pick something up that maybe she forgot to purchase for the party. No matter what you choose, your hosts are sure to appreciate the gesture!
🛒Helpful Kitchen Tools
Cheese Board and Knife Set, Charcuterie Board
Cheese Boards: 1000 Days of Sweet & Savory Cheese Board Recipes to Amaze Family & Friends At Every Occasion
Holiday Plates with Colorful Christmas Tree
Home for Christmas Plates
📋Featured Recipe Collection
Holiday Party Food and Appetizers
The best part of the holidays is enjoying party food and appetizers when family and friends come to visit. Here's a delicious collection of appetizers that your family is going to love!
This recipe has been updated since it first appeared in 2018with new information and recipes. I hope you enjoy the updates as much as I enjoyed working on them!