Air Fryer Mini Ravioli Appetizer - mini cheese ravioli air fried and served with your favorite marinara sauce is ready in 15 minutes! These bite-sized air fryer appetizers are coated in seasoned breadcrumbs and then sprinkled with Parmesan cheese.
Let me show you how to make this easy to serve appetizer. Grab the FREE Air Fryer Cooking Times printable available for you too!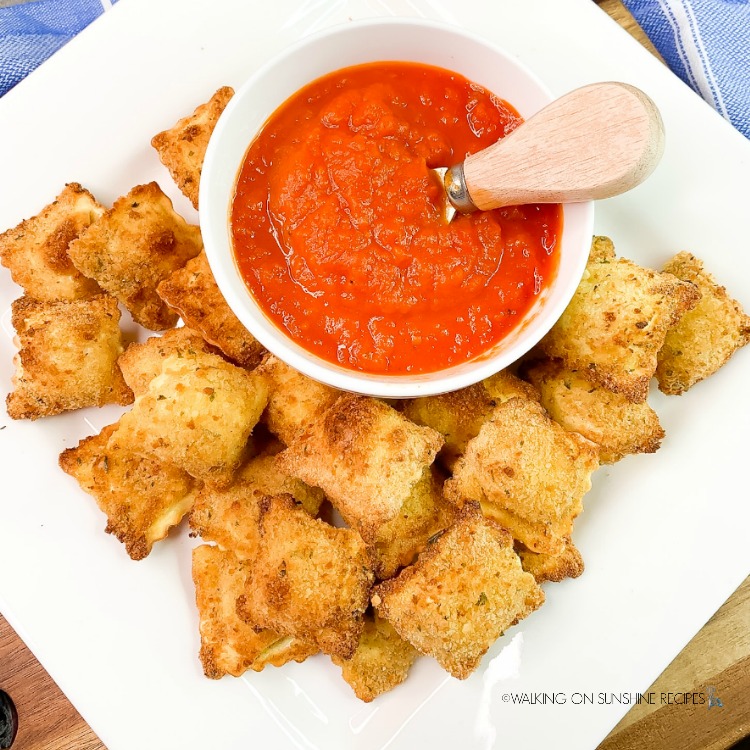 It doesn't get any easier than opening a package of frozen mini ravioli, heating up the air fryer and in just under 15 minutes you have an easy snack or first course ready to serve.
The best part about these air fryer mini ravioli appetizers is they're not fried in oil, yet they're perfectly crispy, just like my Air Fryer Wontons,
They're a healthy version of a popular restaurant-style first course. These are crispy on the outside but creamy, cheesy on the inside!
Serve these crispy bite-sized ravioli with homemade marinara sauce. They are sure to be a hit at your next family gathering.
Air Fryer Appetizers
This is another air fryer appetizer like Air Fryer BBQ Chicken that's sure to become a family favorite.
All of these recipes are great for serving when family and friends come to visit. Or maybe you want to celebrate a holiday with a spread of appetizers and a fun cheese board.
You can even use the air fryer to make a family favorite side dish like Air Fryer Twice Baked Potatoes.
Don't forget dessert! You can make Air Fryer S'mores fast in the air fryer. The perfect way to make s'mores without a campfire.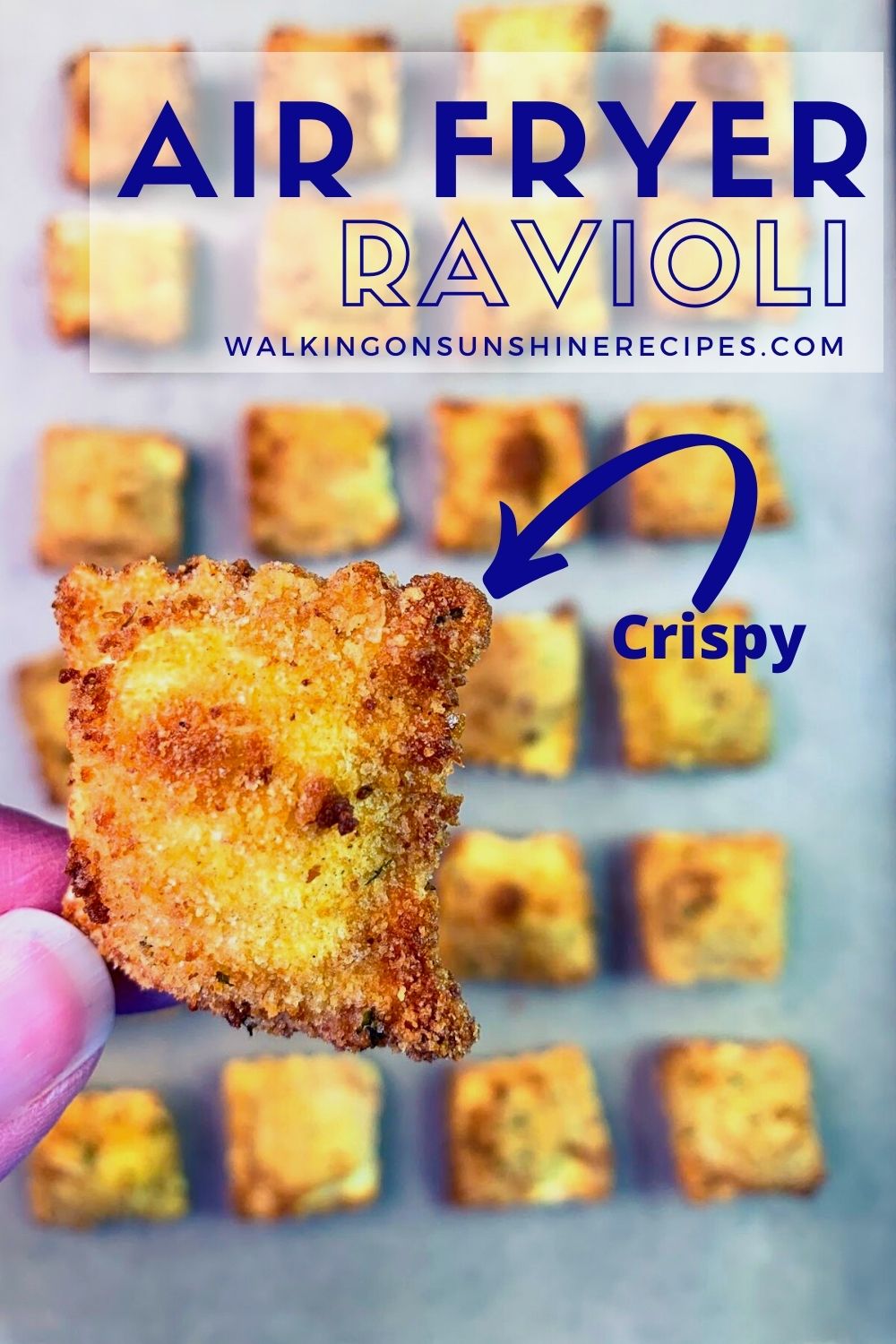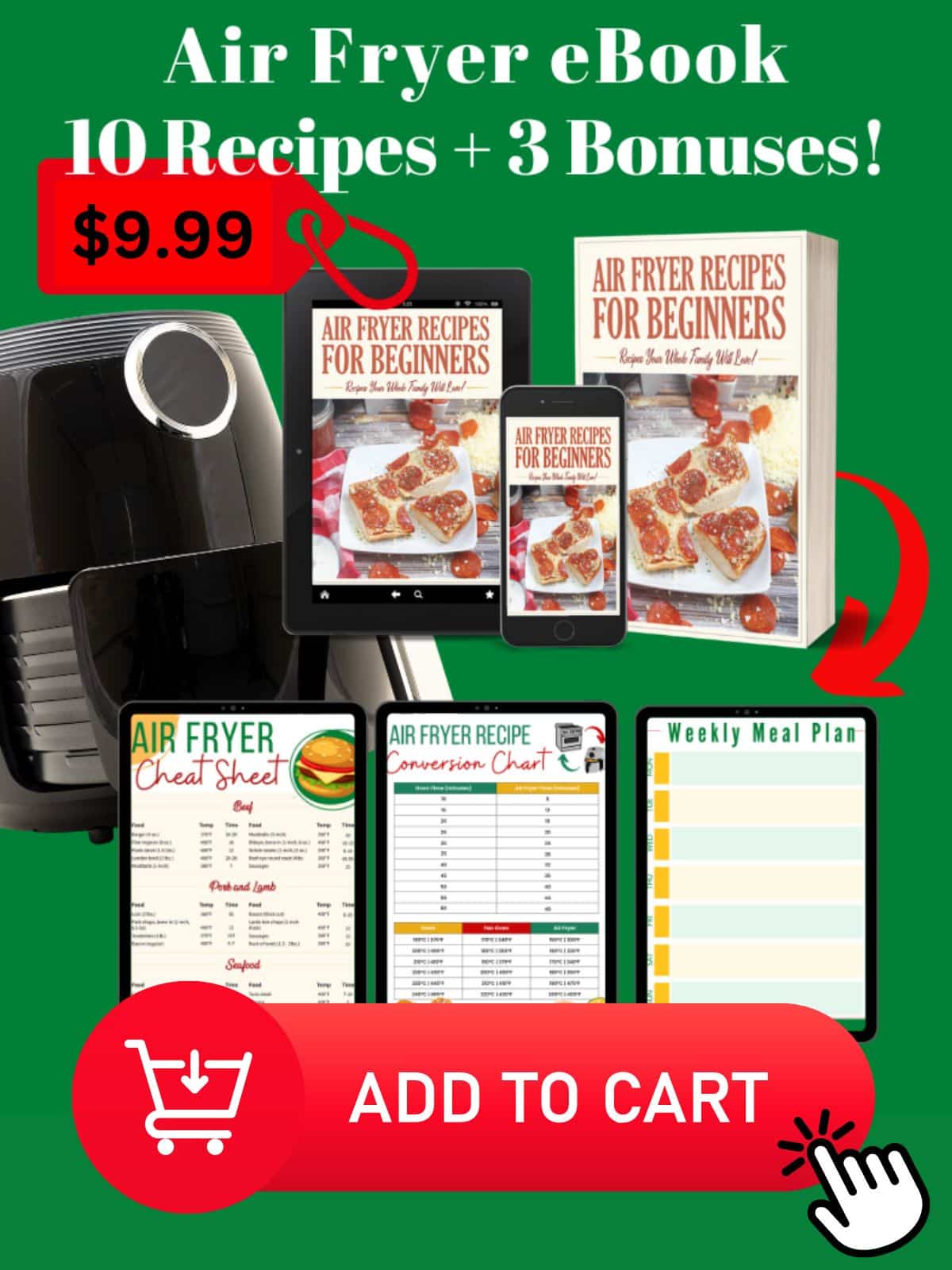 Helpful Kitchen Tools
This post contains affiliate links. That means that if you make a purchase after clicking on a link I may earn a small commission at no extra cost to you. For more information, click here.
Hamilton Beach 2.6 Quart Digital AirMore Information
Air Fryer Cookbook for Beginners: 800More Information
Sweese 733.101 3 Tiered Serving StandMore Information
Porcelain Serving Platters Rectangular Trays WhiteMore Information
Reynolds Kitchens Non-Stick Baking Parchment PaperMore Information
Main Ingredients Needed
This is an overview of the ingredients and instructions. Be sure to see the recipe card below for exact quantities, detailed instructions and special notes.
Mini ravioli - I used 24 for this recipe. Allow them to sit out on a baking tray lined with parchment paper for about 30 minutes for them to defrost.
Breadcrumbs - you can use unseasoned or seasoned. I used seasoned breadcrumbs.
Eggs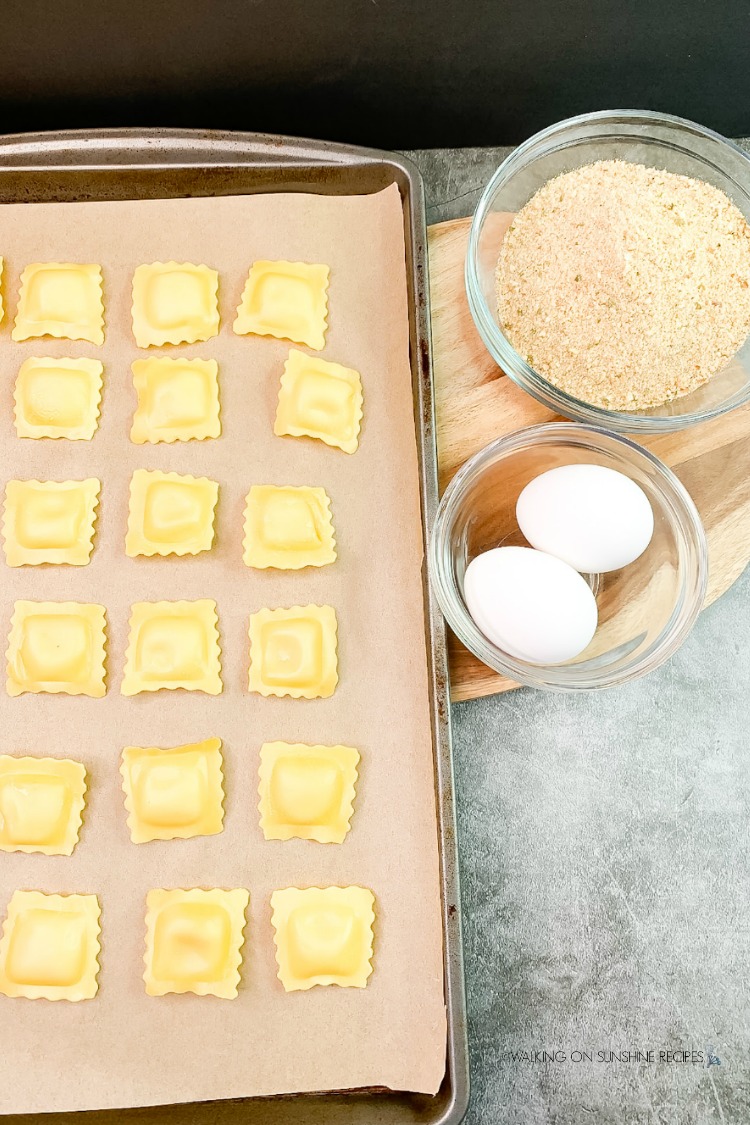 Step-by-Step Directions
Beat the eggs in a flat dish.
Add the seasoned breadcrumbs to another flat dish.
I like to use my 9X13 glass baking dishes for this recipe.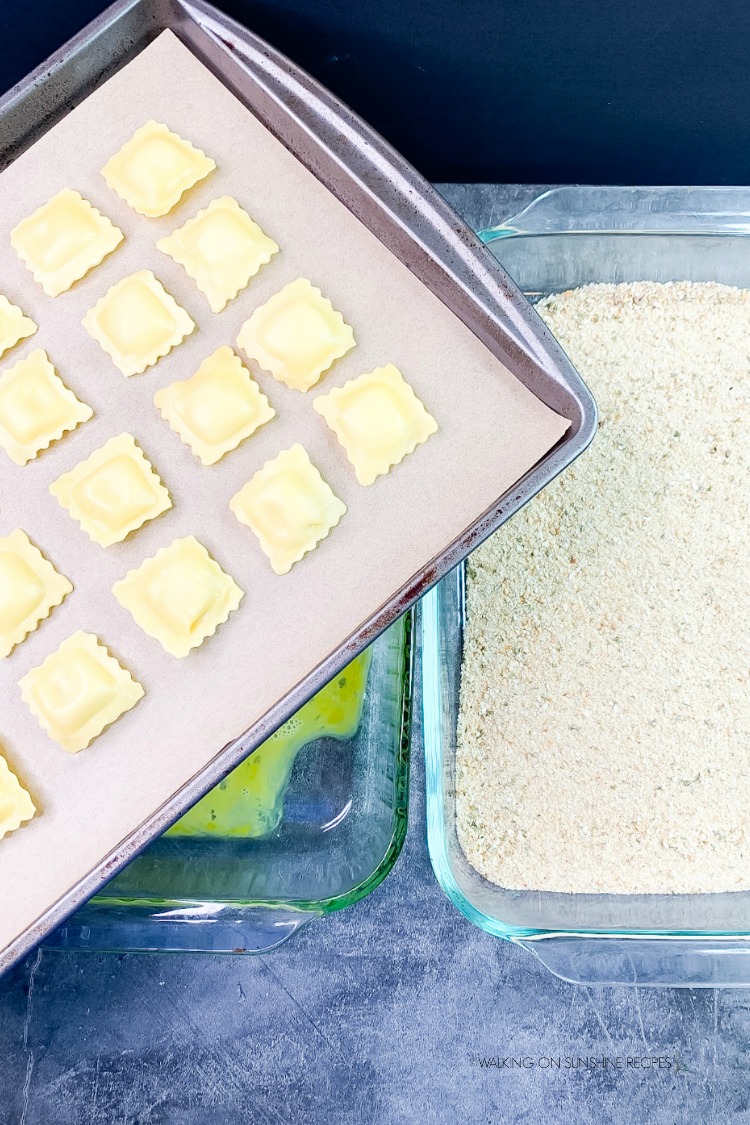 Add the ravioli to the egg mixture and then add them to the breadcrumb mixture.
Make sure they're covered in the breadcrumbs.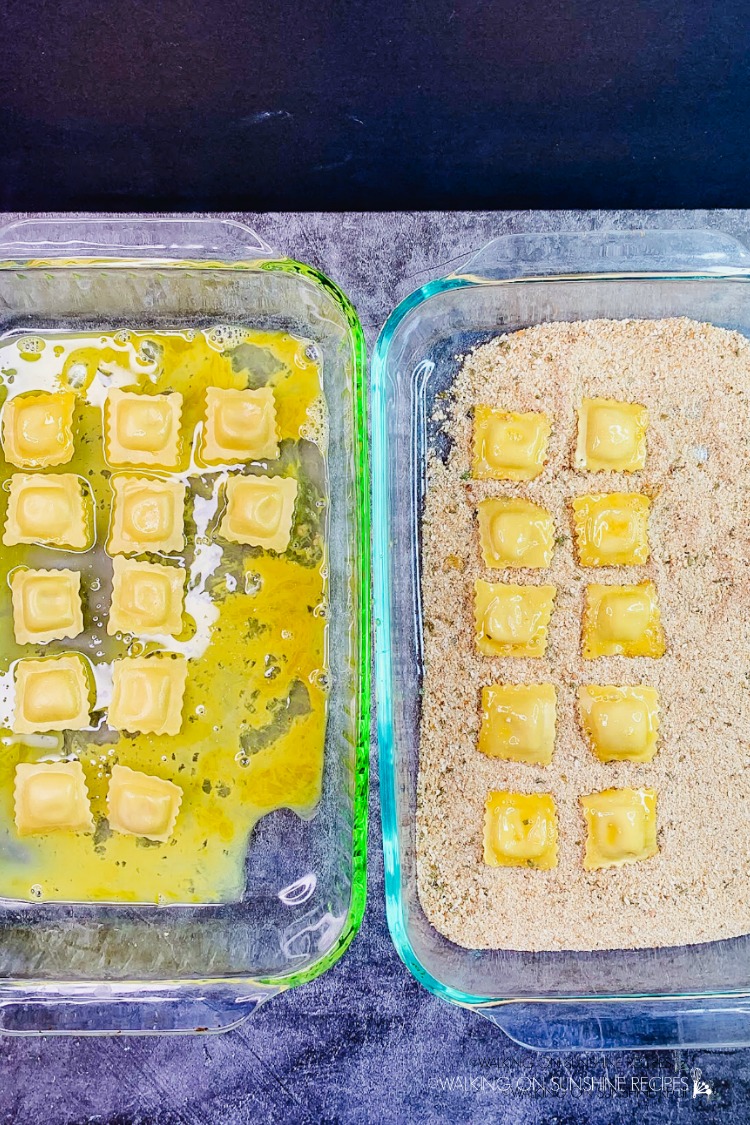 Prep-Ahead Air Fryer Appetizers
If you need to prep-ahead for company, you can prepare the mini ravioli up to this step and then refrigerate them. Cover with plastic wrap until you're ready to start baking them.
You can also "flash-freeze" them at this point too. Place the baking tray in the freezer for about 20 to 30 minutes. Once the ravioli are frozen, you can remove from the tray and place in freezer-safe containers or plastic bags.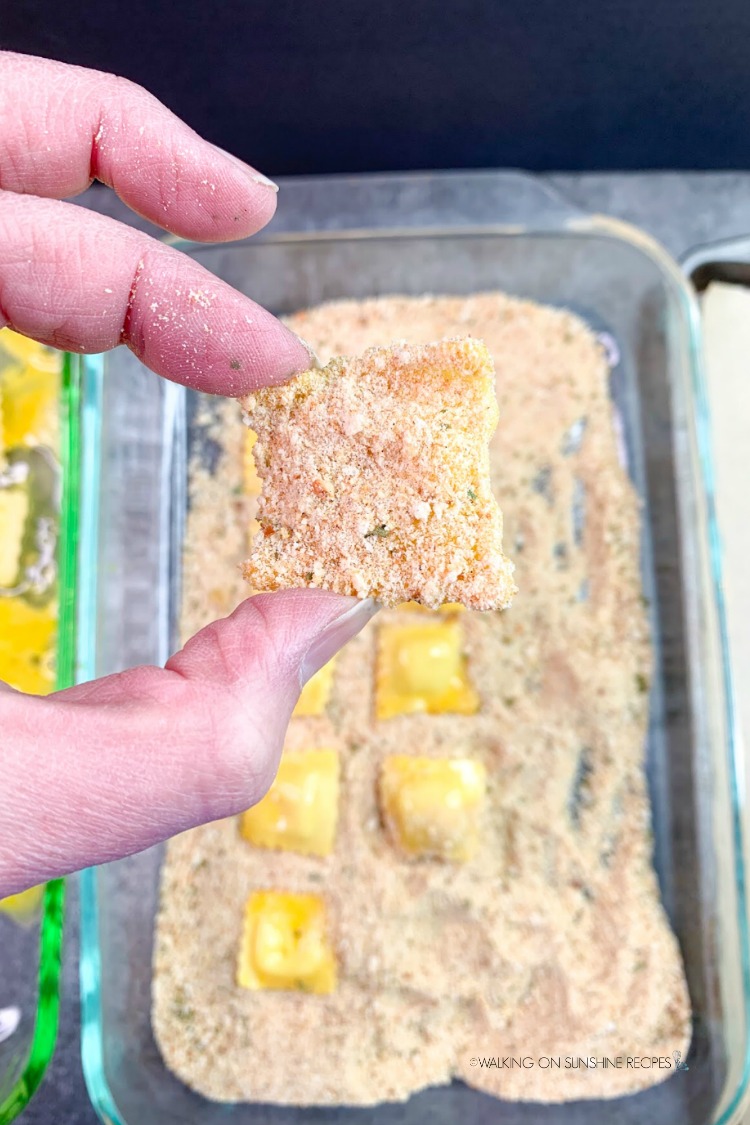 Here's a tray of breaded mini ravioli ready to go into the air fryer.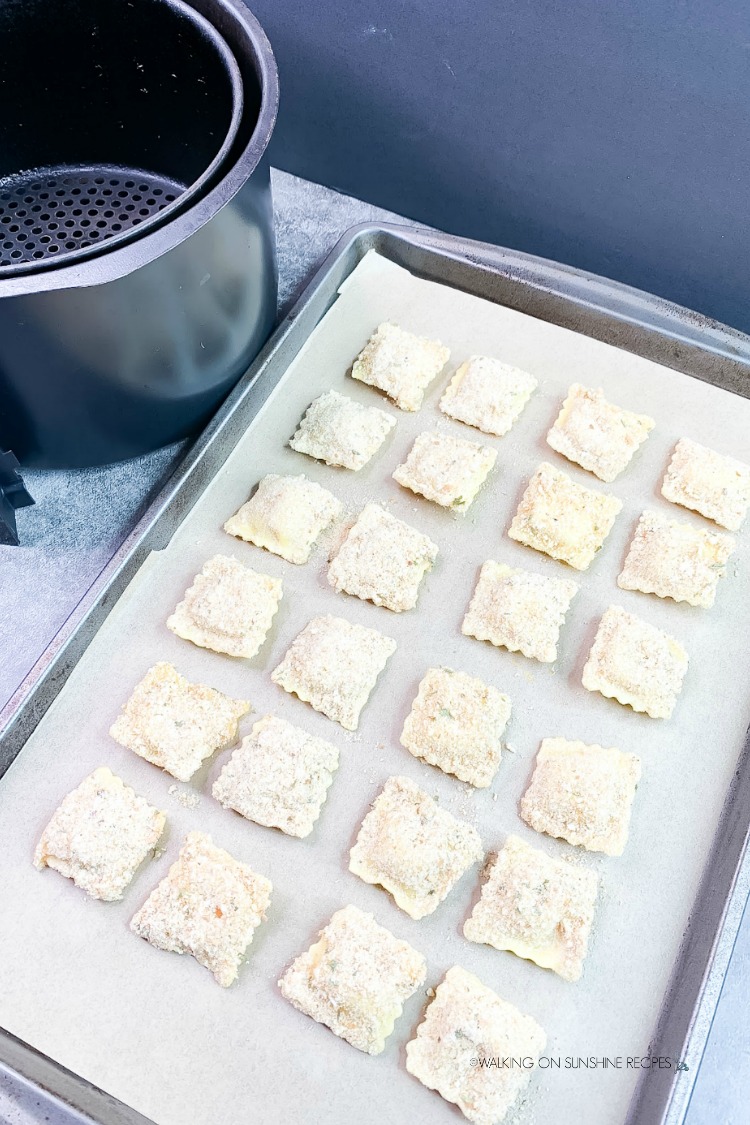 Air Fryer Intstructions
Preheat the air fryer to 350 degrees.
Then add the ravioli in a single layer to the basket of the air fryer that's been sprayed with non-stick cooking spray.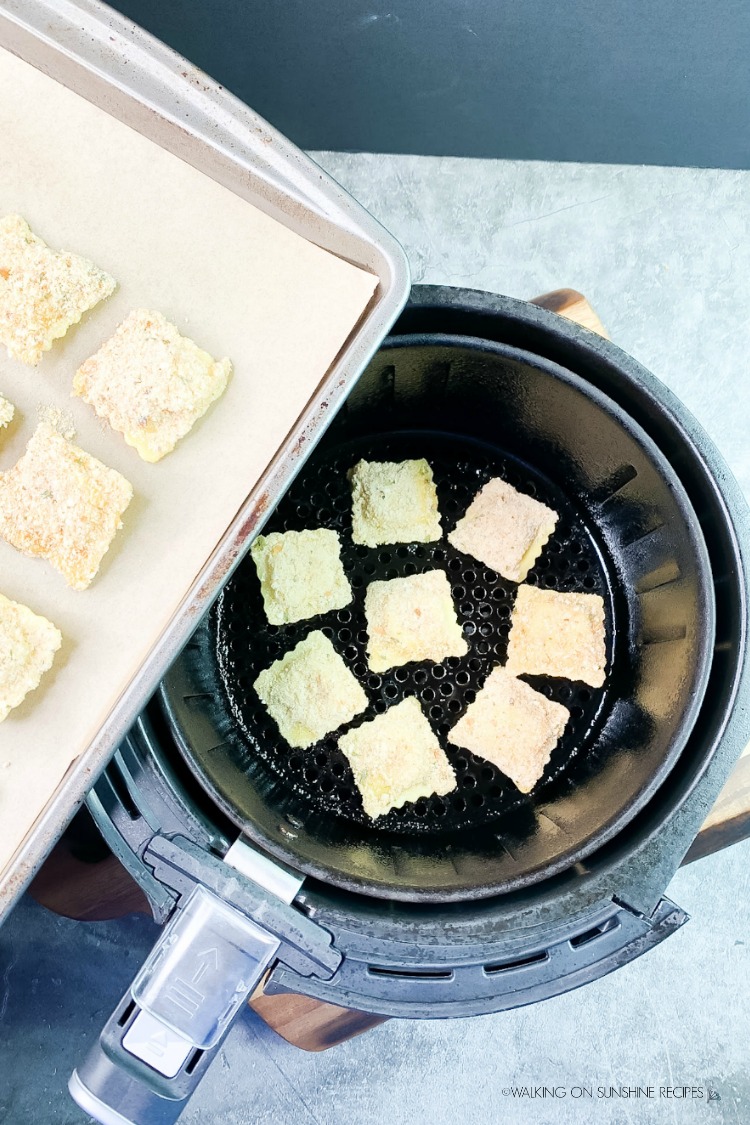 Check them after about 5 minutes of cooking. You may need to flip the ravioli if they're not being cooked evenly.
Total cooking time for my air fryer and this recipe was 9 minutes. Remember, your air fryer might cook faster or slower, so definitely check after 5 minutes.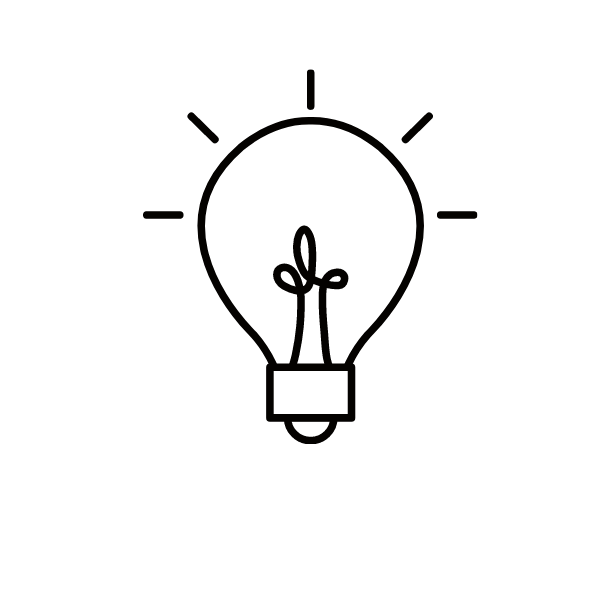 Cooking Tip: I like to spritz the breaded ravioli to help keep them from drying out. Make sure you spritz them again when you flip them!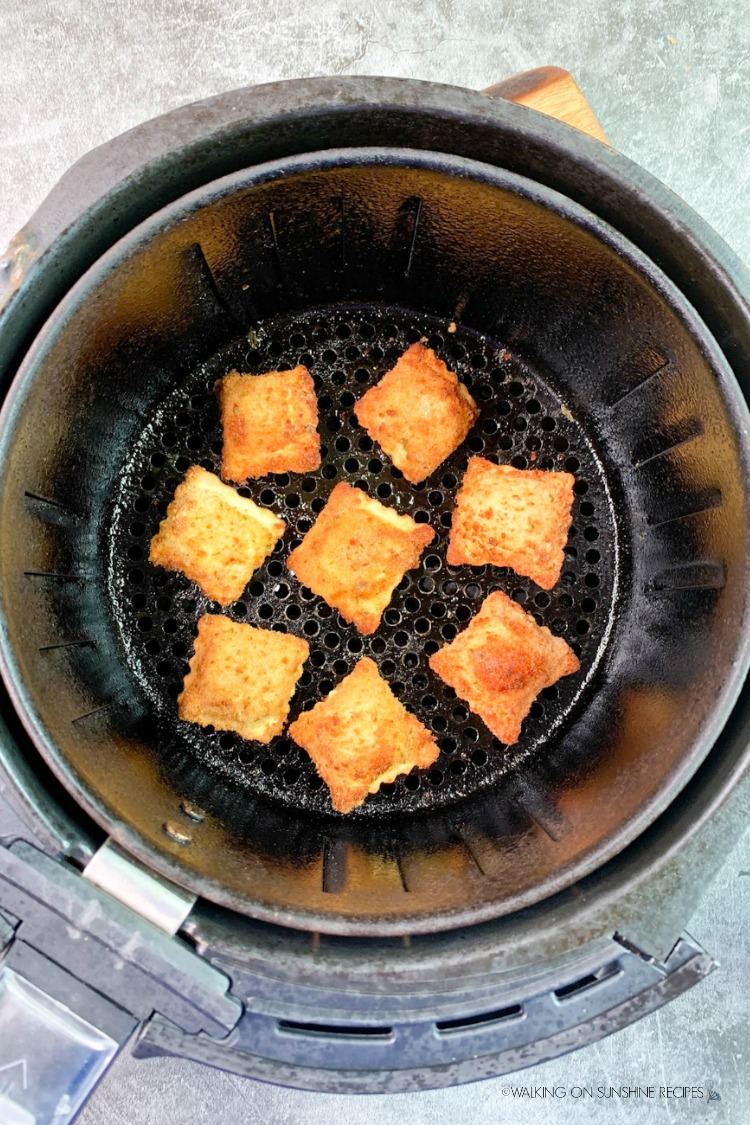 Look how crispy the mini ravioli are. Don't they look good?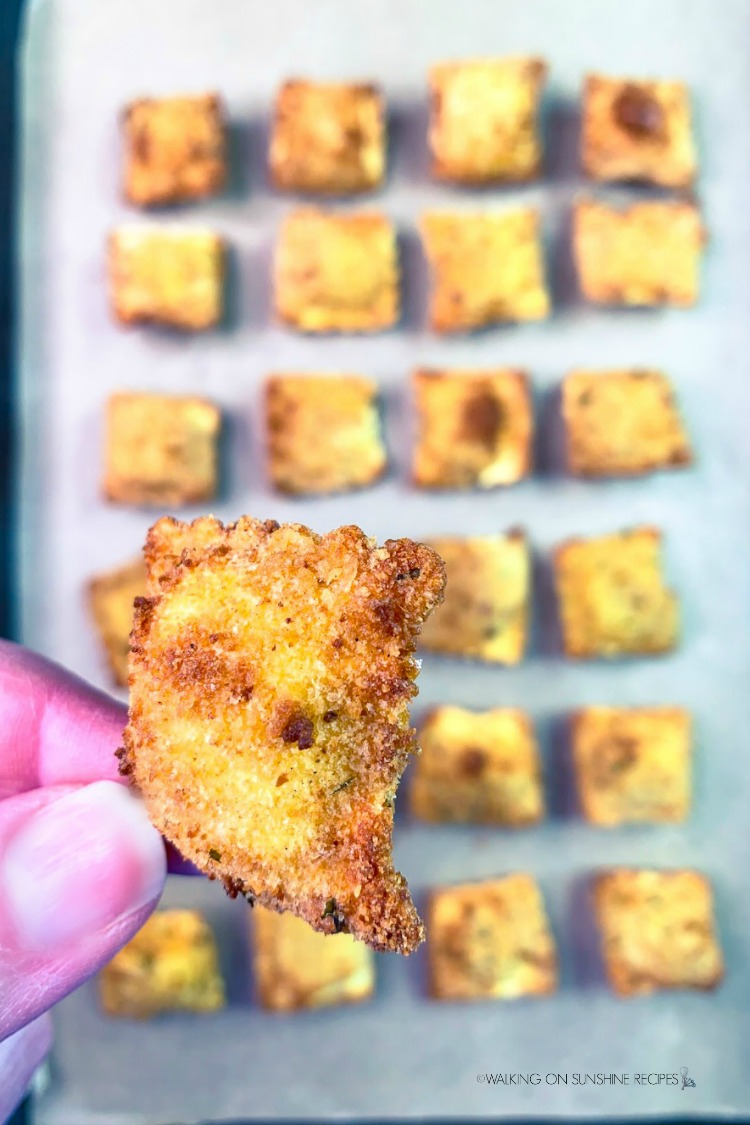 Frequently Asked Recipe Questions
What is an air fryer?
Air Fryers, simply put, are compact convection ovens. They circulate hot air around a basket that holds your food. It's an easy-to-use counter top appliance that produces crispy food quickly with less fat than a deep fryer. 
Can you cook raw foods in an air fryer?
Yes, you can cook raw food and even frozen food in the air fryer.
Can you open air fryer while cooking?
Yes! You should definitely check halfway through the cooking time to see if the foods need to be flipped to make sure they're getting crisp evenly on both sides. You can also open the air fryer to check to see the food is done. Remember, cooking times vary all the time.

Ready for more great recipes? Try these other Air Fryer Appetizers:
⭐Before You Begin! If you make this recipe, please leave a review and star rating. This helps my business thrive and continue providing FREE recipes.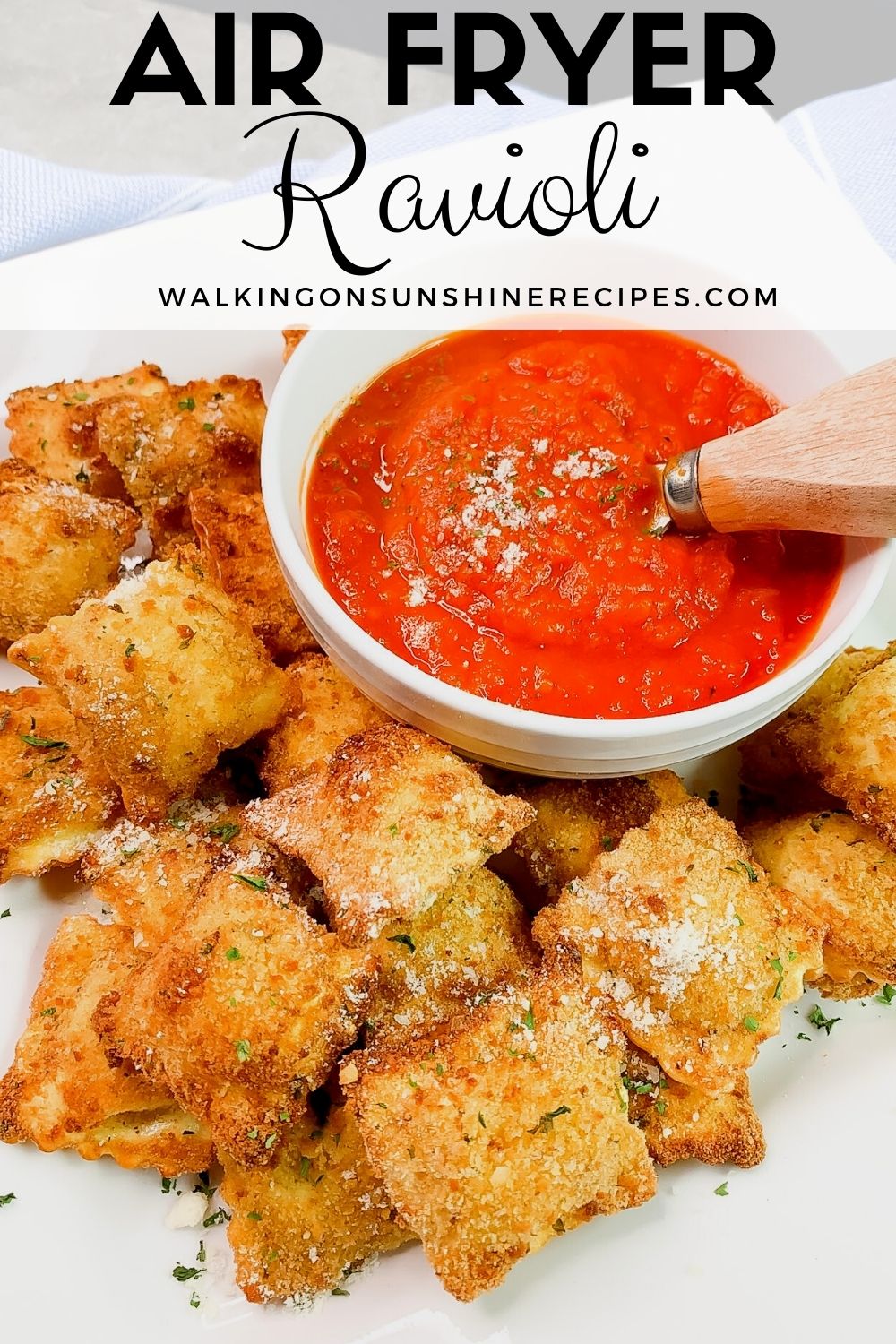 Yield: 24 mini ravioli
Air Fryer Ravioli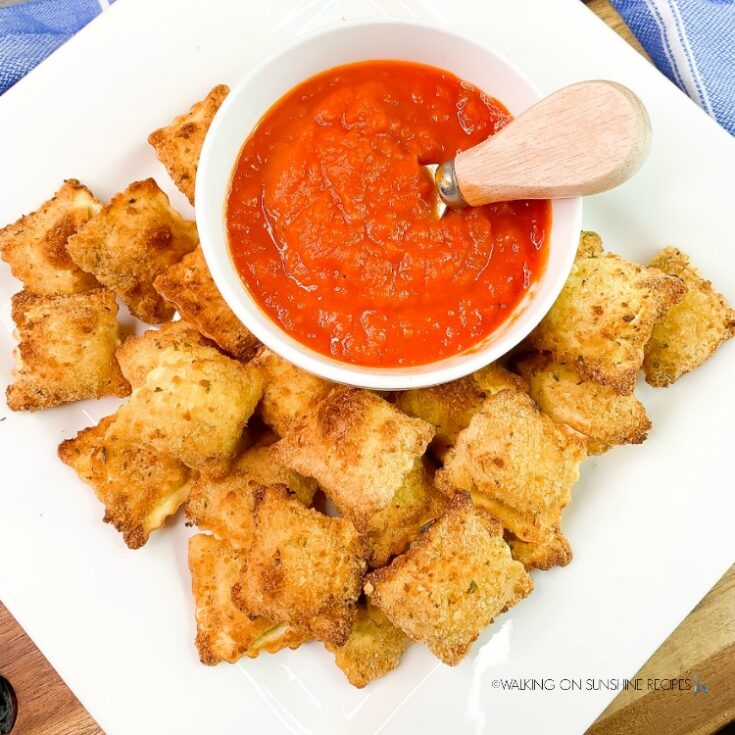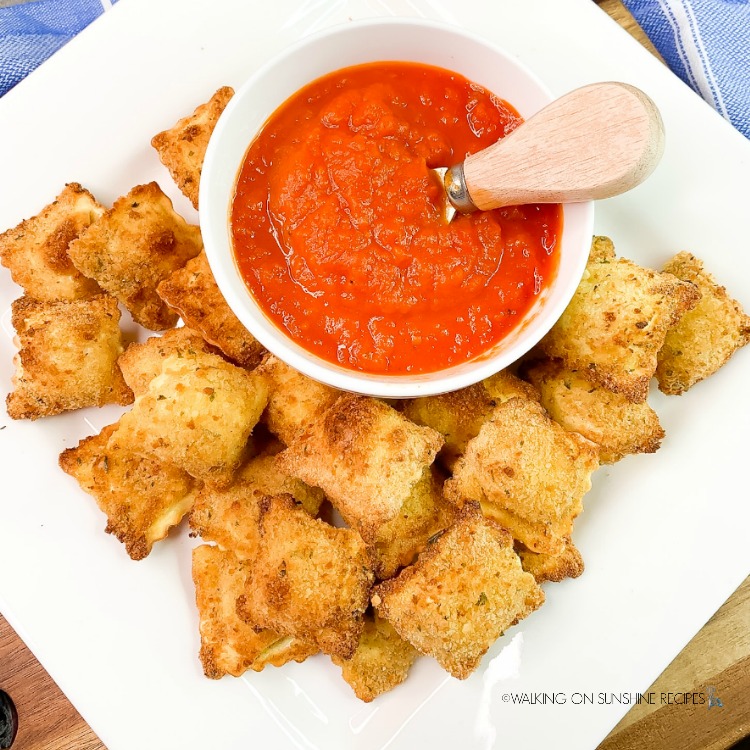 Air Fryer Ravioli – mini cheese ravioli air fried and served with your favorite marinara sauce is ready in 15 minutes!
Ingredients
24 mini cheese ravioli; defrosted - see note below.
1 cup seasoned breadcrumbs
2 eggs
Instructions
Preheat the air fryer to 350 degrees.
Beat the eggs in a shallow dish and add the breadcrumbs to another shallow dish.
Dip the ravioli in the beaten eggs and then in the breadcrumbs.
In batches, arrange the ravioli in the basket of the air fryer that's been sprayed with non-stick cooking spray.
Cook for about 3 to 4 minutes or until golden brown. Flip the ravioli and spray the bottom side with cooking spray. Continue to cook for another 4 to 5 minutes or until that side is also golden brown.
Serve immediately with Parmesan cheese and marinara sauce
Notes
To Defrost the Frozen Ravioli:
Remove the desired number of ravioli you want to cook from the package and place on a baking tray that's been lined with parchment paper. Allow them to defrost for about 30 minutes.
Recommended Products
As an Amazon Associate and member of other affiliate programs, I earn from qualifying purchases.
Nutrition Information:
Yield:
24
Serving Size:
1
Amount Per Serving:
Calories:

66
Total Fat:

2g
Saturated Fat:

1g
Trans Fat:

0g
Unsaturated Fat:

1g
Cholesterol:

21mg
Sodium:

133mg
Carbohydrates:

8g
Fiber:

1g
Sugar:

0g
Protein:

3g
The nutrition information is calculated automatically. I cannot guarantee its accuracy. If this data is important to you, please verify with your trusted nutrition calculator.