My family, especially my Colonel, loves granola. For a few years I had stopped purchasing it because of the price…it's quite expensive. And then I started blogging and found a great EASY recipe that I love to make.
Homemade Granola…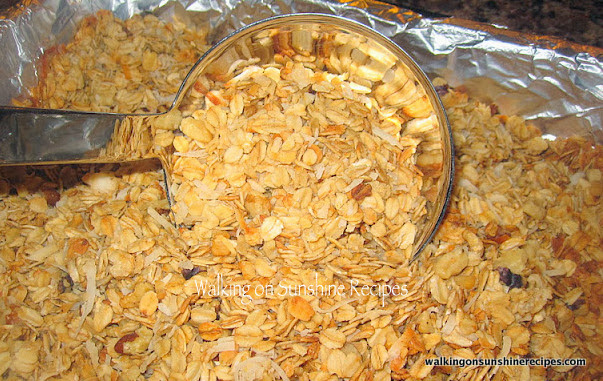 Homemade Granola
3 cups oats
1/2 cup nuts
1/2 cup coconut
mini chocolate chips, dried fruit, sunflower seeds
1/4 cup oil
1/4 cup honey
1/6 cup water (which is 2 TBS plus 2 tsps.)
1 tsp. vanilla
Directions:
In a small bowl, combine the wet ingredients and set aside.
In a large bowl, combine the oats, nuts and coconut.
Add the wet ingredients to the dry ingredients and stir to combine.
Place the entire mixture on a large baking sheet that has been lined with foil and sprayed or you can use parchment paper.
Bake in a 350 degree oven for 10 minutes.
Remove the pan from the oven and stir the granola.
Then return the pan to the oven and bake for another 5 minutes.
Take the pan out and stir again.
You will keep doing this until the granola is nice and brown.
Set your timer! Because, you could forget and end up with a huge mess on your hands.
NOT that that's ever happened to me!
Combine the wet ingredients and add to the oats, nuts and coconut mixture…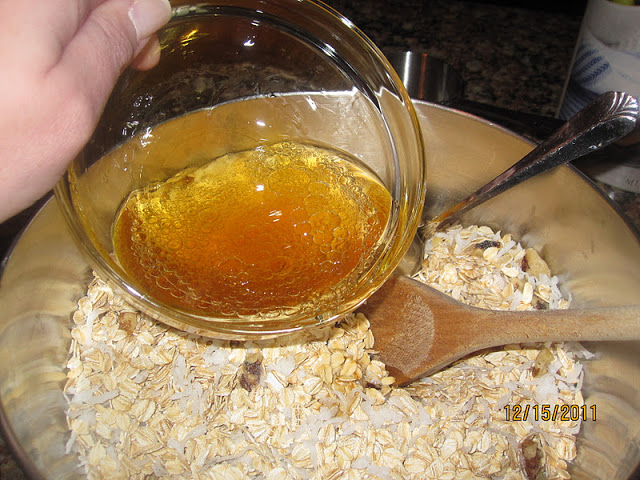 Bake at 350 for TEN minutes. Then take the pan out of the oven and stir the mixture. Return the pan to the oven and continue to bake, stirring every 5 minutes until the granola is browned.
Baking time for our granola was a total of 30 minutes…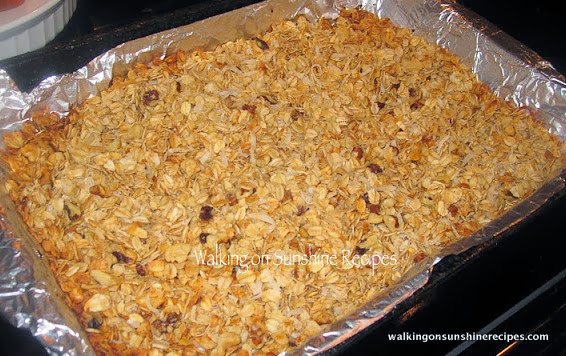 Let your granola continue to "dry" out in the pan on the counter. After it has dried and cooled down, you can add dried fruit, sunflower seeds, mini chocolate chips…whatever you want. Store in in an air-tight container. I usually keep ours in the refrigerator, but it's fine also in a cabinet…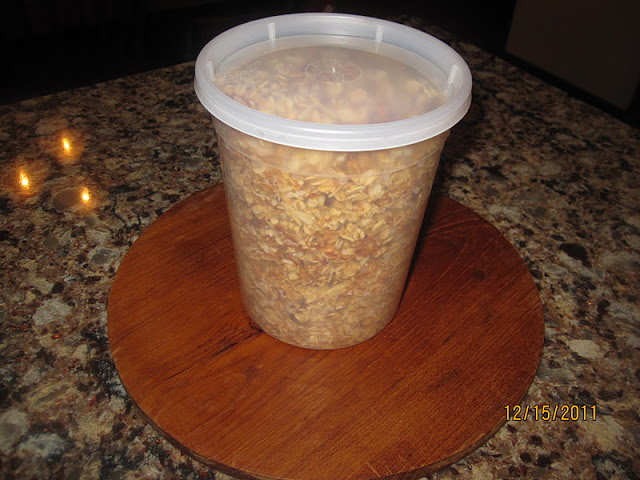 YUMMY TIP:
A great way to enjoy this granola is to warm up some applesauce in the microwave
and add a few tablespoons of homemade granola and enjoy a nice warm treat!
Enjoy your day!