How to freeze ground beef along with tips for browning and defrosting to help you prepare delicious recipes for your family's Weekly Meal Plan.
Some of our favorite family meals start with ground beef. But do you know how to properly freeze, defrost and brown the ground beef? Here are all my tips that I've used over the years to prepare dinner for my family.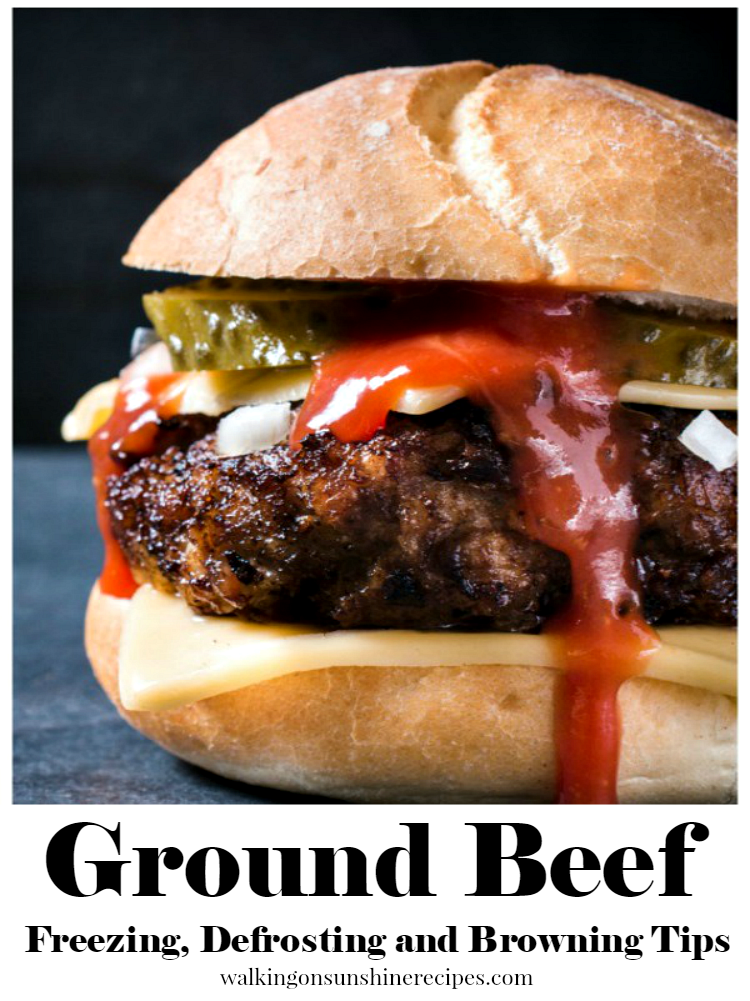 What is your favorite recipe to make with ground beef?
For most of us, especially this time of year, hamburgers on the grill is a favorite recipe to make with ground beef. But do you know how to store ground beef properly?
Today I want to share with you tips not only on how to freeze ground beef, but also tips for defrosting and browning ground beef to use in all the delicious recipes your family loves.
Helpful Kitchen Tools
This post contains affiliate links. That means that if you make a purchase after clicking on a link I may earn a small commission at no extra cost to you. For more information, click here.
More Information
More Information
More Information
More Information
More Information
More Information
More Information
More Information
More Information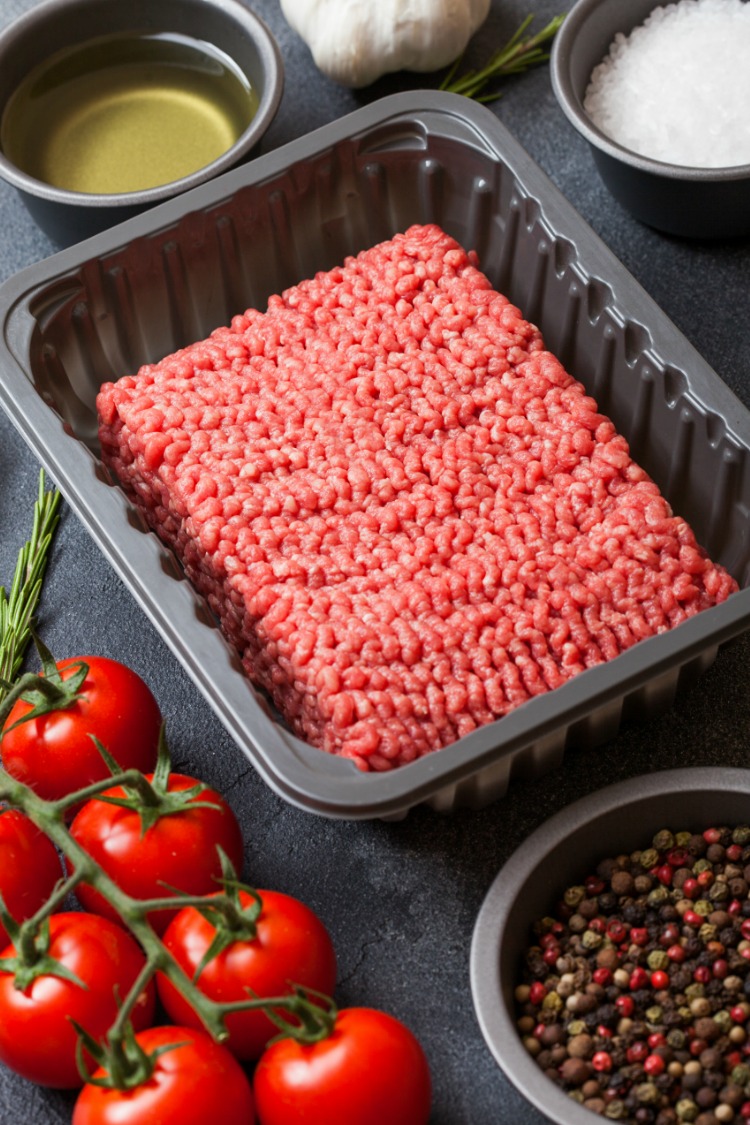 How to Freeze Ground Beef
Don't freeze ground beef in the original packaging.
Remove ground beef from the store packaging and rewrap using plastic wrap or freezer wrap.
Then place the wrapped ground beef in a freezer safe plastic bag to protect the meat from freezer burn.
Don't forget to write the date on the freezer bag!
Frozen ground beef should be used three to four months from the date of purchase.
How to Defrost Ground Beef
Don't use a microwave - a microwave will cook the outside of the meat and make it tough before it's completely thawed.
Ideally, you should place the frozen wrapped ground beef on a tray and let it defrost in the refrigerator.
Your meat should be defrosted and ready to cook in 24 hours.
What if you forget to take the meat out of the freezer the day before and you want to prepare it for dinner tonight?
Follow these simple steps for defrosting meat quickly to be able to use for dinner tonight:
Take the frozen meat, still in its sealed plastic bag, and place it in a bowl in the sink.
Fill the bowl with COLD water.
Set your kitchen timer for 30 minutes and drain the bowl and refill it with fresh cold water.
Continue to do this until the meat is defrosted and ready to use for your recipe. Never, ever use hot water! Hot water can cause the outer layer of the food to heat up to temperature where harmful bacteria can grow.
How to Brown Ground Beef
Begin by heating a large skillet or frying pan - adding ground beef to a cold pan will cause the meat to stick to the bottom of the pan.
Coat the bottom of the pan with a non-stick cooking spray or you can use cooking oil to keep the beef from sticking to the bottom of the pan.
Using a spatula or wooden spoon, begin breaking the beef into several large pieces and then break into smaller pieces.
Continue to break the meat into smaller pieces, seasoning with salt and pepper, until all the meat is completely browned.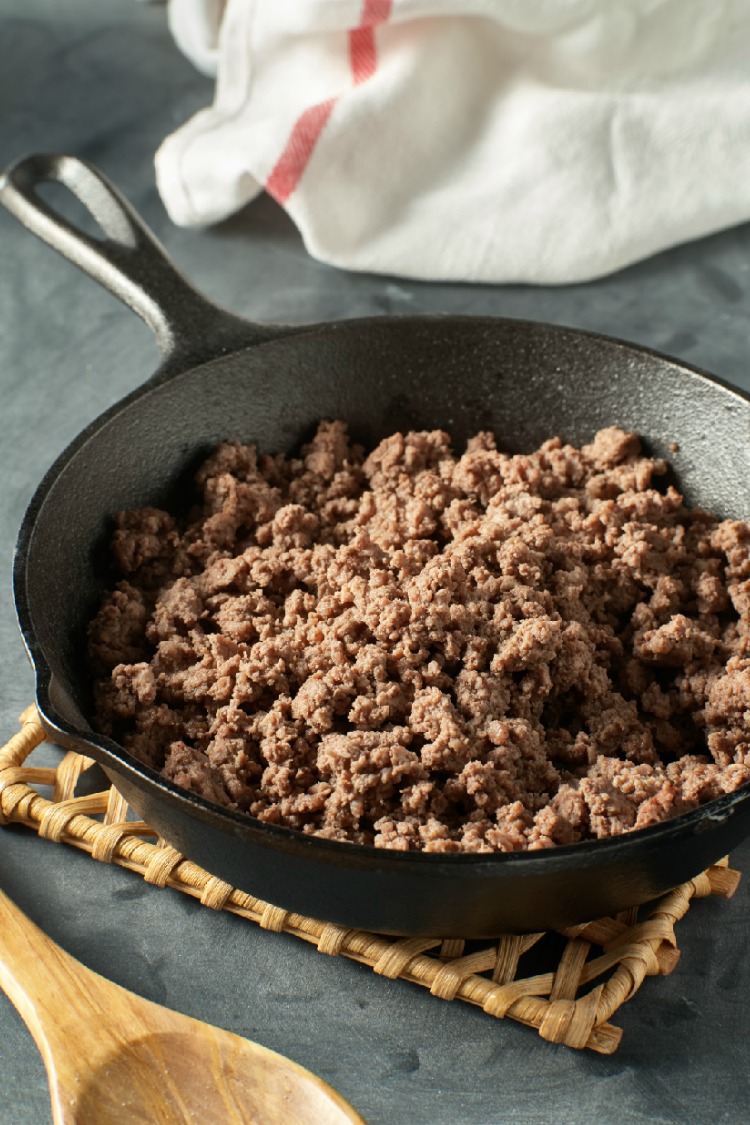 How to Drain Ground Beef
Ground beef releases water when you cook it, so don't forget to drain the beef after it is browned completely.
Place the ground beef in a colander and allow the excess water and fat to drain.
The ground beef is now ready to be added to any one of these yummy recipes:
This recipe has been updated since it first appeared in 2016 with new photos and new cooking tips. I hope you enjoy the updates as much as I enjoyed working on them!