Breaded Chicken Cutlets Italian Style is on the menu in our house almost weekly. Once you learn to make this recipe you'll be making them all the time too!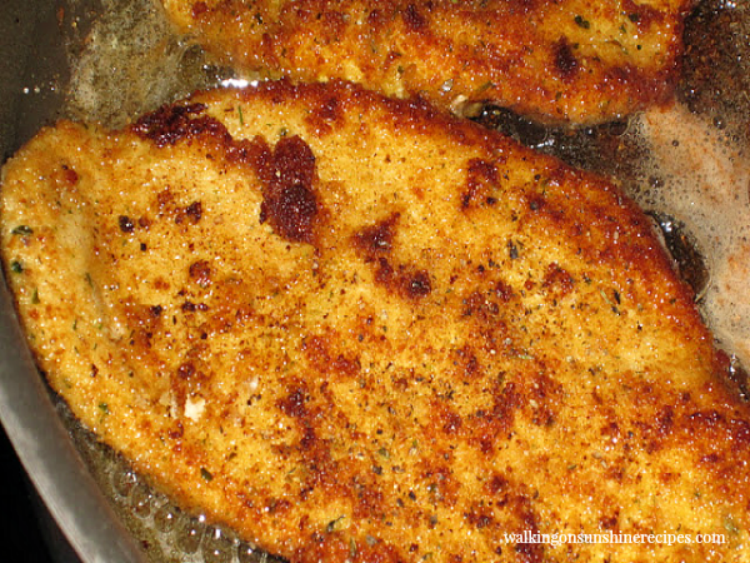 Breaded Chicken Cutlets Italian Style
What's for dinner tonight in your kitchen? If you're looking for an easy recipe for dinner tonight, you're going to love this recipe for breaded chicken cutlets Italian Style. It's a recipe I grew up on!
Actually, I think every kid from Queens grew up on this recipe. We actually had breaded Italian style chicken cutlets at least once or twice a week and then again if my mom made chicken Parmesan. In fact, whenever I make this recipe for dinner, I always try to make extra so I can make Chicken Parmesan a few days later. Both recipes are easy weeknight meal options for my family.
Family Favorite Recipe
I'm sharing a recipe that was originally posted awhile ago on the blog. This recipe for Chicken Cutlets Italian Style is a family favorite recipe. Add a side dish, a salad and you have an easy meal to serve to your family. My son, Michael, loves chicken this way and will usually request it when he is home from college.
Helpful Kitchen Tools
This post contains affiliate links. Your cost is the same, but I earn a commission when you shop through them. For more information, click here.
How to Make Breaded Chicken Cutlets
The secret to great chicken cutlets is to start out with boneless chicken breasts and slice them through the middle to butterfly them and make them thin. If I'm having a good day, I'll get maybe three slices out of one chicken breast.
Lay the boneless skinless chicken breast on a cutting board that's been lined with parchment paper.
Slice the chicken breast horizontally into two even pieces.
Cover the chicken breasts with another sheet of parchment paper and using the smooth side of a mallet, gently pound the chicken until it is thin.

Beautiful, THIN chicken cutlets. They cook so much faster this way.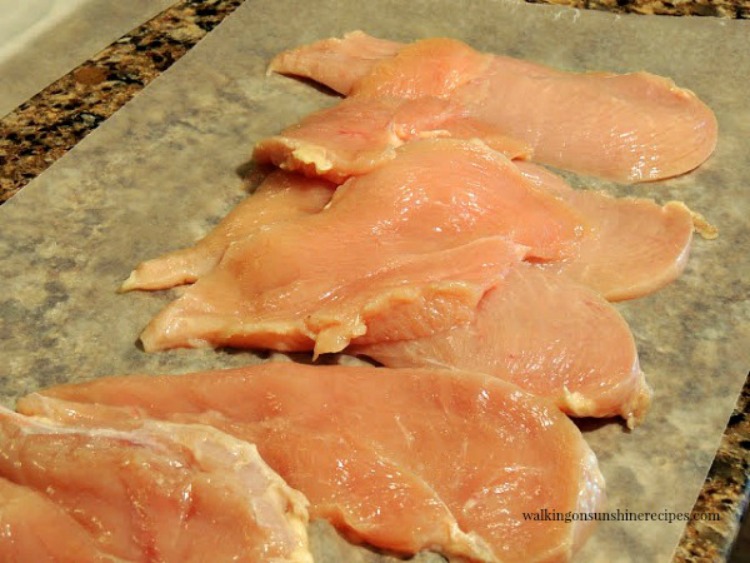 Add the chicken cutlets to a frying pan with a few tablespoons of oil.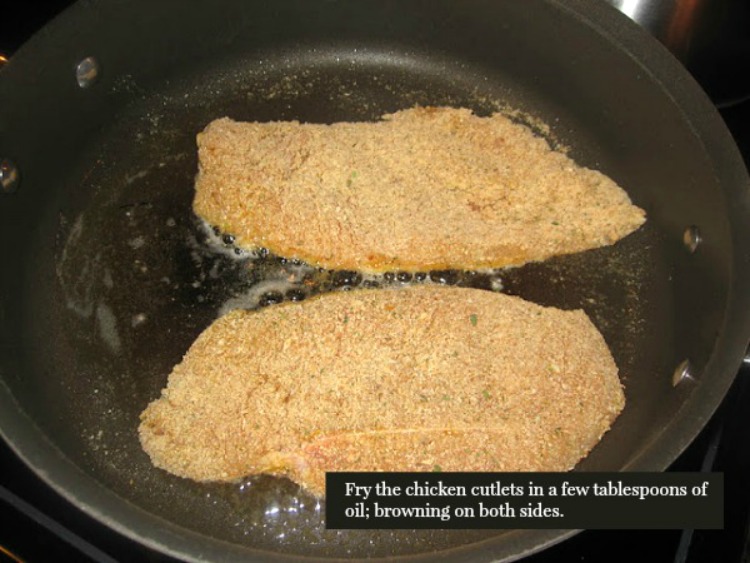 Brown both sides, but don't cook all the way through. We're going to finish cooking them in the oven.

How to Bake Breaded Chicken Cutlets
Finish cooking the chicken in the oven gives you a much more tender chicken cutlet this way.
Once the cutlets are browned on both sides, drain them on a paper towel and then place them in a baking dish.
Bake in a 375 degree oven until done, maybe another 15 to 20 minutes or until the internal temperature reaches 165 degrees.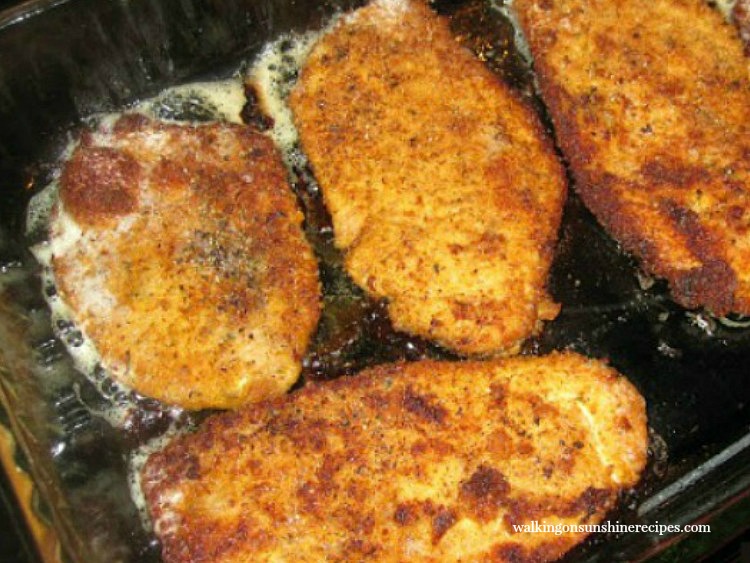 How to Serve Breaded Chicken Cutlets
Makes a PERFECT meal that your family will love. You can even prepare the chicken earlier in the day and then finish cooking them in the oven right before you need to serve dinner.
Here are some delicious side dishes to serve with the Breaded Chicken Cutlets: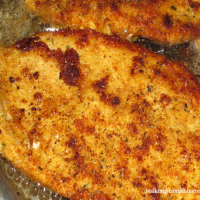 Breaded Chicken Cutlets - Italian Style
Yield: 4 servings

Prep Time: 15 minutes

Cook Time: 30 minutes

Total Time: 45 minutes

If you're looking for an easy recipe for dinner tonight, you're going to love this recipe for breaded chicken cutlets Italian Style.  It's a recipe I grew up on!
Ingredients
2 boneless skinless chicken breasts
1 cup breadcrumbs
1 egg; slightly beaten
1/4 cup vegetable oil
Instructions
Using a sharp knife, slice each chicken breast horizontally in half to get a thinner sliced chicken breast - "butterflying" the cutlets. Depending on how thin you slice the chicken breast, you could get 2 to 3 slices per chicken breast.
Using a meat mallet, pound each piece of chicken between sheets of parchment paper till 1/4" thick.
Dip chicken in the beaten egg, then dredge in breadcrumbs.
Heat oil in large skillet over medium heat.
Add chicken to the large skillet and brown each side approximately 2 minutes or until each side or until golden brown.
Remove the chicken from the skillet and add to a baking dish that has been sprayed with non-stick cooking spray.
Bake in a preheated 375 degree oven for 20 minutes or until the chicken reaches an internal temperature of 165 degrees when tested with a meat thermometer.
Notes
You will not use all the breadcrumbs as you are just dredging the chicken in them.

If you prefer, you can use Italian seasoned breadcrumbs.  

Chicken is always done when the internal temperature reaches 165 degrees.  
Nutrition Information:
Yield: 4 Serving Size: 1

Amount Per Serving:

Calories: 344 Total Fat: 18g Saturated Fat: 2g Trans Fat: 0g Unsaturated Fat: 15g Cholesterol: 98mg Sodium: 260mg Carbohydrates: 20g Fiber: 1g Sugar: 2g Protein: 24g

The nutrition information is calculated automatically. I cannot guarantee its accuracy. If this data is important to you, please verify with your trusted nutrition calculator.