Fall is the perfect time to enjoy all the delicious flavors of pumpkin desserts. From donuts and pies to breads and muffins, there are endless ways to enjoy this seasonal ingredient.
For those who are looking for something a little extra special, here are 20 delicious desserts all made with pumpkinthat are sure to impress.
Check out all the other easy pumpkin dessert ideas for even more delicious recipes.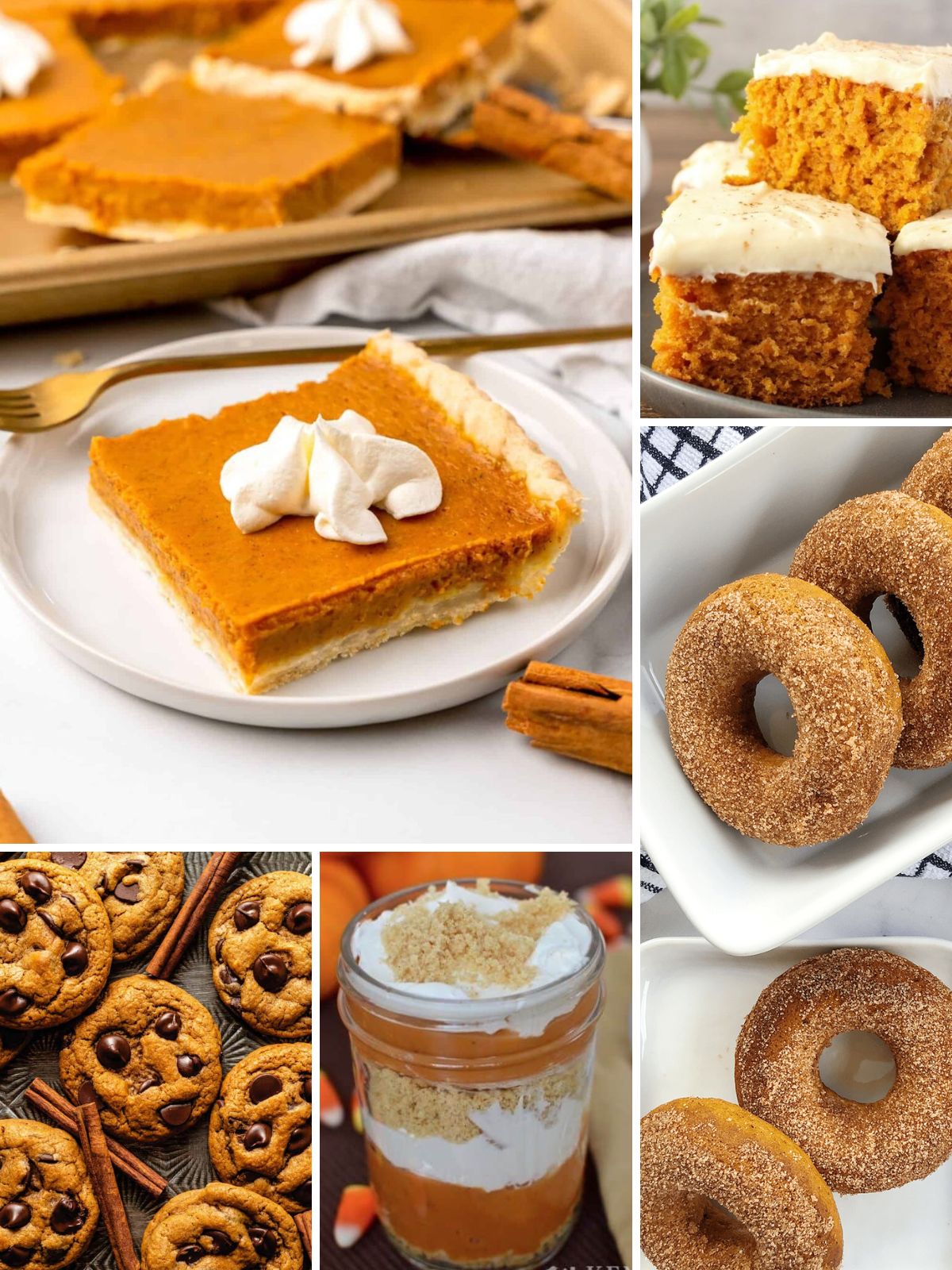 As the weather starts to cool down and the leaves begin to change color, it's time to start thinking about fall recipes. And what says "fall" better than pumpkin?
Whether you're looking for an easy way to use up some extra pumpkin puree or you're simply in the mood for something sweet, these easy pumpkin desserts are sure to hit the spot.
From pumpkin pie bars to no-bake pumpkin cheesecake, there's something for everyone on this list. So get your baking supplies out and get ready to enjoy some of the best pumpkin desserts of the season.
Looking for more fall-inspired easy desserts? Try my Pumpkin Spice Cookie Cups, Mini Pumpkin Bundt Cakes or my Pumpkin Dump Cake.
Table of Contents
Fall Themed Desserts
As the leaves begin to change color and the air becomes crisp, it's clear that fall has arrived. And what better way to celebrate the season than with some delicious fall-themed desserts?
Pumpkin pie is always a classic, but why not try something new this year? Apple cider donuts are a delicious treat that can be enjoyed at any time of day.
For a truly unique experience, try apple dump cake. The rich flavor of the apples is complemented by the crunchiness of the cake mix, making for a truly delicious combination.
Whatever your preferences, there's sure to be a fall dessert that will satisfy your sweet tooth. So go ahead and indulge yourself this season - you deserve it!
Pumpkin Desserts other than Pie
Ready to break out of your pumpkin pie rut this year? Consider trying one of these different pumpkin recipes that will help you discover a new way to enjoy pumpkin:
Pumpkin Crème Brûlée - This classic French dessert gets a seasonal twist with the addition of pumpkin puree. The rich custard is topped with a layer of hard caramel, making for a beautiful and delicious dessert.
Pumpkin Cheesecake - A classic cheesecake is taken to the next level with the addition of pumpkin puree and spices. The result is a rich and decadent dessert that is perfect for any fall gathering.
Pumpkin Brownies - These fudgy brownies are made even better with the addition of pumpkin puree. They are the perfect treat for any chocoholic who is also looking for a taste of fall.
Can you eat canned pumpkin without cooking it?
While most people assume that canned pumpkin must be cooked before eating, this is not actually the case. Canned pumpkin is already cooked and merely needs to be heated before consuming.
This means that it can be used in a variety of recipes without any additional preparation like I do with my No Bake Pumpkin Cheesecake recipe. However, some people do prefer to cook canned pumpkin before eating it. This helps to bring out the flavor and make the texture more smooth.
Whether you choose to cook canned pumpkin or not, it is a versatile and convenient ingredient that can be used in many different dishes.
Helpful Kitchen Tools
This post contains affiliate links. That means that if you make a purchase after clicking on a link I may earn a small commission at no extra cost to you. For more information, click here.
Bakeware SetMore Information
Pyrex Basics 3 Quart GlassMore Information
Insulated Expandable Double Casserole CarrierMore Information
Cook with Color 8 PieceMore Information
Pastel Polka Dot Picnic/Dinner Plate,More Information
⭐Before You Begin! If you make this recipe, please leave a review and star rating. This helps my business thrive and continue providing FREE recipes.
Pumpkin Dessert Recipe Collection
Pumpkin Desserts
Included in this pumpkin desserts collection are donuts, pies, cookies, breads & muffins, all made with this delicious seasonal ingredient.