Patriotic Desserts in beautiful colors of red, white and blue. These are the perfect part of any 4th of July Foods list or menu for summer.
They're sure to be a hit at any summer celebration you're hosting.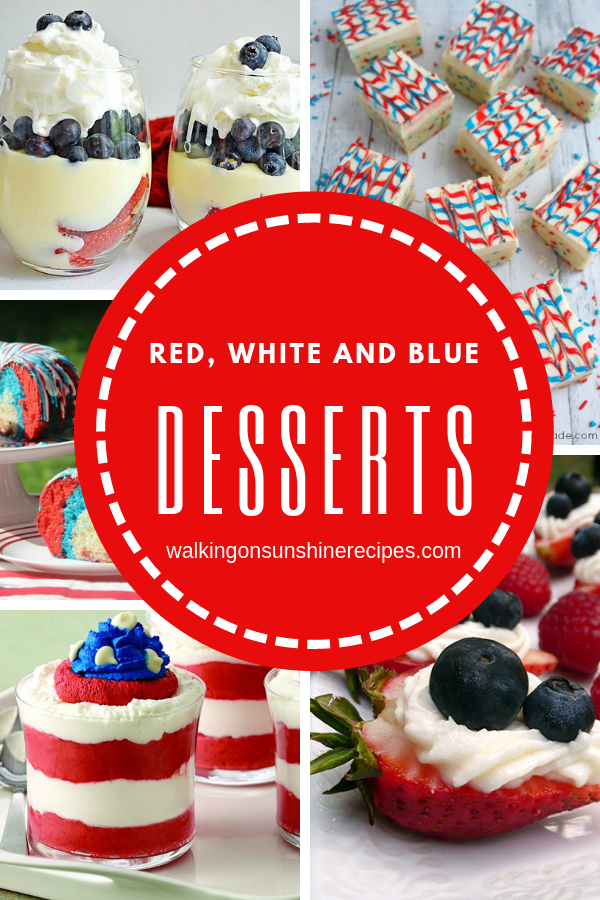 Are you gearing up for summer? Do you have any plans for entertaining this summer?
If the answer to either of those questions is YES...then I have the perfect Patriotic Desserts for you to serve for your next red, white and blue themed celebration.
There is something sure to please all of your family and friends with these recipes. We have cheesecake, snack mix, stuffed strawberries and even a firecracker cake that the kids are really going to love!
And if you're still looking for more, check out my 4th of July Cookie Cake and Red Velvet 4th of July Cake. Both are easy to make and will look great on any buffet table!
Let me help you celebrate summer and our wonderful country with easy delicious patriotic desserts that are full of the most beautiful colors.
Red, White and Blue Patriotic Desserts
Let's celebrate and get ready for the biggest holiday of summer with these delicious Red, White and Blue Patriotic Desserts being featured from a few of my foodie friends. Summer is here and it's time to celebrate.
This recipe has been updated since it first appeared in 2019 with new photos, and information. I hope you enjoy the updates as much as I enjoyed working on them!