I mentioned last week that I made a new recipe for our little party on New Year's Day…stuffed tomatoes. They were so easy to make, actually the Colonel made them! I was so behind schedule, I asked if he wouldn't mind following the recipe and put them together for me…and he didn't…and they were FABULOUS!!!
Take a bunch of plum tomatoes, we used 10, cut in half and remove seeds…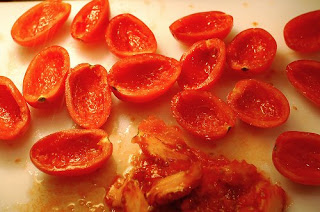 Sprinkle each half with salt and place them on paper towels so they will continue to drain…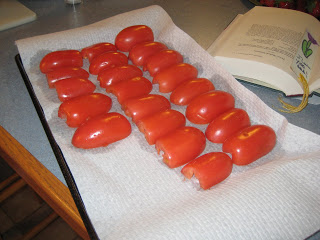 Take a container of ricotta cheese, add garlic, parsley, etc…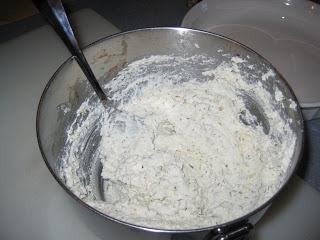 Fill each tomato half…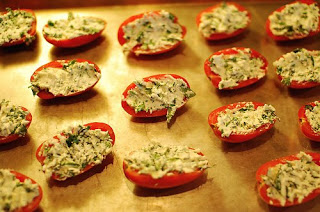 Take a sleeve of Ritz crackers and smash them up…place each filled tomato half into crackers, cheese side down…crackers will "stick" to the cheese mixture in the tomatoes. Place in a baking dish, drizzle each tomato with olive oil just before baking at 400 for about 20 minutes or until tomatoes are bubbly and your kitchen smells like heaven…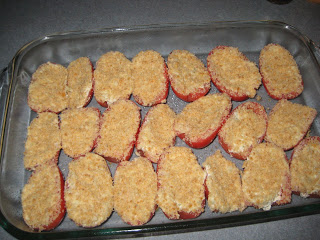 Enjoy!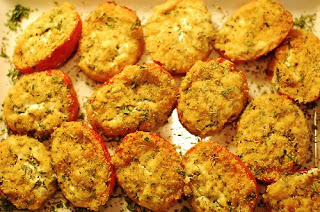 This was one of the most delicious recipes I've tried in a long time. We assembled them early in the morning and just before everyone came I drizzled them with the olive oil and placed them in the oven. Please try and let me know if you enjoyed them as much as we did! I'm making them again on Sunday for my daughter's birthday celebration!