Looking for a delicious and easy-to-make salad recipe? Look no further than this German Cucumber Salad! Thinly sliced cucumbers are mixed with a homemade sour cream dressing, making it the perfect side dish for any meal.
This is another one of our delicious summer salads that tastes just like my Oma Behr's recipe. Once you taste this light and refreshing salad, you'll be hooked.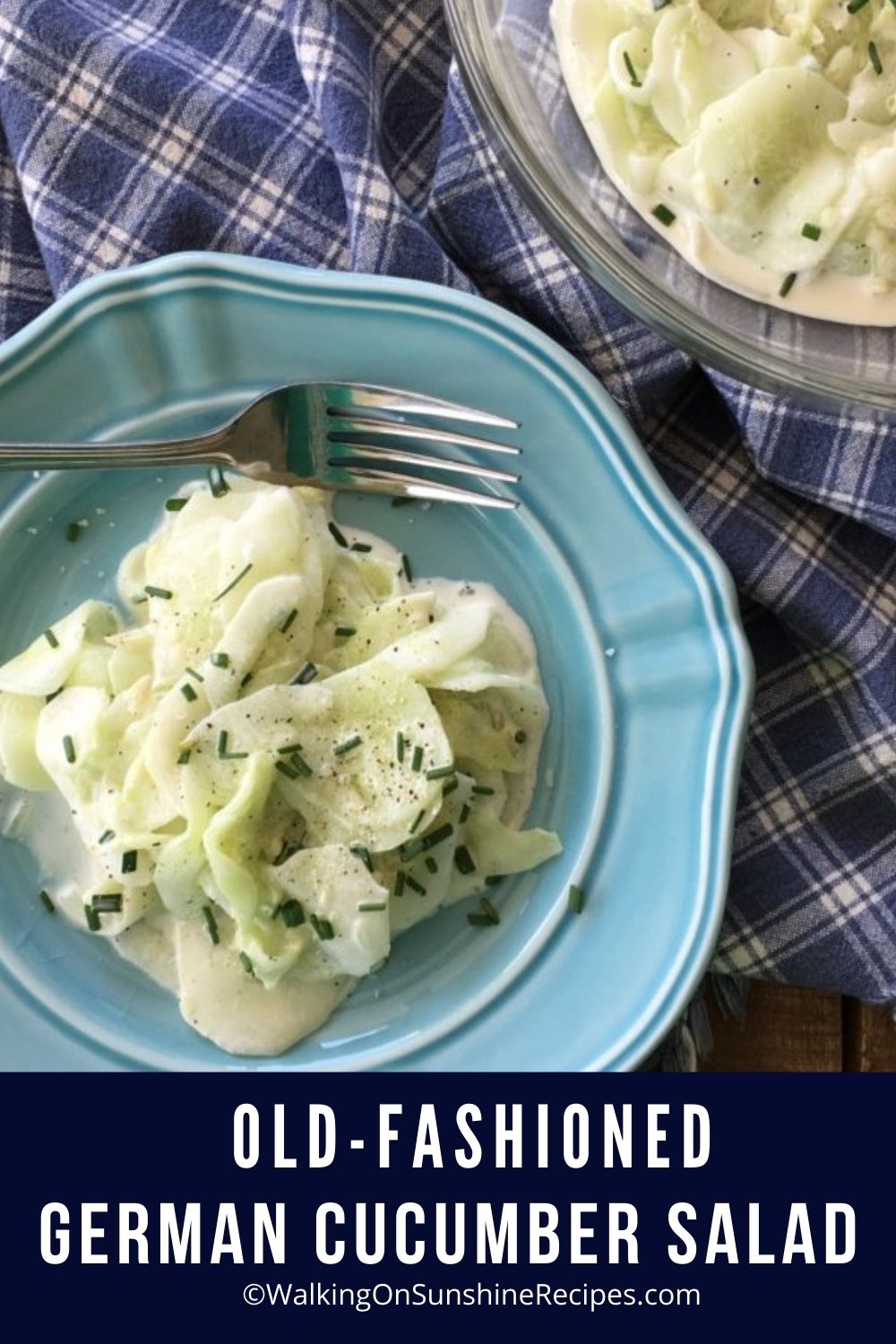 This recipe for German Cucumber Salad with Sour Cream Dressing is the perfect salad to make with all the fresh cucumbers showing up in farmer's markets, grocery stores and even your own garden.
Another recipe that's also great for excess cucumbers is Easy Refrigerator Pickles. My husband makes this recipe every summer.
Table of Contents
German Cucumber Salad with Sour Cream Dressing
This is a simple, refreshing salad made with cucumbers, vinegar, sour cream and herbs. But don't let its simplicity fool you - this salad is packed with flavor!
Cucumbers are a key ingredient in German cuisine, and this salad is a great way to enjoy them. The crunch of the cucumbers pairs perfectly with the tangy vinegar sour cream dressing, making it a perfect side dish for any meal.
And because it's so easy to make, you can enjoy it any time! So next time you're looking for a light, refreshing salad, try German cucumber salad. You'll be glad you did!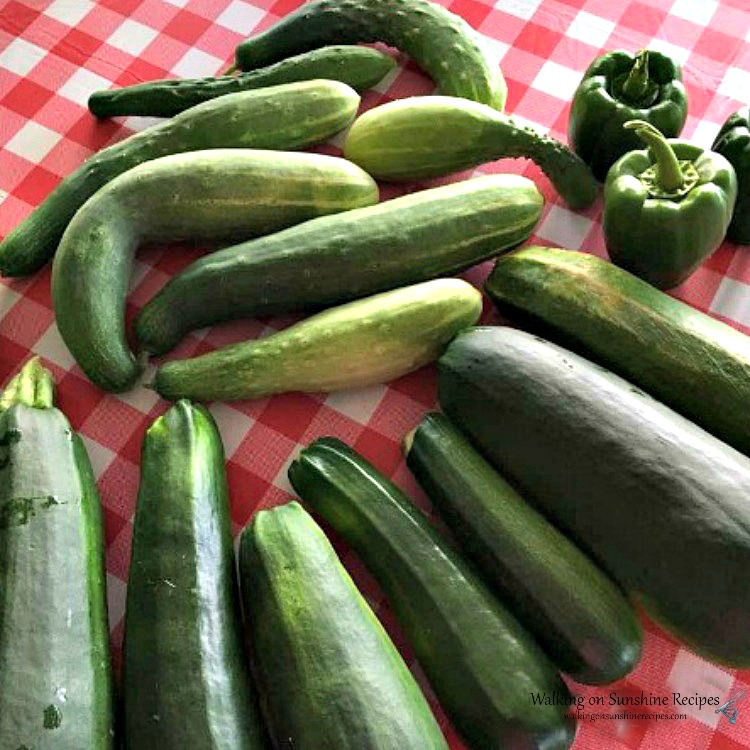 What is German Cucumber Salad?
But for now, let's get back to the salad. I've made this a few times already for my family this summer. I even used cucumbers from the grocery store and the salad still came out amazing.
To begin with, Cucumber Salad or, Gurkensalat in German, is a fresh and simple side dish featuring thinly sliced cucumbers in a sour cream and dill dressing...although I didn't have any dill on hand yesterday when I made this salad. I use fresh chives from the garden and it is just as good.
When I was looking at other recipes for this salad they all seem to skip the most important step that my Oma and my mother did...you need to salt the cucumbers and let them drain to remove the excess water. Do not skip this step!
By the way, I've had other cucumber salad's where they are watery and just don't have the same taste as when you salt the cucumbers first. I include photos so you can see how easy it is to do this part of the recipe.
Easy Family Meal PlannerClick HERE for More Information
Helpful Kitchen Tools
This post contains affiliate links. As an Amazon Associate, I earn from qualifying purchases. For more information, click here.
More Information
More Information
More Information
More Information
More Information
More Information
More Information
More Information
Main Ingredients Needed
To make this recipe, you'll need 2 medium to large sized cucumbers. I really think you're going to like the sour cream dressing. Sometimes, I'll double the recipe and store it in a mason jar to use on a regular tossed salad...it's that good!
This is an overview of the ingredients and instructions. Be sure to see the recipe card below for exact quantities, detailed instructions and special notes.
Vinegar
Mayonnaise
Sur cream
½ tsp. sugar
Chopped chives
Salt and Pepper
2 medium sized cucumbers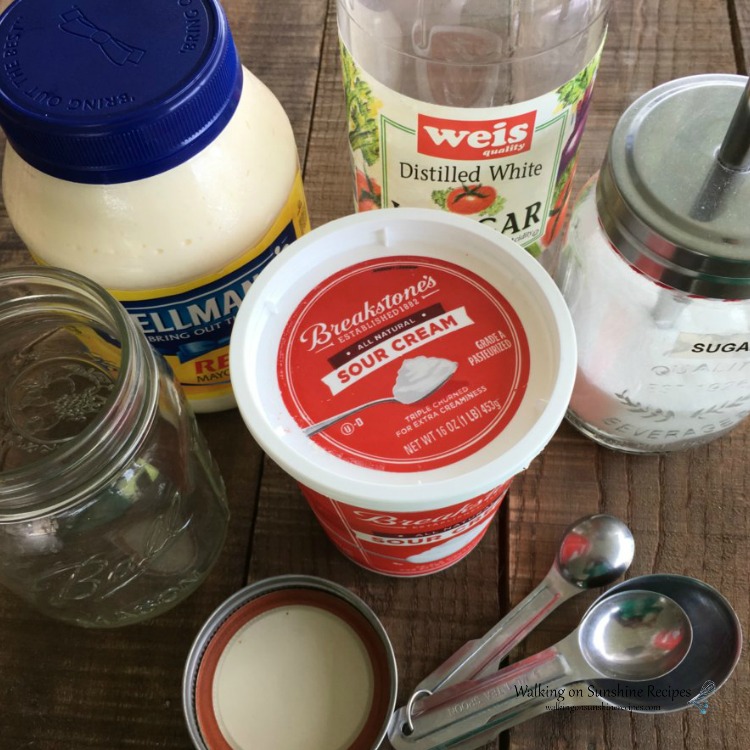 Step-by-Step Directions
Peel and Slice the Cucumbers
You don't need to peel the cucumbers, but I like them peeled. It's really up to you and your family's tastes.
One of the most important tips is to slice the cucumbers VERY thin. That's another secret to this recipe. You do not want thick cucumber slices for the salad.
Using a mandoline slicer is the best tool to get your cucumbers really thin.
Important Note: Please be very careful when using a mandoline slicer. It is very easy to slice your finger on this piece of equipment. Always use the safety guard that comes with it.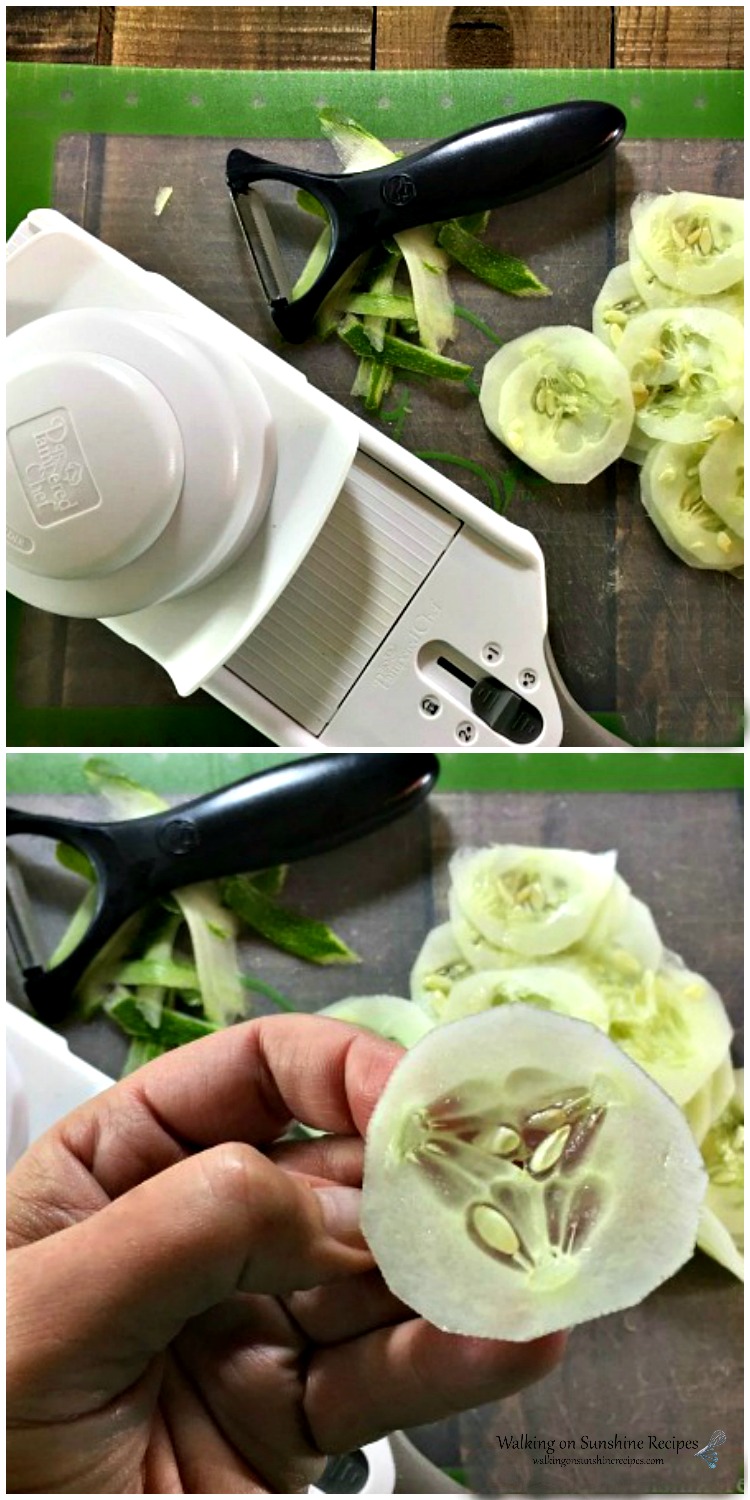 Salt the Cucumbers
📌Expert Tip: Do Not Skip this Most Important Step for the Cucumber Salad
Place the cucumbers in a colander.
Salt the cucumbers.  Be generous with the salt as you want to remove as much excess water as possible.  
If the cucumbers are extremely fresh, as mine are, you will be surprised how much water are in them.
Do not worry about the salad tasting salty. It won't. You'll be squeezing most of the salt out of the cucumbers in the next step.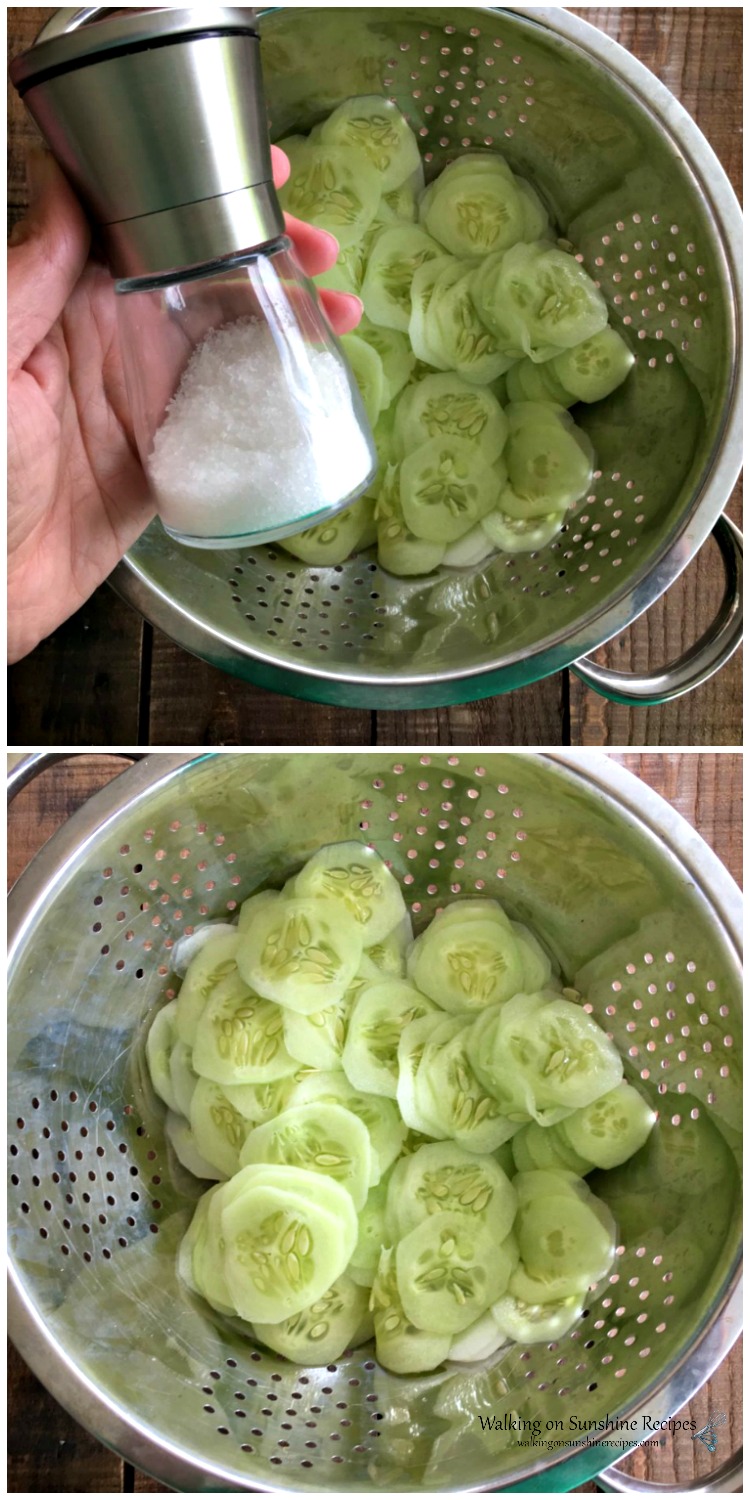 Cover the cucumbers with a paper towel.
Then weigh them down. I like to use a plate, a bowl and a big mug. It doesn't really matter what you use, just weigh them down because this will help push the water out from the cucumbers.
Let the cucumbers sit like this for an hour or so.
You can leave the colander on the kitchen counter or even in a clean sink.
Drain and Squeeze the Cucumbers 
Once the cucumbers have been draining for about an hour, you need to squeeze them dry.
Believe it or not, there's still a ton of water in the cucumbers!
Take them in your hand a little at a time and squeeze them over the same bowl.
Go ahead, don't be shy...squeeze the cucumbers dry!
You can see from the photo below how much water was in these cucumbers. If you skip this important step, this water will end up in your dressing making for a very watery cucumber salad.
I know some people have commented or sent me messages saying they never do this step and they think they're cucumber salad is fine. My reply back has always been, try it this way one time and you'll be convinced you need to drain the cucumbers every single time you make this salad.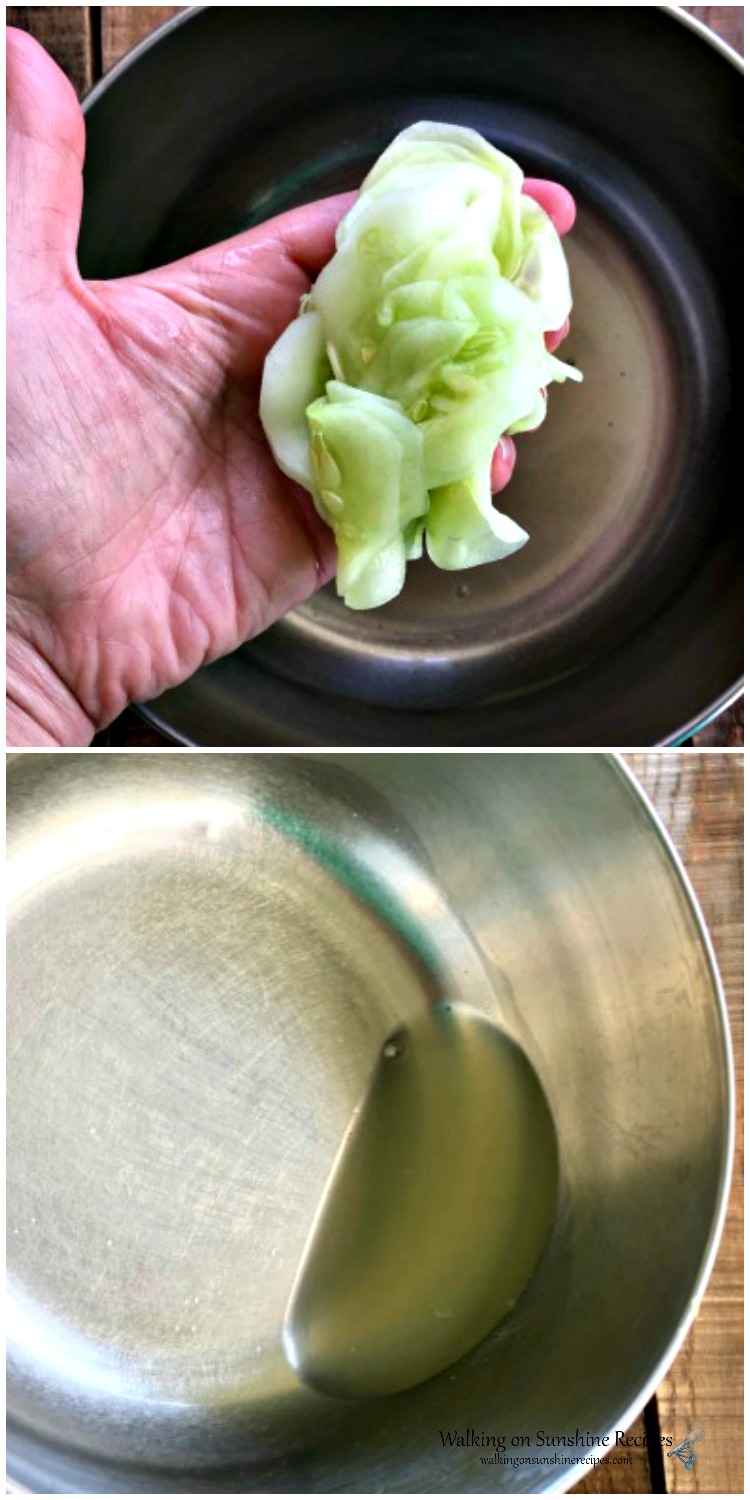 Sour Cream Dressing
Combine the ingredients for the dressing together in a bowl.
I love to use my House Seasoning but salt and pepper work great too.
If you have dill, you can add one tablespoon dill in place of the chopped chives.
I also like to add thinly sliced red onion sometimes too.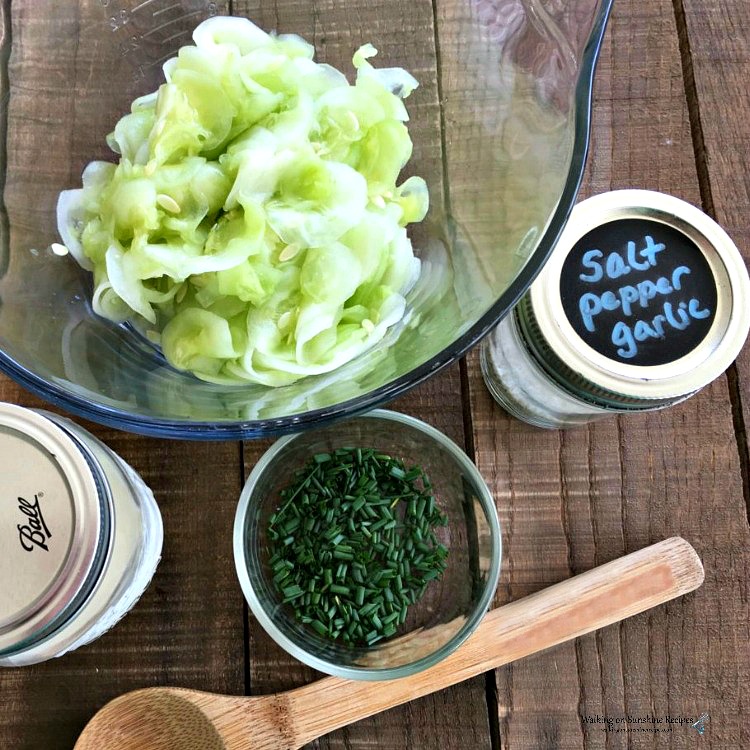 🍶Storage Tips
The salad is ready to enjoy right away...but, like with everything else in life, it does taste better after it's been refrigerated for a few hours.
Make sure you taste it and season with more salt and pepper if needed.
Store in an air-tight container and place in the refrigerator for up to three days. 
After a few days of storage, you'll notice that the cucumbers have "sweated" even more water and the dressing is watery. The salad is still good to eat, simply use a slotted spoon to serve.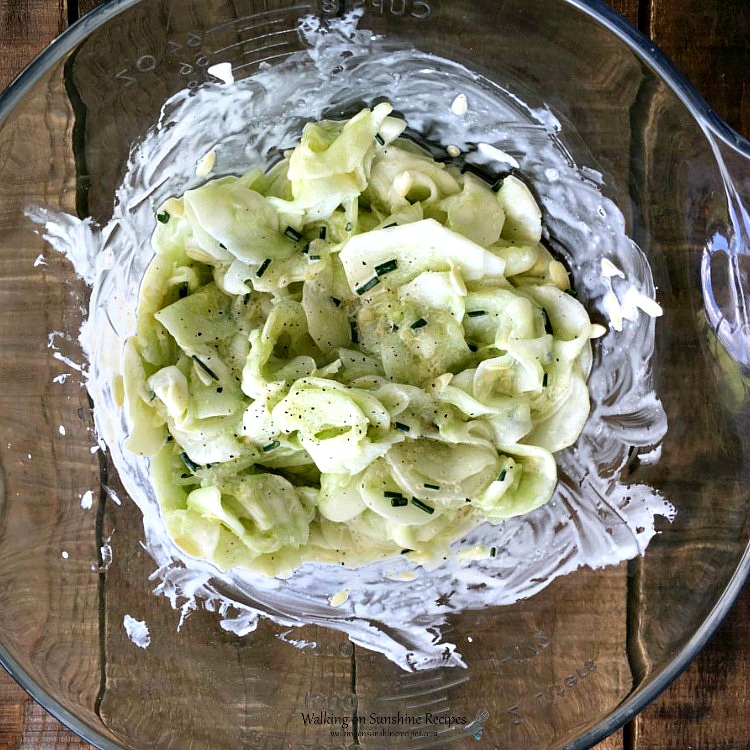 Oma's Cucumber Salad
This is one of my favorite summer salads to serve and one of the reasons why we grow so many cucumbers in our garden.
However, what's really nice are the memories making and serving this salad bring back to me. For the most part, I think of my Oma Behr every time I squeeze the cucumbers.
If I close my eyes, I can see her in her little kitchen in Mt. Kisco, NY standing in front of the sink squeezing cucumbers.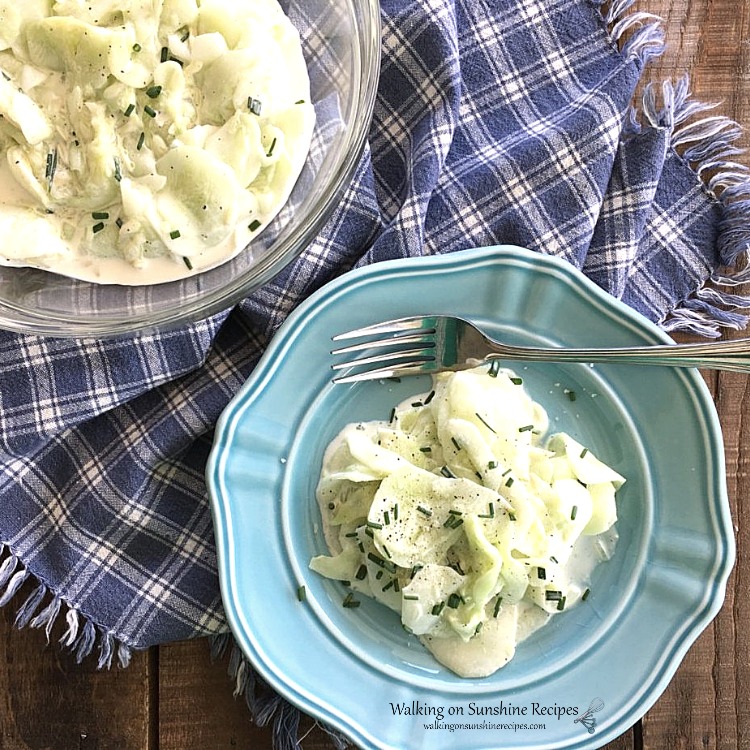 🥣Serving Tips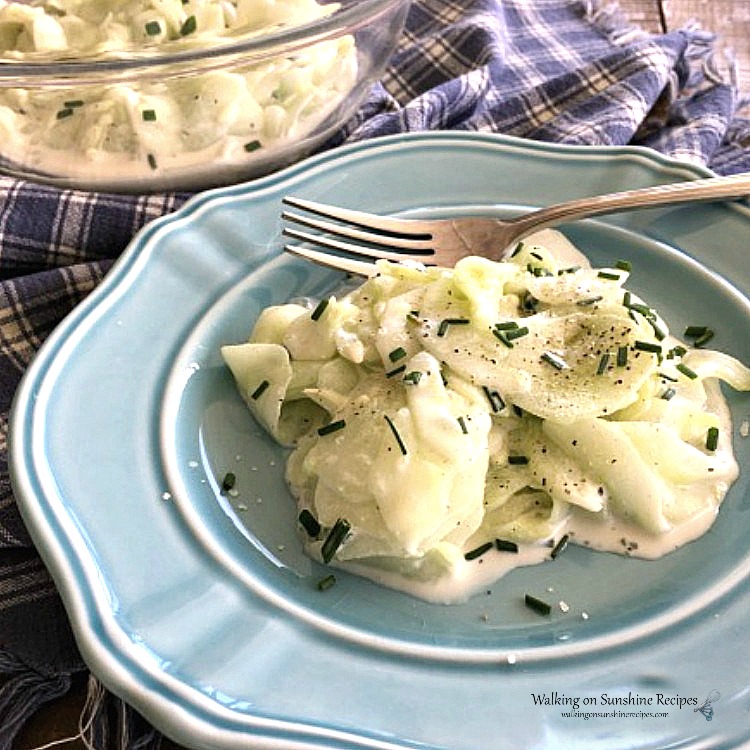 ⭐Before You Begin! If you make this recipe, please leave a review and star rating. This helps my business thrive and continue providing FREE recipes.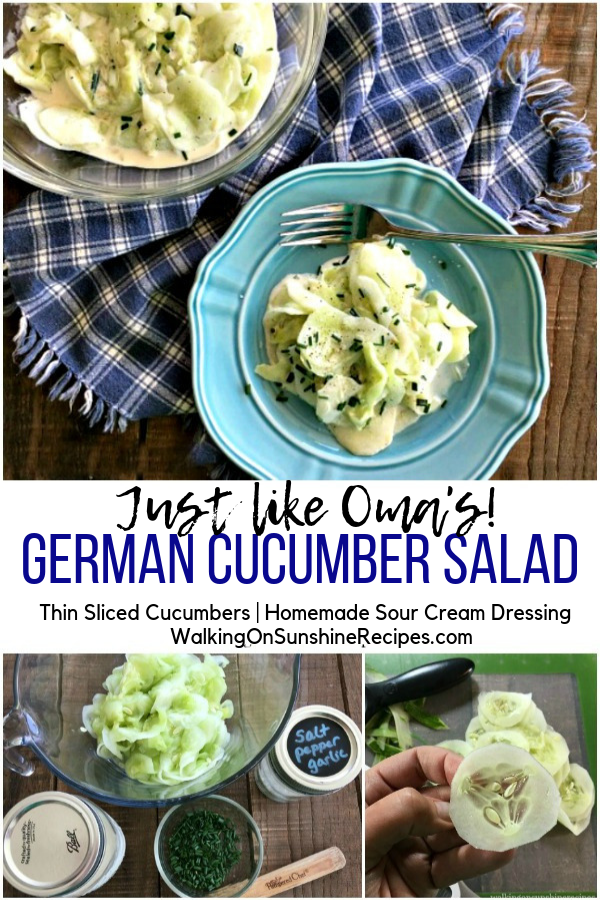 More Easy and Delicious Salad Recipes:
📇Recipe Card
German Cucumber Salad with Sour Cream Dressing - Just like Oma's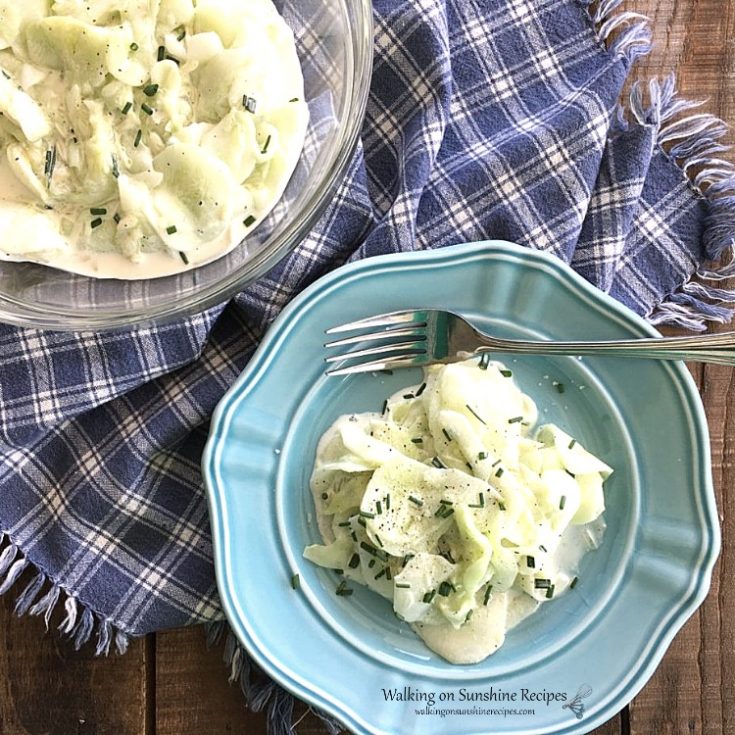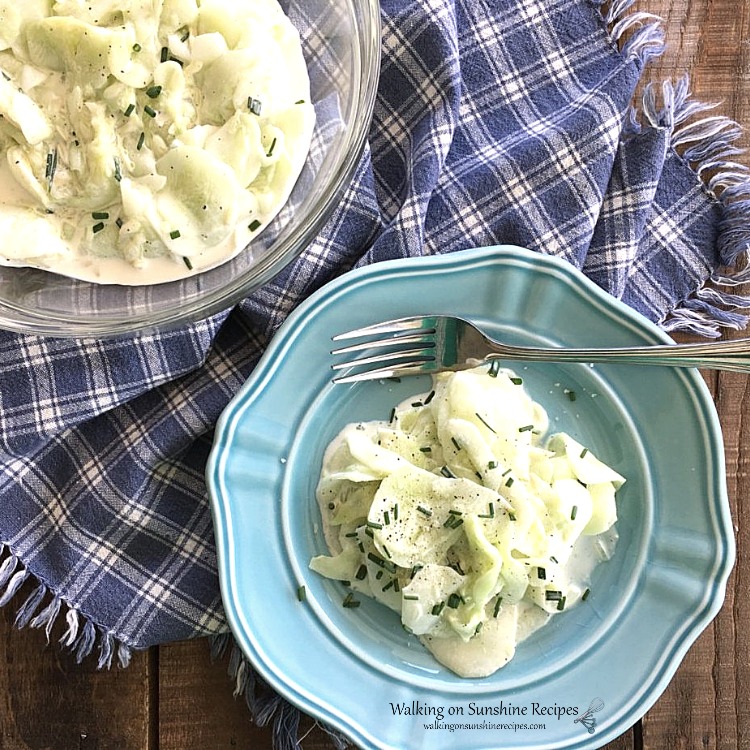 Just like my Oma used to make. You're going to love this easy recipe that's perfect for all the cucumbers growing in your garden this summer.
Prep Time
1 hour
20 minutes
Total Time
2 hours
20 minutes
Ingredients
2 tablespoon vinegar
2 tablespoon mayonnaise
2 tablespoon sour cream
½ tsp. sugar
1 tablespoon chopped chives
Salt and Pepper
2 medium sized cucumbers
Instructions
Peel the cucumbers if desired and thinly slice them with a mandoline slicer. The thinner the better!
Place the cucumbers in a colander and salt them...generously.
Cover the cucumbers with paper towel and place the colander over a bowl to allow the cucumbers to drain the excess water for at least 2 hours.
Squeeze the cucumbers to remove any excess water...you want them as dry as possible.
Add the cucumbers to a bowl and prepare dressing.
Combine all the ingredients for the dressing in a small bowl and then pour over the cucumbers. Toss gently to combine.
Cover and refrigerate for at least 1 hour before serving.
Notes
This salad comes together quickly, but you do need to allow time for the cucumbers to drain properly and get rid of all the excess water.
So, please do not skip the step for salting and squeezing the cucumbers. If you do, the salad will not be the same as the one I am sharing with you today.
Nutrition Information:
Yield:
4
Serving Size:
1
Amount Per Serving:
Calories:

78
Total Fat:

6g
Saturated Fat:

1g
Trans Fat:

0g
Unsaturated Fat:

5g
Cholesterol:

6mg
Sodium:

122mg
Carbohydrates:

5g
Fiber:

1g
Sugar:

2g
Protein:

1g
The nutrition information is calculated automatically. I cannot guarantee its accuracy. If this data is important to you, please verify with your trusted nutrition calculator.
This recipe has been updated since it was first published in 2017. There's a few new photos and tips for you to make the best Cucumber Salad!