Air Fryer Appetizers let you enjoy the taste of fried appetizers without the guilt of deep-fried food. You're not only going to love the taste of these Air Fryer Recipes, you're also going to love how easy cleanup is when you bake crispy food without the mess of oil.
Let's take a look at these yummy recipes all made without oil.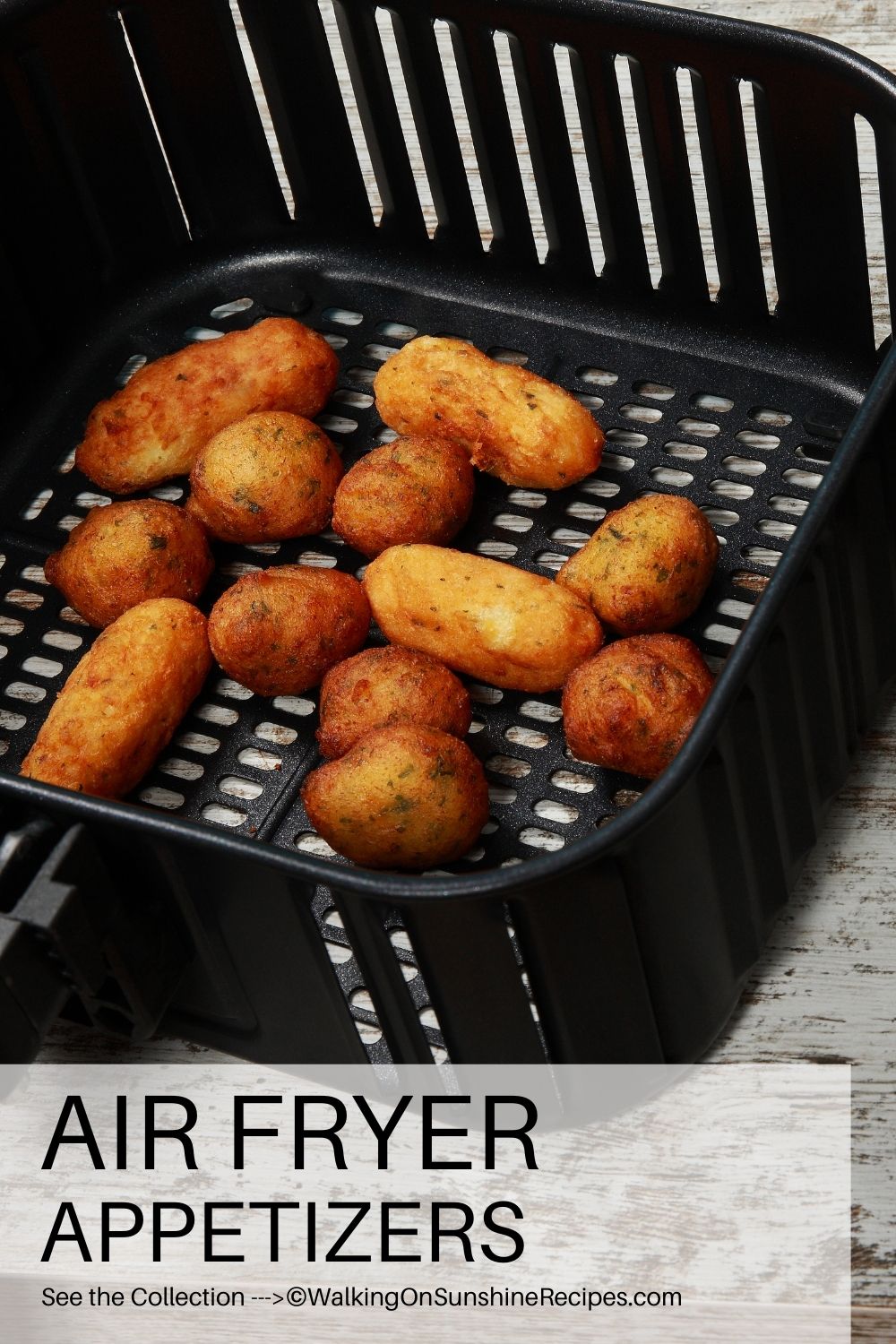 Cooking with the air fryer is great for so many recipes. However, it's really best when you want crispy food without the mess of deep frying.
Cooking with an air fryer allows the food to cook fast and crisp up faster than if you baked the food in the oven. Appetizers are healthier because they're not full of grease after being cooked in oil.
Air Fryers, simply put, are compact convection ovens. They circulate hot air around a basket that holds your food. They're an easy-to-use counter top appliance that produces crispy food quickly with less fat than a deep fryer.
If you're looking for tips on using the air fryer, check out my post on Air Fryer Recipes for Beginners.
Best Air Fryer Snacks
Air Fryer Appetizers are healthier than the appetizers you usually get when you're out in a restaurant. And besides, who wants to clean up a deep fryer with all that oil at the end of the day?
You can even create an air fryer meal plan to use this fun kitchen appliance! Make sure you use your air fryer for New Year's Party Appetizers around the holidays as well.
Recipe Collections
Air Fryer Kitchen Appliance
This post contains affiliate links. That means that if you make a purchase after clicking on a link I may earn a small commission at no extra cost to you. For more information, click here.
COSORI Air Fryer (100 Recipes, RackMore Information
Dash DFAF455GBBK01 Deluxe Electric Air FryerMore Information
Instant Vortex Plus Air Fryer OvenMore Information
Ninja Foodi AG301 5-in-1 Indoor ElectricMore Information
Frequently Asked Recipe Questions
How do you cook frozen appetizers in AirFryer?
You'll have to allow for extra time when cooking frozen appetizers in the Air Fryer. Always use a meat thermometer to make sure meats are cooked to the proper internal temperature.
Can you pop popcorn in air fryer?
Yes! You may need to line the basket or tray depending on the type of basket or air fryer you have to keep the kernels from dropping to the bottom. Spray the kernels also with non-stick cooking spray.
Air Fryer Accessories
Air Fryer Accessories Cooking Times CheatMore Information
Ultrean Air Fryer Accessories, Set ofMore Information
Airware Reusable Air Fryer Liners –More Information
Dehydrator Rack Stainless Steel Stand AccessoriesMore Information
Philips Kitchen Appliances Grill Master AccessoryMore Information