Are you looking for a family dinner recipe that will please everyone, and is easy to prepare? Why not try this easy recipe for baked chicken cutlets. Made with only 5 ingredients, this recipe produces tender, juicy chicken that is ready fast.
The oven does all the work! All you need to do is prepare something to serve alongside this tasty recipe for roasted chicken breasts. Make sure you check out all the other chicken cutlet recipes also available.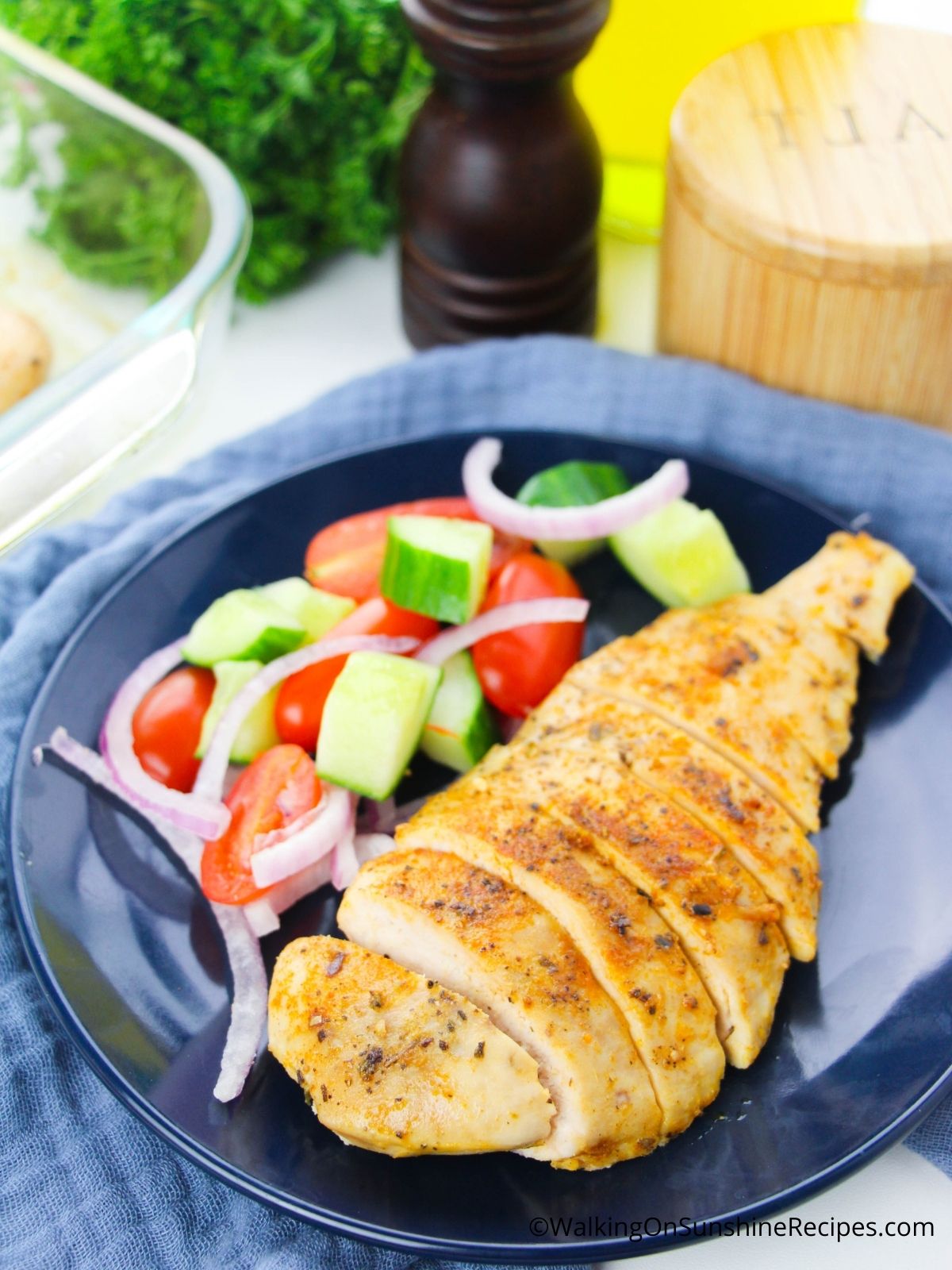 Baked chicken cutlets are a delicious, healthy option to add to your weekly meal plan for dinner. They are easy to prepare and can be baked in the oven or cooked on the stovetop.
This recipe uses boneless, skinless chicken cutlets which means they're going to bake faster than regular chicken breasts with bone. The chicken is simply seasoned with salt, pepper and a seasoning mix that comes together quickly.
I like to coat the chicken cutlets with a thin layer of vegetable oil so the seasoning mix sticks to the outer layer of chicken. You can bake the chicken either on a baking tray or in a casserole dish.
Baked chicken cutlets are a healthy, flavorful option for any night of the week.
Table of Contents
Looking for more Easy Chicken Recipes? Try my Fried Chicken Cutlets recipe, or Sheet Pan Chicken Cutlet Parmesan with Spaghetti.
💭How do I bake chicken without it drying out?
Chicken is a versatile and popular protein, but it can be tricky to cook without drying it out. One method is to first brush vegetable oil on the chicken breasts before adding your favorite seasoning mix.
Another way to prevent baked chicken from drying out is to use a marinade. Chicken cutlets can be marinated in anything from olive oil and lemon juice to barbeque sauce and honey.
I like to marinade chicken cutlets in bottled salad dressing or my homemade Italian salad dressing. This way adds a lot of flavor to the chicken as well.
Simply coat the chicken cutlets in the desired marinade and let them sit for at least 30 minutes before cooking. When baked, the chicken will be moist and flavorful.
💭Is it better to bake chicken covered or uncovered?
There are a variety of factors to consider when deciding whether to bake chicken covered or uncovered. One important factor is the desired moistness of the final product.
Uncovering the chicken allows it to brown and crisp, which can create a delicious crust. However, this also means that the chicken will lose moisture more quickly, resulting in dryer meat.
If moist baked chicken cutlets are your goal, it is better to keep the chicken covered. This will help to seal in moisture and prevent the chicken from drying out. Another factor to consider is cooking time.
Uncovering the chicken for part of the baking time can help to speed up the cooking process, but it also increases the chance of overcooking. As a result, it is important to closely monitor the chicken if you choose to bake it uncovered.
Ultimately, there is no right or wrong answer when it comes to baking chicken. The best method depends on your personal preferences and the desired outcome of your dish.
🍽Helpful Kitchen Tools
This post contains affiliate links. As an Amazon Associate, I earn from qualifying purchases. For more information, click here.
More Information
More Information
More Information
More Information
🥘Main Ingredients Needed
This is an overview of the ingredients and instructions. Be sure to see the recipe card below for exact quantities, detailed instructions and special notes.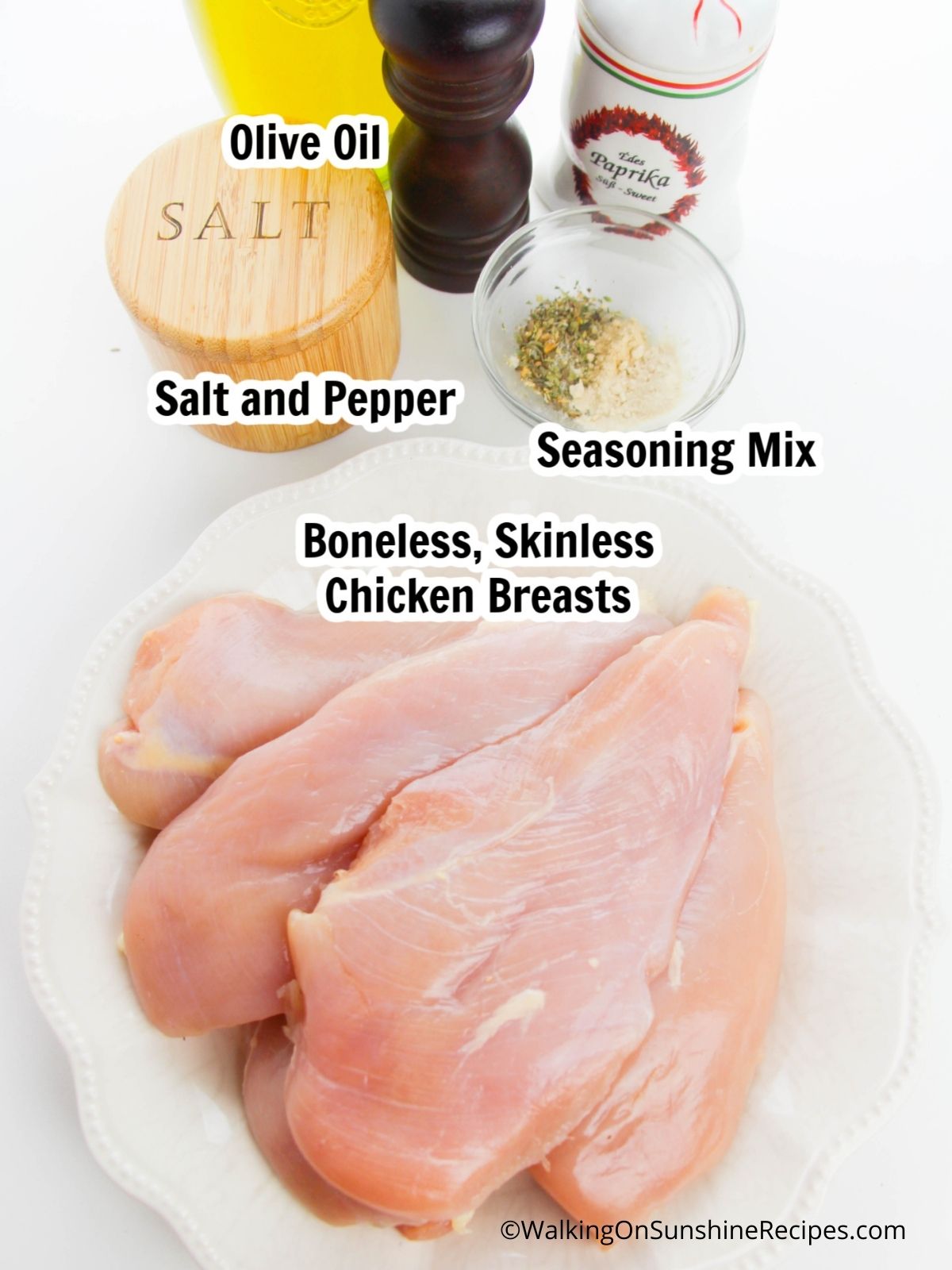 🔪Step-by-Step Instructions
Step 1 | Prep the Chicken
Preheat oven to450°F.
Place chicken breasts in a 9X13 casserole dish.
Drizzle with the olive oil on top. Flip the chicken and drizzle olive oil on the other side.
Combine the spices together in a small bowl. Sprinkle both sides of the chicken with the spice mixture.
You can also use my Homemade Seasoning Blend that I use for my Dutch Oven Roasted Chicken Recipe.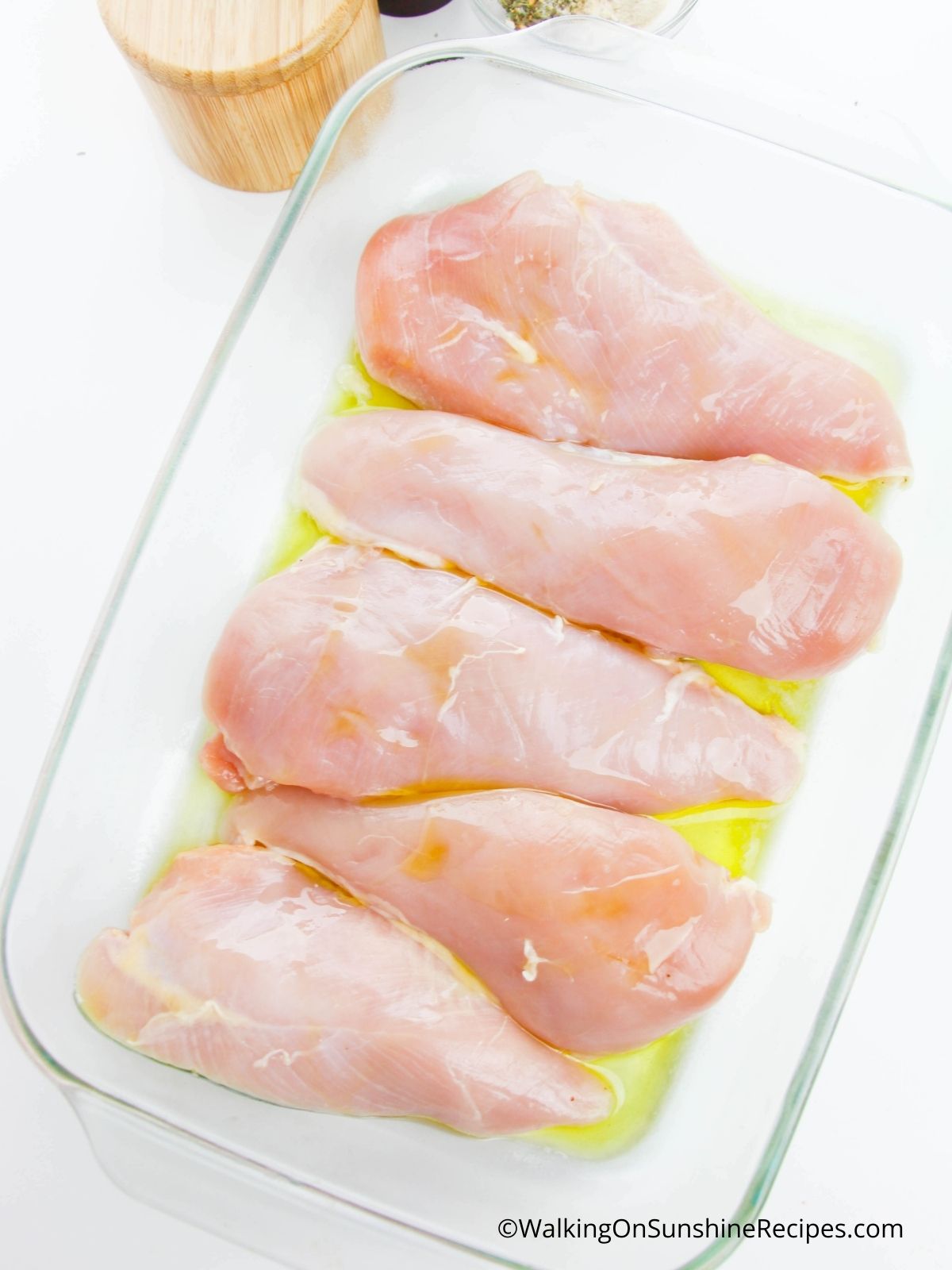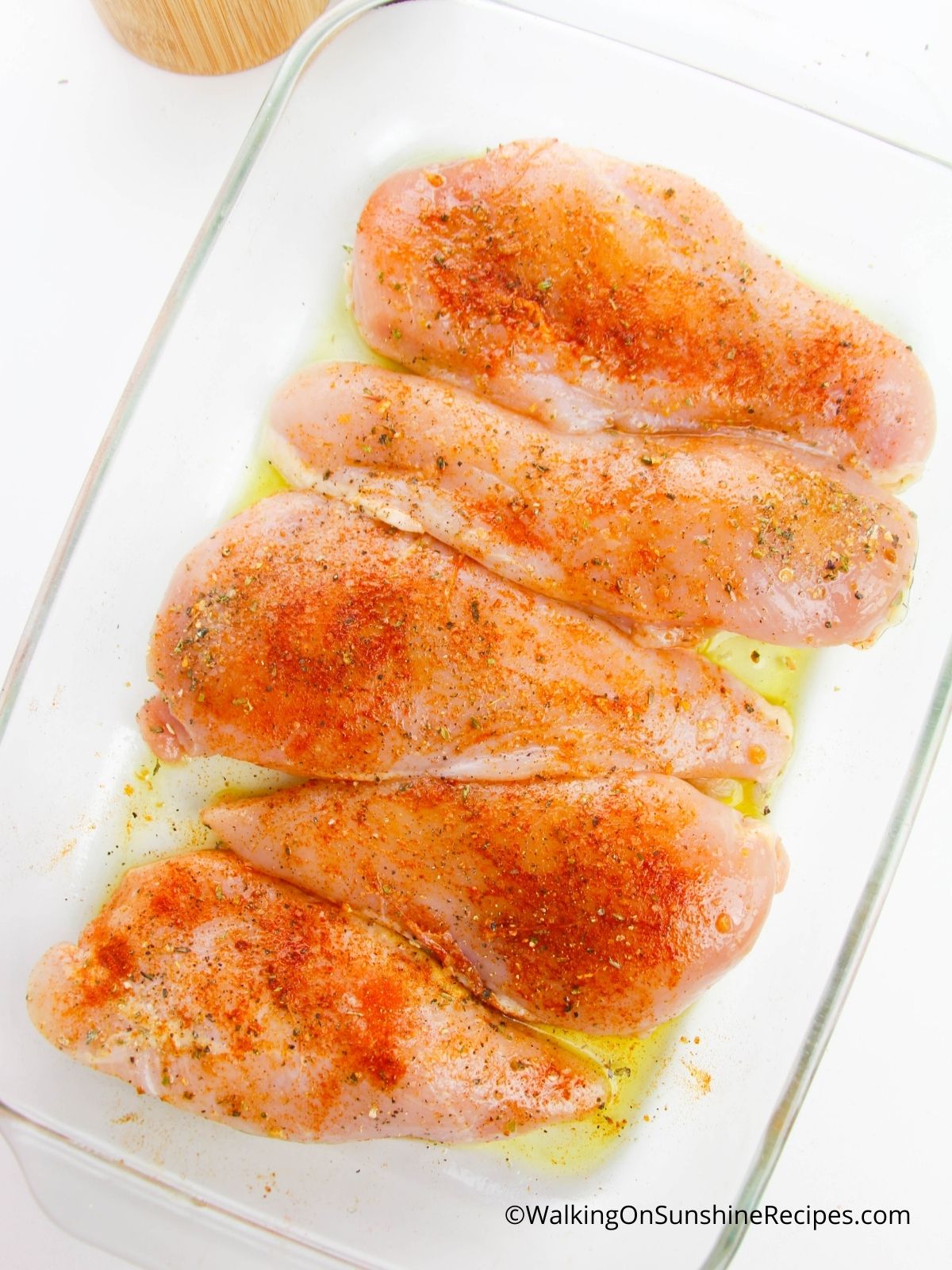 Step 2 | How long to cook chicken cutlets in oven?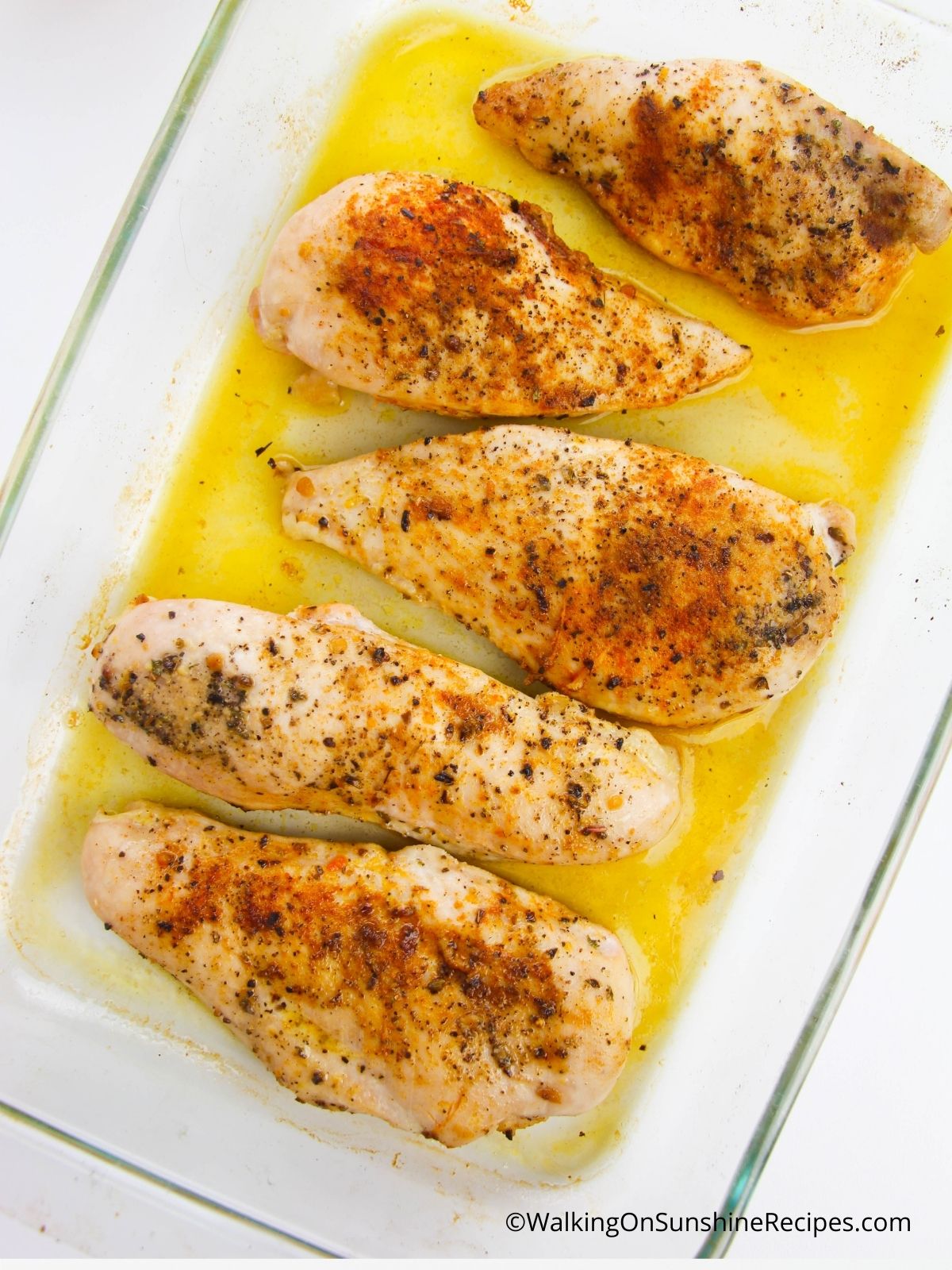 💭What to Serve with Chicken Cutlets
For a light meal, try pairing these baked chicken cutlets with a salad tosssed with Homemade Italian Salad Dressing. You could also serve a family friendly recipe of baked mac and cheese.
For more ideas, make sure you read my post on Side Dishes for Chicken Cutlets.
⭐Before You Begin! If you make this recipe, please leave a review and star rating. This helps my business thrive and continue providing FREE recipes.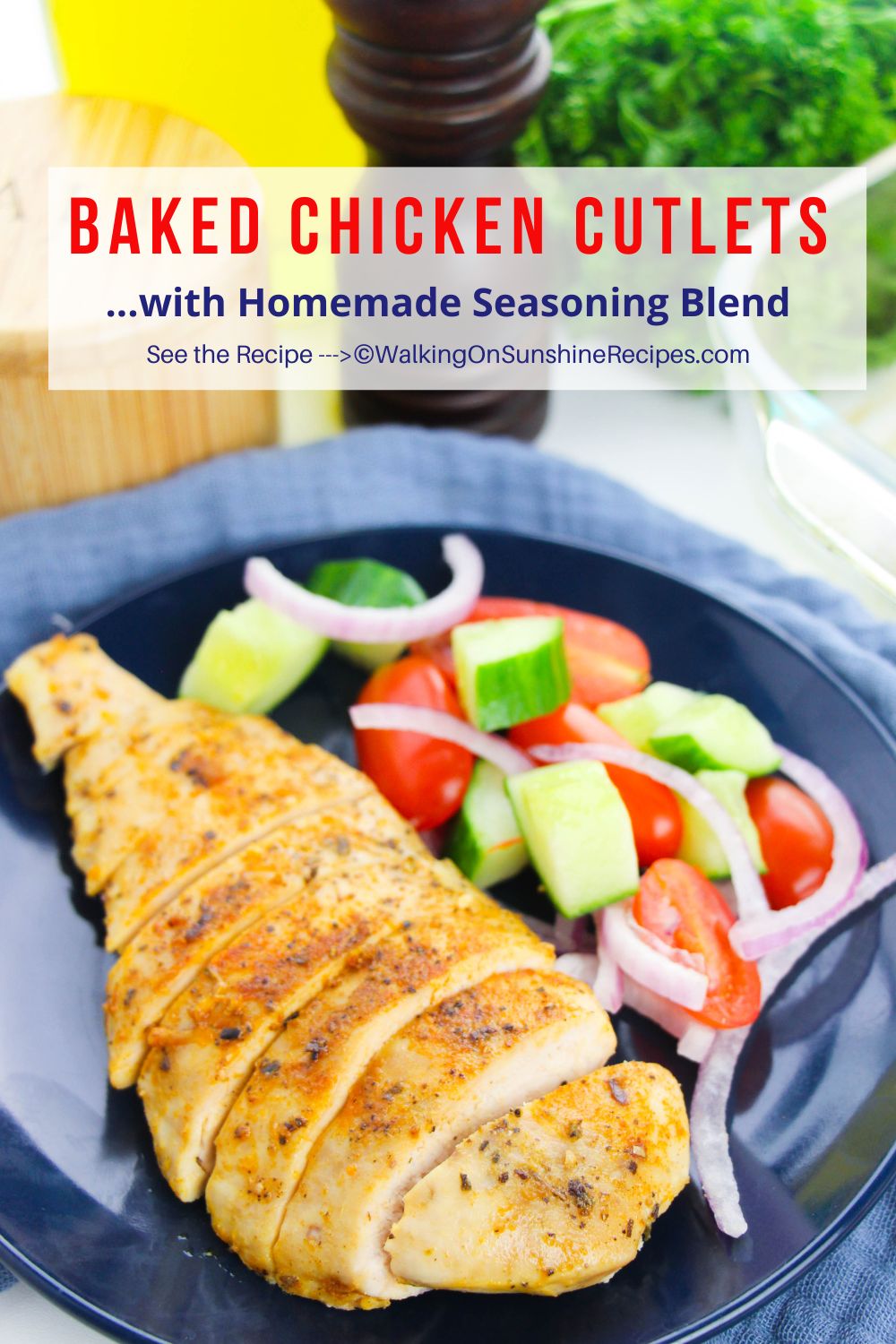 💭Storage Tips
Any leftover chicken can be stored in a sealed container in the refrigerator for up to 5 days.
It can also be frozen for up to 3 months.
If you are going to freeze leftoverr chicken, don't forget to label the chicken properly.
Check out my other leftover chicken recipes.
💭Top Recipe Tip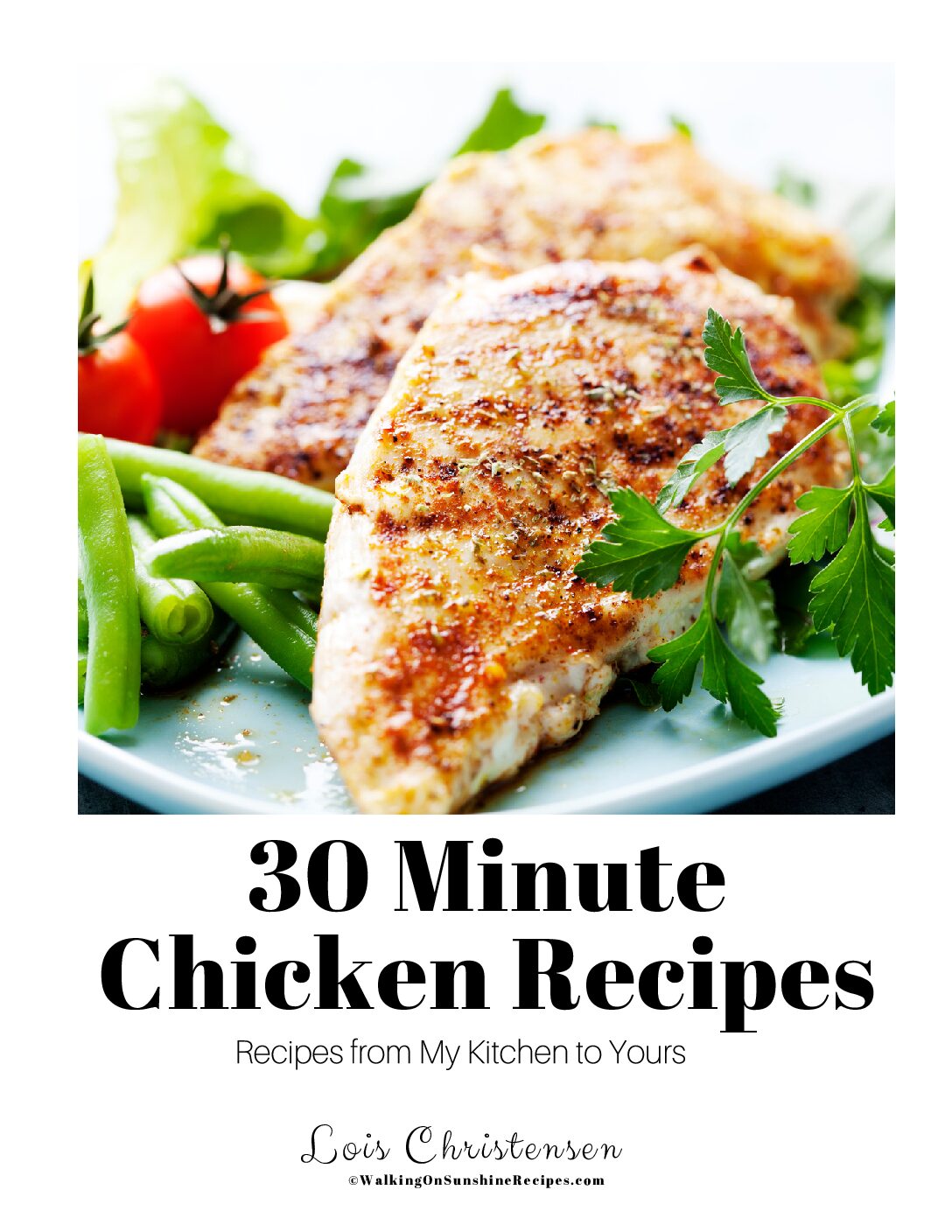 More Information
More Information
More Information
More Information
More Information
Yield: 5 servings
Baked Chicken Cutlets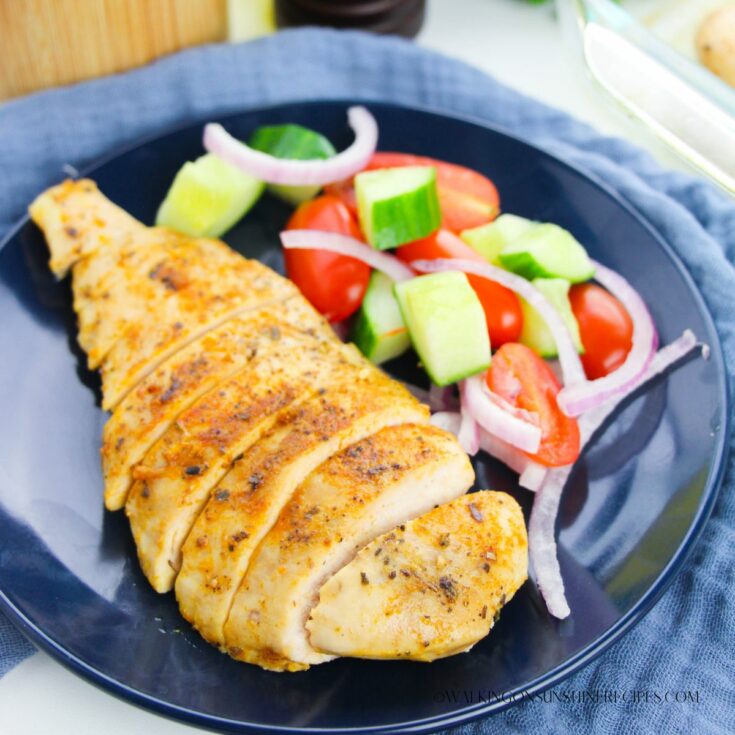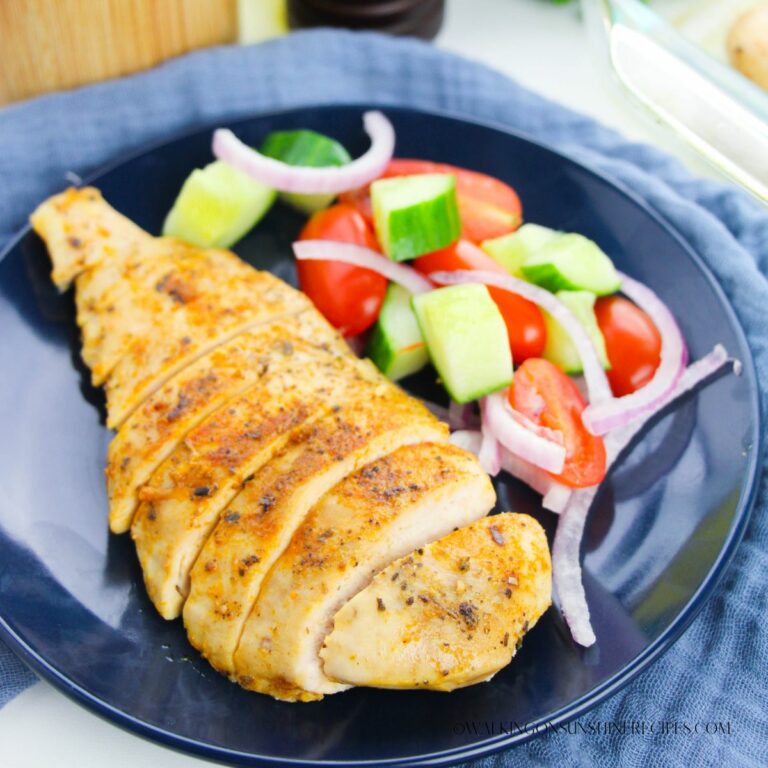 These baked chicken cutlets are made with only 5 ingredients, and produces tender, juicy chicken that is ready fast.
Ingredients
5 boneless, skinless chicken breasts
3 tablespoons olive oil
1 teaspoon paprika
1 teaspoon Italian seasoning
1 teaspoon onion powder
1 teaspoon garlic powder
salt and pepper to taste
Instructions
Perheat oven to 450° F
Place chicken breasts in a 9X13 casserole dish that's been sprayed with non-stick baking spray.
Drizzle the olive oil over the top. Flip the chicken and spread a little more olive oil on both sides.
Combine the paprika, Italian seasoning, onion and garlic powder, salt and pepper in a bowl.
Sprinkle the chicken on both sides with the seasoning mix.
Bake in the preheated oven for about 20 minutes or until the internal temperature of the chicken reaches 165°F.
Nutrition Information:
Yield:
5
Serving Size:
1
Amount Per Serving:
Calories:

275
Total Fat:

12g
Saturated Fat:

2g
Trans Fat:

0g
Unsaturated Fat:

9g
Cholesterol:

102mg
Sodium:

149mg
Carbohydrates:

1g
Fiber:

0g
Sugar:

0g
Protein:

37g
The nutrition information is calculated automatically. I cannot guarantee its accuracy. If this data is important to you, please verify with your trusted nutrition calculator.