Are you ready for some football this weekend? Whether your favorite team is playing on Sunday or not, you're going to want to check out these amazing Big Game Snack Recipes that are perfect for keeping your family and guests well-fed during the biggest sporting event of the year.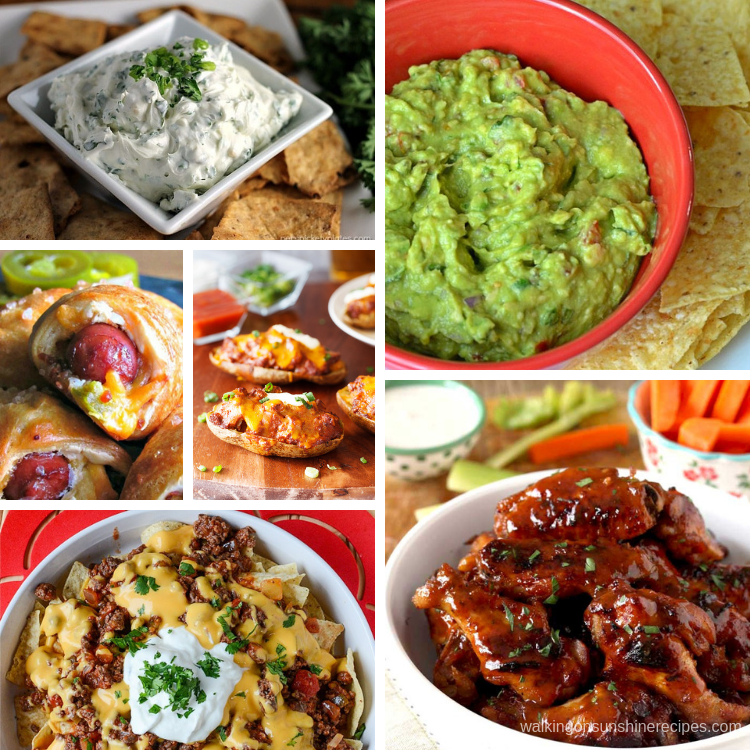 Did you know the Super Bowl is one of the top times of the year people plan parties? So what do you serve when your house is full of sports fans? Plenty of finger food or snacks!
Big Game Snack Recipes
One of the best tips for hosting a Super Bowl party is to make sure you have plenty of food. You can easily make a big pot of chili or homemade pizza, but really your guests are going to love an assortment of finger food or big game snack recipes because everyone loves to eat all night while the game is on.
Be prepared for people to want to enjoy a second round of food during the half-time show! You can prepare a few different desserts to serve to your guests then. You might like my Chocolate Brownie Cake Recipe...that's always a hit when friends are over.
What are some Examples of Appetizers
In general, Big Game Snack Recipes can be classified into five different categories:
Garden appetizers include vegetables, fruits, potato recipes.
Starch appetizers include slider sandwiches, pizza, crackers, and buns. I like to include appetizers made with crescent rolls in this category as well.
Protein appetizers include meatballs, sliced meats, chicken wings, and my family's favorite sausage and pepperoni rolls.
Snack appetizers include nuts, chips, pretzels, cheese, and popcorn. Try my recipe for Sweet and Salty Candy Popcorn!
Dips and spread include guacamole, salsa and any other spread served with crackers, fruits, or vegetables.
How Many Appetizers Should you Serve
If you're planning on only serving appetizers, plan on having at least 6 to 8 different appetizers. If you're going to be serving Chili or Homemade Pizza along with the appetizers, you can most likely get away with preparing 4 different appetizers.
But remember, people love to eat at football parties. Part of the fun of attending a football party is knowing there's going to be food. So always try to be prepared and plan accordingly. Remember to have FUN with putting together the buffet!
And if you're wondering what to serve, check out this GREAT list of delicious Big Game Snack Recipes that I put together for you. I'm sure you'll be able to find something yummy to make for your party this weekend.