Whether you're feeding a crowd or just your family, these BBQ Chicken Slider Sandwiches are easy and delicious! These are easy to prepare because they start out with leftover shredded chicken and are perfect for nights you think you're too busy or tired to cook!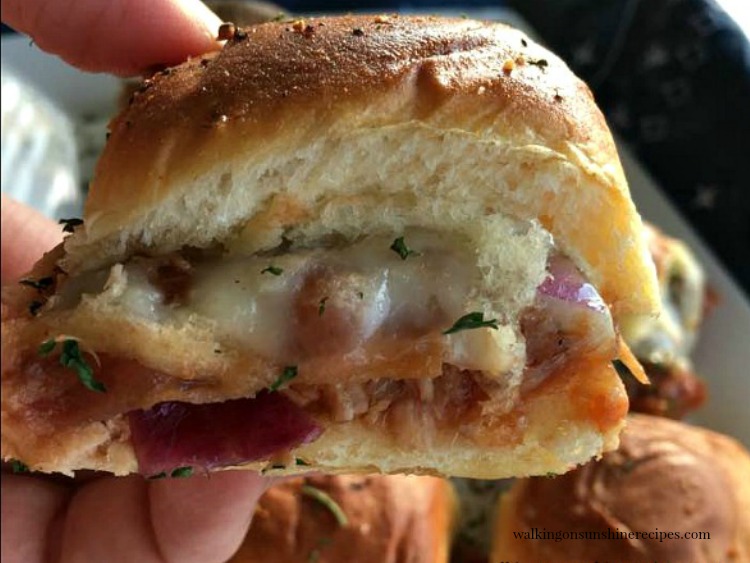 BBQ Chicken Slider Sandwiches
I've made these a few times in a few different ways but today I'm going to share with you how to make the very best BBQ Chicken Slider Sandwiches ever. Yes, ever!
Have you ever had a slider sandwich? They are quickly becoming my favorite easy to prepare meal for a week night because you can turn almost anything in a fun little sandwich that is perfect for family meals or even for large crowds.
For this recipe you'll need leftover shredded chicken. When I make chicken for dinner, I'm always hoping I have leftovers because it's easy to turn leftover chicken into another meal; especially now that I have this slider sandwich recipe.
I like to make my shredded chicken in the crock pot. The chicken comes out tender and moist and it's easy to shred.
How to Build a Slider Sandwich
In order to build the perfect slider sandwich, you need the following:
Hawaiian Dinner Rolls – are really the best.
Sarah Lee Dinner Rolls – these work great too if you can't find the original Hawaiian Dinner Rolls.
Melted Garlic Butter – is what makes the sandwiches taste amazing!
You're favorite fillings. I used leftover shredded chicken that I then added barbecue sauce to. But you can make ham and cheese, meatball, etc.
Once you have the proper slider sandwich or dinner rolls, don't break them apart. You may also need to hide them from your family so they don't start snacking on them.
The secret to making these is to make one big sandwich and then cut them after they've baked. For this recipe I only used HALF the rolls since it was just my hubby and me for dinner.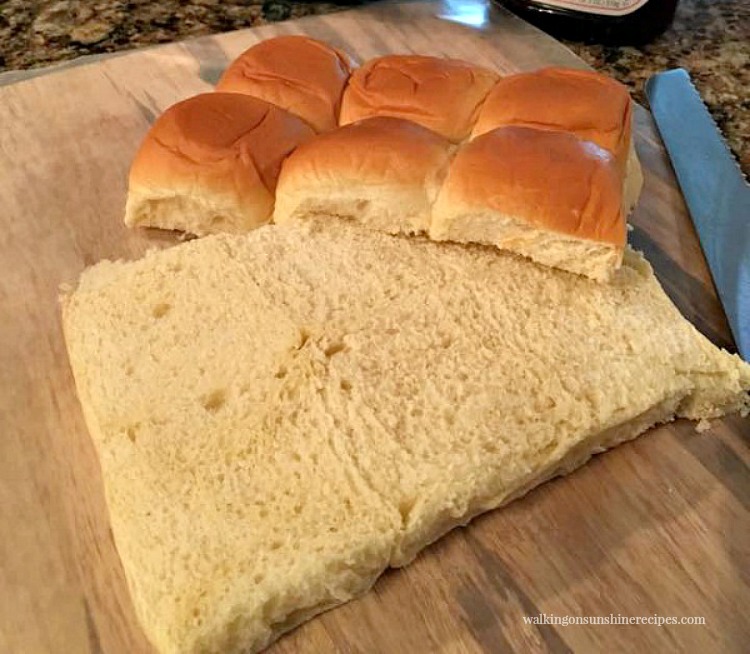 Layer the Shredded BBQ chicken on top of the rolls, followed by bacon, sliced onion, and then the cheese.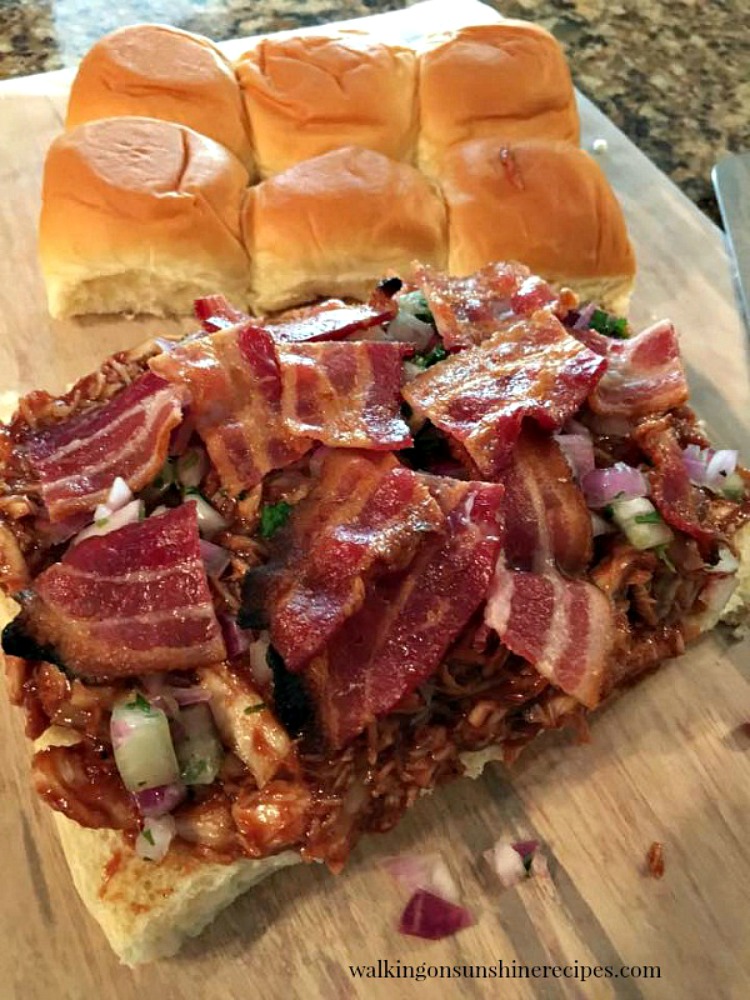 Place the rolls in a baking dish and then spread melted butter on top of the rolls. I love using my garlic butter recipe, but regular melted butter is fine.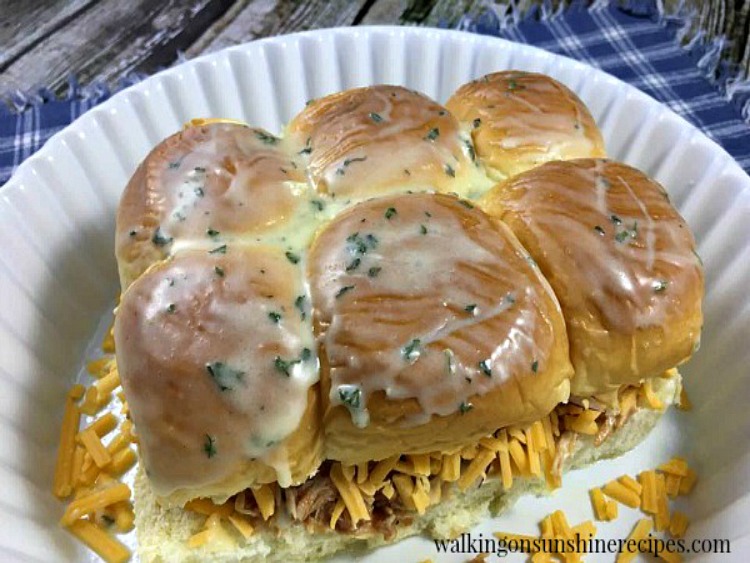 Bake in a 365 preheated oven until the tops are golden brown and the cheese is melted.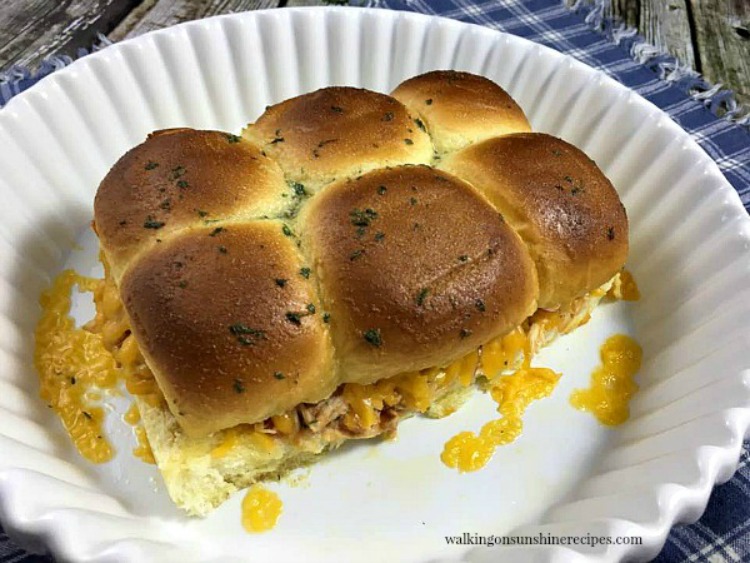 Pull the Sandwiches Apart and Enjoy
Here's one I made with Swiss Cheese. These sandwiches are delicious and so easy to put together.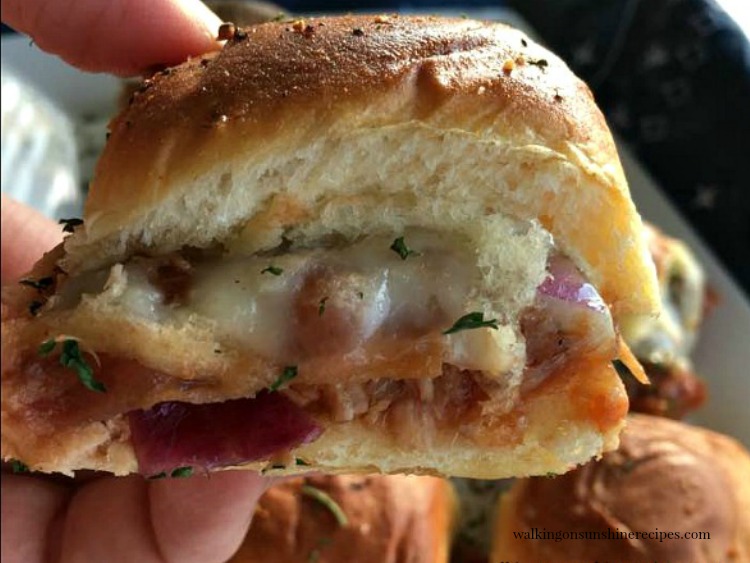 A few other Easy Recipes for your family: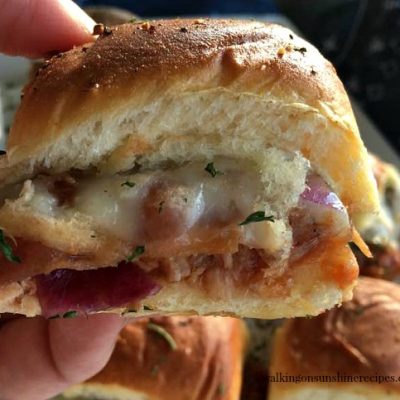 BBQ Chicken Slider Sandwiches
An easy recipe using BBQ shredded chicken, bacon and CHEESE. Perfect for dinner tonight!
Keyword:
BBQ, Chicken, sandwiches
Ingredients
Shredded Chicken

Barbecue Sauce

Cooked Bacon

Red Onion; sliced thin

Cheddar Cheese

Slider or Dinner Rolls; not separated

Melted Butter
Instructions
Place the slider/dinner rolls on a cutting board. Do not separate them. Slice the rolls in half and place the bottom half of rolls in a baking dish that has been sprayed for nonstick cooking spray.

Place the shredded chicken in a bowl and add the barbecue sauce. Stir to combine.

Put the BBQ shredded chicken on top of the rolls followed by bacon, sliced red onion and then cheese.

Place the top half of the slider/dinner rolls on top and brush with melted butter.

Bake in a 365 degree preheated oven until the tops of the rolls are golden brown and the cheese is melted.

Slice or pull apart the rolls to serve and enjoy.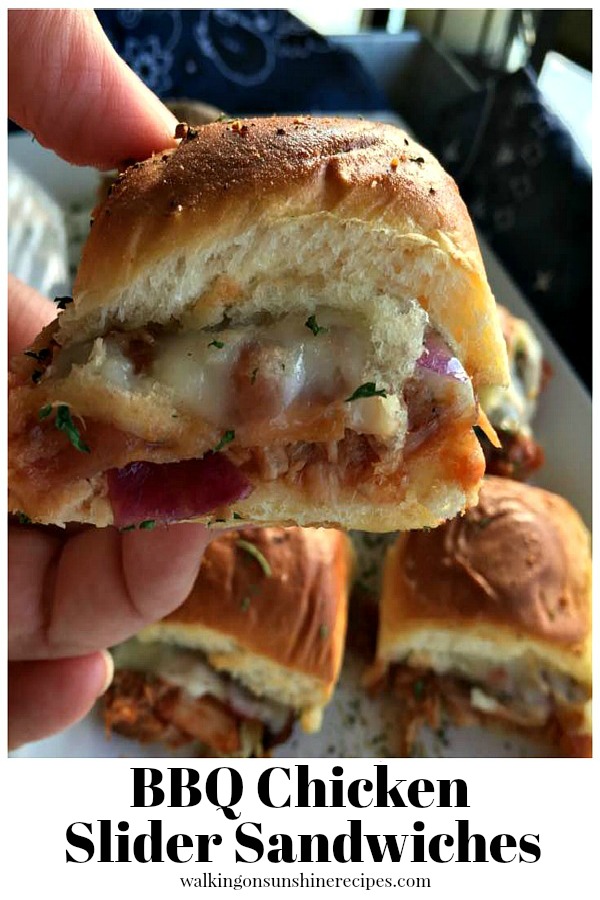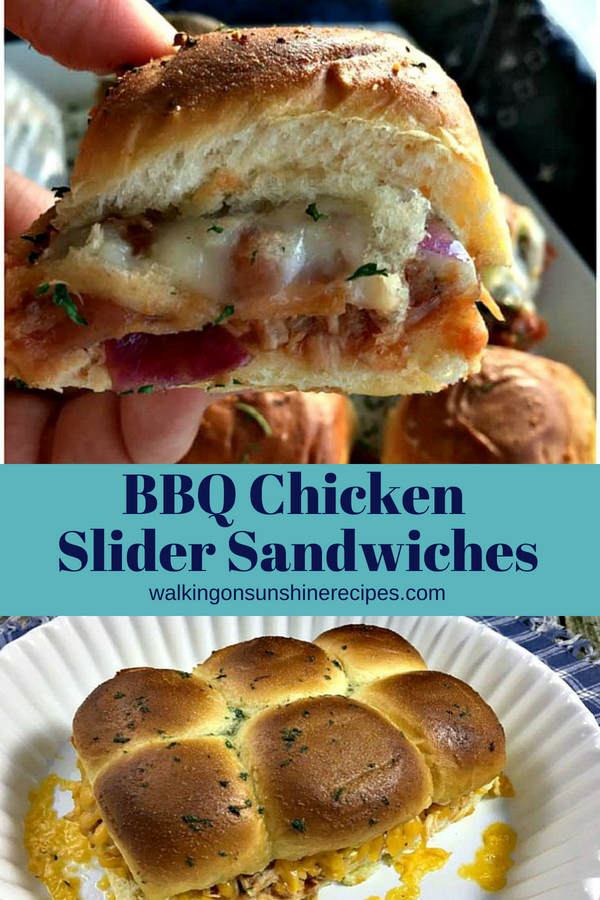 Here's the recipe for the Garlic Butter. You will use this for so many different recipes!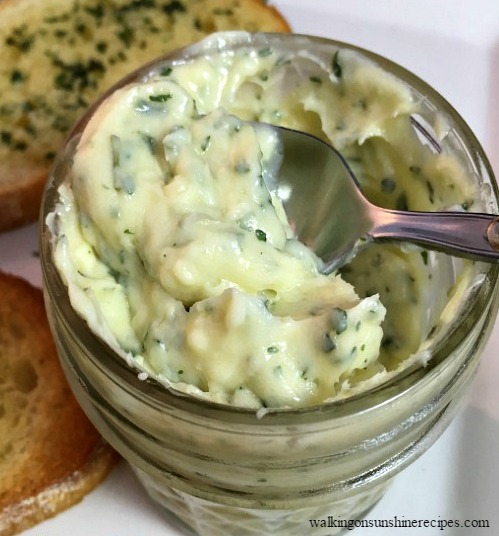 AND here's the recipe for How to Cook Chicken in the Crock Pot.