Summer is in full swing and so are the summer barbecue parties. Today I'm sharing with you a great creamy pasta salad recipe that you can make for your next family get together. My sister created this creamy pasta salad recipe a few years ago. My mother makes it quite often for her senior's group at church and I make it for family and friends…my hubby loves this salad!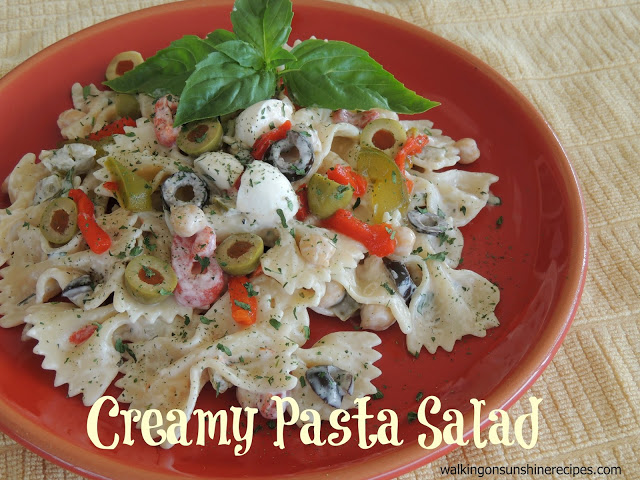 It's so easy and everyone loves it! You can add whatever you like to the salad. I sometimes like to take advantage of the "olive bar" at our local Shoprite grocery store…which is what I did last week when I made the salad. They have an amazing assortment of olives and marinated peppers. I also grabbed a small container of fresh mozzarella to throw into the salad as well. Yummy!
For the salad dressing, the original recipe calls for a bottle of Caesar Salad Dressing plus one cup of mayonnaise. I have also used a bottle of Creamy Caesar Salad Dressing and it comes out just as good. My favorite brand of bottled dressing is Ken's.
Creamy Pasta Salad
Ingredients
1 box pasta; cooked and drained
1 small jar green olives; drained
1 small jar black pitted olives; drained
1 small jar pimentos; drained
1 small can of chick peas; drained
1 cucumber; diced
4 ounces fresh mozzarella; cubed
small bunch of fresh herbs; chopped. I used basil and parsley
Parmesan cheese.
Dressing
1 jar of Kens Caesar Salad Dressing
1 cup mayonaise
Instructions
Combine the dressing ingredients together and set aside.
Combine the cooked pasta with all the remaining ingredients and fresh herbs.
Add the dressing and mix to combine.
Refrigerate until ready to serve.
Add the Parmesan cheese right before serving.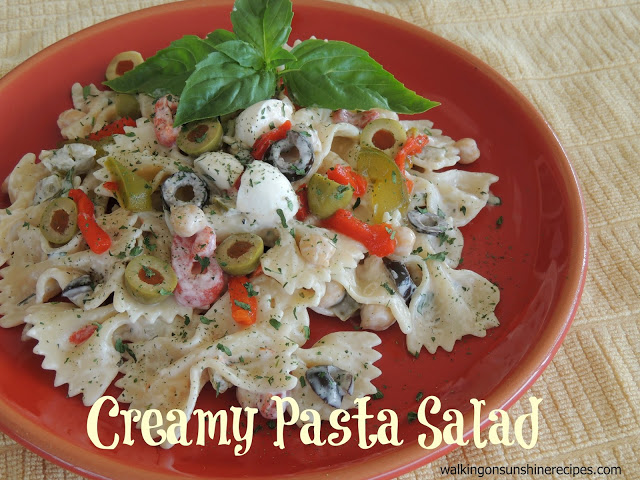 Enjoy!